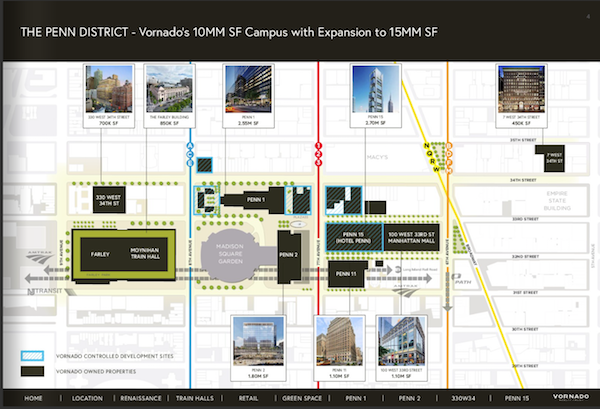 BY LYNN ELLSWORTH (Chair, Alliance for Human-scale City and Co-coordinator, Empire Station Coalition) | While we've all been worrying about Omicron, daydreaming about what we are going to do with our lives post-COVID, or coping with the reality that our kids are getting educated via Zoom, Big Real Estate has been at it once more. They're using our preoccupations to rush dastardly deeds right past us, deeds that require our civic attention. The list of wrongs is long, so let's cover just three of the biggest that will inflict the worst damage.
First up is the scam being foisted upon us by Vornado, our city's largest real estate investment trust and a major landlord in our city, particularly in the Penn Station neighborhood. Vornado has managed—through massive campaign donations—to make our politicians supine to its bottom line [1]. Their plan? To extend the Hudson Yards complex to the east around Penn Station and Madison Square Garden with 10 glass skyscrapers. Vornado wants them as expensive, speculative "Class A" office space, not space for small business. Their plan demolishes stunningly beautiful historic buildings all around the neighborhood, evicts hundreds of small businesses now employing 10,000 workers, and destroys the homes of about four hundred people who live in beautiful brick Gotham buildings, some of them landmark worthy [2]. The noise that Vornado and the local BID it dominates is drowning out the far superior, alternative plan put forth by the Empire Station Coalition (a massive coalition of community, civic, and transit advocates).
Where are the politicians in this, you may ask? Alas, they are rushing to accommodate Vornado and take a "see no evil, hear no evil, speak no evil" stance. The politicians have bought into the fiction that all this demolition and reconstruction is "necessary" to generate real estate tax revenue to pay for lipstick-on-the-pig improvements to the rat's nest known as Penn Station. (And no, the renovated Post Office for Amtrak's waiting rooms did not solve the larger problem of Penn Station). To add insult to injury, Vornado and the Dolan family (owner of Madison Square Garden) have talked our state preservation office into declaring their buildings perching above Penn Station as worthy of listing in the National Registry of Historic Places. Those buildings are literally architectural crime scenes: They memorialize the demolition of the old great Penn Station and blight the neighborhood. This cunning ploy makes them potential beneficiaries of federal tax credits, obtained even though Vornado demolishes the gorgeous (and huge) Hotel Pennsylvania in the doing. How's that for a head-spinning scam?
The second dastardly deed is the breaking of the SoHo and NoHo historic districts. That is being done with an upzoning, sold to the credulous public as a way to build affordable housing for people of color. That claim is as false as can be, according to excellent and credible data from Village Preservation, so it is a sad statement about our times that the current and future city administrations are using it as cover story to "break" historic districts across the city [3].  That destructive goal has been a long-term plan for the Real Estate Board of New York, as published in their white papers some years back [4]. So that's the idea, folks: Demolish the old city and rebuild a glass tower world in its place. Big Real Estate's accomplices in City Council just opened up the historic districts across the city to that plan by approving that zoning change.
The third dastardly deed: the City Council ignored Councilmember Ben Kallos' attempted veto of a glass tower on top of the NY Blood Center, an old building in his district on the Upper East Side. Respecting a Councilmember's district veto has been the City Council 's working rule for decades. It is called "councilmember deference." Getting rid of that rule has long been the Real Estate Board of New York's policy goal [5]. With the end of that tradition, Big Real Estate's takeover of our city government is now complete. If all this dismays you—and you want this to be different—join our ranks as we seek better plans for our city at the Alliance for Human-scale City, www.humanscale.nyc.
[1] See for example this article from International Business Times https://www.ibtimes.com/political-capital/andrew-cuomo-appoints-trump-adviser-penn-station-task-force-after-big-campaign
[2] See Empire State Development Corporation's General Project Plan Environmental Impact Statement by clicking here.
[3] See Village Preservation's data-laden reports on the upzoning and its alternative plan by clicking here.
[4] See REBNY's 2013 white paper, Landmarking Curtails Affordable Housing, by clicking here.
[5] See City Limits video panel discussion about land use procedures with REBNY attorney Zachary Burnstein at https://citylimits.org/2019/05/24/video-does-nyc-need-a-comprehensive-plan/.
Chelsea Community News, which may or may not agree with the opinions put forth in our OPINION section, is made possible with the help of our awesome advertisers, and the support of our readers. If you like what you see, please consider taking part in our GoFundMe campaign (click here). To make a direct donation, give feedback, or send a Letter to the Editor, email scott@chelseacommunitynews.com.