In This Week's "THIS WEEK IN CHELSEA"
In Order of Appearance:
Community Board 4's Full Board Meeting / Mulchfest / Available Via YouTube: The 47th Annual Chelsea Community Church Candlelight Carol Service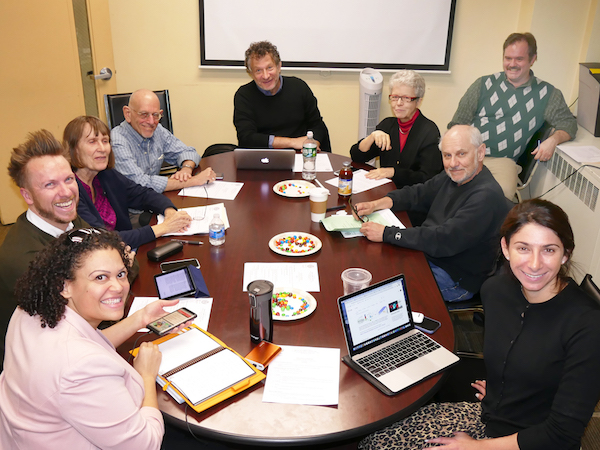 Wednesday, January 5, 6:30pm: The Monthly Full Board Meeting of CommunityBoard 4 (CB4), via Zoom | CB4's first full board meeting of 2022 is notable for more than that reason alone: It's the first meeting presided over by Jeffrey LaFrancois, who takes over the position of Chair from the great Lowell Kern. The Down Side: During the Public Session, where any Thom, Dirk, or Sally can sign up for a slot of time and use it to speak their peace, LaFrancois will no longer be the guy chiming in with a warning, as people near the two-minute cut-off point. The Up Side: Always-dapper LaFrancois, by his very presence, sets a standard for appearing in a Zoom meeting with something occupying at least the middle zone between high-end designer clothing and what you wear on laundry day, when anything respectable is in the clothes hamper. The rest of CB4's new leadership, by the way, is: First Vice Chair, Jessica Chait / Second Vice Chair, Leslie Boghosian Murphy / Co-Secretaries Blake Kurisu and Katy Stokes. God luck to them all–we'll be watching. As for particular topics we'll keep our eyes on, on Jan. 5: A Public Hearing on rat conditions in Community District 4. In certain parts of the district, rats seem to be out of control, as our Bonnie Rosenstock covered in a 2-part series you can read by clicking here and clicking here. If you have something to say about the situation, sign up to for a public comment slot by clicking here. Another thing of note: Agenda Item 11: Letter to NYC Parks regarding transfer of use (handball courts to squash courts) at Chelsea Park. The letter, addressed to the Parks Commissioner, came out of a Waterfront Parks & Environment committee meeting. To sign up for the Public Session (up to 5pm on the day of the meeting), click here. For the Zoom link to the meeting, click here.
Through  Sunday, January 9: Mulchfest | It sounds like a music festival with a youthful vibe–but it's actually about putting woodenthigns up into teeny tiny pieces! Organized by the City of New York, Mulchfest allows you to take that festive holiday wreath or tree to one of many drop-off points around town. The Down Side? For the first year in recent memory, our beloved Clement Clarke Moore Park (West 22nd St. & 10th Ave.) is not a drop-off point. Hope you like Union Square, because that's the drop-off space nearest Chelsea. Do go, though, because letting them turn your tree into wood chips will help nourish new trees and make NYC an even greener place to be. For more info, click here.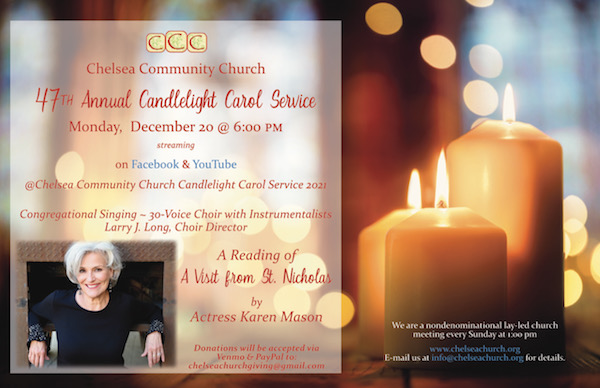 Now Accessible Online: Chelsea Community Church's 47th Annual (Dec. 20, 2021) Christmas Candlelight Carol Service  | CCC's 47th annual Christmas Candlelight Carol Service took place on Mon., Dec. 20, at 6pm, online via Facebook and YouTube. The service included scripture lessons, choir singing, and veteran Broadway actress Karen Mason's reading of the 1822 poem, A Visit from St. Nicholas—otherwise known as Twas the Night Before Christmas (its author, Clement Clarke Moore, donated the land for St. Peter's Episcopal Church, where CCC meets). To view the web archive version of the event YouTube, click here.
Through Wednesday, February 2 at Hudson Guild Gallery I (Hudson Guild Fulton Center, 119 Ninth Ave.): The Light Over The Horizon (Light Art by Tom Fitzgibbon)| Viewing hours are Tues.-Fri., 10am-5pm. See the below flyer for more details or click here. Hudson Guild Galleries are located in the Elliott-Chelsea Houses(W. 26th St.) and in the Fulton Houses (Ninth Ave.). The galleries partner with nearby neighbor Google, as part of the Google Arts & Culture online platform. In doing so, Hudson Guild shares works by artists whose work has appeared in the gallery spaces over the past two decades. "It also," the Gallery curators note, "gives us the opportunity to create permanent records of many different kinds of shows which are presented each year in the galleries, while also advancing our mission to make the arts accessible to all." NOTE: Hudson  Guild Galleries are free to attend, but you must observe these five points of protocol. #1: Visitors are asked to spend no more than 15 minutes inside the galleries. #2: Visitors who wish to stay in the galleries for more than 15 minutes must fill out the Hudson Guild Health Screener in advance before entering the galleries. To access the Health Screener, visit hudsonguild.org. At the top of the first page it says "Click Here for a Health Screen" which will take you di­rectly to the registration page. #3: Visitors must have their temperature taken by reception staff before entering the theatre and will not be permitted to enter if their temperature is above 100 degrees. #4: Visitors must wear masks at all times while in the building. #5: Visitors will observe social distancing of three feet from other visitors while in the galleries.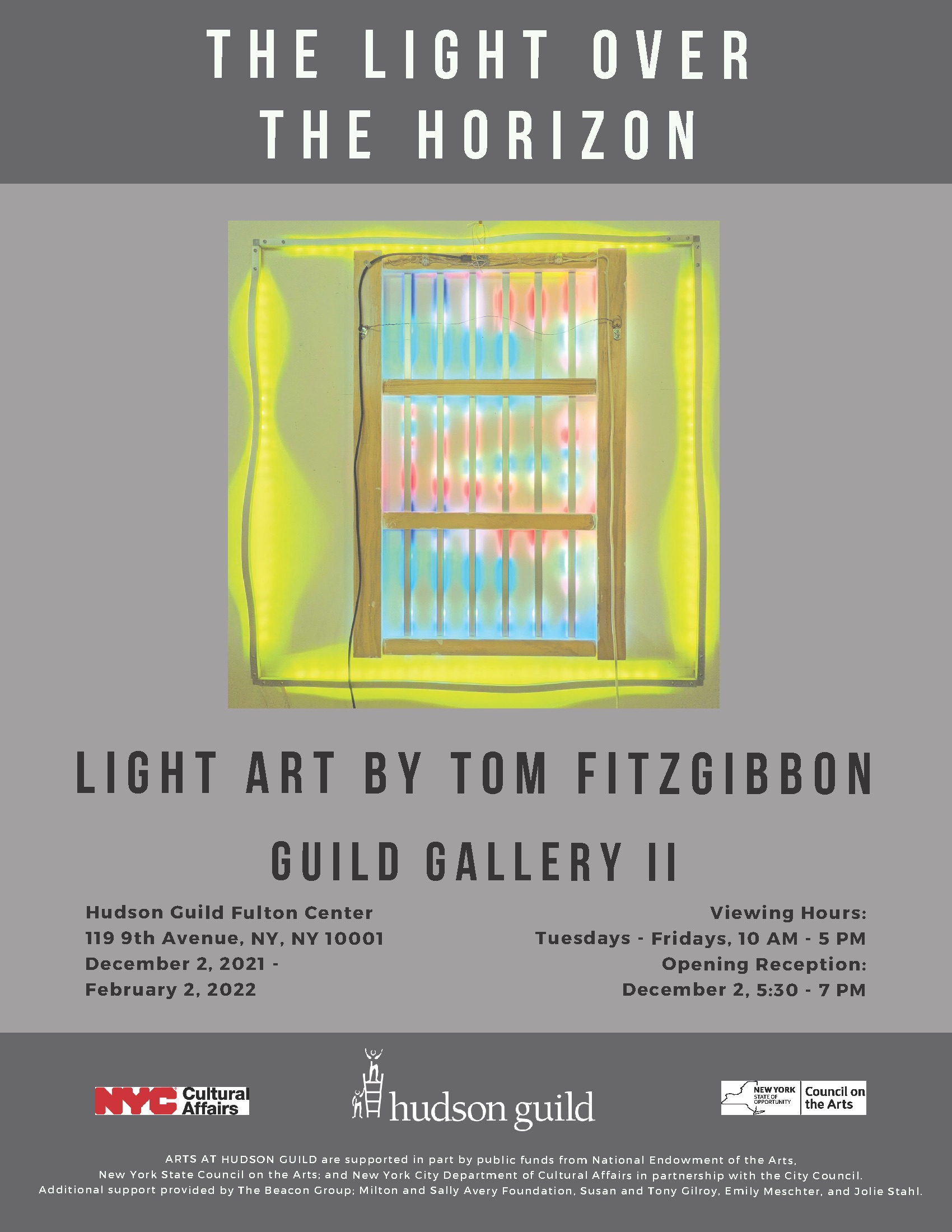 —Compiled by Scott Stiffler  
THROPIUe
Chelsea Community News is made possible with the help of our awesome advertisers and the support of our readers. If you like what you see, please consider taking part in our GoFundMe campaign (click here). To make a direct donation, give feedback, or send a Letter to the Editor, email scott@chelseacommunitynews.com.