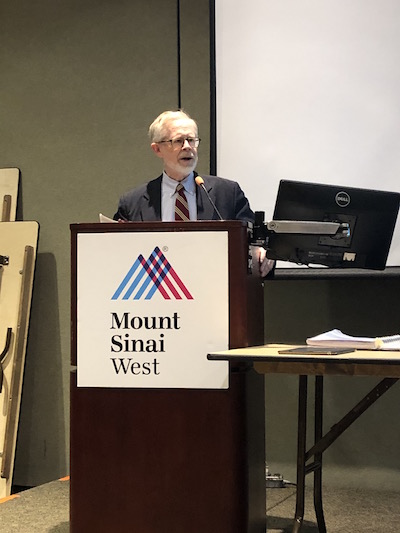 BY SCOTT STIFFLER | Besting his Golden Anniversary on the job with an additional go around the sun and one more to follow, New York State (NYS) Assembly Member Richard N. Gottfried sprang a December Surprise on the voting members of Manhattan's 75th Assembly District, in a Dec. 13, 2021 press release announcing the longest-serving legislator in NYS history will not seek reelection.
"End of an era" seems lacking in gravitas for a public service arc that took Gottfried from a 22-year-old progressive reform candidate vehemently opposed to the Vietnam War to the gray-bearded, bespectled man in the blue suit who a few short years ago regularly breezed into Fulton Auditorium, fresh from Albany by way of Amtrak. There, at those monthly full board meetings of Community Board 4 (CB4), Gottfried would talk about recently or just-passed legislation or galvanize the room for a cause requiring a long fight ahead. More often than not, it was news of the former, as Gottfried's 51-year career has seen him named as sponsor of over 500 laws, including the first bill to legalize same-sex marriage (2003), which was the basis of New York's 2011 same-sex marriage law; the Hudson River Park Act which, the press release noted "catalyzed the development of the Hudson River waterfront into a vibrant park from the Battery to 59th Street (1998)," Medicaid expansion, and drug law reform, which includes the medical marijuana law (2014) and syringe decriminalization (2021).
Gottfried, who has served as Chair of the Assembly Health Committee since 1987, is also sponsor of the New York Health Act to "create universal publicly funded single-payer health coverage, and consistently fights to protect and increase health care funding and patient autonomy, especially in reproductive and end-of-life care." In his rare spare time, he writes Chinese calligraphy. That spare time will continue to be scarce throughout 2022—his final day as an Assembly Member will be December 31, 2022. January through early June will also prove to be busy for those who have thrown their hat into the ring, in the bid to replace Gottfried. Perhaps that's the wrong word. "Succeed" seems both accurate and succinct. And so, Chelsea Community News will, from here on out, pay close attention to those who would be "Successor." For now, though, here are some words from Gottfried's colleagues and contemporaries, followed by the reproduction of an open letter by the Assembly Member himself.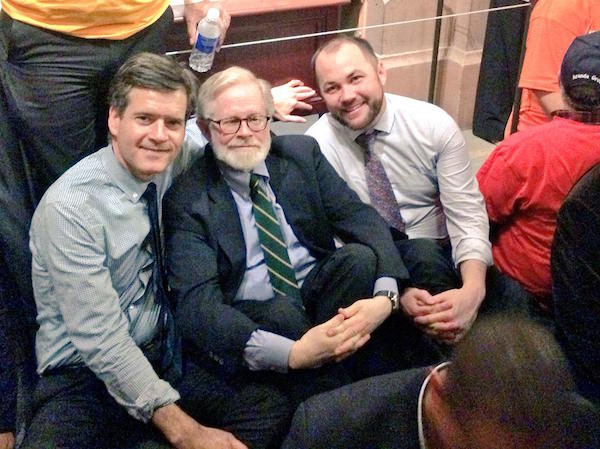 Former NYC Council Speaker (and District 3 Rep) Corey Johnson | It has been an honor to work with Assembly Member Richard N. Gottfried during my time on the Council, as we serve many of the same constituents who call Chelsea and Hell's Kitchen home. Dick exemplifies what it means to be a public servant and is one of the most steadfast legislators I've had the privilege of working with over the years. He was far ahead on so many issues, including advancing the rights of the LGBTQ+ community, which I am forever grateful for. He is leaving Albany with an unparalleled record of achievement and I wish him nothing but the best in his golden years of retirement.
Pamela Wolff, CB4 Public Member, President, Save Chelsea | It took me a long time to realize what an incredible piece of luck it was to have Dick representing Chelsea at the State level for all those decades. His devotion to his constituents never wavered, his focus on those in need, the open door at his office and the amazing staff he always seemed to have. His steady hand and clear head will be missed, and not easily replaced. I wish him well in his retirement—and look forward to seeing examples of his calligraphy!
Erik Bottcher, NYC District 3 Councilmember | Assembly Member Dick Gottfried has been a progressive mainstay and institution on the west side of Manhattan for over 50 years. Democrats across the country have spent decades catching up to the stances Dick took back in the 1970s. I was fortunate enough to work on a number of projects alongside him and to be able to learn from the depths of knowledge he had on policy and community issues. I am proud to call him my Assembly Member and I hope he'll continue to share his gifts with us in retirement.
Jeffrey LeFrancois, Chair, Manhattan Community Board 4 | In 2008, I was hired as the scheduler and LGBT liaison for Assembly Member Gottfried. I was a brightly dressed young gay man and didn't realize then just how much I was going to learn—about marriage equality, gender identity politics, single payer healthcare, and community preservation—from this West Side lefty legend in a conservative Brooks Brothers blue suit. I joined him at NYC's Pride March each year, where we'd always snap a picture. That tradition continued long after I stopped working for him. He's changed the lives of millions of New Yorkers for the better, always standing up for what is right even when it's not in vogue. The West Side has been lucky to have Dick Gottfried, and I'm thankful to have learned the ropes of public service from the man who wrote the book.
Governor of New York State Kathy Hochul | Assemblymember Dick Gottfried has served his district and our state with dedication, tenacity, and care, and I am grateful for his service to New Yorkers. As Chair of the Health Committee, Assemblymember Gottfried advocated for increased access and compassion in our health care system, especially for the most vulnerable New Yorkers. The impact of the laws he authored and of his leadership will be felt by New Yorkers for generations.
Sylvia E. Di Pietro, District Leader, 75th Assembly District Part A | I cannot remember a time when there was not a "Dick Gottfried" who represented the 75th Assembly District and Chelsea. Years before I became the District Leader, I would volunteer to petition for the former District Leaders. The residents would come out of the elevators of our building's foyer, see me holding the petitions, and say things like, "Oh, is that for Dick? I'll sign!" He made the grunt work of petitioning for reelection so easy. The 75th Assembly District has been blessed for 52 years with a leader who represents a consistent and deep commitment to his constituency during a period of enormous change in the City and the world in general. Always strong and steady with feet planted firmly on the ground, he never missed an important Chelsea Reform Democratic Club meeting. He never had to scream or shout to impress his point or position on an issue. He recognized the need for change and fought for it, from same-sex marriage to the legalization of marijuana and other areas in health and safety, years before anyone else. He leaves a lasting legacy for political reformers to follow, having established the blueprint of how to embrace transforming social structures with dignity, while maintaining respect for all.
New York State Assembly Speaker Carl Heastie | Dick Gottfried represents all that is good in public service and has been a strong fighter not only for the district he represents but for all of New York State. He has championed countless landmark laws and he has left an indelible mark on our state's history. I have always said Dick is a living encyclopedia when it comes to health care policy in New York, and his keen intellect and ability to analyze complex issues will be difficult to replace. Dick has set the standard for what it means to be a true citizen legislator, and I will greatly miss his wise counsel and friendship. I am grateful that he will continue to serve in the coming year as his expertise is particularly vital as New York continues to recover from the COVID-19 pandemic.
Assembly Member Richard Gottfried, in an Open Letter to Announce, "I'm not running for re-election."
Dear friends,
When I was 13 years old, John Kennedy inspired me to seek a career in public service. In 1970, at the age of 22, I announced my candidacy for the State Assembly. After a hard-fought primary, I got elected. As I enter my fifty-second year in the Assembly, I am announcing that I will be retiring at the end of the current term, which ends December 31, 2022.
I have been honored by the responsibility my constituents, my colleagues, and advocates have given me. It's a great gift to have been able to do the work I dreamed of and to retire from a career while I'm still loving it.
Long ago, my parents taught me social democratic values. I carried those values with me to the Assembly, where I worked with enormously talented staff (past and present), hundreds of dedicated colleagues in the Legislature, nine governors (each with a distinct personality), and countless advocates and experts. They taught me so much, and their commitment to solving problems for the people of New York is why over 500 bills I sponsored became laws. And most of all, I thank my amazingly supportive and loving family. It hasn't been easy – particularly during the endless days and nights of budget and end-of-session. But none of this would have been possible without them.
I will continue to fight for my district and constituents and for New York State throughout the remainder of my term. That includes helping New York recover from the public health emergency; fighting for justice, human rights, and reproductive choice; and enacting the New York Health Act to create universal single-payer coverage so we can all have better health care at lower cost.
Let's get that done!
Dick Gottfried
————
I hope you are staying healthy and safe.  Please don't hesitate to reach out to me or my staff if we can be of assistance to you during this difficult time.
For updates, check out my Facebook page at
https://www.facebook.com/RichardNGottfried/
or my Twitter account at http://twitter.com/dickgottfried.
Chelsea Community News is made possible with the help of our awesome advertisers, and the support of our readers. If you like what you see, please consider taking part in our GoFundMe campaign (click here). To make a direct donation, give feedback, or send a Letter to the Editor, email scott@chelseacommunitynews.com.