Scott Stiffler, for Chelsea Community News (CCNews): What motivated you to join Community Board 4, and why did you pursue the position of Chair?
Jeffrey LeFrancois: I believe in our collective responsibility to participate in civic engagement. I'm a strong believer in using government as a force for good, and community board work can do that. Board 4 has a history of supporting projects that help people in the community. It has a stellar reputation as a deliberative, logical, and productive body that has both preserved neighborhoods and increased affordable housing, and helped set citywide policy for housing, transportation, and sanitation.
I like working with people, especially fellow New Yorkers who care about their community and their city, so joining the board and working my way up to pursuing chair came naturally to me. I've been working with and involved with CB4 for over a decade and have learned so much from previous chairs and all its members. I'm excited to step into the role. And I love decorum and formalities, so it's fun, too.
CCNews: Please talk about the other new CB4 leadership; your past relationship with them, and hopes for how all of you will work together.
LeFrancois: We're a community board, and indeed one that is reflective of our community. Lowell Kern, our immediate past chair, and I had an excellent working relationship that balanced our strengths and weaknesses, and our desire to get things done. I learned so much from him and members new and old, including former luminaries Lee Compton, Ed Kirkland, Bob Trentlyon, Sarah Desmond, and Anna Levin. I'm thrilled to be working with Jessica Chait as our First Vice Chair, Leslie Boghosian Murphy as our Second Vice Chair, and Blake Kurisu and Katy Stokes as Co-Secretaries. Jessica and I have been working together as Vice chairs for a few years now and we've got a good groove. Leslie is a newer member I've gotten to know from our work on the Waterfront, Parks, and Environment committee, and she's a Hell's Kitchen neighbor, too. Then there's the superb lineup of committee co-chairs and members who do so much work to make the board proactive, responsive, and respected. While being Chair will be very demanding, it's those many hands that help make the work light.
While I'm known to have strong convictions and speak passionately, I have tremendous respect for process, coalition building, and listening, all attributes the board embodies and I intend to maintain.
And absolutely none of the work would be possible, nor would be as effective without our District Manager, Jesse Bodine, and his A+ team: Nelly González and Janine Pretente. Jesse is the very model of a modern district manager and we're lucky to have him.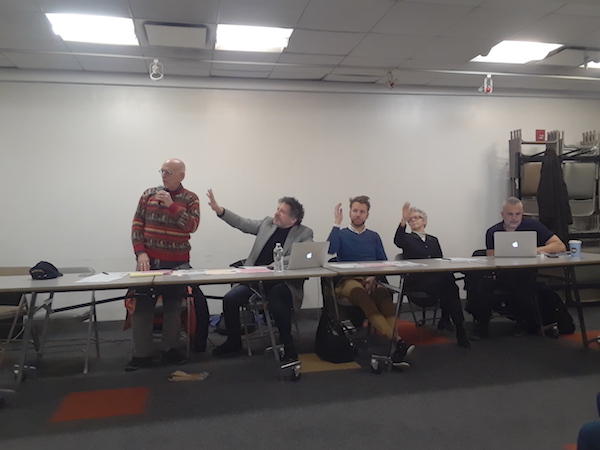 CCNews: Just as you begin work as CB4 Chair on January 1, NYC Council Speaker Corey Johnson and Manhattan Borough President Gale Brewer will be exiting their posts. What is CB4's interaction with those who hold these two positions and have you done outreach to their successors?
LeFrancois: A sea change is afoot in the city and state right now. And it's exciting.
Councilmember/Speaker Johnson and former Borough President (now Councilmember) Brewer have done so much for the city, and both will continue to, whatever they're doing next. We'll still see Gale regularly, as she is returning to the City Council. I am excited for Corey and whatever he is planning to do next, and know he'll be successful.
It's important for community boards to work with our local elected officials. There's relevant work for federal, state, and of course city electeds in our backyard everyday, so keeping lines of communication open and ensuring we work well together is key to success.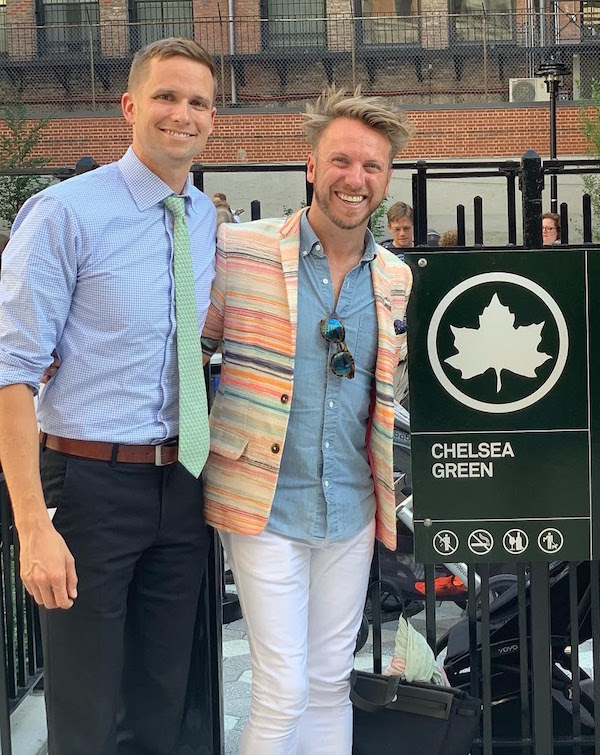 CB4, of course, has a long relationship with Councilmember Erik Bottcher from his many years working for the City Council, the state, and as Corey Johnson's Chief of Staff. We are very excited about the knowledge and gusto with which Councilmember Bottcher is coming into his new position. I expect the community board will be a close partner in his work on the City Council and we will share in successes that improve the quality of life in our community and the city as a whole. Bring on the pedestrian safety improvements and protected bike lanes, containerized trash plans, more affordable housing, green infrastructure, and vast improvements to our social service programs so we can help those who need it most—those with mental illness and who are homeless. Dedication and inclusion can go a long way when it comes to helping your neighbors, and that is Erik Bottcher's modus operandi.
CB4 has also had early contact with Manhattan Borough President (MBP) Mark Levine, bringing him up to speed on critical issues in the district and as he builds out his team, we'll continue that work. MBP Levine has also hit the ground running. As chair of the NYC Council Health committee, he was a leading voice of reason and of information during the pandemic. And on his third day as MBP, he released a 16-point plan for how we can get the pandemic and the Omicron variant under control. On a personal note, Mark and I worked together previously on park and transit issues and I was a guest of his on Manhattan Neighborhood Network's Represent NYC, where I talked about the need for lateral ferry service on the west side of Manhattan.
I'm pleased to share that I've been in touch with Councilmember Bottcher multiple times already. MBP Mark Levine attended our Full Board meeting earlier this month, and I look forward to connecting with him and his team in the very near future. I'm also looking forward to continuing to work together with Congressmembers Jerry Nadler and Carolyn Maloney, State Senators Brad Hoylman and Robert Jackson, and Assemblymembers Linda Rosenthal and Dick Gottfried.
CCNews: Community Board letters to elects and City departments come as recommendations, not decisions, yes? Yet those texts, written as drafts by committees and vetted/voted on by the full board, often influence policy and decisions (the SLA for example, frequently abides by your recommendations). For the general reader not tapped into the process, what happens between letter sent and decision made? What are the effective tools CB4 has to be at the table and what will you do to improve that?
LeFrancois: Community Boards are advisory bodies, so our opinions only go as far as the quality of the recommendation, and if the recipient is actually receptive. We don't just say "No" to everything we don't like. New York is a big city with a lot of players, and CB4 is effective at working with some of the city's biggest and walking away respected and consulted in projects big and small. Case in point: For the first time in the board's history, we are a Participating Agency on the Port Authority Bus Terminal redevelopment project.
Here's the process: First a committee takes up an issue, be it a land use item, a new bar, a bike lane, or a park improvement. It may have been initiated by a committee member, a community member or someone else, or maybe brought up in public session. If it is an application for a liquor license or a new building, the committee hears from the applicant or an expert on the topic, has a discussion, and will hear from the public. If it is appropriate, the committee will formulate a recommendation or opinion in the form of a letter or resolution that is then brought to the full board for a vote. The board may amend it prior to adoption.
To be effective, a community board needs to be shrewd in its approach and diligent in its follow-up, because, after all, it is a big city with a lot of players. So it's really key to make sure there is value to the community and the applicant in what we're working through. For instance, board members often want to reject a new liquor license, but years of working with applicants have shown that we can agree on conditions for approval. CB4 initiated a process for stipulating "terms and conditions" for licenses that the SLA honors.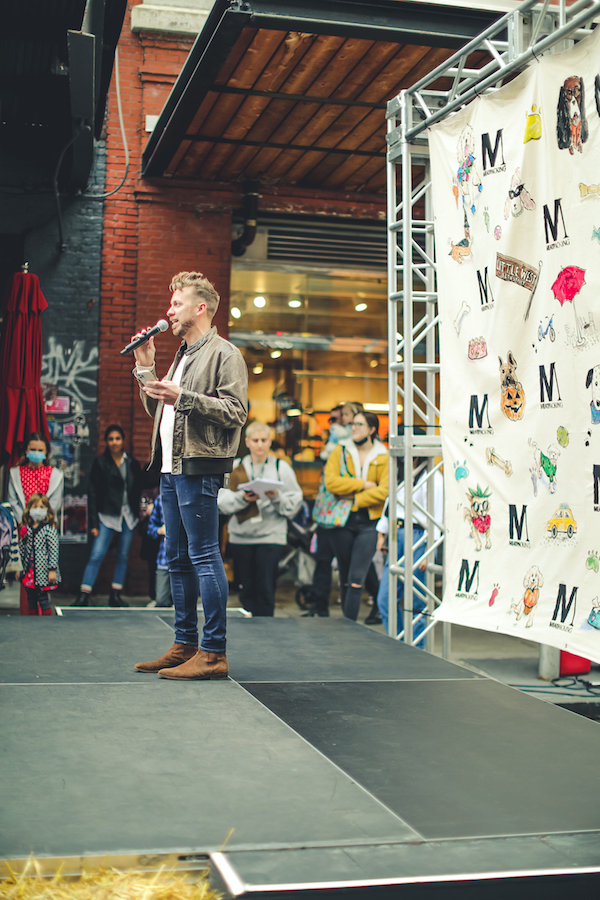 CCNews: Some developers are sidestepping the notion of having any affordable housing in their proposals, and others have not lived up to their promises to CB4. Is 80/20 housing still a viable path toward affordable units becoming available in the CB4 area? Are there other strategies CB4 can and/or will pursue to secure affordable housing? And while we're on the topic, what is AMI and are those numbers a fair and accurate representation of what lower- and middle-income really is?
LeFrancois: As-of-right development doesn't require affordable housing, unfortunately. The city's newest mixed income housing does support a 70/30 split, where 70% of units are market rate and 30% are affordable, which is up from 80/20, but that requires a rezoning.
One problem is demand is through the roof—and we have buildings with very tall roofs in NYC—and yet it's also extremely difficult and complicated to meet it with supply.
AMI (area median income) is part of the problem, too. While we base our rents for affordable housing on a percentage of the region's AMI, it's about finding a good mix of percentages to meet all the income bands for affordable housing, which ensures we have an economically diverse neighborhood. So no, AMI broadly is not an accurate representation of an area's income, but we manage it to try to meet our needs. A big challenge is that it's hard to build moderate- and middle-income housing, of which there is a big demand for. And while we've seen an even greater need for low income and supportive housing, ensuring there's a good mix of incomes is a long-held goal of the CB.
We have a housing crisis and every option needs to be on the table right now for how we can preserve, and vastly increase, affordable and low-income housing for New Yorkers.
I'm hopeful that Governor Hochul's recent move to pullback an RFP on a state-owned site around the Javits Center and Hudson Yards to consider more community input will become a new place for a lot of affordable housing. CB4 will also be updating its affordable housing plan, which is 117 pages and includes recommendations for how to preserve and develop new affordable housing on city- and state-owned sites, as well as looking at new ways to partner with developers to bring new affordable housing online. There is also a lot of unrealized development that includes affordable housing, that hopefully this administration will help kickstart. I'm looking forward to working with Councilmember Bottcher to make some of the city sites available for affordable housing, and quickly.
CCNews: The shift from in-person to online was necessary during the pandemic, and continues into early 2022. When we're back to the days of brick and mortar gatherings for public meetings, will CB4 go hybrid, i.e. set up for real world attendance as well as live streaming/Zoom (which would provide content for CB4's YouTube channel)?
LeFrancois: I hope so. I feel strongly we should provide interactive streaming for when we return to in-person meetings. Hybrid meetings mean people who normally cannot attend meetings due to being homebound can participate, and likewise, those board members who choose to participate virtually can, too. We have also seen increased participation at community board meetings when they are held via Zoom, another plus. But this will have to be a discussion with the Borough President and City Hall because hybrid models cost a lot of money to execute well while ensuring participation is possible for all. But just like the uproar that the ADA created because of costs, we can't let that get in the way. City Hall must come through, just like other localities around the state. Community boards are notoriously underfunded, so I plan on working with other boards to make a big push for this funding.
CCNews: We have several photos on file, many of them from PRIDE, that demonstrate your way, and comfort, with a boa. Will you bring this and other aspects of your fashion sense (and whatever you do to get your hair to do that) to your new role at CB4? What are your hopes, if any, that others might take inspiration—and might we see that on a Zoom screen in the far or near future?
LeFrancois: I have a particular level of comfort in heels, too, but I struggle to find them easily in my size. [Cue the drag queens screaming, "You don't know where to shop!"]
I like color and from the time I was born, with my mother putting my brother and me in coordinating outfits, fashion with a bit of flair has always been a part of me. I'm thankful for good hair genes and dry shampoo, too.
People often say to me, "Gosh I wish I could wear that," to which I say: "You can. Just put it on and walk out the door."
I'm also lucky living and working on the west side where my wardrobe choices have not undercut my credibility, which isn't always the case for people who want to wear purple, cobalt, or chartreuse on any given day, not just tan and navy.
For my first meeting as chair I gasped when I got to my office, realizing it was full board day and I had a sweater on without a collared shirt or blazer. Zoom has casualized us, which is ok, because we've all been through hell and back and we're still going. So I hope we return to in-person so I can dress up, head to toe, for meetings again. My blazers, and maybe even the boas, are waiting! (But no, I don't normally wear high heels.)
CCNews: Thanks for indulging us on that last one, clearly a joke. Now, a serious inquiry: Favorite Golden Girl, and why?
LeFrancois: Oh, Scott, how could I possibly pick one?! Admittedly, I am inclined toward each of them. And it's hard to not say Rose right now given the passing of the Grand Dame of the Screen, Betty White.
I watched many an interview upon the announcement of her death. I love that she loved vodka on the rocks and hot dogs: simple things. But one of her best lines came when she was asked: "You've done so much in Hollywood, what do you regret not doing?" Deadpan, and with no grin, Betty replied: "Robert Redford."
I have a blazer that feels very much like one of the Golden Girl couches, so I'll be channeling them all—and you—when I wear it next.
ABOUT | Jeffrey LeFrancois' day job is the Executive Director of the Meatpacking Business Improvement District. He also sits on the board of Directors of Housing Conservation Coordinators, the Hudson River Park Advisory Council, and the Stonewall Democratic Club of NYC. He hobbies in pottery, hosting dinner parties (when health and vaccines allow), and enjoys spending time with his partner, Carter Maxwell, and their dog, Scarlet, with walks along the Hudson while dropping off compost.
Chelsea Community News is made possible with the help of our awesome advertisers, and the support of our readers. If you like what you see, please consider taking part in our GoFundMe campaign (click here). To make a direct donation, give feedback, or send a Letter to the Editor, email scott@chelseacommunitynews.com.