New to the neighborhood and creating a buzz because of quite a few things other than just their killer cocktails, the two-in-one venue Chelsea Table + Stage (152 W. 26th St.) is as serious about its menu as it is its roster of performers–all brought to you in a COVID precaution-compliant atmosphere whose intelligent design sacrifices none of the intimacy its makers had in mind when first discussing the concept that would become reality. Chelsea Community News recently posed a few questions to one of the project's co-creators,  whose vision was realized during a time of unprecedented uncertainty.
Scott Stiffler, for Chelsea Community News (CCNews): Congratulations on the venue/project. You are among a rare group who can say they started something new during a global pandemic. Were there plans for the venue before COVID?
John O'Mahoney (John): Yes. My business partner, Gil Rubenstein, and I began exploring and discussing venue concepts in 2019. We knew from the beginning we did not want to have a restaurant-only concept. We kept the street level as our bar and 38-seat restaurant Chelsea Table. Connected to that via a grand staircase is our 129-seat music and dining venue, Chelsea Stage. Combined, they create Chelsea Table + Stage (CTS).
CCNews: What made you take the leap of faith in such uncertain times?
John: We signed the lease in early March 2020. Although warning signs were starting to appear domestically, we decided to proceed. As more restrictions came into place, CTS evolved from a "project" into a labor of love. Gil and I are restaurant and hotel veterans, so CTS gave us a healthy way to focus our creative energy during a rare quiet time in New York City.
Due to the pandemic we decided to hold off on launching Chelsea Table + Stage in 2020 to focus on its sister project, Sandbar Rooftop, also located at 152 West 26th Street. After a summer of preview shows to fine-tune the live performance sound, CTS officially opened on September 8, 2021.
CCNews: What was the space before its present incarnation, and what went into preparing it for the opening?
JOHN: The previous restaurateur ran a burger and steak restaurant. No live music. We added a center stage to CTS—no seat is further than 17 feet from the stage. Preparing for the opening was far different than the usual fine dining restaurant launch. The usual prelaunch involves menu design and tastings (the fun part!), interior design and textures, glass, china and flatware selections, etc. Basically, the floors and wall of the restaurant.
Our project had all of that, plus a huge focus on the ceiling. Adding weight-bearing rigging points in quadrants to hold all the zoned audio speakers and stage lighting. We really wanted CTS to have the best sound and lighting possible. We partnered with the amazing team at Wizard Studios to design and install our vision. The response from the artists and guests alike has been validating and rewarding.
CCNews: What is your COVID protocol?
John: We are following state and city mandates. All guests 12 and up are required to be fully vaccinated in order to enter our venue. All guests 5-11 must provide proof of 1 dose of vaccination. For help providing proof of vaccination, we recommend the NY State Excelsior Pass. You may also show your vaccination record.
CCNews: What has it been like, adhering to and enforcing that?
John: As a whole, music lovers have proven to be a caring group of consumers. They appreciate the fact that the artists are unmasked and need to stay healthy to earn their living.
CCNews: Does it change the experience for your guests, your performers, your employees?
John: Once the house lights dim and performers take the stage, it feels like regular times. I enjoy escaping into the music along with the guests. For that one evening, the music offers community and a shared appreciation of art.
CCNews: What do you look for, personally, when you go for a night out on the town and how does spending time at this new Chelsea venue deliver on that?
John: I personally am at the place in life where I want to attend shows in an intimate setting with a good seat and clear sightlines. I also want to enjoy a quality dining experience with excellent cocktails. I prefer not to visit three separate locations to hit the music, food, and beverage trifecta. Combined that is not something consistently offered in a single experience in Manhattan. CTS offers all of the above, plus great service.
CCNews: Your roster of talent is diverse. Who programs the calendar, and what are a few of the most memorable artists to appear, so far?
John: CTS has a team of talent bookers with specific markets: Jazz (Wednesdays), Nashville Influences (Thursdays), International Artists (Fridays), Headliners/Touring Artists (Saturdays), Broadway Artists (Sundays), Local Talent (Mondays), Emerging Artists (9:30pm show most nights), fun brunch bands, etc.
Most memorable so far is ARKAI, an amazing duo that blends classical music with contemporary technology. They are going to be huge. See them now.
In no specific order, some of my other favorites are: Karrin Allyson, Mackenzie Shrieve, Thunderstorm Artis, Rachel and Keve, Grace Kelly, Gotham Kings, Reeve Carney, Todd Almond with Betty Buckley, Cyrus Chestnut, Nelida Tirado Flamenco, and Lauren Davidson
CCNews: Whose booking are you especially looking forward to this winter/spring?
John: Randy Edelman, BYHAZE, Jambalaya Brass Band, Steph Amoroso, ARKAI. And for my guilty pleasure selection, The Boy Band Project is doing a brunch residency starting on February 27.
CCNews: Why did you choose this particular location, and Chelsea in general?
John: It's more like the neighborhood chose us. The Fashion Institute is on the corner, Sid Gold's is directly across from us. Chelsea has amazing artists in its DNA. The neighborhood drove the vision of what CTS is.
CCNews: What's it been like to become part of the neighborhood?
John: Honestly, is has been emotional. The local residents and business owners have been welcoming, supportive and encouraging. The locals think our timing is crazy but appreciate our can-do toughness. The artists universally have thanked us for bringing a new venue into existence and for creating a safe-space for all to feel welcome.
CCNews: The cuisine goes hand in hand with the entertainment, yes?
John: Absolutely. They are inseparable to me. CTS is American cuisine with international influences. Just like the music.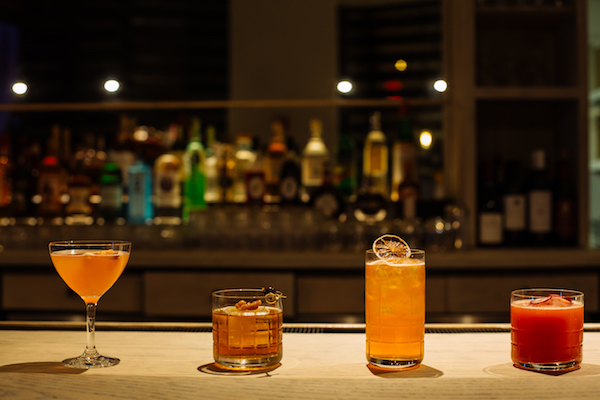 CCNews: How is the dining/drinking its own draw, and what are some menu highlights?
John: Our mission statement to our key first hires (Executive Chef, Mixologist, Service Director) was simple yet a challenge: We are going to create an unpretentious fine dining music club where people will come back just to experience the food and beverage again. Because it tastes that good! Simultaneously, we will have an amazing restaurant where folks will be blown away by the food and beverage offerings and say, "And you have live music? We love you guys!"
CCNews: Who is in the kitchen/at the bar creating this aspect of the venue?
John: I'll start with the easy part to your question: Frankie Gabriel is our Swiss Army knife, if you will. Frankie's official title is Service Director. He is also our mixologist and emcee for show openings. Besides decades in the hospitality business, he has also been a touring musician and actor. A born showman with legitimate restaurant bones. We go back years together. Bringing Frankie onboard was a no-brainer.
And then there's our Executive Chef, Eric Purugganan. Eric has taken an amazing culinary journey before joining the team. He was Alaskan-born, formally trained, and made his bones in the dynamic Oregon restaurant scene of the 2000s, followed by a long stint at a Hawaii resort. The man is like a culinary onion—I learn another skill he possesses in almost every conversation. I brought up kimchi recently and he casually mentions he studied under a Grand Master in South Korea!
CCNews: Please feel free to mention anything not covered above and thanks for your time.
John: Our sister venue, Sandbar Rooftop, is a great place for a pre- or post-performance cocktail. Sandbar Rooftop features two retractable roofs and offers an incredible Empire State Building view. The rooftop is fully heated and air-conditioned while offering alfresco dining when the weather is right. Chelsea Table can be enjoyed for dining only if you so desire. Live performances are simulcast on a large screen TV above the bar at no costs. Plus, CTS and Sandbar Rooftop are available for private events.
Thanks so much for this opportunity to get the word out about the new venue.
NOTE: Through mid-February, Chelsea Table + Stage is a locally featured participant in NYC Restaurant Week. Click here for our coverage of the event.
Chelsea Community News is made possible with the help of our awesome advertisers, and the support of our readers. If you like what you see, please consider taking part in our GoFundMe campaign (click here). To make a direct donation, give feedback, or send a Letter to the Editor, email scott@chelseacommunitynews.com.