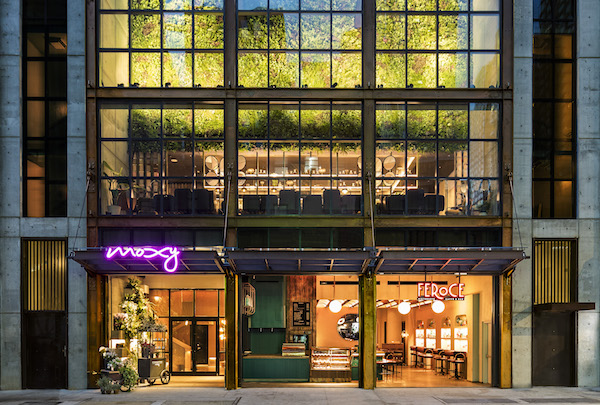 NYC Hotel Week is in play through the middle of the month. Book accommodations at 22 percent off standard retail rates, at more than 110 hotels across all five boroughs. Locally, one of the standout participants is Moxy Chelsea, (105 W. 28th St. at Sixth Ave.), the visually dynamic food, lodging, and lounging space that lets out of town guest know you care, and tempts full-time residents to find an excuse to declare their own domestic situation untenable for an evening or two, so they can slip into something more… botanical. Chelsea Community News recently spoke with Moxy Chelsea's General Manager, Sean Johnston, for an accessible and articulate look at this uniquely curated experience.
Scott Stiffler, for Chelsea Community News (CCNews): Sean, welcome to the neighborhood. In design, services, and target clientele, what sets Moxy apart from its many contemporaries along the side streets of Chelsea? 
Sean Johnston, General Manager (Sean): Moxy Chelsea blends botanically inspired design with Italian romance—we like to say we're The Flower District's Secret Garden. Guests enter the hotel through our Starbright Floral residency, a functioning flower shop, overflowing with fresh cut blooms and guests can order flowers directly to their room, our in-house florist is on speed-dial. Our bedrooms are flooded with natural light thanks to floor-to-ceiling windows and are filled with whimsical details, while reflecting a careful consideration of space and functionality. At the helm of our food and beverage offering is Tao Group, bringing innovative and authentic fare paired with epic experiences.
CCNews: A little more detail on the design, please. What went into creating the spectacular exterior view and its unique levels? 
Sean: Moxy Chelsea marks the second collaboration between Yabu Pushelberg and Rockwell Group, two of the industry's most admired design firms. Rising 35 stories high, the buildings architecture honors the neighborhood with its industrial façade and soaring, greenhouse-style atrium revealing the vertical gardens within.
Inspired by the nearby Meatpacking District, four butcher blocks suspended dramatically from the 12-foot ceiling act as check-in kiosks and a sculptural, wood-cast concrete staircase leads dramatically from check-in to the upper floors. A digital art installation on the ceiling adds a kinetic energy—words emerge from LED panels and spell out phrases inspired by the hotel and the Flower Market, such as "Bloom Baby Bloom."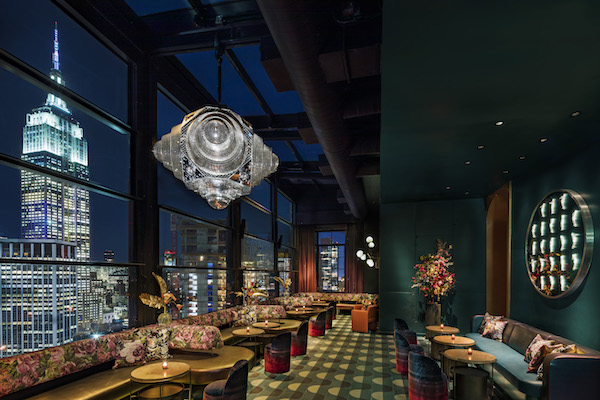 Our lobby lounge on the 2nd floor, Bar Feroce & The Secret Garden, unfolds as a succession of dining and hanging spaces designed to transform seamlessly from live to work to play over the course of the day. Spanning the front façade, the glass-enclosed Conservatory envelops guests in sunlight and lush vegetation, with a three-story-high living wall and greenhouse-style windows overlooking the Flower Market.
The Fleur Room rises 435 feet above ground, on our 35th floor, is glass-enclosed and features breathtaking 360-degree views of the New York skyline. The design adds a glamorous touch to the botanical theme with rich floral fabrics, a copper-clad bar, and a giant water droplet chandelier—including a massive vintage disco ball that once graced the infamous LA club Vertigo. At the touch of a button, the glass walls of the lounge retract, creating an open-air sky veranda with views of the Statue of Liberty and The Empire State Building.
CCNews: What motivated you to open during the pandemic? Was this time frame planned before the emergence of COVID-19? Regardless of planning, how has the space adapted to the realities of COVID?
Sean: We opened our doors February 14 of 2019 and stayed open for the entirety of the pandemic. Here at the Moxy Chelsea, our top priority today and every day is ensuring the safe, healthy and welcoming stay for our guest.  This 'new normal' may evolve over time to reflect government guidance and new societal expectations.  What will never change, though, is our commitment to keeping the hotel associates, guest and customers safe.  Here at Moxy we are following guidelines set by the Centers for Disease Control and Prevention and the New York Department of Health.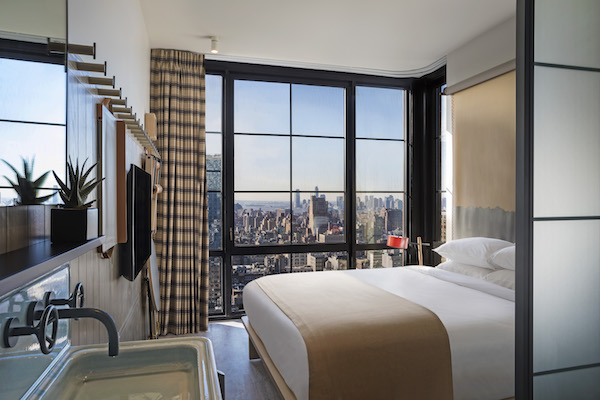 CCNews: How is Moxy Chelsea engaging its guests with nearby cultural, recreational, and retail opportunities?
 Sean: We amplify the guest experience through offering interesting and unique programming, events, and pop-ups at Moxy Chelsea, and highlighting the best our neighborhood has to offer. There's always something to do on property: experience live music by Momentum Humans, join a cocktail class with Good Time Mixology, participate in a flower arrangement class with Starbright Floral, play drag bingo with Sparkle Monster, join a fitness class with 1AND1LIFE, and more. Guests can also grab a coffee from Café d'Avignon on their way to explore the historical Flower District.
 CCNews: Have you engaged with your local residential and retail neighbors?
 Sean: We love being situated in one of the most unique neighborhoods in Manhattan. We fully embrace the history and continued success of the Flower District. We've partnered with one of the best florists in the district and NYC, Starbright Floral Design, who has opened a floral shop in the lobby of our hotel. They install seasonal displays, and guests and locals can buy bouquets as they enter the hotel. We even have the option for guests to place a bouquet order from their guest room. Dial 8555 from your room to reach our resident florist to order a bouquet (or two!).
CCNews: Talk about your dine + drink options, and how it might appeal to both guest and locals. 
Sean: Tao Group brings to life our dining and entertaining spaces with offerings that cover you from morning to late in the night. Café d'Avignon Pop-Up at Feroce Caffé opens its airplane hangar doors right onto Chelsea's 28th Street where guests and locals can sip espresso and enjoy daily fresh baked pastries, pizzettes, and Italian wine and beer in a charming atmosphere. On our second-floor, Bar Feroce & The Secret Garden offers a modern twist on traditional bar bites, sharable comfort dishes and playful Italian cocktails, all within flexible seating areas that morph from co-working to playful lounge. The Fleur Room pairs cocktails and light bites with a view fit to impress New Yorkers and guests alike.
Chelsea Community News is made possible with the help of our awesome advertisers, and the support of our readers. If you like what you see, please consider taking part in our GoFundMe campaign (click here). To make a direct donation, give feedback, or send a Letter to the Editor, email scott@chelseacommunitynews.com.