BY SCOTT STIFFLER | Other kinds of news-providing print publications and online sources would burden you with slogging through an introductory paragraph that serves only to stand by the hack public speaking chestnut, ¨Tell them what you're going to tell them." But we've got better things to do than waste your time. So let's get right to the timely news about the race to succeed retiring Richard Gottfried as the New York State Assemblymember representing Manhattan's Assembly District 75.
BUT FIRST: For those not following the race with the zeal of the candidates themselves or thoroughly wonkish news types such as the person typing this, here is the skinny on the current field of contenders: Manhattan Community Board 4 (CB4) member Chris LeBron, current CB4 member and former CB4 Chair Lowell Kern, Manhattan Community Board 5 (CB5) member Layla Law-Gisiko, former leader of the Reimagine New York Commission's support for workforce and small businessess Harrison Marks, and community organizer Tony Simone. (Campaigns have been suspended by former NYC Council staffer Louis Holden-Brown, Carl Wilson, formally NYC Council Speaker/District 3 rep Corey Johnson's liaison to CB4, and Penn South Co-Op President Ambur Nicosia, who confirmed campaign suspension in texts and emails to Chelsea Community News. A formal statement by Nicosia is expected soon.)
And now without further delay, here's a bit about what's happening in the race: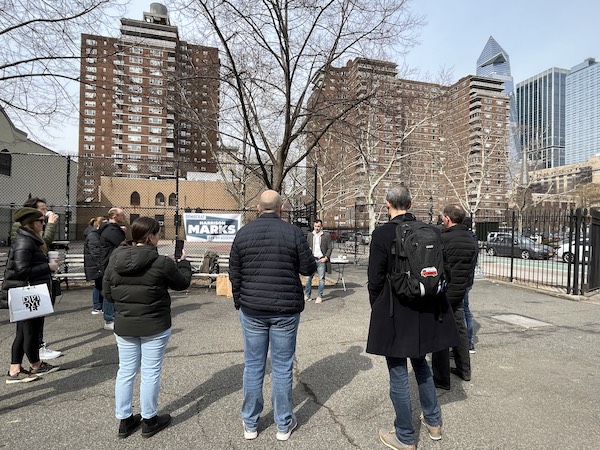 Saturday, March 5 at 11am, the Penn South Playground (26th St. btw. 8th & 9th Aves.) was the place for Harrison Marks´ Petitioning Kick-Off Event. Coffee and bagels were served, but these also-rans clearly lost out to Marks the event´s marquee name. Those who wish to volunteer for the Petitioning process, which the Marks campaign expects to last through March, can click here. Text to be found at that destination includes this info from Campaign Manager Jacob Priley: "Your help with petitioning is crucial to getting Harrison on the ballot—no one would get to vote for him otherwise! … A petitioning shift is 3 hours and the average volunteer is signing up for 5 shifts over the month of March. We understand schedules are tricky, so please let us know in the notes section below if you expect to be late or leave early from any shift you schedule." Once Marks is on the ballot, more meet-and-greet events (also with eats and coffee, one suspects) will be held throughout the 75th Assembly District area. To keep on top of that schedule and all things relevant to the Marks campaign effort, click here to visit his website and add yourself to the campaign mailing list.
Elsewhere on the campaign trail, expect to see Layla Law-Gisiko (see the below flyer). To assist with her Petitioning process click here.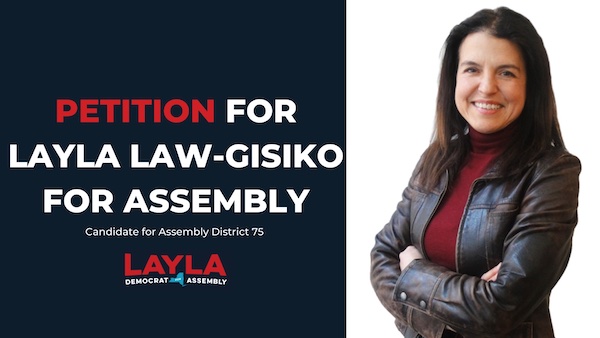 Candidate Lowell Kern is also out and about. The until-recently former Chair of Manhattan Community Board 4 (who retains his CB4 membership to this day) has an upcoming event, and that event has a flyer. See below for the flyer–and keep your eyes peeled on this website, for a Guest Opinion piece whose unique perspective is the product of, among other things, Kern´s knowledge of the negotiating process between CB4 and developers.
Scheduled in good faith that all five in the race will successfully navigate the Petitioning process and secure a place on the ballot, online opportunities to learn more about those who will be repping Assembly District 75 in Albany come 2023 continue to sprout up. Case in point:
Community-Sponsored Candidate Forums | It's not disrespectful to say that some good things came out of the time we spent in lockdown over the last two years, such as the emergence of Zoom. And no, we're not praising the fact that oodles of grandparents learned to use it overnight so they could get in on the online family gathering that would let them see all the grandkids on one screen as if they were watching the opening credits of The Brady Bunch (Google it, kids!). The lockdown silver lining we´re referencing is the emergence of Zoom as a new method of vetting candidates. Those who recall our coverage of last year's race for NYC Council Speaker and District 3 rep Corey Johnson's seat know the six candidates (kudos to them) showed up at dozens of online forums in the quest to get that all-important Primary day vote. Among the forum hosts were the Council of Chelsea Block Associations (CCBA) and the London Terrace Tenants Association (LTTA), both of who had never hosted an online political campaign event, and both of whom are doing so for the second time–this time, as hosts of Zoom forums gathering together the five candidates for Gottfried´s seat. 
Wednesday, March 23, 6-8pm, LTTA President Inge Ivchenko serves as moderator for a candidate forum presented to you by the collective members of CCBA, from whom Ivchenko will be reading a series of questions. All five candidates have confirmed they will attend. For the Zoom link to this event, click here. The Meeting ID is 842 7162 2531 and the Passcode is 002004. To dial by your location, call 1 929 205 6099 US (New York). Find your local number by clicking here. Ivchenko will also be moderating another Zoom-held, all-candidate forum, this one presented by the LTTA (one of two tenant associations that claim CCBA membership, which currently claims 15 individual bock associations as part if its membership). The LTTA forum notes all current candidates will be showing up, and get down to the business of making a case for themselves just as soon as the opening act has his say. And that act is… New York State Assemblymember Richard Gottfried! This casting coup will play itself out on the evening of Wednesday, April 13. For more details including the coming-soon Zoom link, click here to visit the LTTA website.
Turning now to news of endorsements: Tony Simon, whose endorsement by Assemblymember Richard Gottfriend was recently featured in this article, picked up another elecrted-based endorsement last week, again from a veteran representative of Manhattan. In our just-mentioned article, Gottfried said "I´m also hoping we can get a good consensus of the people [electeds] who represent Chelsea and Hell´s Kitchen to endorse Tony." Longtime Congressmember Jerrold Nadler answered that call last week, with a public announcement that Simone was his choice in the race to replace Gottfried. Nadler noted, in a March 1 press release from the Simone campaign, ""I've worked with Tony Simone on important issues in our community for decades, from defending tenants to building our beloved Hudson River Park. I know that he is a true consensus builder we can all trust to represent us in Albany and I am proud to endorse him for the Assembly." This vote of faith in Simone is added to a list of elected, past and present, including Assemblymember Deborah Glick, former State Senator Thomas Duane, and former City Council Speaker Christine Quinn. Those who wish to assist Simone in the campaigns Petitioning efforts can click here.
For the latest news in this race, keep returning to this space. . .
Chelsea Community News is made possible with the help of our awesome advertisers, and the support of our readers. If you like what you see, please consider taking part in our GoFundMe campaign (click here). To make a direct donation, give feedback, or send a Letter to the Editor, email scott@chelseacommunitynews.com.