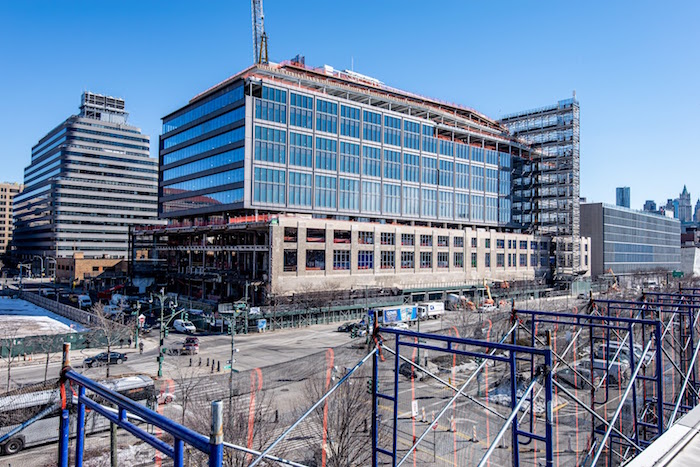 NOTE: See the addendum following the below Q&A for more information on plans for Chelsea Market and other local Google properties.
BY SCOTT STIFFLER | Augmented, of course, by the global pandemic's unprecedented impact on all aspects of life and work, Google's pre-COVID plans to expand its local footprint remain in place, with the purchase of additional properties following their $2.4 billion 2018 acquisition of Chelsea Market. We recently posed some question to Google's William Floyd. (As the director of state public policy and public affairs, he's "responsible for managing the company's state and local engagements with key opinion formers and elected officials across the country," according to his LinkedIn page.)
Scott Stiffler, for Chelsea Community News (CCNews): Last May, we spoke with Angela Pinsky about plans to expand the Google footprint in Manhattan (click here to access the Q&A). Revisiting some of those conversation points, let's start with the workforce as it applies to your Chelsea HQ on Eighth Ave. (W. 15th to 16th Sts.). Is the full or partial workforce back to brick and mortar business? What went into revising those "back to work" due dates throughout last year, and how do you feel presently about the notion of returning to Chelsea?
William Floyd (Floyd): After watching the data closely and coordinating with public health and infectious disease experts, we were pleased to announce this month the official date for our hybrid start in New York as April 4th. Most employees will be coming back at least three days a week. As a company, we fundamentally believe in the value of in-person spaces for collaboration, innovation, creativity and everything else that makes Google the best place to work and the leading technology company. And we feel that is shared among Googlers, many of whom were already coming to the offices in New York while we had an optional policy in place since last September.
Google's goals for New York continue—including reaching 14,000 employees in the next few years and growing opportunities within the company and the tech industry for New Yorkers of all backgrounds.  We are excited for this year as we open Pier 57 and we complete the $2.1 billion acquisition of St. John's Terminal announced back in September. Chelsea has been an amazing home base for us in New York. I've been thrilled to come back to work in the neighborhood as Omicron subsided, especially after work get-togethers at LouLou!
CCNews: What is the status of the Grow with Google program? Has it expanded its scope and reach via online offerings over the past year? What is the status of its Eighth Ave. street-level presence that was so active, pre-COVID?
Floyd: Since launching Grow with Google in 2017, we've provided over eight million people across the country with job-ready digital skills training. In February this year, Google's CEO Sundar Pichai, together with the nonprofits Social Finance, Merit America and Year Up, announced a $100 million fund to help reskill and train more than 20,000 Americans for high-paying, high-growth jobs in data analytics, IT support, project management and user experience design through Google's Career Certificates. I truly encourage anyone looking for a job, and who's interested in a new career direction or building up their skill portfolio, to look into getting a certificate—there are a lot of opportunities right now to access them with grants and no-interest loan programs. Graduates can also apply directly to over 150 companies in our employer consortium that have ommitted to recognizing the certificates, including Google, Salesforce, Nasdaq, Verizon and Walmart. Google is projecting it will drive more than $1 billion in aggregate wage gains for participants over the next decade, and we'll be using a third party to validate the economic impact along the way. Our New York Grow with Google Learning Center remains closed, but we continue to offer our digital skills. workshops virtually, some free of charge. We will also be opening a significant amount of community spaces in Pier 57 this fall.
CCNews: What have you learned, personally, over the course of the pandemic as it applies to the mission you've been tasked with?
Floyd: It's been said before, but this really was a crisis of a generation. And when crisis hits, you find the people ready to do the real work. I've now seen first-hand how much good can get done when people and institutions have shared goals and put all their resources together to achieve them. One initiative I've worked closely on over the last year that I feel is a true example of New Yorkers uplifting New Yorkers through technology is the NYC Recovery Challenge, which Google launched alongside Cornell Tech and Tech:NYC. After fielding more than 175 applications from startup founders in every borough, we chose 10 that had the most promising ideas to jumpstart the city's economic recovery. We provided those founders business and technical mentorship, and the top three received non-dilutive cash awards up to $100,000. Through this partnership, those founders have accelerated their work tackling issues like unemployment, access to social services and more.
Kelly Ifill, the first-place recipient and founder of digital banking startup Guava, offers commercial banking and community building services for Black small-business owners—who we know have been disproportionately impacted economically and health-wise by the pandemic. Guava is solving problems borne directly out of the pandemic, and they are not alone. We've seen so many New York founders and businesses doing incredible work to support their communities. It's something I will never forget.
CCNews: In what ways, if any, will Google be tracking post-pandemic office, interpersonal, productivity, etc. dynamics, i.e., is there anticipated long-term fallout and lessons to be learned from the unexpected, unprecedented shift experienced by workforces worldwide? What can we learn from that, and how can we use the good and the bad of it to foster a better workplace?
Floyd: There are certainly different benefits to in-person work and remote work. As I mentioned earlier, Google will be shifting to a hybrid work model for the long term. We've learned over the past two years that our offices are an integral part of our company culture, but we're also cognizant of how much our employees value the flexibility of remote work. We strongly believe that this balance allows our employees to be more productive and collaborative, which is good for Google as a company.
These are insights we've gained by conducting internal surveys of how our employees are feeling about anything and everything related to the future of work, and we'll keep listening and implementing changes based on those insights. We're also reimagining what an office can do and look like, especially considering the needs of hybrid teams.  For example, we're adding "team pods" to some offices, which are flexible, mobile assortments of chairs, desks, whiteboards and storage units that can be quickly arranged and rearranged depending on the level of collaboration desired. Most importantly, we've learned that the old ways of working are never coming back, and rather than thinking about this as a challenge, moving to a permanently hybrid work model is an opportunity to enhance the way we work for the better.
CCNews: What is the status of the Pier 57 project? Regarding previous press announcements about the Food Hall, what are your hopes for that, as an economic presence in Chelsea, and as an opportunity for the Google workforce, tourists, and residents to interact?
Floyd: Construction at Pier 57 remains underway, but we're planning on welcoming our employees to this office this spring as construction is completed. Our latest Pier 57 update, announced in late January, is that we are partnering with the James Beard Foundation (JBF) to bring our 16,000-square-foot public food hall to life. The space will welcome 18 vendors curated by JBF whose cuisines reflect the cultural diversity of New York City, with a special eye towards gender and racial equity commitments. We fully intend for the food hall to double as a community space for local Chelsea residents and visitors alike, and JBF will have a permanent booth featuring both a show kitchen and information on various JBF events and programming. We plan to open the food hall sometime in Fall 2022, along with previously announced community spaces like art galleries, educational programming, and the soon-to-be-largest public rooftop park in New York City.
CCNews: What are the present plans for Chelsea Market, and what is the likelihood that you will conduct some type of vertical expansion?
Floyd: First off, I want to say how grateful we are to the local small businesses in and around Chelsea Market we get to call neighbors. Chelsea wouldn't be the same without them, and when the pandemic arrived, we began working even closer with them and offered rent relief to make sure they could weather the disruption. Our main focus for Chelsea Market is making sure those businesses continue to thrive and our employees get back to in-person work smoothly. Our plans for Chelsea Market are still in place, but in our campus-wide planning, we are first focusing on bringing Pier 57 and 550 Washington online as quickly as possible.
–END–
Addendum: Google refused multiple follow-up requests for a more specific response to our final question, regarding possible vertical expansion of Chelsea Market. More information may be forthcoming, in the form of an appearance by Google and Jamestown at the Monday, March 21, 6:30pm Zoom meeting of Community Board 4's Chelsea Land Use Committee. Agenda Item #1 reads, "Committee Update: Google and Jamestown to present updates on Chelsea Market, Pier 57, Milk Building renovation, and Community Campus." The public is invited to attend and will have the opportunity to ask questions. For the Zoom link, click here. To view the livestream via CB4's YouTube channel, click here. Although our multiple requests to clarify Floyd's statement ("Our plans for Chelsea Market are still in place") remain unanswered, some insight may be found in last year's interview with Angela Pinsky, Google's Senior Government Affairs Manager for New York and New Jersey. In that May 25, 2021 Q&A (click here to access it), the following exchange took place:
CCNews: What is the long-term usage plan for Chelsea Market? Will its ground floor remain retail, and accessible to the public? Are there plans to vertically expand, as Jamestown wanted to when the property was under their ownership?
Angela: We understand how important Chelsea Market is to the neighborhood, and it is our full intention to keep it as an asset for the community. The ground floor will stay open, and we continue to meet our commitment to keep a significant portion of the space devoted to food usage, such as restaurants and grocery stores. During the pandemic, we helped tenants get access to street-level storefront windows so they could safely do pickup deliveries and sustain their businesses. We want to keep that relationship strong as we all emerge from these hard times. One recent example of that is the partnership we announced with the city to accelerate the vaccination effort by giving gift cards for Chelsea Market establishments to people who get their shots. Without a doubt, the redevelopment of Chelsea Market remains part of our long-term growth plans. While at this time our specific plans for Chelsea Market redevelopment are not finalized, the parameters allowable by the rezoning are still our framework for options.
–END–
Chelsea Community News is made possible with the help of our awesome advertisers, and the support of our readers. If you like what you see, please consider taking part in our GoFundMe campaign (click here). To make a direct donation, give feedback, or send a Letter to the Editor, email scott@chelseacommunitynews.com.