BY SCOTT STIFFLER | If you're a gay man with access to a shower and a penchant for covering showy show tunes therewithin—a sizable demographic if ever there was one—you've likely found yourself belting out the work of Oscar, Golden Globe, and Grammy Award-winner Howard Ashman, lyricist of Beauty and the Beast, The Little Mermaid, Aladdin, and Little Shop of Horrors. Having died of AIDS-related complications in 1991, Ashman lives on not just in the form of your captive audience Luffa sponge, but as the marquee name in the GMHC Cabaret & Howard Ashman Award, an evening of star-studded performances of beloved Broadway classics, whose proceeds go to support NYC's Gay Men's Health Crisis, whose (they say it better than we could so let's just quote them) lifesaving programs "benefit people living with or affected by HIV and AIDS each year through HIV testing and prevention programs, mental health and substance use counseling, legal, housing, and nutrition services—and more."
This year's edition, which doesn't skimp on the abovementioned promise of big names, features PGabriel Ebert (Pass Over), video from Jessie Tyler Ferguson (Take Me Out), Katie Finneran (The Gilded Age), Gina Gershon (Emily the Criminal), Cady Huffman (Cady Did), Amy Jo Jackson (Hatchetation), and Kate Rigg (That's What She Said), who will serve as emcee. The well-deserved recipient of this year's Howard Ashman Award is actress, comedian, and jazz musician Lea DeLaria. Besides knocking it out of the park every time she steps on stage or into a recording studio, DeLaria, notes GMHC, has an equally solid track record of "dynamic LGBTQ+ advocacy and contributions in the fight against HIV and AIDS."
As an additional reward (or penance for unspecified sins, perhaps?) DeLaria and the Joe's Pub audience will experience a performance from the difficult-to-describe and utterly unforgettable Dina Martina. As DeLaria was unavailable for advance press, Dina gladly stepped in to bring some star power to our preview of this event. Comedic dynamo Dina is a pip and a pill, as mom used to say, but she is (and we are) deadly serious about DeLaria's talent, and the worthy cause that is GMHC. So read on for our Q&A with Dina Martina, and stay for the descriptive paragraph telling you how to reserve your tickets for the Thursday, March 24 event.
Scott Stiffler, for Chelsea Community News (CCNews): You've been booked for the GMHC Cabaret & Howard Ashman Award night, at Joe's Pub. What do you think of this year's recipient, Lea DeLaria?
Dina Martina (Dina): I think she's a very nice man. I mean, of course she's talent-packed—duh—but a lot of folks don't know that she also does oodles of charity work in her spare time. For instance, on her lunch break every day, she gives trophies to privileged children. I mean, no one else does that. And every Tuesday night she raises money and awareness for Duane Reade stores. Mostly awareness, but some money.
CCNews: As winner of The Stranger's Genius Award and a three-time Seattle Times Footlight award-winner, what advice would you give to DeLaria, in terms of crafting an acceptance speech, adding it to her resume, and possibly monetizing it, if so inclined?
Dina: Oh I don't think Lea needs my advice, she's seasoned to perfection. But I am glad you asked about monetizing, because I have a lot of experience with that. I traded all my awards for a baked potato and some Skyrizi, which I'm saving for a rainy day. So the only advice I will offer Lea is to sell her award on Ebay.
CCNews: What was your life like during lockdown? Did you break or make new habits?
Dina: All I did during the lockdown was drink everything in sight and binge all my favorite tv shows, starting with Dr. Pimple Popper. I know it's not for everyone, and to be honest, even I'm on the fence about it. I mean, I love it, but I'm so squeamish that I can't actually watch it. I have to listen to it on the radio. And then I also watched all my murder crime shows. I just love murder. And boy, murder's really one of those things that people either REALLY love or REALLY hate. It's like cilantro.
CCNews: Tongues are still wagging about your brief, brilliant time on stage at Lady Bunny's Wigstock 2.HO. What inspired you, and why are we still waiting on that promised album (Dina Martina: Mysteries of the Thyroid)?
Dina: Oh no, are you still waiting on that album? Well I hate to be the bearer of bad news, but if you don't have it now, you probably won't ever have it, 'cause we only made six copies. Supply and demand, you know? But if you want, I can definitely hook you up with one of my other albums, because we made 10 of each of those:
Dina Martina: Haunted by Maritime Tragedies
Dina Martina: Sedentary Lady
Dina Martina: Anthem of a Fur Trader's Wife
Dina Martina: Forgotten But Not Gone
Dina Martina: Now, Less Than Ever
CCNews: Favorite Golden Girl, and why?
Dina: Definitely Susan Anton, and I still think she was robbed when she didn't win the Oscar for Goldengirl. She should've at least nabbed a nom.
–END–
GMHC's Cabaret & Howard Asham Award takes place Thursday, March 24, 7pm (doors open 6pm) at Joe's Pub (at The Public Theater; 425 Lafayette Street, at Astor Place). For tickets ($50-$500 plus 2-drink or $12 food minimum, per person), click here. At The Public, health and safety requirements are in effect until further notice. "Our audience policy," they note, "requires the use of masks and complete COVID-19 vaccination, including a booster dose (for those eligible according to CDC guidelines), by the date of attendance for access into the facility, theaters, and restaurant.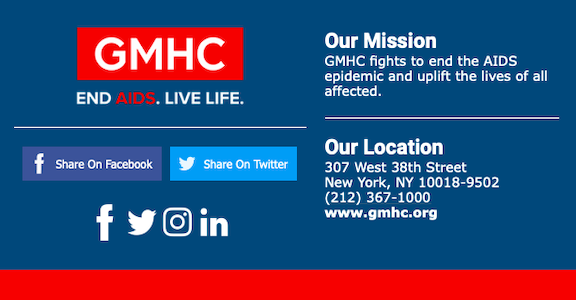 GMHC's Cabaret & Howard Ashman Award is a star-studded event featuring Broadway actors and celebrities performing Broadway classics. This year, GMHC is proud to honor renowned actress, comedian, and jazz musician Lea DeLaria with the 2022 Howard Ashman Award for her dynamic LGBTQ+ advocacy and contributions in the fight against HIV and AIDS.
The Howard Ashman Award is named for the Oscar, Golden Globe, and Grammy Award-winning lyricist of Beauty and the Beast, The Little Mermaid, Aladdin, and Little Shop of Horrors who died of AIDS-related complications in 1991. Proceeds from the cabaret will directly support GMHC's lifesaving programs, which benefit people living with or affected by HIV and AIDS each year through HIV testing and prevention programs, mental health and substance use counseling, legal, housing, and nutrition services—and more.
Chelsea Community News is made possible with the help of our awesome advertisers, and the support of our readers. If you like what you see, please consider taking part in our GoFundMe campaign (click here). To make a direct donation, give feedback, or send a Letter to the Editor, email scott@chelseacommunitynews.com.