Sat., March 19, 11:30am-2pm on W. 47th St.: Day of Action Against Litter and Rats
BY SCOTT STIFFLER | Resourceful though they may be, rats are also ravenous opportunists whose ability to reproduce and adapt to ever-changing situations makes them formidable foes. So why put out the Welcome mat by littering, or leave out garbage in a manner that reads to a rodent's eyes as an engraved invitation to dine al fresco, curbside?
The West 47/48 Block Association refuses to resign themselves to such a scenario—and in the spirit of prevention, they're co-sponsoring this Day of Action alongside District 3 NYC Councilmember Erik Bottcher, Manhattan Borough President Mark Levine, Community Board 4, the Hell's Kitchen Litter Legion, and the NYC Department of Health. At 11:30am this Saturday, March 19, meet at Fountain House (425 W. 47th St., btw. 9th & 10th Aves.), where before fanning out, you'll learn about rat reduction measures, including the filling in of rat burrows.
Register for this Day of Action by clicking here. For an excellent look at the rat situation as it applies to Hell's Kitchen, check out Catie Savage's As 311 Rat Sightings Double in 2022 — Let's Stop Hell's Kitchen Going to the Rats!, editorial content from our rock-solid colleagues at W42St.nyc. To access Savage's article, click here. For a Chelsea-centric take on this citywide scourge, click here for Bonnie Rosenstock's two-part  look at the source of a rat population explosion on W. 29th St., and effective mitigation methods.
For more info on the March 19 event, see the below flyer.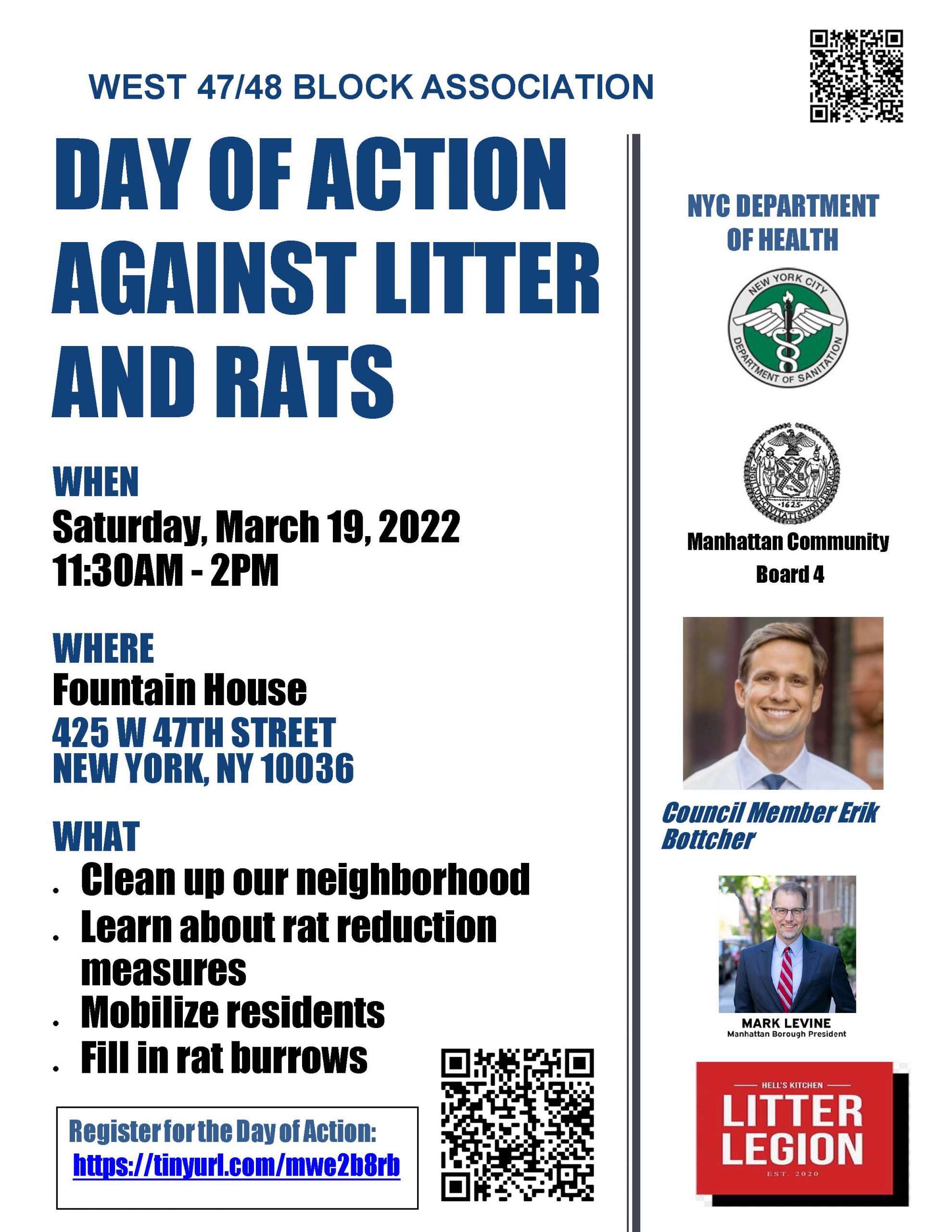 Chelsea Community News is made possible with the help of our awesome advertisers and the support of our readers. If you like what you see, please consider taking part in our GoFundMe campaign (click here). To make a direct donation, give feedback, or send a Letter to the Editor, email scott@chelseacommunitynews.com.