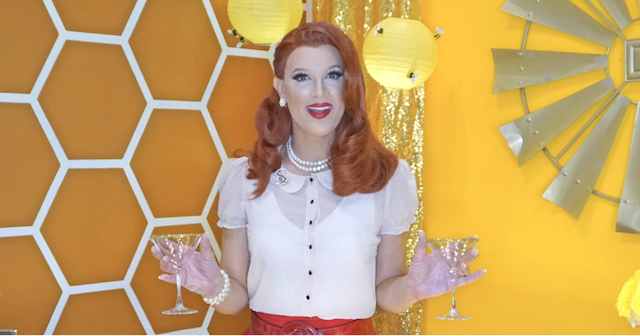 BY SCOTT STIFFLER | Drag and lip synching go together like drag and brunch, or brunch and booze–and although live signing is making some serious inroads as an arrow in the savvy queen's well-packed quiver, not every drag performer born to entertain can belt one out at will and in tune. That takes a very special gal–and boy, have we got one for you. Case in point, the below Q&A with Strawberry Fields, a queen bringing her own special sparkle to a stalwart Chelsea eatery.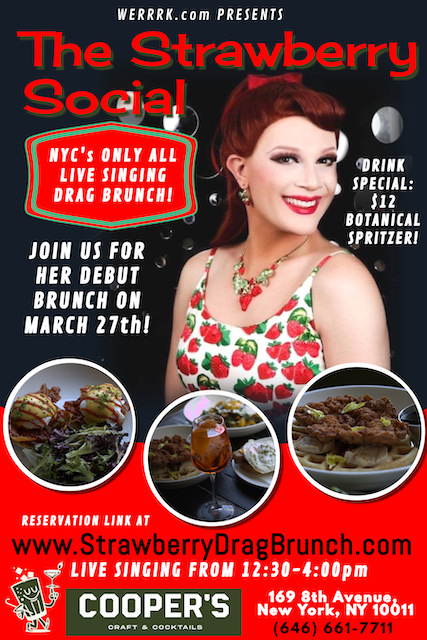 Scott Stiffler, for Chelsea Community News (CCNews): How did your show land at this particular venue and is there anything unique or notable about it because of its Chelsea location?
Strawberry Fields (Strawberry): My fiancé and I were looking for a place for lunch. We'd gone in and out of couple of places and landed at Cooper's Crafts & Cocktails [169 Eighth Ave.]. It was cozy and had a menu that interested us both. Oh yes and the happy hour was also a contributing factor!
As I'm enjoying my lunch, I took in the space and it's charms and literally thought to myself, "I wonder if they have a drag brunch, because this would be an amazing place for it!" I've been wanting to do a drag brunch for a while now but I wanted both the timing and the venue to be right, so I asked our server. She informed us that they were in the middle of a rebrand and had actually discussed adding a drag brunch to the venue! Talk about kismet! She sent the manager, Patrick Kelley, over to our table and we started discussing the idea. Before long we had a meeting in the books to hammer out the details and now here we are, just a couple of days away from debut of The Strawberry Social! I really couldn't be more excited.
CCNews: The press materials note it's being presented by WERRRK.com, found by the singularly sensational Chiffon Dior. How did you come to work with her?
Strawberry: I actually met Chiffon backstage at New World Stages when I was competing in season six of Paige Turner's So You Think You Can Drag. She brought me a lovely gift, a beaded red flower ring. It was so sweet and generous. She introduced herself, told me about WERRRK.com, and we clicked! Pretty soon after that, we launched Backstage 'Berry, an interview show for the site's YouTube channel, WERRRK.tv, where I interview entertainers and nightlife performers. I've done over two hundred interviews now and have gotten to sit down and kiki with all kinds of amazing talents from the worlds of drag, comedy, Broadway and its even taken me to RuPaul's DragCon, the Austin International Drag Festival and many other amazing places! We are now best friends and talk daily, and I continue to contribute to WERRRK.com however I can. The WERRRK family has been there for me and has helped me get to where I am. The love runs deep!

CCNews: You have said this will be a "different" kind of brunch drag show. Spoilers aside what does that mean?
Strawberry: No spoilers here! I think the fact that the brunch is all live singing is very personal and engaging. We all love music! We may be moved by different genres, but a love of music is one thing we all have in common. So I feel singing live brings me closer to the guests. It's more authentic when the song is coming directly from you. I want these folks to feel like they are at their favorite fabulous aunt's house for Sunday brunch. Everyone is welcome and they're going to hear Broadway favorites, Disney classics and staples from the American songbook, plus I've been working on songs from some of the most popular new streaming shows and movies! Also I can neither confirm nor deny that there may be some tap dancing.
CCNews: How did you get started in drag, and how would you describe your style?
Strawberry: So growing up in Ohio, I was always creating and singing, all aspects of the arts interested me. I was six years old when I did my first play. I played the Caterpillar in a neighborhood production of Alice in Wonderland. I remained active on stage and as a singer throughout high school before going to college for animation. Eventually the lure of New York City proved too hard to resist for me and I moved without a real plan for what I wanted to do next. I just knew I needed to be here. I had dabbled in drag over the years and a friend encouraged me to enter a drag competition and while I didn't win, I knew I had started a new chapter in my life. I just wish I knew back then how expensive my taste in costumes and hair would be!
My style is retro vintage, with a little Broadway thrown in there. My clothes are very influenced by the original Barbie wardrobes of the late 50's and early 60's, as well as by the legendary Tony-winning designer William Ivey Long.
Sundays, live singing from 12:30pm to 4pm, at Cooper's Crafts & Cocktails (169 Eighth Ave.). For reservations and more info, visit  www.StrawberryDragBrunch.com!
ABOUT THE SHOW | The Strawberry Social is New York City's only all-live singing drag brunch! Join the Vintage Vixen of NYC drag, Strawberry Fields, every Sunday as she delights the brunch crowd at Cooper's Crafts & Cocktails in Chelsea with her stunning renditions of Broadway hits, Disney favorites, American songbook staples and tunes from some of your favorite streaming hits such as "The Marvelous Mrs. Maisel", "The Prom", "Schmigadoon!" and more! It's a live singing drag brunch like you've never experienced before so make your reservations now and let the beautiful and talented Strawberry Fields start your week off on the right note, a musical note!
ABOUT THE ARTIST | Strawberry Fields is a New York City-based, live-singing professional female impersonator with an immaculate style and a wardrobe to match that has earned her the moniker "Vintage Vixen". You'll find this Glam Award nominated songbird belting out American Songbook standards and Broadway tunes at one of the many amazing NYC bars and clubs, like the late, great Chelsea venue, The Metropolitan Room (where she won New York's Next Top Drag Queen !), New World Stages (where she was a top five finalist for season six of So You Think You Can Drag?), Hardware Bar, Duplex, and other venues around the Big Apple.
In August of 2019, Strawberry brought her first new cabaret to the stage in four years when Strawberry Fields: Dedications debuted at The Green Room 42. Later that year, Strawberry dazzled the crowd at the 5th annual Austin International Drag Festival as a featured performer and headlined the first ever LuminoCity Festival at Randall's Island Park on Thanksgiving night.
If she's not on stage singing a ditty, chances are you can find Strawberry out and about, catching up with the hottest new queens and the biggest nightlife entertainers that the city that never sleeps has to offer as a part of her popular "Backstage Berry" interview series for WERRRK.com's video channel!
Learn more about Strawberry Fields on Facebook, Instagram, YouTube, Soundcloud and Twitter! Help put a few coins in my purse by treating yourself to my new merch!
Chelsea Community News is made possible with the help of our awesome advertisers, and the support of our readers. If you like what you see, please consider taking part in our GoFundMe campaign (click here). To make a direct donation, give feedback, or send a Letter to the Editor, email scott@chelseacommunitynews.com.