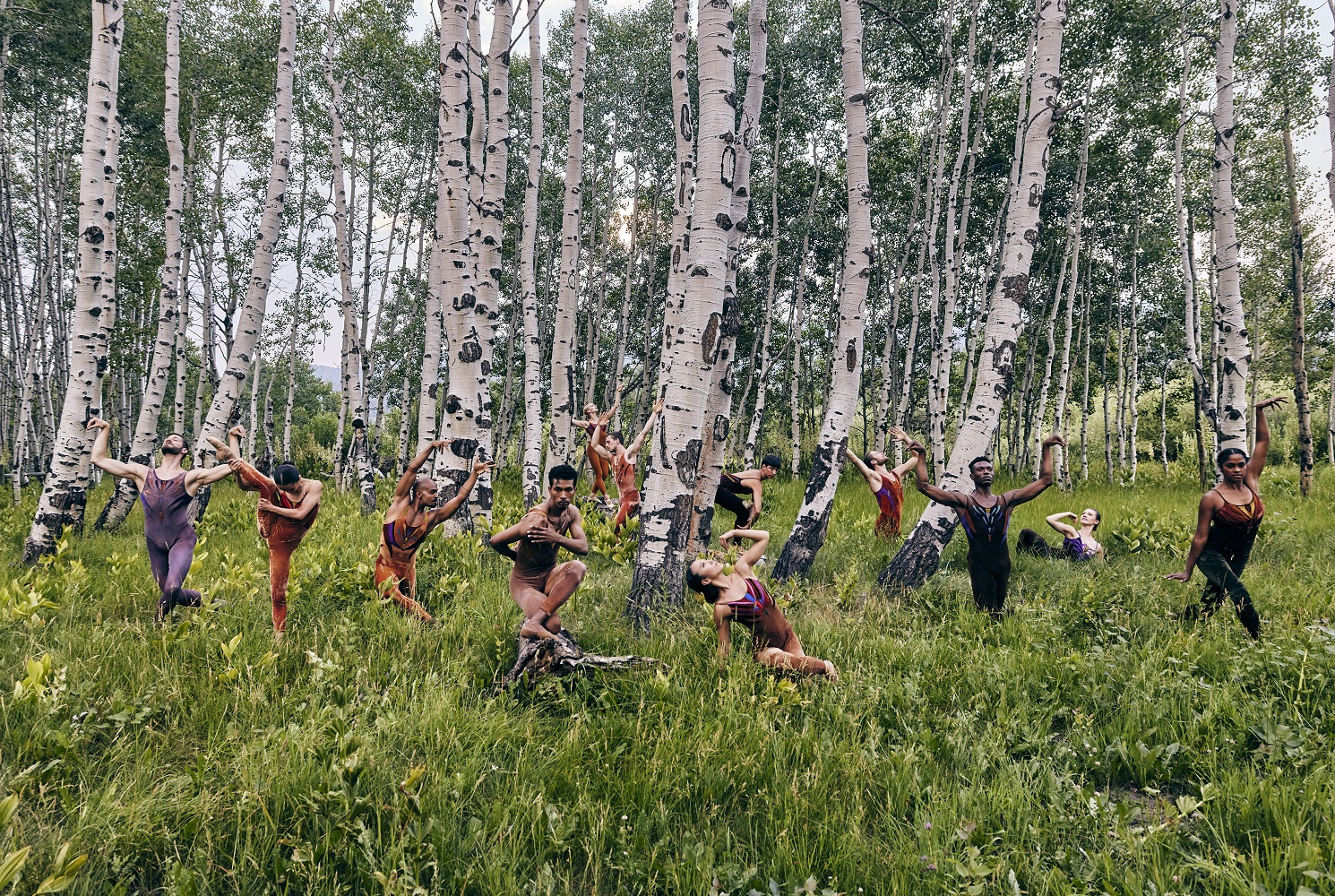 BY ELIZABETH ZIMMER | Notable as much for its live music as for its deeply committed dancing, the first program of the Limón Dance Company's spring season at the Joyce Theater spans 96 years of choreographic exploration.
Beginning with the stately sweep of Doris Humphrey's 1928 Air for the G String, a female quintet that predates the company's founding by 17 years (Humphrey, Limón's mentor, was its artistic director), the two-hour evening keeps 16 dancers on the move. Solemn narration by actor Dion Mucciacito illuminates the dance offerings; such material used to be included as program notes, but new economies have stripped the playbill to bare essentials (if you want dancer bios, you'll have to fire up your phone and snap a QR code). Sometimes Mucciacito explains a work's history; sometimes he reads from Limón's extensive writings.
Expansive notes would have been helpful for the 1967 Psalm, begun just after Limón was diagnosed with the cancer that eventually killed him. To Eugene Lester's long, dramatic percussion score with Hebrew text, a large ensemble of barefoot dancers in dim pinkish light speeds across the stage, turning and tilting, leaping and splaying their bare arms and elbows into the air. One of them (Nicholas Ruscica on Tuesday) plays the Burden Bearer, a representation, Mucciacito tells us, of the Lamed-Vavnik, the 36 righteous individuals without whom the world would not exist.  The other men lift and carry him, as if to protect him from some awful fate. Even a renegade, Hebrew-illiterate Jew like yours truly recognized the cadences of the Mourner's Kaddish; this piece encapsulates the alarm, terror, and grief of the millions lost in 20th century wars.
On opening night (April19), guest artist Shayla-Vie Jenkins performed Limón's 1942 Chaconne, sharing the stage with violinist Johnny Gandelsman, one of a generation of younger players whose physicality is almost as interesting to watch as his musicality is a pleasure to hear. Jenkins, a longtime veteran of the Bill T. Jones/Arnie Zane Company who now teaches at the University of the Arts in Philadelphia, approached Bach's sublime composition in soft shoes, with a lightness and liveliness refreshing in the otherwise angst-filled evening.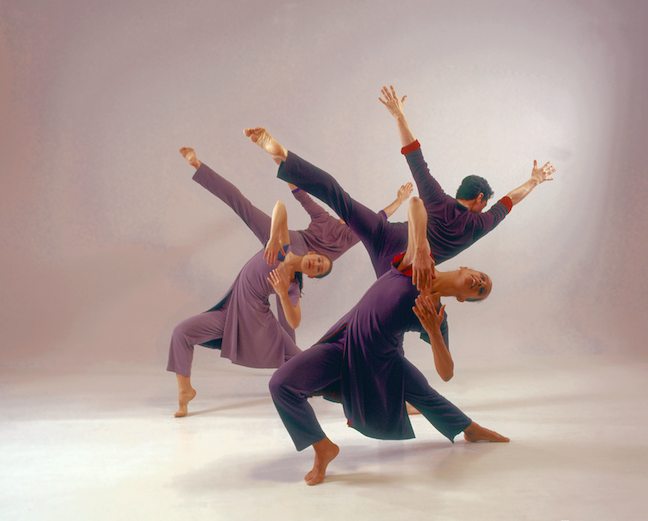 Olivier Tarpaga, a native of Burkina Faso who teaches in Princeton's Department of Music, composes as well as choreographs; his new Only One Will Rise is as notable for its live music as for its large ensemble of dancers. The latter struck me as tentative, not yet quite at home with the work's complexity, while the three musicians (co-composer/guitarist Tim Motzer, guitarist Saidou Sangaré, and multi-talented percussionist Daniel Johnson) jammed confidently. There's partnering, somersaults, and a fair amount of what Limón technique calls "fall and recovery." Projected on the stage's bare brick wall are slides of a green wood, an abstract animation of lines, and another busy one that evokes fish or dandelions or other mysterious natural phenomena.
"I try to compose works that are involved with man's basic tragedy and the grandeur of his spirit," Limón once declared. For a long time that "grandeur" was out of favor and out of style, and this company, belatedly celebrating its 75th anniversary this year, struggled. But it has a new artistic director, Dante Puleio, and based on the evidence of opening night, it has a new spirit and energy. Like other "legacy" troupes, it's working diligently to augment its repertory with contributions from diverse contemporary choreographers.
The Limón Dance Company performs at the Joyce Theater (175 Eighth Ave. at W. 19th St.) through May 1. The first program, reviewed above, runs through April 24. The second program, which includes Limon's last work, Waldstein Sonata; his early Danzas Mexicanas; and Raúl Tamez's brand-new Migrant Mother, plays April 26-May 1. For tickets and information, visit joyce.org or 2call 12-242-0800. If you can't make it to the Joyce, know that Tarpaga's new work and several Limón dances will be shown at the Jacob's Pillow Dance Festival July 20-24; for tickets to that, contact the festival at jacobspillow.org or 413-243-0745.
Chelsea Community News is made possible with the help of our awesome advertisers, and the support of our readers. If you like what you see, please consider taking part in our GoFundMe campaign (click here). To make a direct donation, give feedback, or send a Letter to the Editor, email scott@chelseacommunitynews.com.