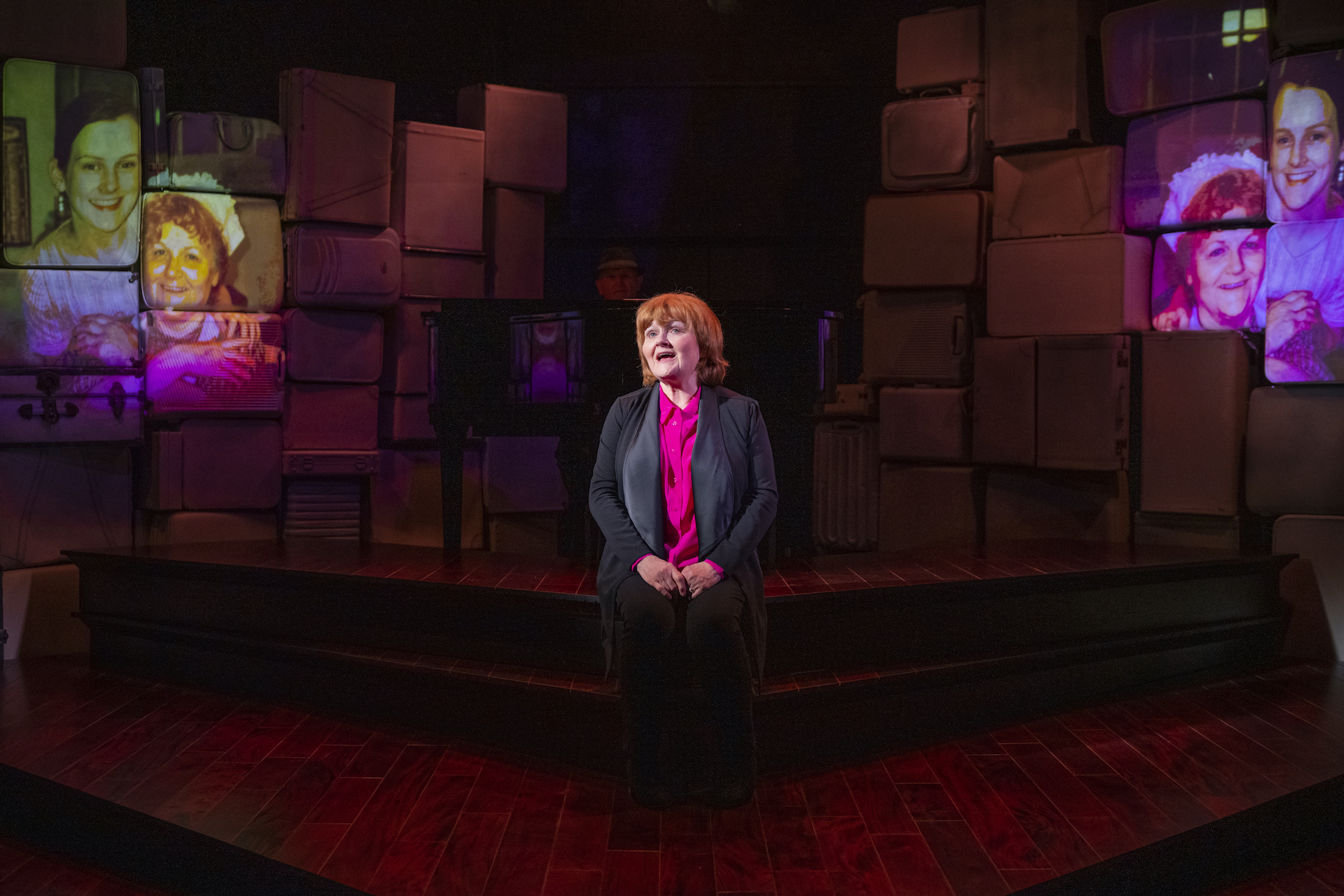 NOTE: Following this feature (with  quotes from an interview conducted prior to the show's NYC premier), find Trav S.D.'s brief review. Spoiler: The upshot is, says Trav, "Go see it."
TRAV S.D.| Good news for NYC fans of Downton Abbey cast member Lesley Nicol, who plays the role of the cranky Crawley family cook, Mrs. Patmore. Not only will you be able to see her in the new theatrical film Downton Abbey: A New Era, which opens nationwide in the U.S. on May 18, but you will also have the rare opportunity to spend an entire evening in her company as she presents her new one-person show, How the Hell Did I Get Here?, which will run at the McKittrick Hotel, April 21-May 8.
Described as a "musical autobiography," the show features 10 original songs and live musical accompaniment by Mark Mueller, who wrote the Top 10 hit Nothin' at All for Heart in 1985, and co-wrote That's What Love Is For (with Amy Grant, which went to #7 in 1991), and Crush (a #1 hit for Jennifer Paige in 1998), as well as the theme song for Disney's Duck Tales.
'I knew Mark socially from living in L.A. with my husband and I'd long thought in the back of my mind that I'd like to do something with him and then this piece finally emerged out of that relationship," says Nicol, who's not at all as gruff as her TV character. "I'm not a musical theatre performer per se or a cabaret artist, but more like an actress who sings, unlike many people who specialize."
That she is an actress who sings WELL, however, is attested to by the fact that Nicol was in the original London production of Jesus Christ Superstar, as well as the West End cast of Mamma Mia. Nicol's modesty about her own talents is a natural aspect of her broader character, which is largely what her new theatre piece is about.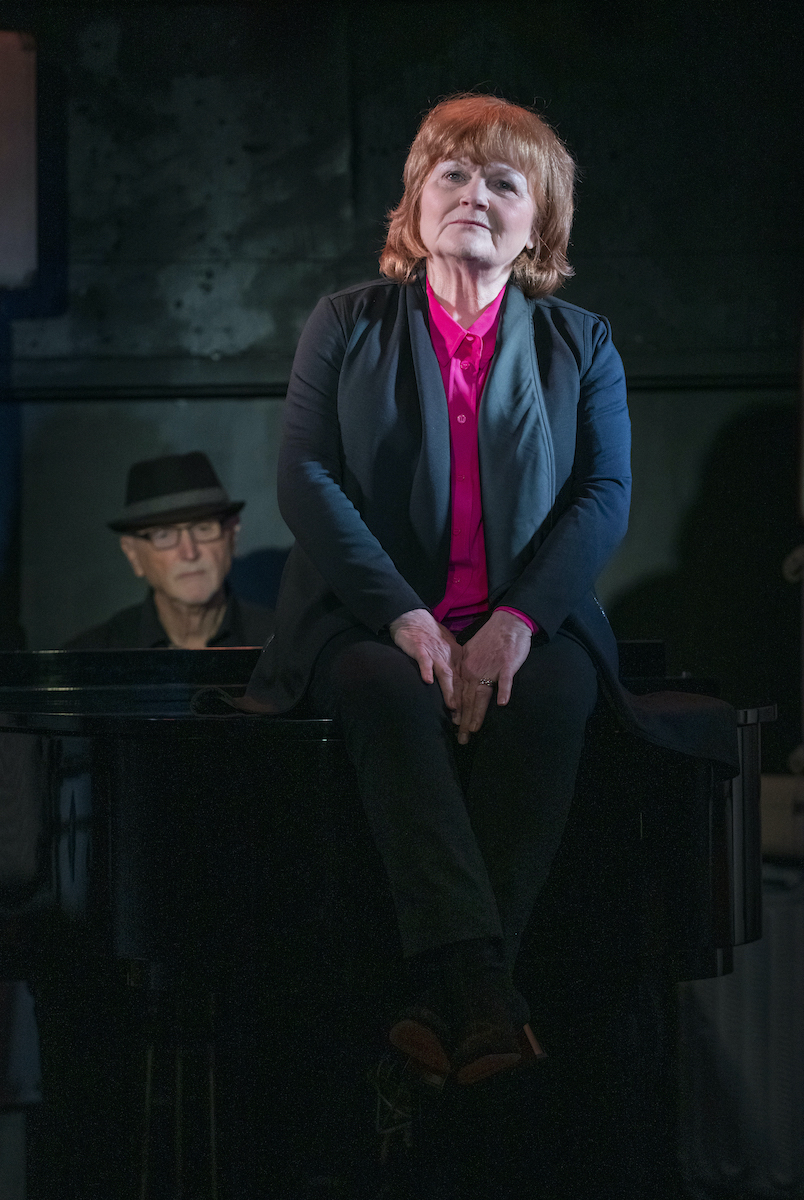 "I became interested in acting to overcome crippling shyness," recalls Nicol. "That's how I became a performer in the first place. I was 11 years old and I was assigned to read a poem at a school concert, and I was just terrified. It was agony. But then the audience laughed and that encouraged me and it was like a drug. It was how I survived. It's much easier to be somebody else. The shyness propels it."
Perhaps surprisingly, Nicol's mum, Sue, was herself a television presenter and a supernumerary on TV shows like Brideshead Revisited and Coronation Street. She'd been accepted to RADA, but was prevented from attending due to the outbreak of World War II. Nicol herself attended London's Guildhall School of Music and Drama, where she presented the first workshop version of the current show back in 2017.
"That was my 'TED Talk' version," she laughs. "It's altered a lot since then. It's more theatrical, and we've added a lot. It's my life story, but it's really about everybody," Nicol says. "When we played Chicago in March there were men crying in the audience! One of them told me, 'I saw my whole life in front of me.' It's not just about me, but about all of us."
In that spirit, Nicol is quick to credit the contributions of producer Pemberley Perry, director Luke Kerneghan, all of her designers, and especially, co-author and composer Mueller. "His songs are so good, so brilliant," she gushes, "and he's contributed so much to this. I'm very lucky. He's been instrumental in helping me shape this. I talked to him in the beginning about what I wanted it to be, and he started writing, and very quickly couldn't stop! And we just go back and forth. We just have a shared passion for entertaining."
Nicol seems especially gratified by the fairly extraordinary fact that Mueller has signed on for the whole ride as the show's accompanist. Says Nicol, "I can't believe I have this bigwig songwriter just playing piano for me, on the road with me for every show! But he said he wouldn't want anyone else to play this."
It has taken, notes Nicol, "time to evolve, and we had to push back the tour several times because of COVID—but we're so looking forward to taking this to New York audiences."
After New York, the show will go to San Francisco and Pittsburgh, and she doesn't rule out the possibility of a future film or TV adaptation, although she stipulates, "I want to get it on its feet and see what it is first."
If YOU want to see what it is, you would do well to act fast—some performances are already sold out:
How the Hell Did I Get Here? plays April 21-May 8 at The McKittrick Hotel (530 W. 27th St. btw. 10th & 11th Aves.). For more info about the show and its team of creators, click here. For reservations, click here to access the McKittrick's website.
–END–
REVIEW
Our very brief review of Lesley Nicol's one-woman show How the Hell Did I Get Here? consists chiefly of this: Go see it!
Nicol, best known to Americans for playing Mrs. Patmore on Downton Abbey, proves an adorable and lively presence when experienced up close and personal. Obviously, she's as engaging as all heck on the show as well, but there we love her for being a tart-tongued curmudgeon. IRL she possesses a vulnerable sweetness that wins you over first to last. Even more so when you meet her five year old incarnation, a plump, tiny, shy little thing in horn-rimmed glasses. Over the course of the fast moving hour-plus, Nicol chronicles the many hurdles she has had to clear to go the distance from being a kid too bashful to even talk, to international stardom. She does so with humor, honesty, and refreshing humility.
To the last point, as I believe she herself would caution, the show is a collective effort in which many hands played a role, among whom I would elevate songwriter Mark Mueller, whose witty, funny, moving and catchy songs form the show's backbone. A high point for me was a section about how, in real life, Nicol is an atrocious cook, a bit capped off by a song in which she plays percussion on pots and pans. Downton gets its due, as do the many famous folk she's met as a result of being on the show. Characteristically she remains star-struck by these people (figures like Dame Maggie Smith, Sir Anthony Hopkins, and, believe it or not, Richard Chamberlain, on whom she has had a crush since childhood). It's funny to watch her gush about these people, as if she doesn't realize that to us, she's one of them. In short, she is a treasure, and chances are good that you'll relish every minute you spend in her company.
Chelsea Community News is made possible with the help of our awesome advertisers, and the support of our readers. If you like what you see, please consider taking part in our GoFundMe campaign (click here). To make a direct donation, give feedback, or send a Letter to the Editor, email scott@chelseacommunitynews.com.