In This Week's "THIS WEEK IN CHELSEA"
Stargazing on the High Line / Manhattan Community Board 4's Full Board Meeting / Ice Theatre of New York / Councilmember Erik Bottcher's Free Housing Clinic / Chelsea Green Spring Celebration / Curb Usage Study
Stargazing on the High Line, Tuesdays Between Dusk and 9:45pm | Members of the Amateur Astronomers Association take you through the paces of peering through high-powered telescopes to see rare celestial sights. This free program takes place on the High Line at 13th St. just south of The Standard Hotel. Overcast conditions or inclement weather may cause cancellation. If a session needs to be cancelled, a post will appear on @highlinenyc's Twitter feed by 3pm on the day of the event. For more info, click here.
Wednesday, May 4, 6:30pm: Manhattan Community Board 4´s Full Board Meeting via Zoom | The meaty matters dined on by CB4's various committees during the previous month (in this case, April, 2022) come to fruition at this gathering of the board's full membership, which happens on the first Wednesday of the month, and is still happening online via Zoom (as opposed to the pre-COVID days of brick and mortar-based gatherings). This monthly gathering also serves as your chance to participate in the Public Session. Sign up for a slot and get two minutes of uninterrupted time to speak your mind. For the link to sign up, click here. For the Zoom registration link to the meeting, click here. For the May 4 agenda and background materials, click here. And, for the home page of the CB4 website, click here.
Among the topics of discussion to look out for: Prior to the matter of Agenda Items generated from monthly committee meetings, CB4 will have a Public Hearing regarding the Ninth Avenue Roadway Restoration and Upgrade Project. To sign up for a slot to address the board on that matter, click here. Of note on the Agenda: Item 12, no bones about it, is from the Waterfront, Parks & Environment Committee (WPE), concerning a letter they've drafted meant to be sent to the City Council and the Parks Department, concerning a temporary dog run at Penn South. The Transportation Planning Committee takes up the matters of the High Line Connector project and intercity bus practices in, respectively, Agenda Items 15 and 17, Note: There will also be two presentations, typically scheduled at the beginning of the meeting. The first presentation is from Deputy Inspector John L. O'Connell, from the Midtown North Precinct. The second is regarding iMentor, a long-term mentoring program for high school students.
Ice Theatre of New York (ITNY) at Chelsea Piers Sky Rink: Friday/Saturday, May 6/7 at 7pm & Monday, May 9 at 6:30pm | Ice Theatre of New York's three-night 2022 Home Season will feature the ITNY Ensemble, Junior Ensemble, and guest artists. The season concludes May 9, with a performance followed by their annual Benefit Gala, held at The Lighthouse, Chelsea Piers.
This year's Gala, celebrating ITNY's 35th anniversary, also celebrates two its best–Darlene Parent and Wade Corbett–via the Alumni Award. Betty Wasserman is the Ice Angel Award recipient, and legendary Olympic ice dance champions Torvill & Dean (Jayne Torvill and Christopher Dean) will also be honored. Tickets are available at https://icetheatre.org/tickets.html.
City Councilmember Erik Bottcher´s [Free] Virtual Housing Clinic, 4-6pm on Tuesday, May 10 and Every Second Tuesday of the Month | Councilmember Bottcher continues the Housing Clinic offered by Corey Johnson for so many years. It takes place on the second Tuesday of each month, doesn't cost a dime, and gives you access to a knowledgable housing attorney who will give you the unvarnished truth about your situation, recommend a course of action, and provide further resources for future needs. To sign up for a slot to speak with a housing attorney at no cost to you, click here. Slots are available in the 4-5pm and 5-6pm time period. For more info, see the below flyer.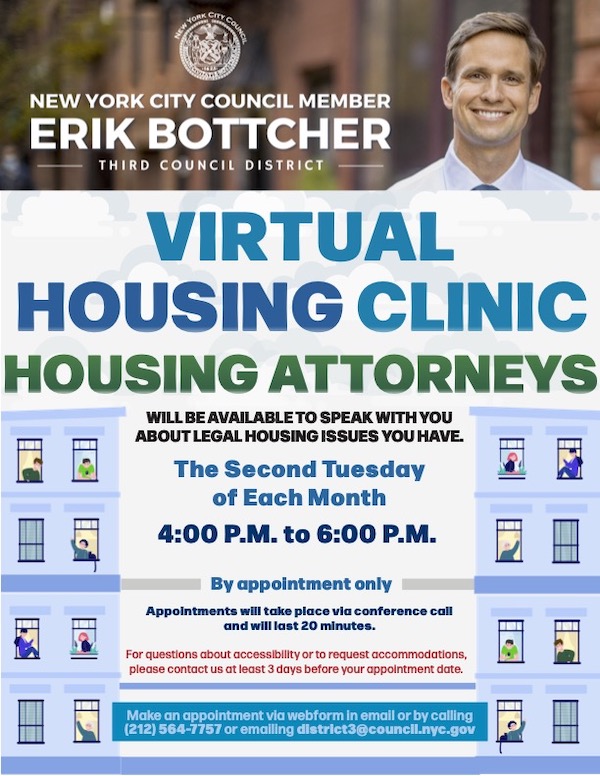 Spring Fling Celebration at Chelsea Green Park: Sunday, May 15, 11am-1pm at Chelsea Green (140 W. 20th St. btw. 6th & 7th Aves.) | Friends of Chelsea Green present this annual rite of longer days and warmer weather by welcoming you to Chelsea Green–the much-needed, hard-won little park that scores big with scads of kids, parents, and all types of other people from the surrounding area. See the below flyer for details.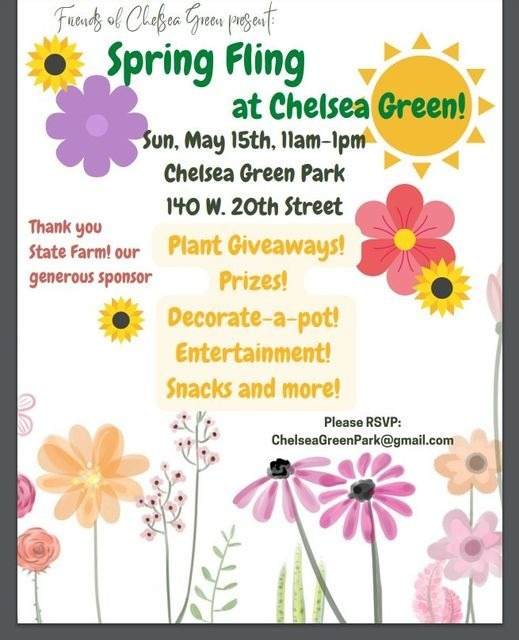 Curb Usage Study | Manhattan Community Board 4 wants you to help them determine the best ways to allocate curbspace. "With an ever-increasing demand on our curb space, we want to learn how community members would prioritize the various uses and identify the most crucial use of this contested space," they say, noting that the survery is "divided into two sections, residential and commercial." To take the survey, click here.
–Compiled by Scott Stiffler
Chelsea Community News is made possible with the help of our awesome advertisers and the support of our readers. If you like what you see, please consider taking part in our GoFundMe campaign (click here). To make a direct donation, give feedback, or send a Letter to the Editor, email scott@chelseacommunitynews.com.