BY LAYLA LAW-GISIKO (candidate, NYS Assembly, District 75) | On Tuesday, May 3, more than a thousand of us rallied at Foley Square to protest the egregious draft Supreme Court decision penned by Justice Alito that would gut the country's landmark 1973 decision protecting abortion rights.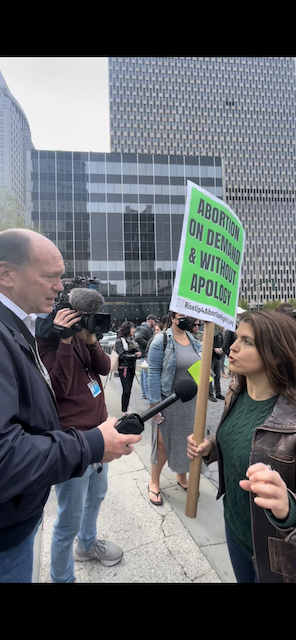 It was inspiring to join so many in the fight to preserve our reproductive freedom. And it was sickening to grasp the fact that our reproductive rights are on the chopping block.
Even more sickening is the fact that 13 states across the country have "trigger laws" that will prohibit abortion in those states if Roe v. Wade is ultimately struck down. The reality, of course, is that abortions happen regardless of whether they are legal; barriers simply make abortions more dangerous. And as we know, pregnant people will die as a result of this decision, particularly low-income people and people of color. We cannot stand by and watch such outcomes unfold.
Here is what I know about this stunning, challenging moment: Women will rise to the challenge because we have to. New York must take immediate steps to fight against this assault upon our reproductive rights and become the strongest reproductive sanctuary state in the country. In a post-Roe America, New York needs to be prepared to provide abortion access to an influx of people who are forced to travel for abortion services that they cannot access in their home state. It is simply not enough that New York provides access to safe, legal abortion care—we need to make certain that everyone who wants one has the means to access safe, legal, and affordable abortion care.
There are steps our state leaders can take right now to safeguard abortion. Since 2019, the New York City Council has provided funding—approximately $250,000—for an abortion access fund that includes helping women from other States to receive abortion care in New York. New York State can and should create a similar fund to ensure that abortion is accessible not just in name alone, but in practice. A package of reproductive rights bills are currently in the legislature. We need to make a big push to pass these important pieces of legislation.
Among others, S.8797 – The Equal Rights Amendment, would protect a person's right to access reproductive health care, including abortion. Three bills introduced by Senator Krueger would protect abortion providers from out-of-state legal or criminal attacks. Finally, a bill sponsored by Senator Brouk would requires that all private insurance plans in New York that offer maternity care coverage also cover abortion care.
Abortion is healthcare, and I am enraged that after my own mother fought 50 years ago for the right for women to decide what to do with their uterus, I have to stand and fight for these same rights today.
I refuse to go back. I refuse to live in a country where a coat hanger is more than a coat hanger. Women must have the right to decide what happens with their own bodies. They should not be controlled, their bodily autonomy should not be granted or taken away by a court, or a set of laws.
The piece of writing that was leaked Monday night is only a draft. Abortions are still legal in all 50 states—and we can prepare and fight to keep it this way. So, let the rage guide us to organize, fight, mobilize, take to the streets, and help elect progressive women throughout the country.
Our voices are powerful. Our bodies are powerful. They should not be subjected to political diktat. They should be free.
–END–
In addition to being a Democratic candidate for the NYC Assembly District 75 seat being vacated by the retiring Richard Gottfried, Layla Law-Gisiko is also the current Chair of the Land Use, Housing & Zoning Committee of CB5 and a member of the Penn Area Community Advisory Committee Working Group.
Chelsea Community News is made possible with the help of our awesome advertisers, and the support of our readers. If you like what you see, please consider taking part in our GoFundMe campaign (click here). To make a direct donation, give feedback, or send a Letter to the Editor, email scott@chelseacommunitynews.com.