In This Week's "THIS WEEK IN CHELSEA"
 Stargazing on the High Line / Chelsea Green Spring Celebration /  Hudson Guild Call for "Art Jam" Contributors / NYC Sanitation Survey / Featured Events from Earlier This Week:  Ice Theatre of New York and  Councilmember Erik Bottcher's Free Housing Clinic 
Stargazing on the High Line, Tuesdays Between Dusk and 9:45pm | Members of the Amateur Astronomers Association take you through the paces of peering through high-powered telescopes to see rare celestial sights. This free program takes place on the High Line at 13th St. just south of The Standard Hotel. Overcast conditions or inclement weather may cause cancellation. If a session needs to be cancelled, a post will appear on @highlinenyc's Twitter feed by 3pm on the day of the event. For more info, click here.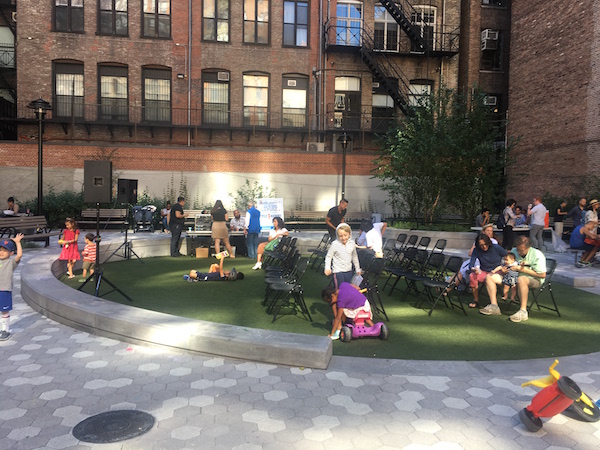 Spring Fling Celebration at Chelsea Green Park: Sunday, May 15, 11am-1pm at Chelsea Green (140 W. 20th St. btw. 6th & 7th Aves.) | Friends of Chelsea Green celebrate the annual appearance of longer days and warmer weather by welcoming you to Chelsea Green–the much-needed, hard-won little park that scores big with scads of kids, parents, and others who flock to this popular patch of peace and play. See the below flyer for details.
Calling All Artists for Hudson Guild's 24th Annual Community Art Jam (Deadline to submit, May 31) |  "
I'm writing to share the exciting news that

Hudson

Guild's Community Art Jam will be resuming in person on June 2 for the first time in three years," said Director of Arts Jim Furlong, in a recent email, adding, "Attached is the announcement, with instructions on how to enter.  This exhibit is open to any artists of all ages who are interested in showing their work in the

Hudson

Guild Gallery." Directly below, see the announcement and the instructions. For more info about Hudson Guild and its many offerings, click here to visit their website.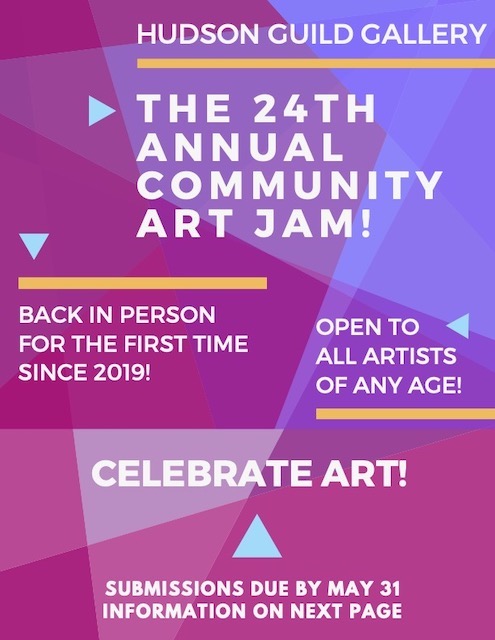 Sanitation Survey | The NYC Comptroller's office wants to hear about the quality of sanitation services in your neighborhood. Click here to take the survey, and you'll be able to provide feedback on matters including organic waste collection, the relative cleanliness of your neighborhood, and whether or not the past year has seen you deal with issues such as missed trash collection, overflowing street litter baskets, illegal dumping, rat infestation, derelict vehicles, or a sidewalk obstructed by trash. To visit the office of NYC Comptroller Brad Lander online, click here.
FEATURED EVENTS FROM EARLIER THIS WEEK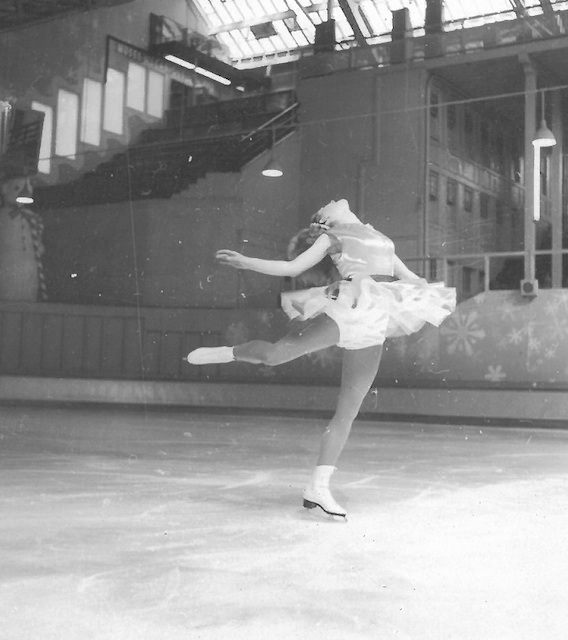 Ice Theatre of New York Performance/Gala; Monday, May 9, 6:30pm
Ice Theatre of New York's three-night 2022 Home Season concludes on May 9, first with  performance at Chelsea Piers Sky Rink featuring the ITNY Ensemble, Junior Ensemble, and guest artists. Directly following is their annual Benefit Gala, held at The Lighthouse, Chelsea Piers.
This year's Gala, celebrating ITNY's 35th anniversary, also celebrates two of its best–Darlene Parent and Wade Corbett–via the Alumni Award. Betty Wasserman is the Ice Angel Award recipient, and legendary Olympic ice dance champions Torvill & Dean (Jayne Torvill and Christopher Dean) will also be honored. Tickets are available at https://icetheatre.org/tickets.html.
City Councilmember Erik Bottcher´s [Free] Virtual Housing Clinic, 4-6pm on Tuesday, May 10 and Every Second Tuesday of the Month | From the very first month of his current term, newly elected NYC Councilmember Erik Bottcher has continued the Housing Clinic offered by predecessor Corey Johnson for so many years. It takes place on the second Tuesday of each month, doesn't cost a dime, and gives you access to a knowledgable housing attorney who will give you the unvarnished truth about your situation, recommend a course of action, and help you access necessary resources. To sign up for one of the free, 20-minute slots available in the 4-5pm and 5-6pm time periods, click here. For more info, see the below flyer.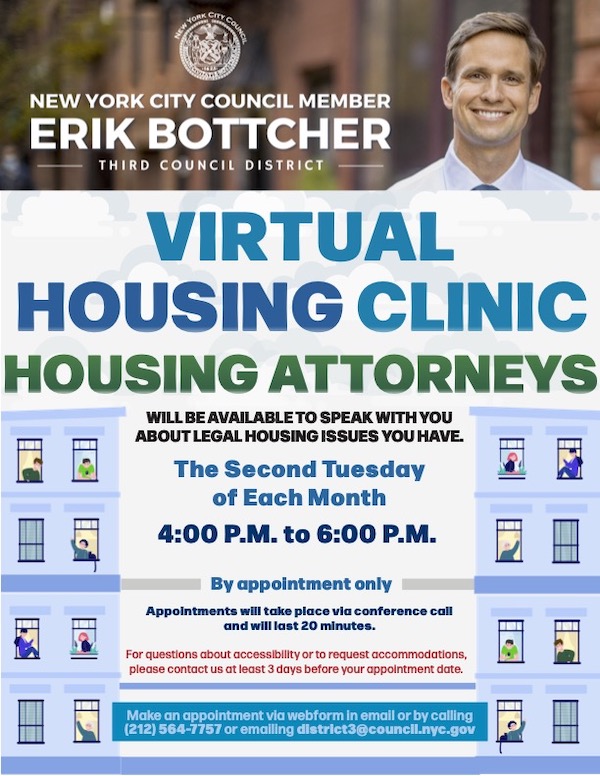 Chelsea Community News is made possible with the help of our awesome advertisers and the support of our readers. If you like what you see, please consider taking part in our GoFundMe campaign (click here). To make a direct donation, give feedback, or send a Letter to the Editor, email scott@chelseacommunitynews.com.