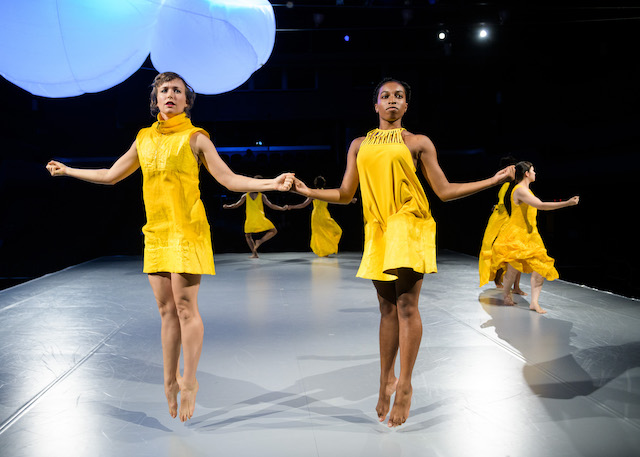 BY BONNIE ROSENSTOCK | Wings of Iron is multiple award-winning choreographer Donna Uchizono's world premiere, presented at Baryshnikov Arts Center, postponed several years due to the pandemic. The 80-minute work features four outstanding female dancers, an original score by composer okkyung lee, and lighting design by Joe Levasseur, Uchizono's longtime collaborator.
Wings of Iron examines what it takes to remain humane in these changing times, and provides a framework for both performer and audience to share their public and private vulnerability. The work was created with the collaboration of the four performers, Bria Bacon, Natalie Green, Molly Lieber and Pareena Lim, with additional contributions by Angie Pittman, who was there at the beginning.
It was inspired by a 1989 poem by Pulitzer Prize-winning (1950) and U.S. Poet Laureate (1985-86) African-American poet Gwendolyn Brooks. "It is like the giants and giantesses go among us very quietly," Uchizono explained in a phone conversation. "And for me, the dancers are the giants in the dance industry, and that we are the weakest economic link in the industry, but also so committed. The dancers are the gifts, but also offer gifts of dedications."
Uchizono said that she didn't want to explain too much because it gives away the beauty of the piece. "We were carefully writing what we wrote [in the press release] not to give it away. We were charting new territory for a sharing with the audience the weight of vulnerability. It's something that started before the pandemic, something I wanted to explore, but now it has so much more meaning and gravitas."
She added, "When you see the piece, you'll understand why I don't want to be more specific. But of all the pieces, people really should come."
I asked, "Your piece or all dance?"
"You decide," she said, enigmatically.
Wednesday-Saturday, May 18-21 at 7:30pm at Baryshnikov Art Center's Howard Gilman Performance Space (450 W. 37th St. btw. Ninth & 10th Aves.). For tickets ($25) and info, visit bacnyc.org or phone 866-811-4111. Proof of COVID-19 vaccination is required and face masks must be worn at all times at BAC.
Chelsea Community News is made possible with the help of our awesome advertisers, and the support of our readers. If you like what you see, please consider taking part in our GoFundMe campaign (click here). To make a direct donation, give feedback, or send a Letter to the Editor, email scott@chelseacommunitynews.com.