In This Week's "THIS WEEK IN CHELSEA"
West Chelsea Artists Open Studio Tour / Police Appreciation at Clement Clarke Moore Park / Down to Earth Farmers Market Chelsea / LEAPS Zoom Town Hall with 75AD Candidates / Hudson Guild Call for "Art Jam" Contributors / NYC Sanitation Survey / Events in the past: 13th Precinct Community Council
West Chelsea Artists Open Studio Tour: Fri-Sun, May 20-22, 12pm-6pm daily | Timed to coincide with the Frieze New York fair and New York City's Spring Art Week, this annual peek into the workspaces (and headspaces) of West Chelsea artists makes its first appearance since the pandemic. The self-guided tour of the gallery district is free and open to the public. "Typically only accessible by appointment, visitors can see 'behind the scenes' and explore artist's creative spaces," says event founder and artist Scotto Mycklebust, who notes it's a rare chance to "meet the artists, view their latest creations, and purchase artworks." For more information, click here.
Police Apprecation: Saturday, May 21, 10am at Clement Clarke Moore Park (10th Ave. & W. 22nd St.) | The  West 400 Block Association invites you to meet members of the 10th Precinct and local mounted police. Stop by to say "Hello" and "Thank You" to the police on two legs and four! The event also offers coffee, donuts, treats, and kid's activities.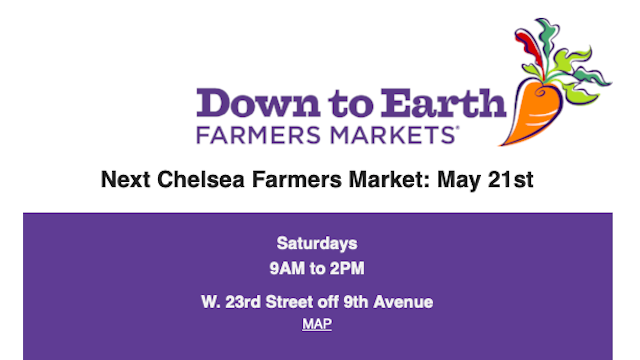 The Down to Earth Chelsea Farmers Market: Saturdays, 9am-2pm on the north side of W. 23rd St., off Ninth Ave. |New York area growers and artisan food makers return to Chelsea every Saturday through Dec. 17. This Market was created with the support of nearby Church of the Holy Apostles, with the mission of bringing wholesome and delicious foods to the neighborhood's shoppers and supporting local small farms and food businesses. "The Chelsea Farmers Market is a grower-producer market," its fouders note, "meaning that vendors must be farmers or make food with ingredients purchased from local farms. The few exceptions to this rule are olive oil, chocolate and coffee vendors who can document their sourcing." The Market's ninth season will offer fruits, vegetables, and meats from area farms. Market favorites PickleLicious and Orwashers Bakery are returning, along with fresh faces including Love the Soup! from Morristown, NJ and Ideal Fish from Waterbury, CT. SNAP EBT is welcome (visit the manager's tent to get tokens; matching Health Bucks are available). Farmers Market Nutrition Program checks, issued by WIC offices and Seniors' centers, can be used from June through November. Get the latest Market news by signing up for their email newsletter via the Down to Earth Markets website (click here to access it) or by following the Chelsea Farmers Market on Facebook (https://www.facebook.com/dtechelseafarmersmarket/).
LEAPS (Limited Equity and Affordability at Penn South) Zoom Town Hall with the 75AD Democratic Candidates: Sunday, May 22, 7pm Online | "This year," note the event organizers from LEAPS, "voters in the 75th Assembly District will be electing a new State Assembly Member to represent Mid-Manhattan, Chelsea, and Penn South in Albany–for the first time in 52 years." The reason? Current State Assemblymember Richard Gottfried is retiring. Soon after his Dec. 2021 announcement, a multitude of willing successors  threw their hats into the ring. "Lots of candidates initially threw their hats into the race," recalled the organizers, who went on to observe, "four remain. " (That is true only of the Democratic field: Joseph A. Maffia is running as a Republican). Referencing their field of four (Chris LeBron, Layla Law-Gisiko, Harrison Marks, Tony Simone), LEAPS  says they "invited all four to this Town Hall with cooperators from Penn South and Chelsea. . .to meet with and explain their position to the voters of Chelsea." Every candidate accepted and is expected to attend. As for the issues attached to candidate positions, expect the following subject matter, which appeared as bullet points in a recent LEAPS email promoting the Town Hall: The Good-Cause Eviction Bill; NYCHA Public Housing; State Aid to Limited Equity Cooperatives; Modernization of Mass Public Transit; the Penn Station Area Redevelopment Project; Public Education; Addressing the Homelessness Crisis; Ending Gun Violence; and Real Gun Control. To access the Town Hall on Zoom, keep this info handy: Meeting ID: 885 0539 5306 | Passcode: VOTE. and click on the below link.
https://us02web.zoom.us/j/88505395306?pwd=Xxu2WJgBO-ul2uQ56CLKJ26U3VpxrZ.1 
Calling All Artists for Hudson Guild's 24th Annual Community Art Jam (Deadline to submit, May 31) |  "
I'm writing to share the exciting news that

Hudson

Guild's Community Art Jam will be resuming in person on June 2 for the first time in three years," said Director of Arts Jim Furlong, in a recent email, adding, "Attached is the announcement, with instructions on how to enter.  This exhibit is open to any artists of all ages who are interested in showing their work in the

Hudson

Guild Gallery." Directly below, see the announcement and the instructions. For more info about Hudson Guild and its many offerings, click here to visit their website.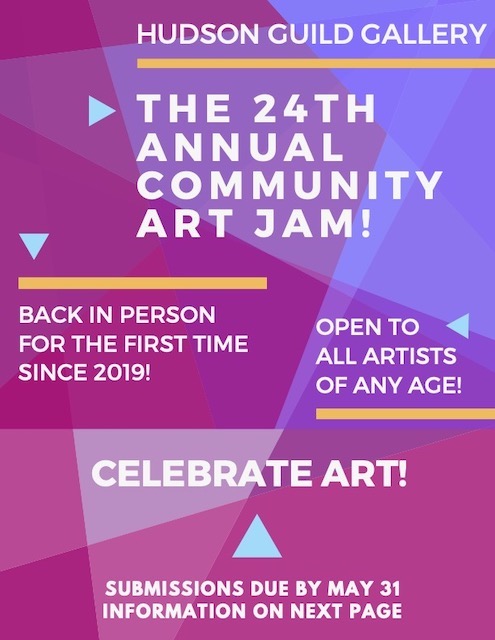 Sanitation Survey | The NYC Comptroller's office wants to hear about the quality of sanitation services in your neighborhood. Click here to take the survey, and you'll be able to provide feedback on matters including organic waste collection, the relative cleanliness of your neighborhood, and whether or not the past year has seen you deal with issues such as missed trash collection, overflowing street litter baskets, illegal dumping, rat infestation, derelict vehicles, or a sidewalk obstructed by trash. To visit the office of NYC Comptroller Brad Lander online, click here.
EVENTS IN THE PAST
The 13th Precinct Community Council In-Person & Zoom Meeting: Tuesday, May 17, 6pm | The May edition of this monthly, citizen-run Council takes place both online (via Zoom) and at the 13th Precinct (230 E. 21st St. btw.  2nd & 3rd Aves.). On the agenda: A Precinct report from Commanding Officer Deputy Inspector Angel Figueroa Jr., plus nominations for the Executive Board of the Council, and comments and questions from citizens in attendance. Click here to be taken to the Zoom registration link. After registering, you will receive a confirmation email containing information about joining the meeting.
—Compiled by Scott Stiffler
Chelsea Community News is made possible with the help of our awesome advertisers and the support of our readers. If you like what you see, please consider taking part in our GoFundMe campaign (click here). To make a direct donation, give feedback, or send a Letter to the Editor, email scott@chelseacommunitynews.com.