In This Week's "THIS WEEK IN CHELSEA"
Down to Earth Farmers Market Chelsea / Stargazing on the High Line / The 10th Precinct Community Council / The 10th Precinct Sector B Build the Block Meeting /  / Hudson Guild Call for "Art Jam" Contributors / 
The Down to Earth Farmers Market Chelsea: Saturdays, 9am-2pm on the north side of W. 23rd St., off Ninth Ave. | 
New York area growers and artisan food makers return to Chelsea every Saturday through Dec. 17. This Market was created with the support of nearby Church of the Holy Apostles, with the mission of bringing wholesome and delicious foods to the neighborhood's shoppers and supporting local small farms and food businesses. "The Chelsea Farmers Market is a grower-producer market," its fouders note, "meaning that vendors must be farmers or make food with ingredients purchased from local farms. The few exceptions to this rule are olive oil, chocolate and coffee vendors who can document their sourcing." The Market's ninth season will offer fruits, vegetables, and meats from area farms. Market favorites PickleLicious and Orwashers Bakery are returning, along with fresh faces including Love the Soup! from Morristown, NJ and Ideal Fish from Waterbury, CT. SNAP EBT is welcome (visit the manager's tent to get tokens; matching Health Bucks are available). Farmers Market Nutrition Program checks, issued by WIC offices and Seniors' centers, can be used from June through November. Get the latest Market news by signing up for their email newsletter via the Down to Earth Markets website (
click here
to access it) or by following the Chelsea Farmers Market on Facebook (
https://www.facebook.com/dtechelseafarmersmarket/
).
Stargazing on the High Line, Tuesdays Between Dusk and 9:45pm |
Members of the
Amateur Astronomers Association
take you through the paces of peering through high-powered telescopes to see rare celestial sights. This free program takes place on the High Line at 13th St. just south of The Standard Hotel. Overcast conditions or inclement weather may cause cancellation. If a session needs to be cancelled, a post will appear on 
@highlinenyc's Twitter feed
 by 3pm on the day of the event. For more info,
click here
.
Wednesday, May 25, 7pm via Zoom: The 10th Precinct Community Council | Held on the last Wednesday of the month (sans its looming June-August summer hiatus), this citizen-run opportunity to interact with local NYPD leadership continues to take place online, as per Council President Larry O'Neill's abundance of caution. The lack of physical proximity shouldn't be mistaken for absence of accountability: 10th Precinct Commanding Officer Captain Robert Gault will still bring his "A" game to the often spirited Q&A session, during which he's been known to provide info and insights regarding active investigations, and vow to take action on new concerns brought to his attention (hence the "accountability"–attendees will often ask for updates on topics from the previous month's meeting). For the Zoom link, click here. The Meeting ID: 861 5872 0456  / The Passcode: 840401 / To attend via phone, click here for your local number.
Thursday, May 26, 6pm via Zoom: The 10th Precinct Sector B's Build the Block Meeting | NCOs, or Neighborhood Coordination Officers are paired up and assigned to a specific sector within an NYPD precinct. The 10th Precinct, charged with serving and protecting much of Chelsea (the 13th Pct. covers the rest) is divided into Sectors A, B, and C. Thurs., May 26 is your chance to meet with NCO reps from Sector B, whose work within the Build the Block program has them taking a special interest in the people, places, and businesses within their assigned boundaries. (In the case of Sector B, that means north side of W. 21st St. to south side of W. 29th St.). For this online-only gathering, the Meeting ID is 160 822 1017 and the Passcode is Police123! (yes, the exclamation point is part of the Passcode–and mind that capitol "P" in "Police"). Your Sector B NCOs are PO Mark Pagano and PO Daniel Bavuso. They can be emailed at, respectively, MARK.PAGANO@nypd.org and DANIEL.BAVUSO@nypd.org. Officer Pagano, by the way, is not on the promo poster (see it above this listing) announcing the May 26 particulars. As such, PO Bavuso will be joined by Sgt. Sean Aman, the NCO Supervisor (SEAN.AMAN@nyp.org). For more info about the 10th Precinct, click here. Meeting times and days are subject to change, so check in with your NCOs or precinct close to the scheduled date.
Calling All Artists for Hudson Guild's 24th Annual Community Art Jam (deadline to submit, May 31) |  "
I'm writing to share the exciting news that

Hudson

Guild's Community Art Jam will be resuming in person on June 2 for the first time in three years," said Director of Arts Jim Furlong, in a recent email, adding, "Attached is the announcement, with instructions on how to enter.  This exhibit is open to any artists of all ages who are interested in showing their work in the

Hudson

Guild Gallery." Directly below, see the announcement and the instructions. For more info about Hudson Guild and its many offerings, click here to visit their website.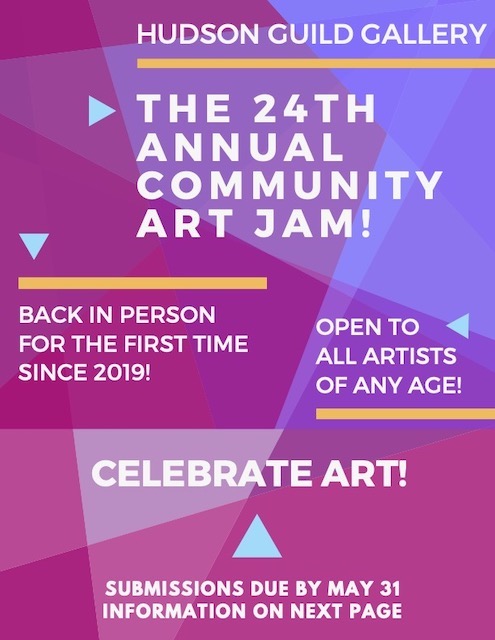 —Compiled by Scott Stiffler
Chelsea Community News is made possible with the help of our awesome advertisers and the support of our readers. If you like what you see, please consider taking part in our GoFundMe campaign (click here). To make a direct donation, give feedback, or send a Letter to the Editor, email scott@chelseacommunitynews.com.