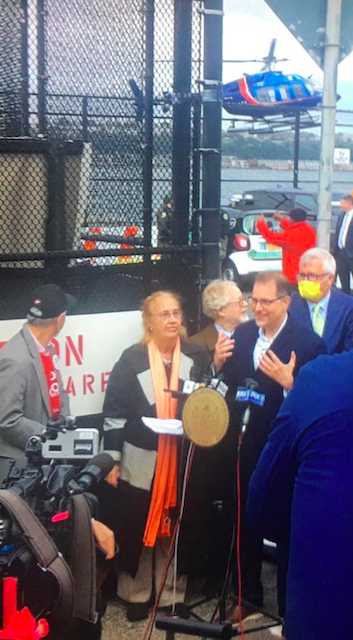 BY WINNIE McCROY | After years of helicopter-related noise pollution safety concerns, elected officials in New York and across the nation are gaining critical velocity by attacking the problem from numerous angles. Legislation that would end sightseeing and commuter flights has New Yorkers cautiously optimistic. And on Manhattan's West Side, eyes watered from wind and jet fuel are turning hopefully to the closing of the West 30th Street Heliport in Hudson River Park.
"Helicopters take off and land in Manhattan hundreds of times during the week, flying over and near people's homes, emitting high decibel noise, and burning fossil fuels into the air our children breathe—environmental devastation and incessant noise so tourists and the ultra-rich can go on non-essential joy rides," State Senator Brad Hoylman told Chelsea Community News (CCN). "That's why I've introduced legislation with Assembly Member Dick Gottfried, S.7493, to help put an end to this scourge by shutting down all tourist flights out of city-owned heliports and creating a new legal avenue to allow New Yorkers to take chopper companies to court for the nuisances they cause."
Gottfried teamed up with Hoylman on this legislation, chagrined by the 1998 Hudson River Park Act's failure to achieve this goal. Like Hoylman, Gottfried does not merely want the heliport relocated to another part of Hudson River Park, saying, "It should not move, because it does not belong in a park."
"I don't think any advocate for the park, including me, had supported the idea of the heliport remaining in the park," said Gottfried, of those who joined him in authoring the Act. "At the time, the concept was when the lease for the heliport expired, the Hudson River Park Trust [HRPT] would start moving them out—and of course, that never happened."
The proposed legislation creates the right for people to sue if exposed to noise pollution from helicopters. It amends the Hudson River Park Act to close the West 30th Street Heliport, and it amends the City Charter to prohibit the city from leasing space to non-essential helicopter operators. It is expected to pass.
NOTE: A handful of hours after this article was published, an announcement from Sen. Hoylman's office read: "Today, the New York Senate passed the Stop the Chop Act (S.7493A/A8473A), sponsored by Senator Brad Hoylman (Manhattan-D/WFP) and Assemblymember Richard Gottfried (Manhattan-D). This bill will reduce the number of non-essential helicopter flights across Manhattan and allows for compensation for noise pollution by rotorcraft."
"We support Senator Brad Hoylman's bill, because we believe the Trust should be amended to remove the heliport," said a representative from New York City Councilmember Gale Brewer's office. "Of the major issues, helicopters are in the top three. I have filed a resolution here in the city to remove the [W. 30th St.] Heliport."
In her previous role as Manhattan Borough President, Brewer held the rudder at a now-disbanded task force to deal with helicopter issues. But her election to City Council only torqued up her resolve to stopping the choppers. Brewer noted that from 2020 to 2021, helicopter-related noise complaints to 311 increased from 10,359 to 25,821, with a 2,329 percent increase in complaints over the past five years.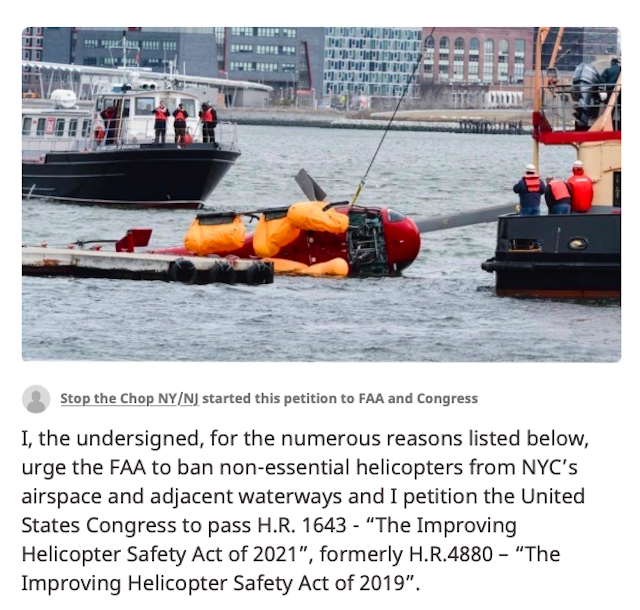 The bistate organization Stop the Chop NY/NJ is in favor of this legislation, with Board Chair and Secretary Melissa Elstein telling CCN, "We support the passage of Senator Hoylman and Assembly Member Gottfried's bills, introduced to end the plague of nonessential helicopters over NYC. This bill pertains to the NYC sightseeing helicopters based at the Downtown Manhattan Heliport as well as the commuter helicopters based at the West 30th and East 34th Street Heliports." Stop the Chop's petition to the FAA and Congress, which currently has 12,167 signatures in support of their effort to "ban nonessential helicopters over NYC & regulate NY/NJ Metropolitan airspace,"  can be accessed by clicking here.
In 1999, noted Elstein, "Mayor Giuliani completely closed a fourth heliport, which had been located at East 60th Street, so there is precedent. We believe our government should not be supporting this polluting, non-essential industry of unnecessary helicopter tourism and commuter/charter helicopters that is contributing to increased carbon emissions and particulate matter in our airspace, excessive noise pollution that harms New Yorkers and significantly detracting from New Yorkers' ability to enjoy their right to quality of life."
Others, like Chelsea resident James Boyd, doubt Hoylman's legislation has the teeth necessary to stand against this industry, saying, "The individual lawsuits proposed by Hoylman are absurd given the unlimited legal firepower and venture capital of Blade Helicopter and the 20-year-old stonewall of Hudson Rive Park Trust's legal counsel. The federal and state bills are ill-informed and weakened by loopholes such as the term 'non-essential.' Any corporate Blade customer will successfully claim that Hampton commutes are essential."
FEDERAL LEGISLATION FILED | On May 15, Congress Members Carolyn Maloney (sponsor), Jerrold Nadler (co-sponsor) and Nydia Velázquez (co-sponsor) joined forces at a press conference at the East Side's 34th Street Heliport to announce HR 7769, legislation to reduce non-essential aircraft.
"Of all the issues I hear about from my constituents, helicopter noise is one of the most common…and on the rise. That is why along with Representatives Nadler and Velázquez, I am introducing the Helicopter Safety and Noise Management Act, which will crack down on non-essential helicopter flights," said Maloney. "To put it simply, New Yorkers are being inundated with helicopter noise, and it is negatively affecting their quality of life, and their physical and psychological health, which is why I am determined to fix this with legislation."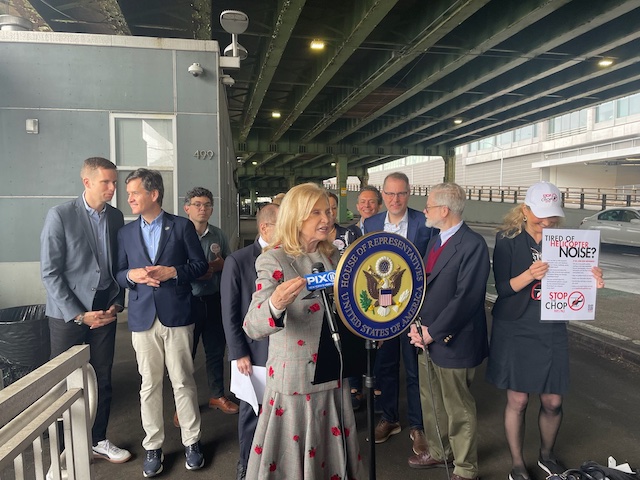 AMNY reported that the proposed the Helicopter Safety and Noise Management Act would create a commission including the Federal Aviation Administration (FAA), local and state government, and helicopter noise and safety advocates to create a usage management plan to reduce non-essential helicopter flights.
It would prohibit choppers flying over any city with a population exceeding 8M residents, and population density exceeding 25,000 people per square mile. It would also force federal regulation of airspace under 1,500 feet by forbidding non-essential helicopter flights.
This could affect all of New York City's three heliports. The two at Pier 6 on the East River and E. 34th St. allow tourist flights but can only fly over the river; the one at W. 30th St. in HRPT handles about 15,000 private charter flights a year.
Currently, as Curbed.com notes, the FAA does not regulate flights under 1,200 feet. This affords the city only a limited ability to regulate its own airspace, with no ability to restrict the actions of out-of-state operators. So, as editor/writer Julia Vitullo-Martin opined for Gotham Gazette on Jan. 11, 2021, New Jersey tour companies out of Kearny and Linden take advantage of the loophole to run sightseeing flights over New York City's parks and monuments. Gottfried noted that because a lot of the helicopter traffic originates in New Jersey, "As far as I can tell, it does take the cooperation of the FAA to ban those flights over NYC, and I know Congressman Nadler has been working on this forever."
Numerous reports tally nearly 30 helicopter crashes in the city since 1983, among them the fatal FlyNYON flight that killed five in March 2018 (as noted by Vertical, a helicopter industry magazine). More than two dozen people died from chopper crashes in this period.
"For decades, New Yorkers have been plagued by excess helicopter noise and have had their lives put in danger by non-essential flights," said Nadler. "Despite numerous requests by my colleagues and I, the FAA has refused to sufficiently act to keep our skies and our city safe. The Helicopter Safety and Noise Management Act will right this wrong. This bill will force the FAA to work with local officials and advocates to create a long-overdue plan to cut down on non-essential flights, which will make our city safer and greatly reduce noise pollution."
During this press conference, lawmakers noted that between October 2109–2020, they saw a 130 percent rise in helicopter-related noise complaints, including more than 17,000 calls to 311 through the end of September 2021.
"For too long, New Yorkers have been asking for relief from the negative safety, health, and environmental impacts of non-essential helicopter flights. It is time for the FAA to deliver," said Nadler. "I am proud to be leading this bill alongside Congresswoman Maloney, and I thank her for her critical partnership."
Brewer said there are two other resolutions in support of federal legislation: HR 4880 (Congresswoman Maloney, sponsor) and (co-sponsor) Congressman Jerry Nadler's Improving Helicopter Safety Act first introduced in 2019, which calls for FAA regulation on flight over 8,000 ft.; and HR 389, Hawaiian Congressman Ed Case's Safe and Quiet Skies Act of 2021, prohibiting tourist sightseeing flights under 1,500 feet, or within a half-mile of protected monuments and parks. Both bills are in the Subcommittee on Aviation.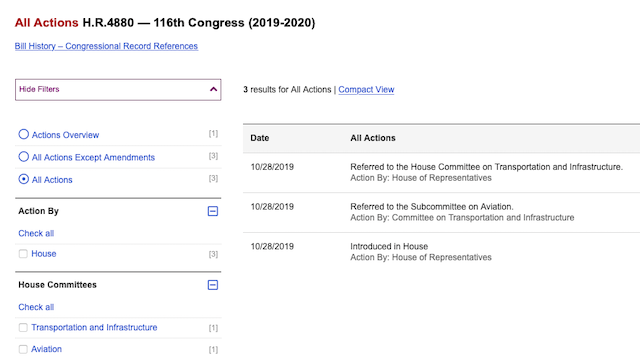 Brewer has also introduced New York City legislation—Local Law 0226—that prohibits sightseeing helicopters from taking off and landing from City heliports if they meet FAA Stage 3 noise limits. The FAA currently leaves very little wiggle room for localities; this legislation aims to rectify that situation.

SIGHTSEEING FROM NEW JERSEY | Brewer is attempting to team up with elected officials in neighboring New Jersey to curb these sightseeing flights. She wrote a letter to New York Governor Kathy Hochul in January and to Governor Phil Murphy of New Jersey asking them to stand with her on her FAA ban.
As charter flights become a growing nuisance, the complaints mount. But some advocates bemoan that the FAA allows only one complaint per person, and the resulting data is not publicly available for review. Brewer is a huge proponent of open public data—including noise-related complaints—to reveal trends and patterns, saying, "You have to have 311 data that permeates the entire island, especially after 2,100 noise complaints just from Manhattan."
In an attempt to gather anecdotal, real-world input on the community impact of helicopters, Brewer has disseminated an online Google form for the public to register their complaints.
Brewer and her staff even took a FlyNYON flight to see for themselves. They lifted off in a small New Jersey town, buzzed the north side of Central Park, zigzagged across Governor's Island, and circled the Statue of Liberty—all protected sites. Gottfried's office noted that because the Upper East Side is controlled by LaGuardia Airport, many of these flights fly over the Upper West Side instead, "buzzing Shakespeare in the Park, and interrupting the show."
"There were four people per cabin. Thousands of people dealt with all that noise for the enjoyment of just four people," said Brewer.
LOCALS DON'T LIKE IT | Over at Chelsea's Manhattan Community Board 4 (CB4), closing the W. 30th St. Heliport has been a longstanding concern.
"At its core, CB4 believes the Heliport does not belong in Hudson River Park," said CB4 Chair Jeffrey LeFrancois. "It's surprising that we're still dealing with this issue given the lawsuit, the environmental implications that come with having a heliport, and the volume of toxic fumes and greenhouse gases they spew into the city and onto the Esplanade."
LeFrancois said that while the issue is not currently on the committee agendas, they did hold a recent press conference with elected officials about the issue. It is also not uncommon for someone to come and speak about the issue at the public sessions of monthly community board meetings, be it about safety concerns, environmental impact, or discussing why it is still located within the park.
"Our policy has not changed, so our existing letters on this will hold true until that Heliport is gone," said LeFrancois. "And when you compound it with the wider helicopter nuisance issues on the West Side, it becomes a major issue."
Community members like James Boyd note that it's been a full year since the last CB4 meeting about the W. 30th St. Heliport. He said he's attempting to get HRPT back to the table with CB4 on a regular basis to discuss closing the site.
NO HELIPORT IN HUDSON RIVER PARK | As reported in Chelsea Community News' August 7, 2021 article, West Side residents have long complained about the W. 30th St Heliport located, which is operated by Air Pegasus LLC. The company Blade, akin to an 'AirUber,' is one of the users of this heliport, running private charter flights to the Hamptons, Westchester, and to connecting flights at local airports.
Brewer's office said that according to advocates, a flight to the Hamptons uses 90 gallons of fuel each way; that adds up to 360 gallons of jet fuel for a weekend in the Hamptons.
"There are the fumes, the safety hazards…we just can't have a heliport in a park. It just doesn't line up," said Brewer.
Chelsea Community News has questioned HRPT Executive Vice President Dan Kurtz in the past about moving the heliport in response to local outcry. And they are aware of the proposed legislation.
"The current Hudson River Park Act allows a heliport in the park because the historic position of the state and city has been that it is needed. While legislative, community, and land use discussions around the long-term future of the heliport take place, the Trust continues to work with the operator to ensure operations are managed safely," said a representative from Risa Heller Communications, the HRPT's PR firm.
There's also the issue of revenue. Before COVID, the Trust received about $1.7M annual rent from the Heliport. Risa Heller said it dropped to as low as $575K during the peak period of COVID closure but has now rebounded.
Still, as Stop the Chop NY/NJ President Andrew Rosenthal noted earlier this year, HRPT's annual revenue budget is over $30M, "So this $1.7M at pre-COVID levels is only five to six percent of the budget. Would they keep [the heliport] for $100K? $500K? $1M? What makes it OK? I would say it destroys more than six percent of the park between noise pollution, safety, and land occupation issues."
Robert Gottheim, District Director, US Rep. Jerrold Nadler echoed this sentiment, saying, "It's always a balance of cost and pay. So [HRPT] needs a steady stream of revenue…but it's blood money. They can easily close the heliport down, and the few people [who use it] are rich enough to take a trip to JFK."
According to Boyd, the closure of the W. 30th St. Heliport is not complicated. It requires an open dialogue between HRPT, the public, elected officials, and the press significant enough to counter the influence of those who use these helicopters. He labels arguments from local operators about their altruistic use of helicopters as "absurd," noting that three tarmac barges just west of the heliport, available now for emergency uses, could be used for all charter traffic.
Boyd further notes that even the touted "electric" eVTOL helicopters neglect to factor in the impact of toxic mining of batteries' REE materials in third-world countries, where the industry employs wage slaves and child labor for the ultimate convenience of wealthy businessmen and politicians.
"Now is the time for our innovation, labor, and capital to be spent on public transportation, if we are to stop the environmental train wreck," said Boyd. "Helicopter use is not essential."
For now, legislators are applying torque in their attempt to ground these noisy sightseeing and private charter flights. They face a short field due to the clout of the industry, and only time will reveal whether they are able to open full throttle on these local operators. But perhaps by constructing a web of federal, state, and local laws, they will achieve liftoff.
"We believe our bill can work in tandem with Councilmember Brewer's and Representative Nadler and Maloney's efforts," said Hoylman. "Each level of government can address the issue where they have jurisdiction. Hudson River Park Trust cannot violate state law."
Chelsea Community News is made possible with the help of our awesome advertisers, and the support of our readers. If you like what you see, please consider taking part in our GoFundMe campaign (click here). To make a direct donation, give feedback, or send a Letter to the Editor, email scott@chelseacommunitynews.com.