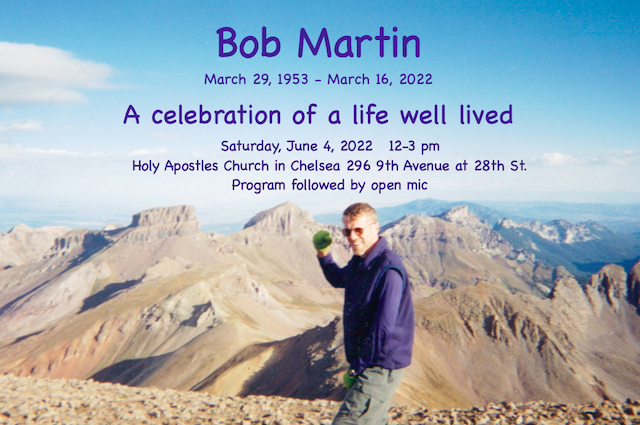 As detailed above, friends and colleagues are invited to a June 4 gathering to celebrate the life. and enduring legacy, of Bob Martin. Directly below, find a compilation of highlights from Bob's life, compiled by the Martin family. Following that, find some recollections from those in Chelsea whose lives he touched.
Robert Alan Martin, an attorney who fought for the rights of tenants and consumers, and a family man who loved the outdoors, died from cancer on March 16, 2022. He was 68.
Bob grew up in Frankfort, KY, with his mother, Mary Lou, his father, Galen, and his siblings, David and Julie. He later attended college at Swarthmore, where he met his wife of 46 years, Kate. His life as a New Yorker and an activist began with his enrollment in the NYU law school. As an attorney, his energy for organizing and for defending the rights of everyday New Yorkers was endless. While at the Department of Consumer Affairs, he sought to hold predatory business owners accountable. At DC 37, he served the needs of working class city employees. His work with the Fair Housing Justice Center and within consumer advocacy networks touched many people and will have a lasting impact.
Housing justice was not only of professional interest to Bob, but personal interest: In the course of his fight for tenant rights as part of the Chelsea Coalition on Housing, he and Kate squatted in a building to prevent the landlord from forcing the tenants out. The apartment eventually became the home where he and Kate raised their two sons, Alex and James.
As a husband and father, Bob loved spending time with his family more than anything. They hiked, skiied, and played tennis together in all seasons. He was a skilled camper and mountain climber who summited more than a dozen 14'ers in Colorado with Kate. He played basketball every week at PS41 in Greenwich Village for 30+ years with his friends and his sons. He was a reader, a movie watcher and a socialist who loved just hanging out and chatting, like a true southern transplant.
Bob collected friends and confidants throughout his life, whether at work, at organizing meetings, at conferences, while buying a Christmas tree, or while encountering random strangers on the street. He really made friends everywhere he went. And, he went everywhere. With Kate and sometimes his sons, he traveled to South Africa, Chile, Argentina, Ecuador, Peru, Nicaragua, Cuba, Mexico, USSR, Portugal, France, Spain, the Netherlands, Canada, and all over the United States. In sickness and in health he had endless curiosity and spirit. No matter how he felt, he would smile and tell you he was "just ducky."
Memories can be sent to the family c/o Kate Abell / 322 West 17th St. #3E / New York, NY 10011 / kateabell@me.com
Memories From Bob's Friends and Allies
"A Deeply Good Man"
I had the great privilege of knowing and working closely with Bob Martin throughout the eighties as a fellow member of the Chelsea Coalition on Housing. Bob's low-key, gentle, unfailingly gracious manner belied the ferocity and passion of his commitment to social justice. He was a deeply good man. Unquestionably, Chelsea is a better place because of his presence, and I am a better person for having known him.—Susan A. Mufson 
"Passionate About Justice"
I met Bob in the early '80s when we were working with the Chelsea Coalition on Housing to fight Barneys New York's expansion into low and moderate housing on West 17th Street. We continued to work together for many years. He was always kind and calm but passionate about justice. I'm imagining Bob having coffee with Jane Wood, Susan Cohen, and Gloria Sukenick and reminiscing about the good old days.—Roberta Gelb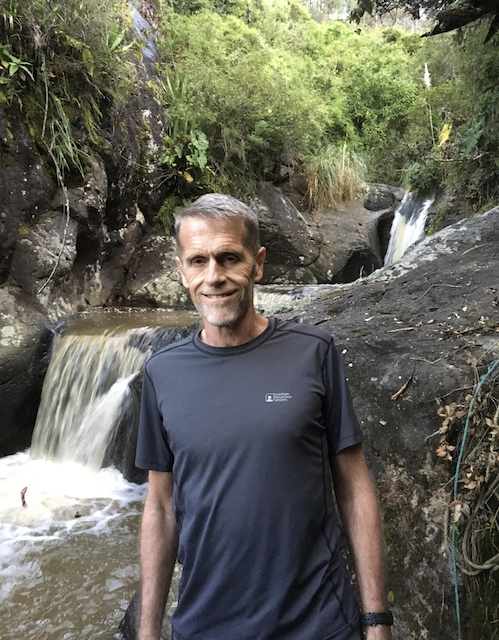 "We Often Relied Upon His Thoughtful Suggestions"
I was so sad to learn of the recent death of Bob Martin. I'm proud to have known him. Chelsea has lost a brave, kind and optimistic humanist and activist. Although I lost touch with him, after moving from "lower Chelsea," his passing brought back many memories of his formidable activist life, which I'd like to share.
I met Bob, and Kate Abell, more than 30 years ago, when we were all active in the Chelsea Coalition on Housing, an organization devoted to protecting and preserving affordable housing in Chelsea, which was then a very multi-ethnic community. In those days, we sat on garbage cans on the 300 block of West 17th Street, where anyone and everyone was welcome to come by with their housing problem(s).
We then moved to the basement of Bob's building on that block, and word spread of our activities against unscrupulous landlords in the area, and our many successes against them. It was an exciting time to be an activist, and Bob, with his thoughtful legal mind and activist instinct, led many of the fights. Our stand-out success was against Barney's original store on Seventh Avenue, and their attempt to drive out tenants from buildings they owned on the 100 block of West 17th Street. But we had other memorable wins as well—against landlords who hired dangerous thugs to drive out legitimate tenants.
We were all involved in many late-night meetings, and we posed as all-night security guards in many buildings around Chelsea. We even organized a campaign to save a family-owned bakery on Eighth Avenue, one of the last Latino bakeries in the area. Bob was involved in all of these campaigns, and we often relied upon his thoughtful suggestions and organizational and leadership skills.
Bob knew how to have fun and enjoy himself, when he wasn't fighting the serious battle against injustice. He and Kate hosted several memorable summer street fairs on their block, along with well-attended holiday parties in the basement of their building where meetings were also held.
Lifelong friendships were established in those days, and even though I did lose touch with him, I remember him fondly with respect and admiration for his kind, soft-spoken demeanor and his concern for making the Chelsea community a better place for all.—Donna Marie Smith
"The Kind of Person Any Group with a Mission Would Want as a Member"
One of the most compelling reasons to get involved in local politics and community organizations is the extraordinary people you'll meet. Bob Martin was one of those whose path I was grateful crossed mine. A dedicated socialist, he would still do the grunt work to elect local Democratic Party candidates even if they weren't as progressive as he might have wanted. He understood that they were better than the alternative. He didn't involve himself over much in the sometimes tiresome internal politics of our political organization, as his passions drew him to work more directly with issues and policies. Nevertheless, he was a faithful member of the Chelsea Reform Democratic Club and showed up to vote, to work and to contribute to the conversation when it made sense. He didn't hesitate to call leadership out when we fell down, failed or took a (probably stupid) shortcut. At least once, he rightly called me out on something; I didn't sleep well that night because I realized I'd inadvertently betrayed a trust. But Bob didn't hold grudges. If you were willing to hear him out and explain what you did and why, he'd listen and forgive, even if your argument didn't necessarily sway him. Even when he was angry, I found Bob polite—if direct—and more concerned with the event than with his emotional response to it. He was the kind of person any group with a mission would want as a member: more than capable of leading, while not self-promoting, happy to work, and so refreshingly direct and honest without being aggressive.  This community has lost another treasure.—Steven Skyles-Mulligan
May 21, 2021: From Bob's Wife, Kate
Although what bound us first was that we were not from the east, depending on implicit understanding while interpreting
woof and warp of our life together
can leave crevasses across our sculpted landscape
grand canyons of potential beauty, hard to navigate
shooting rapids when your left is my right
once we even sunk a canoe, each of us, although
not together so perhaps our differences are not so large
and in fact the mountain peaks we climbed we actually did
make it to their tops in one piece me always doubting
you absorbing my fear while I returned the favor when
deciding the parking space was legal
it must be difficult to have your pure physicality curtailed
leaving me to manufacture hope and bravery for us both
your contribution to our ongoing pageant your hold on life itself
I think I will stay upright, lean on me if you can
the things I have done in my life, the things outside my
own beliefs and passions I clawed my way through,
heart pounding, because of you.
Chelsea Community News is made possible with the help of our awesome advertisers, and the support of our readers. If you like what you see, please consider taking part in our GoFundMe campaign (click here). To make a direct donation, give feedback, or send a Letter to the Editor, email scott@chelseacommunitynews.com.