BY MARTY BARRETT | What is the collective term for drag queens: A Sashay? A Tuck? A Flotilla? However the OED defines it, a blindingly brilliant (and occasionally bedazzled) constellation of drag queens descended upon our sprawling city, as RuPaul's DragCon LA 2022—the event's 10th in-person iteration—brought sparkle back, May 13-15.
Hundreds of drag queens—whether contestants from various RuPaul's Drag Race offerings or hopefuls representing the drag scene in cities across the globe, took over the L.A. Convention Center in the first COVID-era DragCon.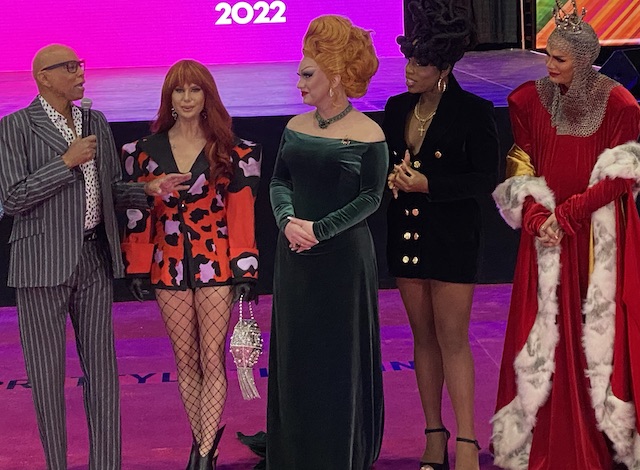 It's like a bris!" said the event's namesake as he cut the ceremonial pink ribbon, flanked by Drag Race season winners like The Viviennne and Raja. As DragCon LA was taking place, they could also be seen competing in the clash of the titans-style RuPaul's Drag Race All Stars 7 (airing on Paramount-Plus), the winner of which struts away with $200,000. RuPaul Charles, "Supermodel of the World," made sporadic appearances throughout the weekend—but he appeared in his pants and suitcoat incarnation, signaling that the event really belonged to the dozens of Queens, international and domestic, who've competed on his shows.
DragCon, despite its out-loud product tie-ins and cross-promotion of numerous Drag Race broadcast vehicles, wasn't just a funnel to years' worth of streaming basic cable content. On either side of the ⅛-mile Pink Carpet, on convention center rows dubbed "Elegance Lane," "Tuckahoe Street," and "Sissy That Walk Way," hundreds of vendors sold wigs, performance-wear, and cosmetics to make one's local drag show sparkle.
In addition—and the marketing hype was not exaggerating—this DragCon was family-friendly, politically aware, and inclusive.
"We started by setting up at things like Dave Matthews concerts," says Katrina Vassallo of Brooklyn-based Headcount, a voter registration and advocacy organization. Vassallo and her team stood in front of a rainbow-accented booth that didn't necessarily reflect the aesthetic of the iconic '90s stylists of Tripping Billies, hoping to empower a blue or even red voter in all those pink avenues. "But we're reaching out to the LGBTQ-plus community, too, and this is the place to do it."
And while some attendees' sexual (or political) orientations may have been apparent a mile away, among the many children in attendance, couples, and families, there seemed to be a robust mix of straight and queer fans. What united them was their gravitation toward a particular queen's gifts, flaws, victories and failures–played out before a global audience within the unforgiving framework of elimination-based reality TV. There may only be one crown to go around at there
And while some attendees' sexual (or political) orientations may have been apparent a mile away, among the many children in attendance, couples, and families, there seemed to be a robust mix of straight and queer fans. What united them was their love of the queens on these shows.
And their love was deafening.
For about 45 minutes on the morning of Day One (a school day in Los Angeles), thousands of fans surrounded a roped-off pink carpet as dozens of Queens—inaudibly announced from far away and making their way down the football field-length promenade—preened, strutted, sashayed, enacted vivid tableaux with their colleagues, and delivered looks from Sweet to Terrifying as fans expressed their love through the international language of non-stop shrieking.
When it was over, RuPaul played a DJ set from the main stage as the convention floor filled up further. On the avenues, individual Queens shot photo sessions with fans, and visitors took pictures in the Hulu-sponsored Golden Girls kitchen. (This observer saw a male fan shed real tears of joy when he beheld the replica set where Blanche, Rose, Sophia, and Dorothy offered support, shade, and cheesecake), and kids and aduts beheld Drag Queen Story Time.)
Visiting from New Mexico where she traveled with Drag Race contestant Kalorie Karbdashian-Williams, Queen Jessica Daniels stands about 6'8". She walks the floor with a small entourage and poses for pictures with fans who might not know her but are, regardless, struck.
"I'm a little sweaty, but come here," she says to an attendee, putting her arm around him for a picture. It's 90 degrees outside and the big space is getting crowded. Outside the convention hall, satellite meeting rooms host seminars on sewing, panels of performers from different casts, and—probably the most popular—reunions of various Drag Race casts. If the pink carpet was the Main Event, these smaller sessions (which still packed 300-seat rooms), were like the DVD Extras and Easter Eggs all in one.
And it was here that I got a great education. I who, prior to the 2022 DragCon, had never seen a single episode of Drag Race and knew RuPaul only so much as to be pleased with himself when he recognized her as Jan's guidance counselor in The Brady Bunch Movie (1995).
"The thing we all have in common is that we were bullied in school," says Lawrence Chaney, winner of RuPaul's Drag Race UK Series 2. Speaking at a reunion of the first two UK casts, she asks audience members to raise hands if they were bullied in school. Most of us do.
"And whoever didn't raise your hand?" Chaney asks, adding, "You probably were the bully!"
I'm sitting up front and I want to turn around to see the bullies outnumbered.
Maybe the joy throughout the building is greater due to those little reminders of darkness. The Queens have been given a victory lap at DragCon—in a place where they are not just celebrated, but adored. Because outside is anti-LGBTQ crime and "Don't Say Gay." These Queens remember being bullied at school and at home, and living in their cars. That's why, for all the millennial sisterhood on display, there's still an undercurrent of that old kind of Fierce, mixed with the satisfaction of being in a safer space than what a lot of them have known.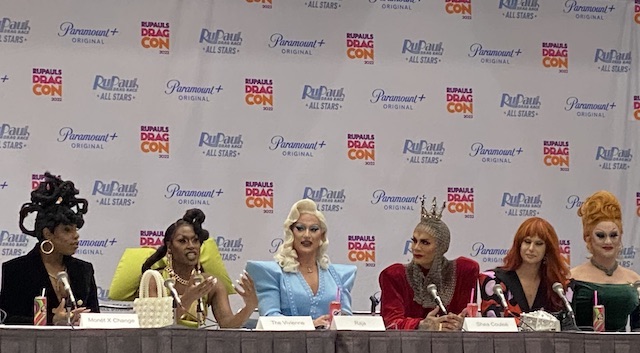 Another UK breakout star is The Vivienne, who appeared with Chaney in their panel as well as one featuring the cast of Drag Race All Stars 7. The Vivienne is on point throughout her appearances, and defines her colleagues several times as "horrible, rotted, vile, bitchy, shady queens" with such affection that it makes next-breath statements like, "We can do good drag without tearing each other down" not seem like a contradiction.
The conditions need to be right for a Queen to let her guard down and have fun, though. Says Blu Hydrangea from the Drag Race UK cast, "It's nice to be in a 'Best Of' cast so you can be friends. In a regular season … you don't have to."
As fabulous as the Queens are, it is fun to hear them talk about being supermodel-starstruck themselves. Of Drag Race celebrity judge Naomi Campbell, All Stars competitor Shea Couleé says, "She created her own wind, standing up there like a chocolate Pocahontas. My only regret is that I didn't get close enough to smell her."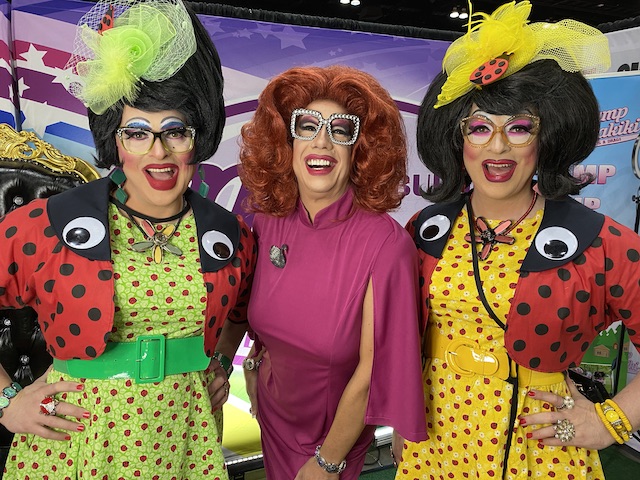 We are treated to a mix of young and (gently) older Queens on the panels. Some veterans seem perplexed at the marketing savvy or wokeness of their younger counterparts. The veterans talk of squalor, obscurity, living rough before Drag Race stardom happened, and a few speak nostalgically of pre-fame, edgy living.
"I'm here to remind these kids who the fuck I am," says Raja, 47, winner of RuPaul's Drag Race Season 3.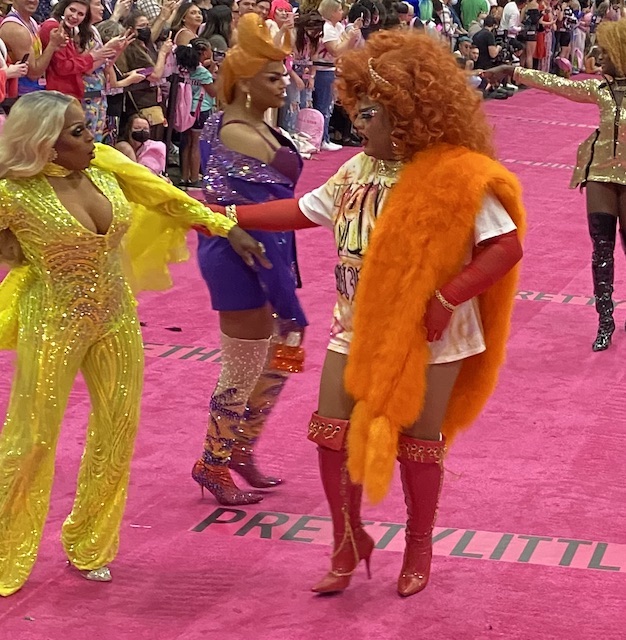 But even Jinkx Monsoon, 33, recalls working as a janitor before Season 5 plucked her from obscurity. Throughout the weekend, Queens marvel at the footprint drag has made in the world since Drag Race debuted, and some find it bittersweet that they once bought wigs at thrift shops and now they have teams of couturiers.
"It's strange that I've got people making things for me," Monsoon says, almost wistfully.
But, just like in Drag Race workroom challenges, Queens adapt.
Of All Stars Season 7, the Vivienne says, "They told us we could only bring 600 pounds of drag. I was like, 'We'll see about that, Bitch.'"
Indeed, "Bitch" is so gleefully tossed around throughout the convention that it's difficult not to call everyone you meet "Bitch" for days afterward. At the pink carpet, the single-most repeated line tossed by fans is "Bitch, you look amazing!"
Everyone finds it odd to see how popular drag has become.
Trinity The Tuck, who first made a Drag Race appearance in Season 9, is still floored that she was name-checked in a Saturday Night Live skit (starring Chris Pine, no less) in 2017.
"I'm from a trailer yard in Birmingham and these straight people wrote a sketch about me?" she says.
"I feel you," says Raja, recalling, "I had to watch them on Sex and the City say, 'Step your pussy up.' "
—END—
Hot off the heels of DragCon LA, World of Wonder also announced that tickets are also now on sale for DragCon UK 2023. The gag-worthy three-day spectacle, which will take place from Friday, January 6th to Sunday, January 8th 2023, will see ExCeL London play host and once again feature extraordinary Drag Queens from all over the world. For more information and to buy tickets and VIP experience passes to RuPaul's DragCon UK at ExCeL London visit: https://uk.rupaulsdragcon.com/
Chelsea Community News is made possible with the help of our awesome advertisers, and the support of our readers. If you like what you see, please consider taking part in our GoFundMe campaign (click here). To make a direct donation, give feedback, or send a Letter to the Editor, email scott@chelseacommunitynews.com.