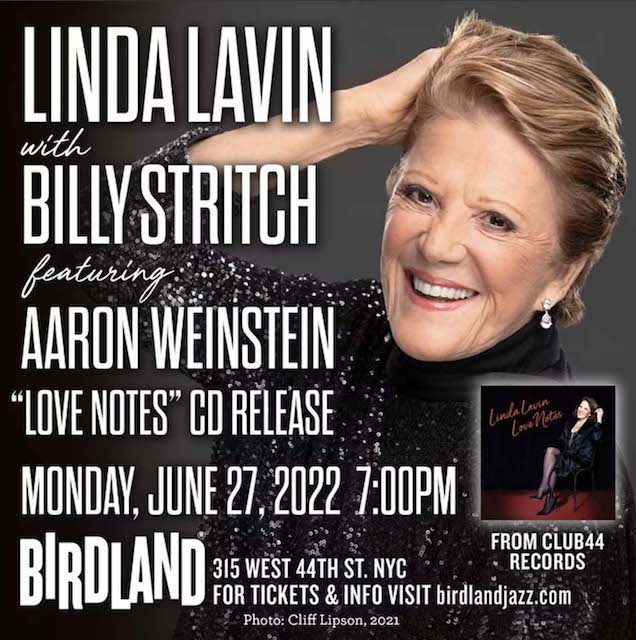 BY SCOTT STIFFLER | It seems like forever since TV icon and leggy Broadway leading lady Linda Lavin released her debut solo album, appropriately titled Possibilities, with liner notes by Hal Prince. ("Wonderfully unique singing voice, acting chops and — what else can you call it? — star quality," he gushed, of directing her in 1961,)
Possibilities was released in 2011 by Ghostlight Records—so firmly residing in the pre-COVID era as to seem as distant as the heyday of that album's selections, culled from the Great American Songbook and arranged by the great Billy Stritch to amplify the "wonderfully unique" singing voice that had Hal Prince swooning in the paragraph preceding this one.
So as we find hope in the possibility that we're closing the books on the pandemic era, along comes Lavin and company to give that optimism a fitting soundtrack—and an album launch party that compels us to leave the pants-optional setting of a Zoom meeting to spend the night seated at one of Birdland Jazz Club's timelessly classy cloth-draped tables.
There, Lavin will be joined on stage by pianist/singer (and Possibilities album arranger) Billy Stritch, leading a band that includes, at times, nicely maturing once-wunderkind Aaron Weinstein on violin and mandolin. As for the selections, expect the bulk of them to be fresh off the list of what made the cut for Love Notes. It's released by Club44 Records, the small but formidable label that has also released good work by Stritch as well as his frequent musical collaborator, Jim Caruso (The host of Birdland's long-running  weekly Monday night open mic, Jim Caruso's Cast Party, safe betters are advised to gamble the house on the notion that Caruso will be on hand for Lavin's 7pm happening, maybe even doing emcee duties.)
If you've learned anything from the above content, besides the fact that we're mighty sweet on Linda Lavin, it's that everyone assembled to put this show on the Birdland stage has a similar case of The Smittens. The launch party's roll call is nothing but usual suspects, meaning Lavin is either a rock solid individual people simply want to work with over and over again, or she keeps a ruthlessly compiled dossier of mud on them, stored in a Dirty Tricks file that's as infamous in legend as that of J. Edgar Hoover. It's likely the former, of course, but being the detail-oriented pro she is, one wouldn't put the latter past—or hold it against—Lavin.
Now that we've guaranteed Lavin the nutjob conspiracy crowd (frisk them for tableware on the way out; they're notorious kleptos), the meat of Monday night's matter merits its own time in the sun: Love Notes' mix of popular standards, jazz classics, and unexpected pop/rock selections represents both a return to form and a step ahead for Lavin and Stritch, who trade in some of the melancholy (but never maudlin) wistful arrangements and vocal interpretations of Possibilities to display, in their stead, a quicksilver sense of restlessness—barely detectable in the light of day, but always present just below the surface, pinging louder and louder on radar with each repeat listen.
That most of the album's tracks compelled this listener to hit "repeat" and leave it on for a good while is the easiest way to sum up the appeal of Lavin, Stritch, and their in-studio artists (all on stage at the launch party are featured on the album). Cole Porter, Duke Ellington, Richard Rodgers, Vernon Duke, and The Eagles are among those represented in both song and set list—as well as (and here's my plea for the basis of her next album), Steely Dan. Love Notes' best track finds Lavin bringing the same smoky defiance to Black Cow that she's lavished on other in-concert selections from the Steely Dan and Donald Fagen catalogs. For fans of either or all three, it's an out-of-left-field experience like no other. Utterly unique and impossible to ignore: That's what you'll get when you make a well-advised trip to Birdland to see what makes Lavin, and her Love Notes, tick.
BIRDLAND JAZZ CLUB will present Linda Lavin in "Love Notes" on Monday, June 27 at 7pm. There is a $40 music charge and a $20 food and beverage minimum. Birdland is located at 315 West 44th Street (between 8th and 9th Avenues) in Manhattan. For reservations, please call (212) 581-3080 or visit www.BirdlandJazz.com. In compliance with New York City rules for indoor activities, Birdland requires proof of vaccination or a verified medical exemption from all customers, staff, and performers.
Chelsea Community News is made possible with the help of our awesome advertisers, and the support of our readers. If you like what you see, please consider taking part in our GoFundMe campaign (click here). To make a direct donation, give feedback, or send a Letter to the Editor, email scott@chelseacommunitynews.com.