BY DONATHAN SALKALN | For days, storm clouds swirled above Hudson River Park's Pier 64, the site of a June 23 tribute celebrating the lives of Robert Trentlyon (April 23, 1929-Dec. 7, 2021) and Edward Kirkland (June 15,1925-Jan.11, 2022). The two men were Herculean activists that, over the past 60 years, helped reshape Chelsea.
The event was to be attended by family, friends, electeds, fellow activists, and former colleagues, and yet the threat of bad weather tested the wills of organizers Zazel Loven, President of the Chelsea Waterside Park Association (CWPA), and Noreen Doyle, President of the Hudson River Park Trust (HRPT). Would the dark skies drench everyone while they were far from shelter? Would the tribute even take place?
But stormy clouds were fitting for the event. Robert "Bob" Trentlyon and Edward "Ed" Kirkland were always roaming the streets and leading brawls against West Side developers, bureaucratic red tape, and even politicians. The two never shied away from the swelling of controversy. They would stand up and confront it head-on in the best way they knew—through discussion, reasoning, organizing, petitioning, and perseverance. And Bob loved to talk about hurricanes, the ultimate storm.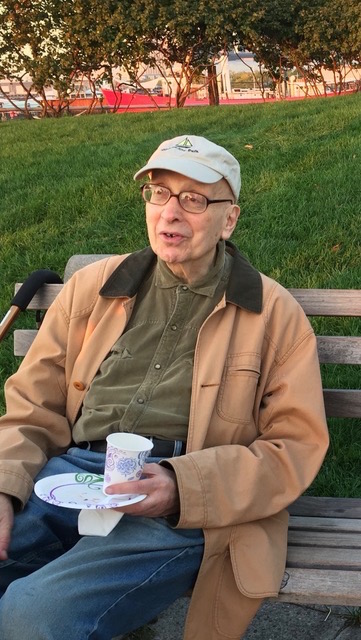 Storms have always been brewing over Chelsea. In the late 1950s the corrupt and powerful Tammany Hall ran the West Side. Bob Trentlyon helped found the Chelsea Reform Democratic Club (CRDC), promoting candidates to go up against Tammany—at the time, a long-established political bastion. As the club's first president, the road to victory included a stop at London Terrace, where Bob got Eleanor Roosevelt to attend a fundraiser for a CRDC candidate.
At the same time, Ed Kirkland was helping to create one of Chelsea's first block associations. The initial West 300 Block Association project was the planting of trees along Chelsea's bare streets—trees that provide shade and nature's presence to this day.
After the steady decline in the '60s and '70s of the West Side longshore and shipping industry, developers began circling Chelsea like vultures. As members of Manhattan Community Board 4 (CB4), it was both Bob and Ed fighting back, by working to establish Chelsea Historic District in 1970, the Ladies' Mile  Historic District in 1989, the West Chelsea Historic District in 2008, and Lamartine Place in 2009.
Ed and Bob preferred preservation and felt that the construction of tall, skinny condos should be confined to Chelsea's warehouse area, west of 10th Avenue.
As Founder, Publisher, and Editor-in-Chief of Chelsea-Clinton News, The Westsider, and Downtown Express, Bob had a soapbox to promote both his ideas and his candidates for office—and he used that soapbox often. Even after selling the papers, Bob took his soapbox home, and it never left his side.
After the 1985 defeat of a mammoth project called Westway, both Bob and Ed fought for a reimagined West Side Highway to include a park that would line the length of Manhattan's Hudson River shoreline. Bob made sure that Chelsea's park included a large inland section at West 23rd Street, where an unused bus yard and a warehouse existed. He created, with others, an advocacy group called the Chelsea Waterside Park Association, while engaging the urban landscape architect Thomas Balsley. Everything about the project was on spec and built on dreams and community enthusiasm.
When the landowners under the abandoned New York Central Railroad's West Side Elevated Line wanted it torn down so they could cash in, Ed joined preservationists in the creation of the High Line, West Chelsea's elevated, landscaped park that snakes through an architectural wonderland.
When a developer threatened to transform the General Theological Seminary (W. 20th to 21st Sts. on the west side of Ninth Ave.) into a tower of condos, both Bob and Ed spearheaded the Save Chelsea Historic District and successfully fought to downsize the project.
Be it biergartens being put on public parkland, additional floors added to landmarked buildings, or even creating storm surge barriers in protecting New York City and New Jersey from future superstorms, both Bob and Ed were always on the front lines of Chelsea's future.
So, on a Thursday evening, close to one hundred people took a long walk on a long pier—600 feet of a rising promenade alongside a grassy knoll with English oaks, just off of West 24th Street (Pier 64 extends out over the Hudson River like a giant springboard to the western heavens). The rustling of leaves and chirping of birds accompanied everyone's thoughts.
And the heavens didn't rain. The event went on, as scheduled.
At the end of the pier, high above the water, the Hudson River Park Trust had set up a welcoming table, seating for 50, and two small tents with one for speakers and microphone equipment and another for refreshments. Avocado and cucumber mini sandwiches and various ice teas provided by Bluestone Lane awaited everyone's appetites.
Once the program began, only the occasional interruptions of flights from the West 30th St. Heliport broke the tranquility and reminded everyone that the event was on the edge of a major bustling metropolis.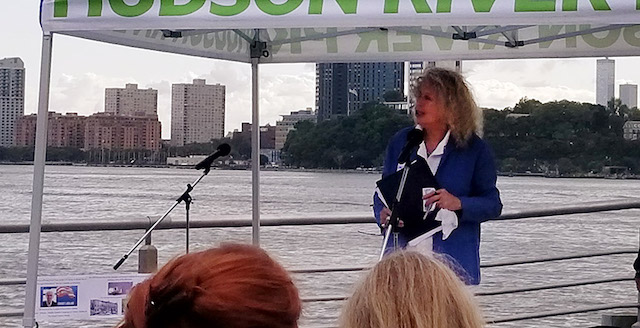 Zazel Loven opened the ceremony by saying, "Without Bob and Ed's vision, activism, and hard work—and the hard work of our elected officials and neighbors who shared their vision —we would not be here on Pier 64 in Hudson River Park."
Many echoed those same thoughts, each in their own way.
NYS Assembly Member Richard Gottfried—a longtime civil/LGBTQ+ rights advocate and unyielding healthcare champion—knew both Bob and Ed back when he first ran for office in 1970. Bob even interviewed him for Chelsea-Clinton News. Gottfried won the election, and was re-elected, consistently, ever since. (Gottfried is set to retire at the end of this year. Following last month's June 28 Primary Elections, Tony Simone, the Democratic nominee seeking Assembly District 75's seat in Albany, has Gottfried's endorsement).
"In many places, a community with a population the size of Chelsea would have its own local government, with a mayor, town council, and local agencies,"  Gottfried told the group. "We don't have that here. We depend on community organizations, community leaders, and volunteers that give time, energy, brains, and dedication in making the community a better and stronger place —people like Bob Trentlyon and Ed Kirkland."
Recalling a time when Chelsea's layout and landscape were by no means "foretold or written in stone," Gottfried asserted that, were it not for the determination of the honorees and likeminded contemporaries, it's quite possible Chelsea would not "be what it is today, with so much of our historic human-scale homes and buildings preserved, and with a great Hudson River Park… If we all go forward taking a little of their spirit with us, we will do well for our community and our city."
Although New York State Senator Brad Hoylman was unable to attend due to COVID complications, his Legislative Aide and Community Liaison, Natalie Naculich, read his address. It said, in part:
"Bob had tremendous love for everything Chelsea, the waterfront, and the Hudson River Park, culminating in his leadership in the creation of Chelsea Waterside Park—which is just one of the many local projects Bob led. Generations of New York City children and families, including mine, will benefit from his remarkable vision as a grassroots activist and local public intellectual."
Ed Kirkland, said Hoylman, "was a visionary who helped shape Chelsea as we know it today. From playing a founding role in the Chelsea Waterside Park Association to lobbying for the creation of the West Chelsea Historic District and even playing a fundamental role in the development of the High Line, Ed left a remarkable impact on his community."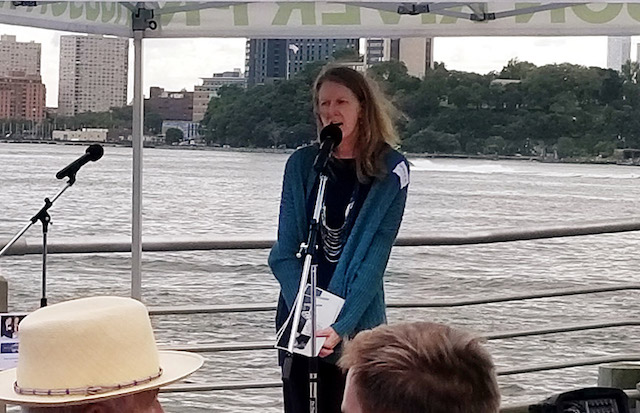 Hudson River Park Trust's Noreen Doyle spoke of first meeting Ed during her early years of public service. "I was on Community Board 4 as an Assistant District Manager," she noted. "Ed was Chair of Chelsea Land Use and Preservation. It was maybe 1993. He gave me my first real land use assignment—the 197a plan for Chelsea." Doyle said, referring to a plan under the New York City charter that made zoning changes in order to create more housing through collaboration among community groups, the community board, city agencies, and public officials."
Kirkland, recalled Doyle, "had me go to the land use division at the Department of City Planning and determine Chelsea's Floor Area Ratio (FAR), the measurement of a building's floor area in relation to the size of the lot that the building is located on. It was part of the 197a planning process."
The 197-a plan was finally approved by the Department of City Planning in 1996. As stated in the document, it would "provide for orderly growth and change; to provide opportunities for economically-integrated housing; to preserve the existing low-income housing stock; to prevent significant displacement of residents and businesses; to preserve ethnic and economic diversity; to protect residential areas from commercial intrusion, to preserve the character and visual unity of Chelsea; to preserve the traditional urban form and scale of the community; and to protect the Chelsea Historic District and other areas of historic character."
Tom Fox, who represents the City Club of New York on the Hudson River Park Advisory Council, first met Bob in 1986. It was in the aftermath of Westway being defeated by striped bass activists. The two were appointed to Governor Mario Cuomo's West Side Task Force. Fox's book about the history of the Hudson River Park is scheduled to be published by Rutgers University Press, next summer.
"Four private citizens were appointed to a 22-member city/state group," Fox began. "We were outnumbered, and the pro-development forces were trying to keep the Esplanade, so we all agreed that it should be built adjacent to the surface roadway."
"Bob, Roberta Brandes Gratz, and I refused to sign the final recommendation unless it included public funding for the Esplanade," Fox continued, saying, "David Dinkins, who was borough president at the time, joined us in refusing to sign the document without public funding—and we prevailed. We knew it was important because once the public got their feet on the waterfront, there was no way they were going to support buildings being put in the river."
This writer's glance across the river toward Newport, New Jersey saw what could have happened to Manhattan's West Side—a choking shoreline of luxury apartment houses, condos, and commercial buildings.
Joshua David, co-founder of the High Line, was a follower of both Ed and Bob. "I moved to Chelsea in 1986, and I saw these fliers on the streets. I attended meetings of the 300 Block Association at St Paul's Church on 22nd Street. It was there where Ed and Bob were always prominent voices. The way they rallied people behind their various projects, and took a role in shaping their community—it was inspirational," he recalled.
"When I became interested in the High Line, both Ed and Bob knew everything about it," David noted. "They were such amazing sources of information. Ed was the one, in 1999, that introduced me and [High Line co-founder] Robert Hammond to each other and Community Board 4. The meeting was about the removal of the elevated rail line, yet by the end of the meeting, it was the start of the High Line. And they were both there throughout the long process. I am forever grateful!"
Lincoln Anderson, Publisher and Founder of The Village Sun website and, prior to that, longtime editor of The Villager newspaper, told the group of how Bob gave him a break to intern and, later, work full-time for Chelsea Clinton News. "Bob loved the politics and stories about bad landlords. When he first came here dockworkers ran the place. There were political clubs like the McManus Club. Bob was a reform Democratic guy and became this force in the neighborhood. Later he became a climate change expert and was ahead of his time. He was the quintessential activist. I'm very glad to have known him."
Burt Lazarin of CB4, Board Member of Chelsea Waterside Park, and Executive Committee Member of the CRDC, told the gathering of gratifying times spent "just hanging out with Bob" and listening to his stories that included FDR and the politics in New Haven, CT, where Bob grew up. "I feel from what I got from Bob," Burt said. "I want to pass it on to somebody else."
Pamela Wolff of CB4, the West 200 Block Association, and Chelsea Waterside Park Association, and who was a friend and compatriot of both Bob and Ed, said, "They couldn't have been different in their approach and their style. Each had his own focus—Bob, with his behind-the-scenes maneuvering and Ed working within the system to bring attention to the need to preserve our community heritage."
Calling Kirkland her "mentor," Wolff recalled how he "brought me into Community Board 4 and guided me through the steep learning curve to serve on the Landmarks committee. Ed served as Private First Class in World War II, and was a prisoner of war in Germany. He was awarded the Combat Infantryman's Badge, the European-African-Middle Eastern Campaign Medal, and the Victory Medal and the Good Conduct Medal."
Pamela told the group of Ed's days after the war when he moved to Chelsea after graduate school at Dartmouth University. "He served over three decades on Community Board 4 and became a self-taught expert in land use, zoning, and historic preservation," Wolff said. "He played a major role in just about every land use and preservation decision in the district."
Simeon Bankoff, a onetime 20-year Director of the Historic District Council, was another friend who couldn't attend the tribute. His message was read by Wolff: "Ed never presumed to prescribe solutions for other people's neighborhoods. One of his cardinal points was that the community affected should have the decisive voice. He always insisted that people in the community were the ones who knew it best."
As a transplant from the Adirondack Mountains, District 3 City Councilmember Erik Bottcher offered a whole different perspective, recalling, "When people come to New York City from elsewhere they have a tendency to assume everything was always here. This pier was always here. The trees that line the streets were always here. They don't realize that people fought to make it happen. People had to push the government to make that happen and Ed and Bob were two of those people. We need to re-dedicate ourselves to building on what they did and pass it on to the next generation of New Yorkers."
Bottcher noted that although he did not know Kirkland well, "I did have the honor of knowing Bob. I was working for the Governor in the spring of 2012 and Bob asked to meet with me. He told me that New York City was in grave danger of being overwhelmed by a storm. He was right. Six months later New York City is hit by Superstorm Sandy and hundreds of New Yorkers were killed by a storm surge."
Malcom Bowman, professor at the School of Marine and Atmospheric Sciences at Stony Brook University, was another who came down with COVID and could not attend. He had his eulogy read (in part below) by Bob's son, Jason Trentlyon.
"I first met Bob Trentlyon in 2008 when he came out to Stony Brook on Long Island. I had been working on a regional protection system from the threat of extreme weather events, storm surges, and rising sea levels." Bowman relayed. "Bob would take me to meetings everywhere in the city, from basements to holiday parties, in warning everyone of the need for a storm surge barrier system to be put in place."
Bowman ended with, "Thank you all that have gathered here to honor a man of great dreams, a man of action, wisdom, integrity, accomplishments, and for being such a decent human being."
Telling glimpses of Bob and Betty Trentlyon as parents and partners were offered by the Trentlyon children, Jessica Gallery and Jason Trentlyon. Their fond childhood memories of both Bob and Betty (taken by complications of COVID several months before Bob died of natural causes) were greeted with warmth and laughter.
"As a publisher, my father was an incredibly busy man," said Jessica. "But he had time to stand outside and watch his little daughter jump on a pogo stick, and count with her a thousand times. He played frisbee with us and roughhoused with us."
"Dad was an activist long before he came to Chelsea," she continued. "He was raised in New Haven, Connecticut, and my grandmother was a violinist and a political activist. She would take my father around with petition boards, which is exactly what my dad did with me. Dad went on to Yale and my mother graduated from Swarthmore… I worked at the newspaper's office and it became my career path. I'm so grateful to my dad for doing that for me. We made sure that nobody knew who I was. I didn't want anybody thinking this was nepotism. He was a good boss and a great man."
Jessica further noted, "My father could not have done all of these projects without my mother. She had a full-time job resettling refugees for nonprofit agencies, two pain-in-the-ass kids, cleaning, and shopping, and taking care of the whole family. She even edited all of dad's editorials. I miss both of them oh-so much!"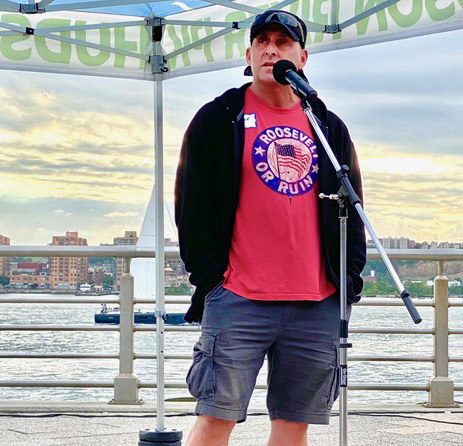 Franklin Delano Roosevelt, recalled Jason, "was my old man's hero. There used to be an annual New Year's party at our downstairs neighbor's. My old man never drank, never smoked, and forget about pot! He would get a little buzzed and kidnap someone from the party and bring them upstairs and would play old speeches of FDR," Jason recalled. "And to him, it was like watching porno… You saw this look on his face and you knew he was totally in love with that guy. I don't know about who he brought up there, and what they thought, but my dad couldn't have been happier."
Jason described some childhood trips to the river with his dad. It was a time when the docks and bulkheads were dilapidated and the area was filled with litter, concrete rubble, needles, used condoms, vermin, and abandoned cars. Dirt and auto soot collected under the cavernous overhead West Side Highway, and the filth seemed to make its way to 10th Avenue.
"Back then," Jason said, waving his arms toward the shoreline, south, "there were a couple of swings that you would put your kids on if you wanted to kill them. There was a broken see-saw. That was about it." Jason took a pause. "In the late '60s there was a time we were walking along the river and he asked me, 'What do you think if we put a park here?' He wasn't really asking me. I was just a little kid. He was thinking out loud. I had no idea when he said that, that this would happen."
To everyone's surprise, Erik Bottcher presented Pamela Wolff a City Council Proclamation. It felt seamless, and well-deserved, as Pamela had always been a star player on "The Bob and Ed Show," as she put it. In her various roles, she had won the hearts of both Bob and Ed, as well as just about everyone in attendance to the tribute, in one way or another. She shared the visions of both Bob and Ed, working side-by-side with them both at CB4 and the Chelsea Waterside Park Association.
Pamela has long-organized CWPA's annual sailing trip on Pete Seeger's Clearwater Sloop, in support for a clean Hudson River and as an excuse for bringing friends and neighbors together for a dose of briny fresh air.
By the end of the celebration, storm clouds were in retreat and rays of sunlight began to fill the park with a warm glow. As people began to make their way out of the park—and back to a Chelsea where much good work remains to be done—the sky opened up as if to allow Bob and Ed to escape all this talk about themselves and return to their rightful place. They were probably intent on being early for a meeting to rezone and reconfigure Heaven.
–END–
Donathan Salkaln is a founding and current board member of the Chelsea Waterside Park Association. In 1984, he was at the first CWPA meeting at the Fashion Institute of Technology, and became a friend of both Bob and Betty Trentlyon. Donathan was like Kramer on "Seinfeld," dropping in on their apartment, unannounced. It was usually, to be safe, with a clipboard.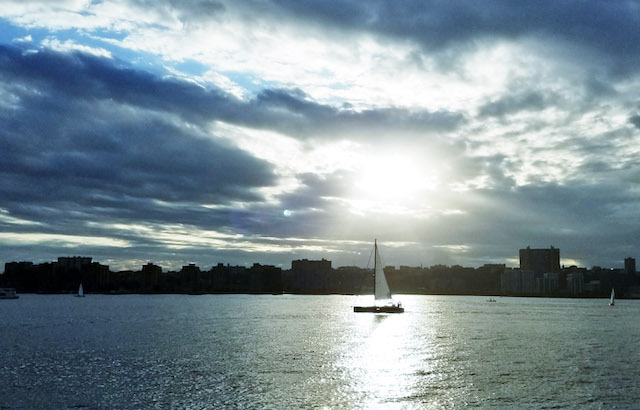 Chelsea Community News is made possible with the help of our awesome advertisers, and the support of our readers. If you like what you see, please consider taking part in our GoFundMe campaign (click here). To make a direct donation, give feedback, or send a Letter to the Editor, email scott@chelseacommunitynews.com.