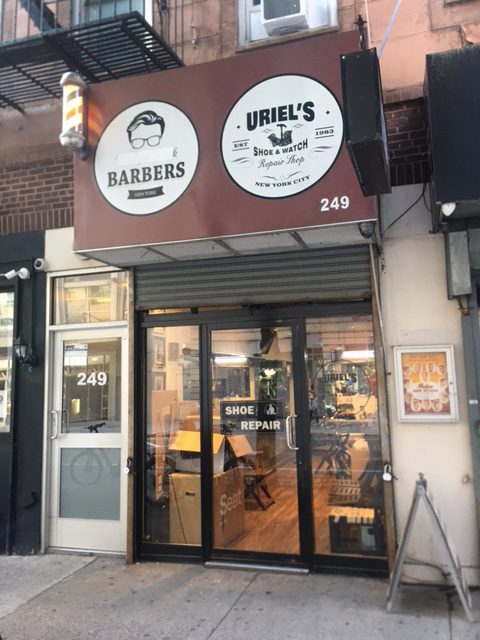 BY SELAH ILUNGA-REED | Whether it's the original emergence or post-Sandy transformation of the gallery district, the rise of the High Line, the naturally occurring retirement community of Penn South, or the creation of Hudson Yards, radical change has long been part of Chelsea's identity. Though change can bring about improvement, many small businesses and family-run establishments that served their eras well can find themselves lost in the shifting landscape. The high cost of changing times has been especially pronounced over the past year, as beloved small businesses that stood their ground during COVID succumbed to the post-pandemic realities of rising rents and shrinking profits.
Uriel's Shoe & Watch Repair Shop, located at 249 West 26th Street between Seventh and Eighth Avenues, is one of these lauded and adored businesses in the area, which, by reluctant choice of the owner because of an impossible rent increase, will soon vacate the narrow street-level space that's been like a second home to its sole (pun unintended) proprietor.
Uriel is a welcoming, instantly endearing man who emigrated to the United States from Uzbekistan in 1993, and has maintained his shoe and jewelry (and everything else) repair shop since February of 1994.
He is passionate about his roots, and remembers learning everything about his trade from his father. Uriel is a proud father of three (two boys, one girl) and the grandfather of nine—the most recent of which made their debut the day before Chelsea Community News paid a visit to the store. We were invited by one of Uri's loyal, longtime customers, who planned to be at the July 7 gathering that saw Uri welcome familiar faces to an afternoon of music and celebration at his store. Looking around and mindful of the new grandchild, Uri said, "I like to be grateful for everything… it is a gift." Among his loyal local following, many of whom have lived in nearby Penn South before Uriel's arrival in Chelsea, he is known as the best of the best. These customers have remained faithful through the years.
"When I moved to Penn South, and somebody told me about him and I came here, it was like this is part of my luck of being in Penn South, to have this person who has so many skills and takes such pride in his work, and does such fantastic work," said Cynthia, a longtime customer of Uriel's who dropped by the store on July 7 to express her gratitude and admiration.
Uriel's celebratory gathering (don't call it a retiremen) was like no other, as in addition to his craftsman skills, Uriel is an experienced clarinet player. He first picked up the instrument in 1974, as an elementary school student. His training continued through college, followed by steady work playing weddings and parades.
The cozy shoe shop was full to bursting with well-wishing friends, family, and customers, and saturated with joyous music courtesy of Uriel and some of his similarly talented friends, with whom he often plays. Everyone was pulled from their chairs to dance around the narrow space, kicking up feet and clapping along to classics like Hava Nagila. Hebrew was just the start of the languages graced by Uriel's music-making. (He and his companions played songs in Greek, Turkish, and even a little bit of Spanish.)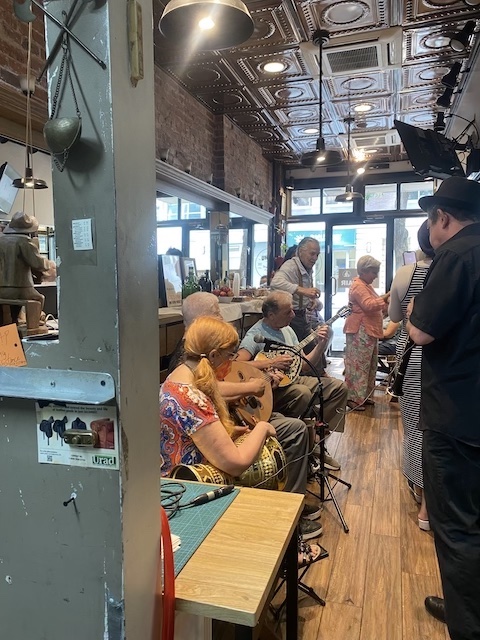 Bathed in the sunlight of the summer afternoon which streamed through the glass storefront was a medley of cultures and nationalities, all unified by their love for one another, and especially Uriel. "It's a shame to see him go" said Joan, another longtime Penn South resident whose loyalty to the father has extended to other family members. "You know, my son still gets his hair cut by Gabriel, Uriel's son," noted Joan. (Gabriel ran a barbershop out of the shoe store for a full decade, only to move  just one block from his father. Chelsea Park Barbers is located at 105 W. 26th St., btw. 6th & 7th Aves.)
Though the fearsome tide of rent seems to continually rise, especially for smaller, older businesses, it cannot dampen the nearly familial love shared by these patrons and friends. Uriel's legacy as a profoundly skilled craftsman—and musician—will outlive this store, and that new life might announce itself to the world sooner than one might think. In the week following our visit, Uriel described the work in progress at his home, far from Penn South: A wooden and cement frame will soon house a pre-fab shed. Ostensibly to store the equipment and tools he'll take load into a U-Haul when he vacates West 26th Street ("July 30, I hand in the key," he said), one gets the sense those belongings won't spend much time in the rafters.
Asked if he'd take freelance work from the old Penn South crowd, Uriel's sly smile spoke volumes, and transitioned seamlessly into an up-close look at some specialty footwear he'd just designed to the delight of a nearby tenant whose needs lay somewhere between slipper and shoe. It was easy to imagine an online empire by this time next year.
For now though, this community icon gets to enjoy some "post-Chelsea" rest, and welcome his newest grandchild. May Uriel's "retirement" be as joyous and prosperous as his many years devoted to the art of repair and renewal.
–END–
 Scroll down for additional thoughts from friends/customers
I met Uri when I moved here 21 years ago. As soon as I asked how I could find a good shoe repair shop, my dear neighbor, and "mayor"of Penn South,  Jerry Weissman (R.I.P.), told me right away: "Oh, you don't even have to ask—Uri is the best!" Anyone who has used his services for the past almost 28 years can attest to his skillful mastery of a disappearing art. He takes the time to transform a shoe that was ready to say "Goodbye" into a "ready to rumble again" one. He also is super good at repairing new and antique watches and clocks!—Lizette Colón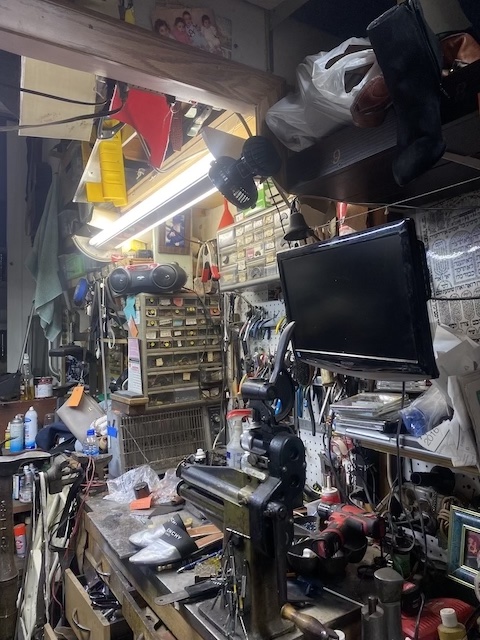 "You ask why we will miss Uriel and what makes him special? Uriel never once hesitated, if I needed something minor sewed and didn't know where else to go. I trusted him. Uri is a jack of all trades, and everyone who stepped into his shop will miss him. It will feel odd passing by and not seeing his store there. He has served the Chelsea community well.—Joanne Sinovoi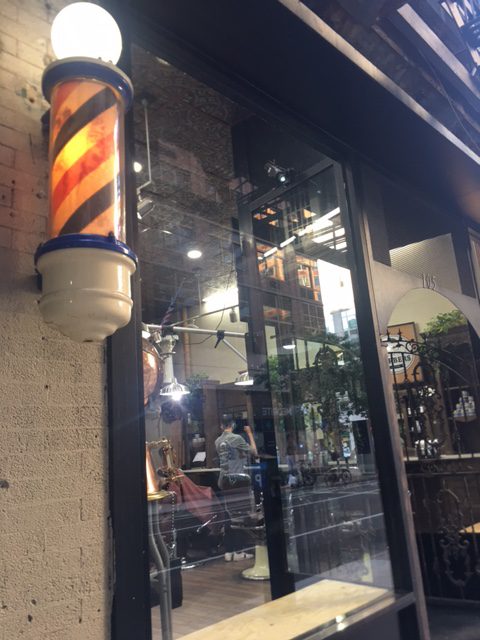 Chelsea Community News is made possible with the help of our awesome advertisers, and the support of our readers. If you like what you see, please consider taking part in our GoFundMe campaign (click here). To make a direct donation, give feedback, or send a Letter to the Editor, email scott@chelseacommunitynews.com.