In This Week's "THIS WEEK IN CHELSEA"
CB4 Full Board Meeting / Sunset on the Hudson Music Series /  "Go Figure" Art Exhibit at Hudson Guild / Down to Earth Farmers Market Chelsea / PS11 Farm Market / Wellness Wednesdays Free Flatiron Fitness Series /  
Manhattan Community Board 4´s HYBRID Full Board Meeting: Wednesday, July 27, 6:30pm| The monthly full board meeting of Manhattan Community Board 4 (C4) takes place on the first Wed. of the month–except in the case of July and August, which combine forces for a meaty two-monther on this, the last Wed. of July. Once you've wrapped your head around that little calendar quirk, it's business as usual… or is it? Unlike the Zoom-only meetings that have been taking place since COVID, July 27 will be a hybrid affair, with the full board event accessible via Zoom and in-person, at The High Line Park at 14th St. & 10th Ave. (enter using the elevator or stairs at 14th St.) To register for it via Zoom, click here. To view via CB4's YouTube channel (viewing only; cannot participate), click here. Those who wish to participate in the Public Session get two minutes of uninterrupted time to speak. Click here to sign up for a slot, and access the Agenda Items by clicking here.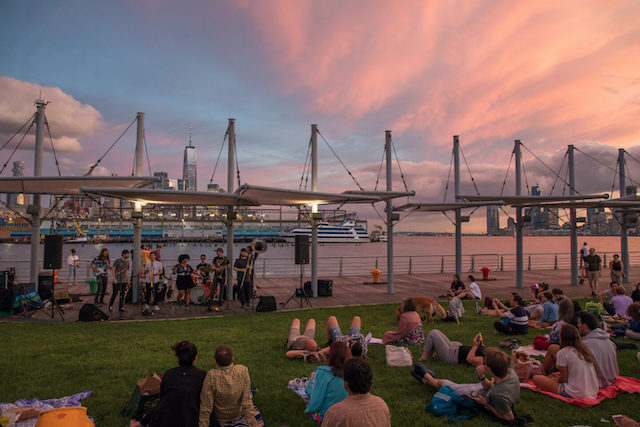 Sunset on the Hudson: A Friday Night Music Series | Pier 45 (at W. 10th St.) in Hudson River Park is the place for this weekly summertime series starting at 7pm and featuring a diverse roster of talent drawn from—and, as such, reflective of—New York City. The July 29 entry in the series presents Koku Gonza. From August 5 through 26, featured acts are, respectively: Adi Oasis, Underground System, Queer Urban Orchestra, and The Big Takeover. For more info, click here.
Rick Kreiger's "Go Figure!" Exhibit aty Hudson Guild Gallery II through September 1 | Meet a multitude of fantastical figures created by multi-media artist, SVA grad, and NYC resident Rick Krieger, who has been presenting his own work and co-curating that of other artists at Hudson Guild since 1989. On view through September 1. Viewing hours: Tues.—Fri., 10am—6pm. At Hudson Guild Gallery II (119 Ninth Ave.). For more info, see the below flyer and click here to view an arts events page on the Hudson Guild website.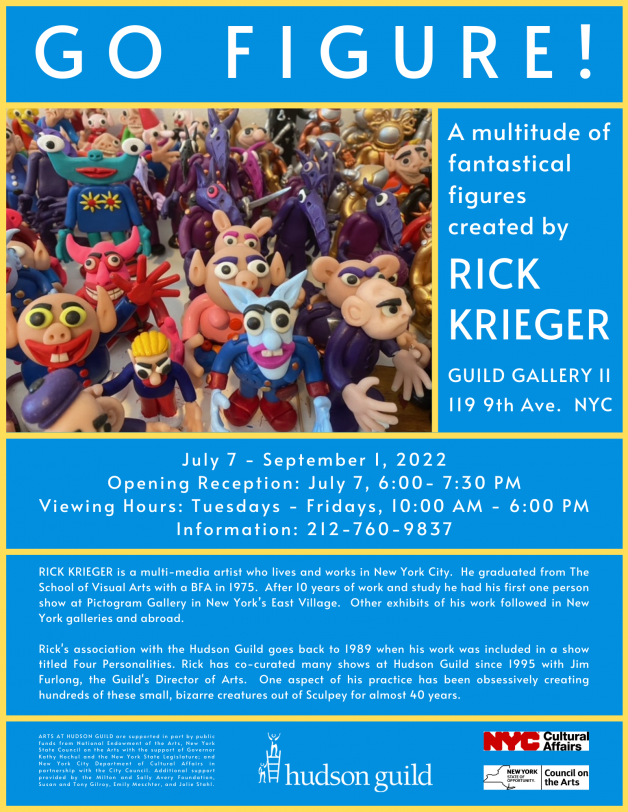 The PS11 Farm Market: Wednesdays, 8-9am on W. 21st. St. btw. 8th & 9th Aves.|
Chelsea's outdoor, kid-powered pop-up shop stocked with essential ingredients for a great meal has returned–with organic produce and much more are provided by
Stoneledge Farm
.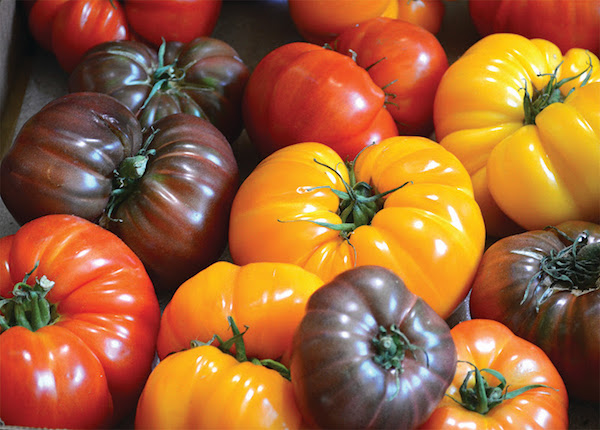 The Down to Earth Farmers Market Chelsea: Saturdays, 9am-2pm on the North side of West 23rd St., off Ninth Ave. | New York area growers and artisan food makers return to Chelsea every Saturday through Dec. 17. This Market was created with the support of nearby Church of the Holy Apostles, with the mission of bringing wholesome and delicious foods to the neighborhood's shoppers and supporting local small farms and food businesses. "The Chelsea Farmers Market is a grower-producer market," its fouders note, "meaning that vendors must be farmers or make food with ingredients purchased from local farms. The few exceptions to this rule are olive oil, chocolate and coffee vendors who can document their sourcing." The Market's ninth season will offer fruits, vegetables, and meats from area farms. Market favorites PickleLicious and Orwashers Bakery are returning, along with fresh faces including Love the Soup! from Morristown, NJ and Ideal Fish from Waterbury, CT. SNAP EBT is welcome (visit the manager's tent to get tokens; matching Health Bucks are available). Farmers Market Nutrition Program checks, issued by WIC offices and Seniors' centers, can be used from June through November. Get the latest Market news by signing up for their email newsletter via the Down to Earth Markets website (click here to access it) or by following https://www.facebook.com/dtechelseafarmersmarket/.
Flatiron Fitness' Wellness Wednesdays: Through August 10, 6-7 pm at Flatiron South Public Plaza (Broadway btw. W. 22nd & 23rd Sts.)| Formerly the Flatiron 23rd Street Partnership and now moving forward with a better, shorter name that name-drops its additionally embraced area of coverage, the Flatiron NoMad Partnership presents the return of their signature summertime series, which was promoting the notion of outdoor group exercise long before social distancing compelled fitness facilities to take their business beyond their brick and mortar borders. This eight-week series features yoga, high-intensity interval training, Pilates, and dance classes offered by area studios, gyms, and wellness-focused businesses
This month's schedule closes out with July 27's PMT House of Dance offering Beginner Hip Hop. With an emphasis on musicality, creativity, intention, and performance, students will come away with an appreciation of the basic techniques, and an ability to put those foundational skills into their proper context. To register for any of these classes (and find out about pop-up classes and cancellations because of extreme heat, severe rain, etc.), click here.
—Compiled by Scott Stiffler
Chelsea Community News is made possible with the help of our awesome advertisers, and the support of our readers. If you like what you see, please consider taking part in our GoFundMe campaign (click here). To make a direct donation, give feedback, or send a Letter to the Editor, email scott@chelseacommunitynews.com.