In This Week's "THIS WEEK IN CHELSEA"
Down to Earth Farmers MaretArrest to Disposition: A Presentation from the Manhattan District Attorney's Office / 10th Precinct Sector B Build the Block Meeting / Sunset on the Hudson Music Series /  "Go Figure" Art Exhibit at Hudson Guild / Primary Election Day, Meatpacking BID's Sweat Sessions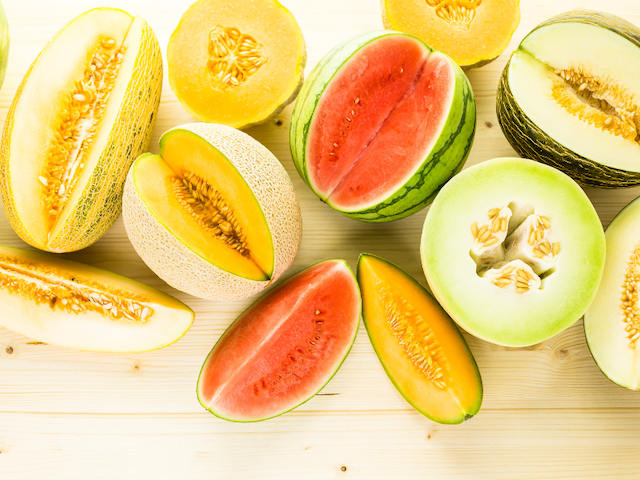 The Down to Earth Farmers Market Chelsea: Saturdays, 9am-2pm on the North side of West 23rd St., off Ninth Ave. | New York area growers and artisan food makers make the trip to Chelsea every Saturday through Dec. 17. This Market was created with the support of nearby Church of the Holy Apostles, with the mission of bringing wholesome and delicious foods to the neighborhood's shoppers and supporting local small farms and food businesses. "The Chelsea Farmers Market is a grower-producer market," its founders note, "meaning that vendors must be farmers or make food with ingredients purchased from local farms. The few exceptions to this rule are olive oil, chocolate and coffee vendors who can document their sourcing." The Market's ninth season offers fruits, vegetables, and meats from area farms. Market favorites Pickle Licious and Orwashers Bakery are back and going strong, along with fresh faces Ideal Fish from Waterbury, CT. SNAP EBT is welcome (visit the manager's tent to get tokens; matching Health Bucks are available). Farmers Market Nutrition Program checks, issued by WIC offices and Seniors' centers, can be used from June through November. Earlier this week, Melissa of Down to Earth wrote, "If you're looking for a healthy, natural and "greener" way to optimize your hydration game during the long, hot late summer months, seasonal, locally grown fruits offer a great alternative to sugary sodas and artificial sports drinks. Many summer fruits contain a high-water content as well as a diversity of vitamins and minerals, so increasing your intake will help keep you well-hydrated while delivering a host of important nutrients with every delicious bite. Melons, in particular, are especially rich in water content and are coming into season about now, just in time to quench the thirsts of multitudes of parched farmers market shoppers." Visit the Market on Sat., Aug. 27 to purchase some of the melons Melissa wrote about, along with tips for what wonders melons make. Get the latest Market news by signing up for their email newsletter via the Down to Earth Markets website (click here to access it) or by following https://www.facebook.com/dtechelseafarmersmarket/.
The Manhattan District Attorney's Office Presents "Arrest to Disposition" and Q&A on Thursday, August 25, 8-9pm via Zoom| Chelsea Community News and the London Terrace Tenants Association bring you this special edition of CCNews' Community Communication Session online series. This single-topic installment is from the Manhattan District Attorney's Office. To register: https://us02web.zoom.us/meeting/register/tZEsceGoqDgiH9DAIi6rcBNouQs-TKayNgZz. After registering, you will receive a confirmation email containing information about joining the meeting. Representing the Manhattan District Attorney's Office, Shawn McMahon, Deputy Chief, Trial Division, will give a 30-minute presentation to explain the role of a District Attorney and the criminal justice process in New York County, as well as chart what takes place from the moment a person is arrested to the sentence a judge would ultimately impose. You'll come out of the experience with more knowledge and insight on the roles of arresting officers, prosecutors, defenders, and judges. Immediately following the presentation, McMahon will bring his "A" game to a Q&A session that welcomes questions from those in attendance. For more info, click here.
10th Precinct, Sector B Build the Block Meeting on Thursday, August 25, 6pm via Zoom | NCOs, or Neighborhood Coordination Officers, work as a two-person team to spend time in their assigned sector making new contacts and shoring up existing relationships with residents and business owners. Build the Block meetings are quarterly events at which the general public is invited to interact with their sector's NCOs, and voice their concerns. What does that mean, you ask, geographically? The 10th is divided into three Build the Block areas of coverage: Sector A: W. 14th St. to W. 21st St., 7th Ave. to the Hudson; Sector B: North side of W. 21st St. to south side of W. 29th St., from 7th Ave. to the Hudson; and Sector C: W. 29th St. to W. 43rd St., 9th Ave. to the Hudson. On Aug. 25, it's the Sector B meeting. Regarding that, the NYPD writes, "Please join us for a Zoom Meeting by using the following information. We look forward to hearing from you. Meeting ID: 160 3954 0526 / Passcode: NYPD123! All meeting times, dates, and locations are subject to change. Please call your local precinct and speak to a Neighborhood Coordination Officer to verify correct meeting information." Find the location of Build the Block meetings by clicking here.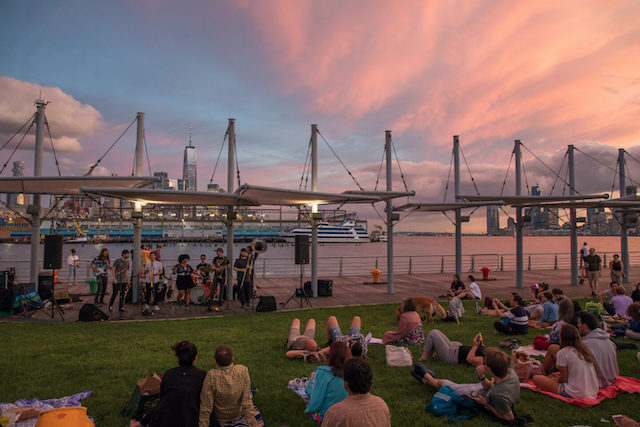 Sunset on the Hudson: A Friday Night Music Series | Pier 45 (at W. 10th St.) in Hudson River Park is the place for this weekly summertime series starting at 7pm and featuring a diverse roster of talent drawn from—and, as such, reflective of—New York City.  August 26, the featured act is The Big Takeover. For more info, click here.
Rick Kreiger's "Go Figure!" Exhibit aty Hudson Guild Gallery II through September 1 | Meet a multitude of fantastical figures created by multi-media artist, SVA grad, and NYC resident Rick Krieger, who has been presenting his own work and co-curating that of other artists at Hudson Guild since 1989. On view through September 1. Viewing hours: Tues.—Fri., 10am—6pm. At Hudson Guild Gallery II (119 Ninth Ave.). For nfo, see the below flyer and click here to view an arts events page on the Hudson Guild website.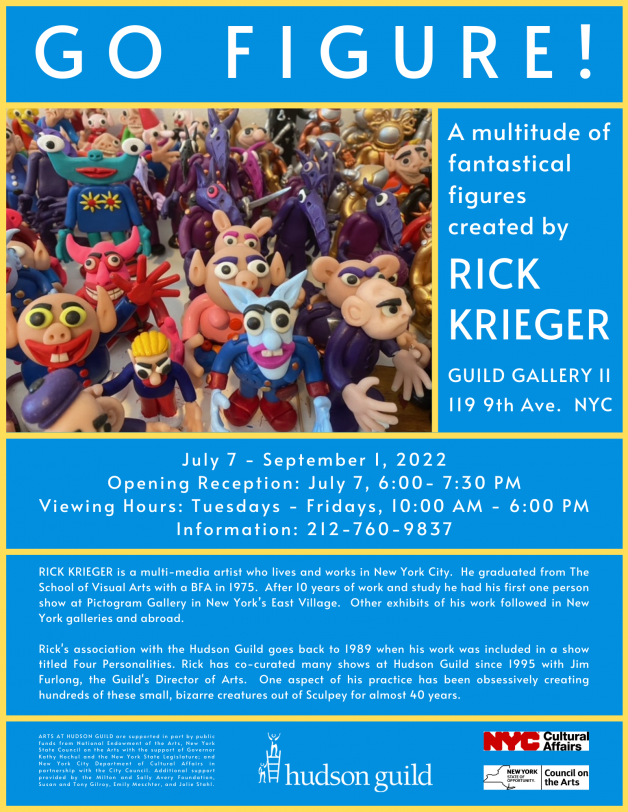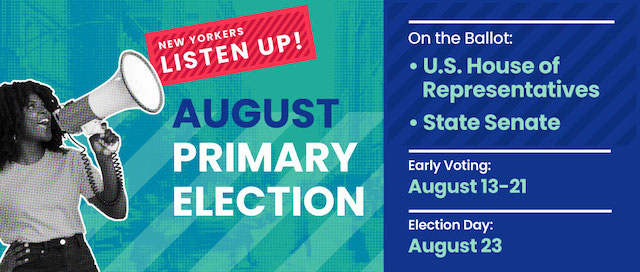 Primary Election Day / Tuesday, August 23, 6am-9pm |
With early voting having concluded on August 21, the August Primary happens Tuesday, August 23. On the ballot: U.S. House of Representatives and the New York State Senate. To find your poll site and view a sample ballot, 
click here
. Polls are open from 6am-9pm. For more information via the NYC Board of Elections,
click here.
 For more info,
click here
.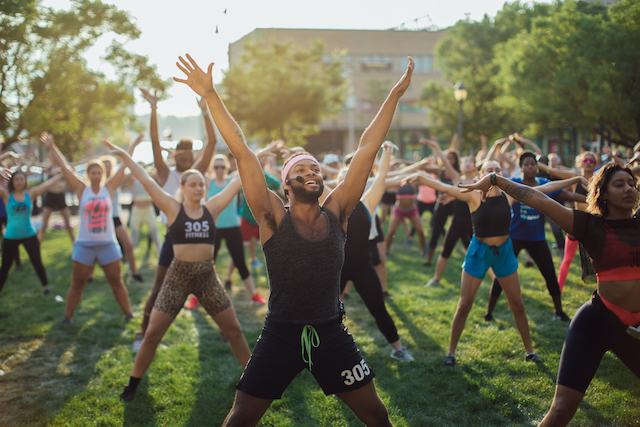 Sweat Sessions: A Free Fitness Series Tuesday Nights Through August 30 |The Meatpacking BID (Business Improvement District) and the Wellth Collective combine forces for this fun, free, al fresco fitness series consisting of three free 45-minute classes at 5:30pm, 6:30pm, and 7:30pm every Tuesday night. Yoga, bootcamp, dance cardio, boxing, and pilates are among the thematic offerings. The series takes place at Hudson River Park's 14th Street Park (10th Ave. btw. W. 14th & 15th Sts.). Sweat Sessions are taught by trainers from ZenWTR, ASHOC Accelerator, and Lifeway Kefir. Proper athletic attire must be worn. Late arrivals after 10 minutes will not be permitted. Notices of cancellation or postponement due to weather conditions will be emailed in advance of class. To register and get more information, click here.
—Compiled by Scott Stiffler
Chelsea Community News is made possible with the help of our awesome advertisers, and the support of our readers. If you like what you see, please consider taking part in our GoFundMe campaign (click here). To make a direct donation, give feedback, or send a Letter to the Editor, email scott@chelseacommunitynews.com.