Rally to Save the Penn Station Neighborhood | It's always darkest before. . . something dramatic. With the clock ticking on the dog and pony show that is the public vetting process, chances grow each day that we'll end up with some kind of largely loyalist plan for the area around Penn Station favored by NYS Gov. Kathy Hochul and her clown car packed to the gills with corporate cheerleaders–all of whom would see an entire neighborhood ground into dust so a Vornado-created vertical campus can rise where nobody asked it to. Answering this grim prognosis is a rally with the kind of street theater activism that must have Jane Jacobs smiling down upon it. See the below flyer for details, and consider lending your voice to one of the most blatant boondoggles we're likely to see in our lifetimes. Shame!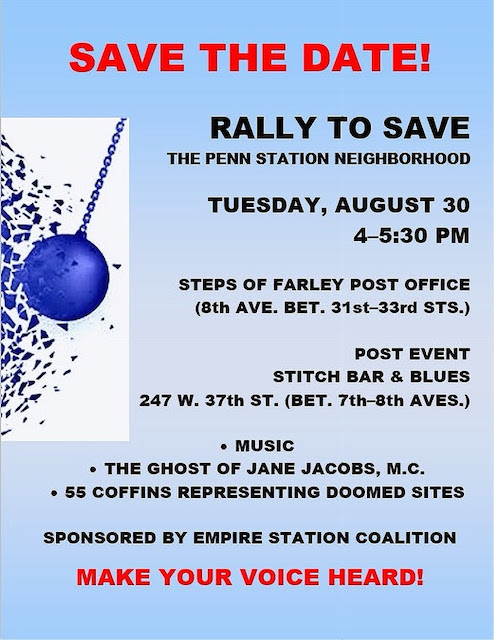 Electeds Sponsor Donations Drive for Families and Individuals Experiencing Homelessness | See the below flyer.
Saturday,  September 24, 10am-5pm: The 30th Annual London Terrace Street Fair happens on W. 24th St. btw. 9th & 10th Aves.      

Free Outdoor Music: Saturday, September 10 | "Chelsea Outdoor Opera" read the opening words of an August 23 email sent by the 500 West Block Association after having stumbled upon an outdoor opera earlier this summer while walking on West 21 st Street. "It was a sublime, uniquely New York experience and it is set to return on Saturday, September 10th at 6:00 PM.  The location, once again, will be on 21st St between 9th and 10th Avenues." This event is organized by The Opera Next Door. For more information, click here.
Chelsea Community News is made possible with the help of our awesome advertisers, and the support of our readers. If you like what you see, please consider taking part in our GoFundMe campaign (click here). To make a direct donation, give feedback, or send a Letter to the Editor, email scott@chelseacommunitynews.com.