In This Week's "THIS WEEK IN CHELSEA"
Down to Earth Farmers Market Chelsea / Events From Earlier This Week: Congestion Pricing Hearings / Police Commissioner's Day of Play / London Terrace Street Fair / Rally to Save the Penn Station Neighborhood / Donation Drive /  Sweat Sessions /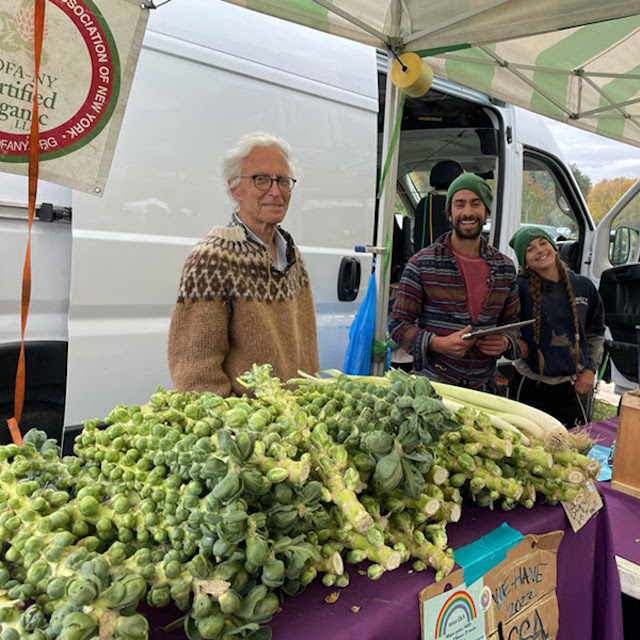 The Down to Earth Farmers Market Chelsea: Saturdays, 9am-2pm on the North side of West 23rd St., off Ninth Ave. | New York area growers and artisan food makers make the trip to Chelsea every Saturday through Dec. 17. This Market was created with the support of nearby Church of the Holy Apostles, with the mission of bringing wholesome and delicious foods to the neighborhood's shoppers and supporting local small farms and food businesses. "The Chelsea Farmers Market is a grower-producer market," its founders note, "meaning that vendors must be farmers or make food with ingredients purchased from local farms. The few exceptions to this rule are olive oil, chocolate and coffee vendors who can document their sourcing.
The Market's ninth season offers fruits, vegetables, and meats from area farms. Market favorites Pickle Licious and Orwashers Bakery are back and going strong, along with fresh faces including Ideal Fish from Waterbury, CT. SNAP EBT is welcome (visit the manager's tent to get tokens; matching Health Bucks are available). Farmers Market Nutrition Program checks, issued by WIC offices and Seniors' centers, can be used from June through November. Several vendors are featured in the Chelsea edition of this week's Down to Earth Farmers Market email newsletter. Among them: Fledging Crow Vegetables is "a 70-acre, certified organic, diversified vegetable farm that's been in business for 15 years. Located in the Champlain Valley, Fledging Crow Vegetables produces a variety of leafy greens, herbs, carrots, celery, beets and cherry tomatoes. The farm is in production 12 months of the year, utilizing two acres of heated greenhouses." Get the latest Market news by signing up for their email newsletter via the Down to Earth Markets website (click here to access it) or by following https://www.facebook.com/dtechelseafarmersmarket/.
Congestion Pricing Public Hearings Tuesday/Wednesday, August 30/31; Comment Period Remains Through Friday, September 9 | The Triborough Bridge & Tunnel Authority, the New York State Department of Transportation, the New York City Department of Transportation, and the Federal Highway Administration released an Environmental Assessment (EA) of the proposed Central Business District CBD Tolling Program (aka Congestion Pricing), which evaluates the effects of the program. A 30-day public comment period will conclude on Fri., Sept. 9. Two virtual Public Hearings remain: Tues., Aug. 30, 5-8pm (sign up to speak or request services) and Wed., Aug. 31, 10am-1pm (sign up to speak or request services). Anyone wishing to speak will have an opportunity to do so. It is requested, but not required, that those wishing to speak sign up by 7pm the previous day at new.mta.info/project/CBDTP/upcoming-meetings or by calling the Public Hearing Hotline at 646-252-6777. For more information (and there is much more to consider, click here.
The 10th Precinct Observes the Police Commissioner's Day of Play: Wednesday, August 31, 4pm at Kelly Park (320 W. 17th St. btw. 9th & 10th Aves.) | See the below flyer and click here for more info. Chelsea's 10th Precinct can be reached at 212-741-8211.
Saturday,  September 24, 10am-5pm: The 30th Annual London Terrace Street Fair Happens on W. 24th St. btw. 9th & 10th Aves. | Fall officially starts in Chelsea with this annual event whose return in 2021 (after an exceedingly rare year off because of COVID) was a giant leap back to the world of in-person events. See the below flyer for details. For more info, including details about how to rent take space send an email to LTTAstreetfair@gmail.com.

Rally to Save the Penn Station Neighborhood: Tuesday, August 30, 4-5pm, Eighth Ave. btw. W. 31st & 33rd Sts. | It's always darkest before. . . something dramatic. With the clock ticking on the dog and pony show that is the public vetting process, chances grow each day that we'll end up with some kind of largely loyalist plan for the area around Penn Station favored by NYS Gov. Kathy Hochul and her clown car packed to the gills with corporate cheerleaders–all of whom would see an entire neighborhood ground into dust so a Vornado-created vertical campus can rise where nobody asked it to. Answering this grim prognosis is a rally with the kind of street theater activism that must have Jane Jacobs smiling down upon it. See the below flyer for details, and consider lending your voice to one of the most blatant boondoggles we're likely to see in our lifetimes. Shame!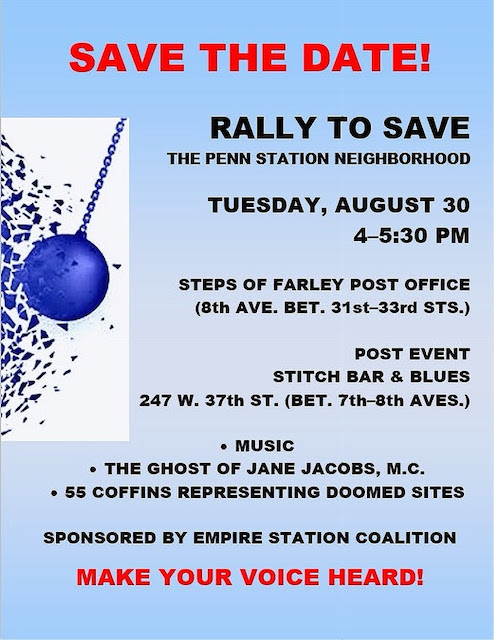 Electeds Sponsor Donations Drive for Families and Individuals Experiencing Homelessness: Tuesday, August 30, 8:30am-4:30pm at various locations |
See the below flyer–and for more information, email
district3@
.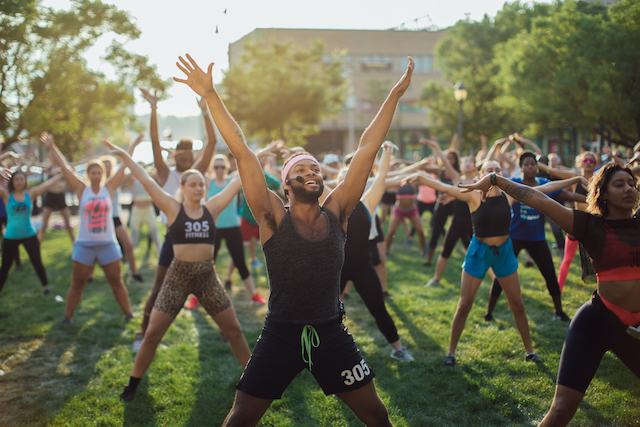 Sweat Sessions: A Free Fitness Series Tuesday Nights Through August 30 |The Meatpacking BID (Business Improvement District) and the Wellth Collective combine forces for this fun, free, al fresco fitness series consisting of three free 45-minute classes at 5:30pm, 6:30pm, and 7:30pm every Tuesday night. Yoga, bootcamp, dance cardio, boxing, and pilates are among the thematic offerings. The series takes place at Hudson River Park's 14th Street Park (10th Ave. btw. W. 14th & 15th Sts.). Sweat Sessions are taught by trainers from ZenWTR, ASHOC Accelerator, and Lifeway Kefir. Proper athletic attire must be worn. Late arrivals after 10 minutes will not be permitted. Notices of cancellation or postponement due to weather conditions will be emailed in advance of class. To register and get more information, click here.
–Compiled by Scott Stiffler
Chelsea Community News is made possible with the help of our awesome advertisers, and the support of our readers. If you like what you see, please consider taking part in our GoFundMe campaign (click here). To make a direct donation, give feedback, or send a Letter to the Editor, email scott@chelseacommunitynews.com.