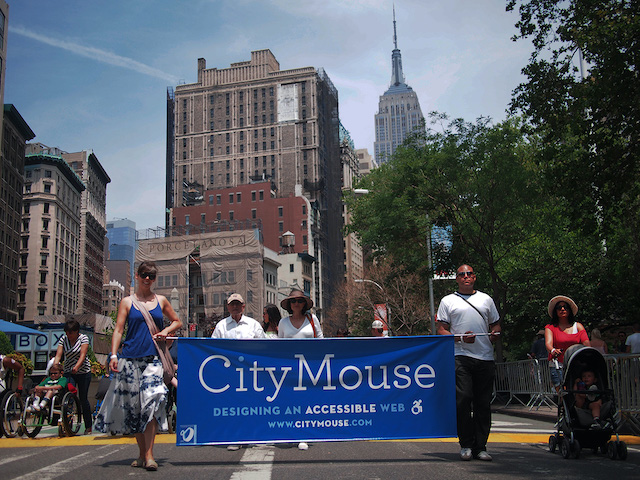 BY SCOTT STIFFLER | A longtime Chelsea resident who recalibrated his daily life and his locally based business after surviving a devastating brain injury will represent New York City as a regional honoree at the Saturday, September 10 March On for Brain Injury Walk.
An annual day of solidarity and visibility created by the nonprofit Brain Injury Association of New York State (BIANYS), March On takes place simultaneously in Hudson Valley, Long Island, New York City, and Rochester and, organizers note, "brings together brain injury survivors, caregivers, and professionals to celebrate and honor members of the brain injury community." In doing so, the occasion serves as a one-shot articulation of BIZNYS' mission to not only "support, educate, and advocate for people and families impacted by brain injury," but to also "minimize brain injury through prevention programs" while also playing a "central role in the development of public policy on the federal, state and local level."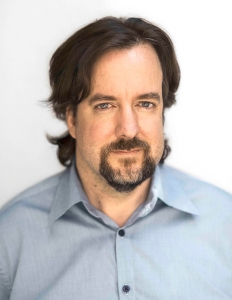 Helping to move many of those mission statement goals forward over the years is Chelsea resident John Kirkwood, who sustained his brain injury after aneurysm that put him in a coma. "John had to completely restart his life. His injury reset his ability to create memory and he lost all memory of his visual world. He had to re-learn how to taste, smell, walk, talk, and how to navigate with the loss of the left half of his visual world," noted a press release announcing Kirkwood's participation in Saturday's March On for Brain Injury Walk, via his recognition as one of four event honorees.
"Through years of rehabilitation," further noted the press announcement, "he learned how to manage relationships with people effectively, and how to work with a hidden disability… He has made it a goal to pay it forward to others and works to make the online world more accessible to people with disabilities."
Chelsea Community News recently spoke with Kirkwood over the phone, our conversation inspiring a follow-up email whose content is the basis for the below Q&A.
Chelsea Community News (CCN): When, where, and how did you get your brain injury? What damage have you sustained, and how did you adjust?
John Kirkwood (Kirkwood): In August of 2006, I experienced a brain injury due to an aneurysm in the occipital lobe of my brain. This resulted in a major stroke while I was in my apartment in Chelsea, by myself at the time. Thankfully, my neighbors in the building alerted the management and they went and checked on me. I was found in an unresponsive state and quickly taken to Saint Vincent's hospital. If it wasn't for the tight community of my Chelsea neighbors, I may not have survived and received the critical care I needed. I do think that is a testament to this community I live in both the immediate community in my building and the greater Chelsea community. It is a community that, after many travels to many different countries, I have chosen to remain as my home since my disabling injury.  Now I am lucky to share this home with my wife, Karen Sendler, whom I met and married after my injury.
After I awakened from a coma, I had to relearn how to walk, talk, read, and write. I had to learn how to create and access new memory. My senses were reset, so my sense of taste and smell was completely alien to me. I lost my prior ability to navigate my visual world. And I had to figure out how to manage new life with the chronic condition of a brain injury, a hidden cognitive disability. I talked about this adjustment and how I made a commitment to use technology to enable my independence as seen in my TED Talk.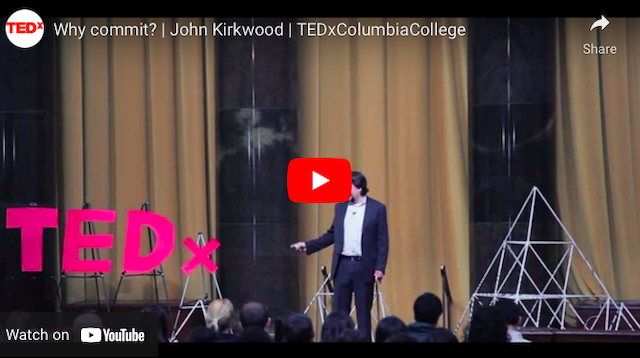 How did I learn to adjust? My adjustment was aided in part by lots of feedback from my support network which included a clinical perspective, psychological perspective, and familial perspective. In addition, the Brain Injury Association of New York State helped me to navigate the complex social, clinical, and vocational needs specific to those with cognitive disabilities and unique needs in the greater brain injury community.
CCN: Are there any common misconceptions about brain injury, or important things everyone should know about it?
Kirkwood: The misconceptions are numerous. For one thing, like other hidden disabilities, people will often say, "Well, you look fine" or, "You don't seem disabled." This can actually be insulting and quite minimizing for those with hidden disabilities, despite it often being delivered as a compliment. In addition, there is a common misconception that people with brain injuries are not able to hold down a job. People with brain injuries can absolutely be productive members of the workplace if a company provides the appropriate accommodation and support, which is possible if an employer gains an understanding of the needs of an employee with a disability. One of the core reasons I became a part of BIANYS was to help raise awareness that people with brain injuries are highly employable, productive members of society that bring a unique perspective to every situation.
CCN: Besides situations like traumatic accidents, what if any type of brain injury should we all anticipate/prepare for, as we age?
Kirkwood: As we age, we should anticipate age-related cognitive decline, what you might call "slips of the mind." This can be mitigated (vs accomplished) by doing simple actions like writing things down, or potentially recording information, if possible. Other ways to prepare for or manage this type of situation are pacing oneself to not take on too much, changing one's environment to reduce noise, sound, and clutter, and even seeking external help with organization.
As we age, it is natural that our ability to encode memory slows down. Many people feel they cannot multitask in the same way or hold their attention as long as they used to. The ability of our parietal lobe to keep up with the complexities and input of information diminish. This means many people are not able to retain information needed to complete complex processes such as multistep online forms which require the user to have strong short-term memory, the ability to visually process a lot of information quickly, and the ability to sequence, or completing a multi-step process in the correct order, such as making a travel booking, or completing banking or medical forms.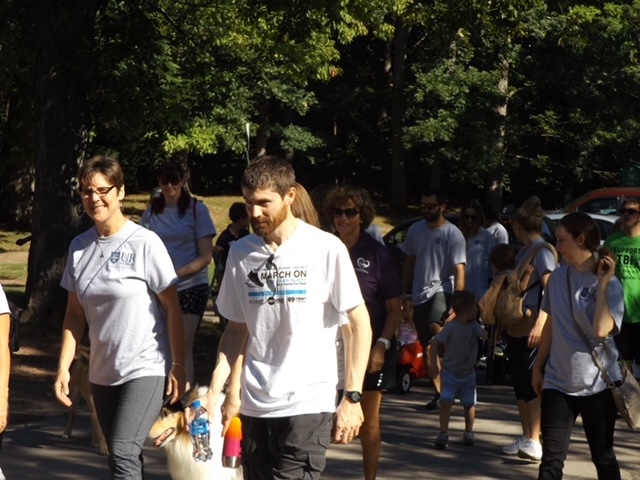 CCN: The Brain Injury Association of New York State observes their annual walk, statewide, on September 10. When and how did you get involved, and what will you be doing now and in the future as the NYC region representative?
Kirkwood: Dr. Brian Greenwald invited me to attend a conference hosted by the Brain Injury Association of New Jersey soon after my injury, which made me aware of the great work each state was doing in the area. I began to attend Brain Injury of New York State conferences, attended their support groups, did advocacy work, and, in 2014, was fortunate to be invited to join the board of BIANYS. As a member of the BIANYS public policy committee, I help ensure that the state services for this community are as effective as possible. I will continue to advocate for our community within the state, as well as in Washington, DC, to ensure that we are supported on a federal level, too.
CCN: Pronouns are important markers of identity, and an easy way to show another person respect. Are there equivalents in the "disabled" community (as in, better, preferred words for "disabled")? If so, how did you become aware of that and what, if any, part does it play in your post-brain injury life?
Kirkwood: Rather than use the term "disabled," it is preferable to say "person with a disability." Having served as Disability Inclusion Director for the NYC Department of Education, I saw firsthand that the awareness of respectful and inclusive communications for the disability community is something that continues to demand allyship in a community as a whole.
CCN: How long have you lived in Chelsea, and how would you characterize the neighborhood, as a resident who is a person with a disability?
Kirkwood: I have been a resident of Chelsea for 23 years. As a resident with a disability, I personally feel that the neighborhood is extremely accessible, diverse, and inclusive. From the accessible High Line to Chelsea Piers to Chelsea Recreation Center to the myriad art galleries in the area, Chelsea has something for a wide range of interests.  It is also a hotbed of innovation thanks to the presence of Google and many other start-up and tech companies and the NYCLink high-speed network.
It has easy access to many forms of public transportation, including 7 subway lines and multiple bus lines. The fact that Chelsea is on a grid also makes it easy to navigate, especially for those with visual impairments.
Even the convenience to Penn Station allows for quick and easy access to accessible public transportation in a way that is unlike any place I have been in the world. The freedom of access to all of these modes of transportation allow for personal freedom and independence that I'm unsure one can find many other places. This is one of the many reasons I remained a Chelsea resident following my injury since I was able to independently access the services I needed for my road to recovery.
CCN: What does your company do, and how, if in any way, did that mission pivot after your brain injury?

Kirkwood: My company, CityMouse Technologies, Inc., was founded as a website development and consulting business in 1996 to primarily serve nonprofits and businesses in the health and environmental space. After my disabling injury, CityMouse was certified as a Disability-Owned Business Enterprise by Disablity:IN and I shifted my focus to a critical gap in the market—making websites accessible to people with disabilities. CityMouse brings the web to everyone no matter their ability. CityMouse continues to focus on local and diverse businesses as we incorporate cognitive design to enable greater clarity and understanding to all people in a neurodiverse world.
After my injury,  I joined the W3C Web Content Accessibility Guidelines Working Group (WCAG) and its Cognitive and Learning Disabilities Accessibility Task Force , which creates the standards for making web content accessible to people with disabilities. This informs my work with CityMouse, which helps its clients make content compliant with federal, state, and local digital accessibility regulations, including WCAG standards.
After more than 15 years working in various city agencies, I retired from City government advising on digital accessibility compliance. I have been working with large financial intuitions and small businesses and nonprofits to ensure their online presence are accessible to people with disabilities through technology consultations and training.
It is my mission to make the digital world as accessible and inclusive as possible starting right here in Chelsea. I would like to help make Chelsea the most accessible and inclusive neighborhood in NYC. Let's work together to make a more accessible and inclusive world.
CCN: Talk about your involvement with the W3C Web Content Accessibility Working Group and its Cognitive Accessible Task Force.
Kirkwood: I have been on the Web Content Accessibility Working Group for more than six years. As an invited expert in the Web Content Accessibility Working Group of the W3C web accessibility initiative, we have been helping create the guidelines and global standards for a wide range of disabilities including visual, auditory, physical, speech, cognitive, language, learning, and neurological disabilities. As a member of its Cognitive Accessibility Task Force (COGA), we are writing the standards to ensure that people with diverse neurological abilities including those with brain injuries, and the aging, are able to use the Internet in the future.
For more information on the March On for Brain Injury Walk and to register to attend, click here.
—END OF Q&A—
ABOUT JOHN KIRKWOOD | John Kirkwood has been making complex Internet and other technological information widely accessible and understandable since 1996. As the first New Media Strategist for the City of New York he developed and launched the official website for the City, NYC.gov, as well as the first sites for many NYC agencies and later versions of the NYC official website. As the City's New Media Strategist, John provided project management and other consulting services for the City's most critical and complex information technology projects.
After recovery from a critical brain aneurysm and stroke, in 2009 John re-launched his business, CityMouse, Inc., as one of the first certified Disability-Owned Business Enterprises (DOBE®) by the US Business Leadership Network (USBLN®). With innovative technology and design, CityMouse ensures that large and small corporations, nonprofits, and government agencies meet their Internet marketing needs and exceed international and federal ADA regulations. As a subject matter expert and innovator in technology, and thought leader in Cognitive Design, he is dedicated to making the Internet universally usable and accessible. John is a presenter at 2016 SXSW Interactive Festival on the subject of Cognitive Design.
ABOUT CityMouse | CityMouse, Inc. was founded in 1996 as one of New York's first independent Internet media agencies, and is a full-service digital agency offering innovative Web design, app development, and consulting services. Incorporating state-of-the-art Cognitive Design principles and best practices, we create inclusive and responsive websites and apps that work on all devices for people of all abilities. Cognitive Design can transform the ordinary into an accessible, human-centered, and impactful site that will increase your potential audience, keep them engaged, and make their visit successful and satisfying. Satisfied users mean repeat visits, more sales, and an effective site. Cognitive Design will increase your customer base, lead to higher user satisfaction, and is just better. In 2009, CityMouse, Inc. became one of the first Disability-owned Business Enterprises (DOBE®) nationally certified by the United States Business Leadership Network (USBLN®).
Chelsea Community News is made possible with the help of our awesome advertisers, and the support of our readers. If you like what you see, please consider taking part in our GoFundMe campaign (click here). To make a direct donation, give feedback, or send a Letter to the Editor, email scott@chelseacommunitynews.com.