BY ELIZABETH ZIMMER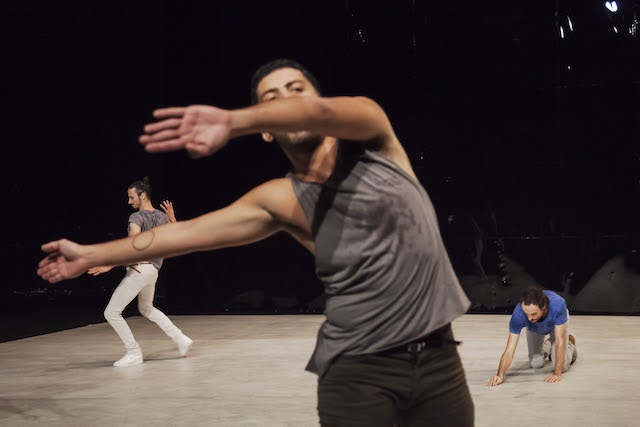 Meg Stuart/Damaged Goods: Violet | Meg Stuart, born in New Orleans to theater professionals and now based in Belgium and Germany, attended NYU's Tisch School of the Arts and cut her teeth in the contact improvisation community. Her accomplishments are legion and her reach is wide. Stuart's Violet, 11 years old, has already toured to major cities and festivals around the world. It was due here two years ago, but the pandemic led to its cancellation. Now, we're finally getting to see it. Performed by members of her Damaged Goods ensemble, a whole new generation of dancers and dance-watchers can experience the vast creative resources of one of the most gifted thinkers in the field. Abstract and profoundly physical, it's paired with music by Brendan Dougherty performed live onstage.
Fri., Sept. 23 and Sat., Sept. 24, 7:30pm at NYU Skirball (566 La Guardia Place). For tickets ($35), call 212-998-4941 or click here. For the Meg Stuart/Damaged Goods website, click here. For the venue's COVID safety precautions, click here.
Robyn Orlin: And so you see… | Collaboration seems to be the name of the creative game this season. The French Institute: Alliance Française's Crossing the Line Festival is coproducing, with New York Live Arts, the opening mainstage performance of the 2022 Festival, titled "And so you see… our honourable blue sky and ever enduring sun… can only be consumed slice by slice…" Choreographed by South African native Robyn Orlin, it is performed by Albert Ibokwe Khoza, another South African, this one black and gay, who considers himself a healer in addition to an actor and  playmaker. Orlin is perhaps twice his age and white; like Khoza a native of Johannesburg, she studied at the London School of Contemporary Dance and then at the Art Institute of Chicago, and has a long resumé of theatrical credits.
The New York premiere of this work, 60 minutes long, plays Thurs., Sept. 22 through Sat., Sept. 24, 7:30pm, at New York Live Arts (219 W. 19th St. btw. Seventh & Eighth Aves.). For tickets ($15-$35), call 212-924-0077 or click here.
Chelsea Community News is made possible with the help of our awesome advertisers, and the support of our readers. If you like what you see, please consider taking part in our GoFundMe campaign (click here). To make a direct donation, give feedback, or send a Letter to the Editor, email scott@chelseacommunitynews.com.