BY SCOTT STIFFLER | Worlds collide, sending fiction crashing into fate and creating a new reality so meta, it makes the Marvel Cinematic Universe seem utterly unambitious. That's the sense you get when reading the timeline that accounts for this weekend's stage presentation of David and Kate Get Re-Married.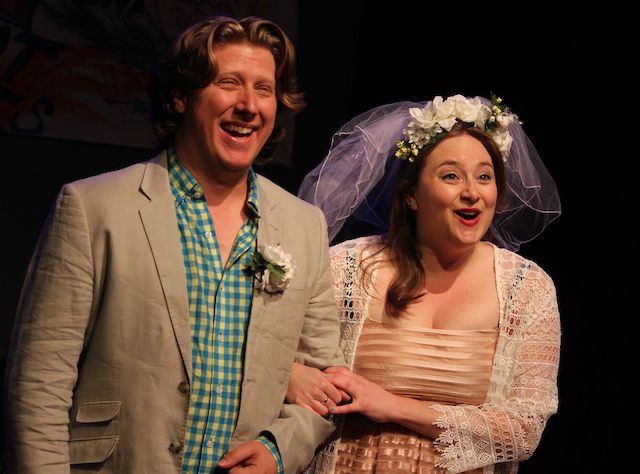 Written and performed by David Carl and Katie Hartman, the "unhinged musical comedy" was created less than three months after Carl and Hartman (currently an actual couple) met in 2014. In the show, as the title tells you, our couple in question play a couple with their same first names. As for the dysfunction on display throughout, let's hope the name game is where similarities end. The plot, according to the press material, concerns "a slapdash wedding betwixt a star-crossed couple who has broken up and reunited more frequently than Spiderman has been rebooted. . . This confidently codependent couple will teach you how to love correctly through original music, exotic rituals, and a unity volcano."
Directed by Michole Biancosino and peppered throughout with original songs (Music Direction by Jody Shelton), the dark comedy penned by its two performers opens a can't-look-away window into "the worst couple in the world on the second happiest day of their lives after the first happiest day of their lives didn't work out."
Oh, and lest you think the show can't get more meta than the reality/fiction mingle mentioned above: Shortly after this weekend's final show, David and Kate—the real David and Kate—will be getting married—for real!
At 8pm, Fri./Sat, Sept. 23/24, at Chashama (320 W. 23rd St. btw. Eighth & Ninth Aves.). For Tickets ($25 general admission, $18 for under 25), click here. To visit the show's website, click here. COVID Policy: "While masks are not required, the performers would be very grateful if you wore them, since they are REALLY getting married weeks after the show closes."
BONUS ACTIVITIES: Show up at 7:30pm before each show or during 10am-3pm open hours Tues.-Sun. through Oct. 1 to view, purchase, or commission one of David's paintings. Stick around after the ceremony for ca
Chelsea Community News is made possible with the help of our awesome advertisers, and the support of our readers. If you like what you see, please consider taking part in our GoFundMe campaign (click here). To make a direct donation, give feedback, or send a Letter to the Editor, email scott@chelseacommunitynews.com.
THE REAL LIFE STORY/Show History
Yes, David Carl and Katie Hartman are a real couple who are finally REALLY getting married in October 2022. The characters in this show are completely fictional…. at least that's what we're telling people.
The real David and Katie wrote and performed this show for the first time 3 months after meeting in 2014 and then started dating a year later. The show later ran at the PIT NYC in 2015, performed their songs at venues like Caroline's, won "Best Original Music" at NYC Frigid Festival 2019, and toured in Colorado Springs in January 2020….RIGHT before the Pandemic stopped them from taking over the world. Now they're back and sneaking in a quick re-marriage before they get hitched IRL.
The latest David and Katie Get Re-Married was originally slated to be the centerpiece of the spring season at a brand new arts venue in Brooklyn. The run was canceled when the venue shut down due to a combination of COVID-related and financial issues.  David and Katie's dream was always to do the show at an abandoned restaurant, and thanks to a pandemic, global financial upheaval, and the angels at Chashama that dream is now coming true.

BIOS: 
David Carl is an actor/writer/impressionist/solo-performer, known for solo shows like "David Carl's Celebrity One-Man Hamlet" (www.buseyhamlet.com) and "Trump Lear": two shows that he has taken to Edinburgh Fringe (Underbelly Cowgate and Pleasance Courtyard) and all over the United States including Chicago Shakespeare Theater with Michole Biancosino (frequent collaborator and friend).
The New York Times called David's Busey Hamlet a "deliciously deranged…head-spinning performance" which received an award for "Overall Excellence in Solo Performance" and an extended run at FringeNYC 2014, and went on to Edinburgh 2015 and national touring dates including Chicago Shakespeare Theater in 2016. In 2016 he received a nomination for Best Solo Show at the NYIT Awards. The New York Times also called his Trump Lear "quite damning" and "a biting satire".
In 2017 David was a finalist with Trump Lear for the Doric Wilson Independent Playwright Award after a 14-month run at Under St. Marks, before going to Pleasance Courtyard in Edinburgh for 2018/2019 and has toured to Texas and Colorado. Other credits include: The Awesome 80s Prom (Ken Davenport; NYC), Things That Don't Happen (Project Y; NYC), The 365 Plays (The Public Theater NYC), Missed Connections (Neighborhood Playhouse), UCBHK Maude Night, The Power of Me (The PIT NYC), 200 Impressions in 60 Minutes (Asylum NYC), The Truth About Santa (Theater of the Apes), Divorce (HBO), Mr. Robot (USA), The Enemy Within (NBC), Blue Bloods (CBS), George Clooney's The Tender Bar, Montauk Same Boat, Guiding Light, All My Children, and dozens of voice-overs for radio, TV, and the Internet.www.davidcarlonline.com.
His paintings will also be on display in the space from 9/9-10/5, including pet portraits and bowls of soup www.davidcarlonline.com/paintings.
Katie Hartman is an actor, writer and comedian. She can be seen in High Maintenance (HBO), Younger (TV Land), Search Party (TBS) and in the Netflix/Adam Sandler film, "The Week Of." Festivals include: Just for Laughs Montreal, Edinburgh Fringe, Fringe NYC, DC Fringe, Austin Sketch Fest, Boston Comedy Fest and more. She was a staff writer and performer on the WGA nominated Paid Off with Michael Torpey on truTV. Her web series "Made to Order" was listed as one of "6 Brilliant Web Series" by Marie Claire and her sketch duo Skinny Bitch Jesus Meeting was hailed by Complex Magazine as "One of the Twenty-five Funny People That Should Have Their Own TV Show."  SBJM's long form sketch show The Underdeveloped and Overexposed Life and Death of Deena Domino was a critical hit at both the DC and NYC Fringe festivals giving it "Critics Pick" from Time Out New York and The Washington Post.  Other theater: The Pumpkin Pie Show (Under St.Marks), Flanagan's Wake (Off Broadway), South by South Death (National Sawdust).  www.katiehartman.rocks
Michole Biancosino (Director) is an outside-the-box director, writer, performer, deviser, dramaturg, producer, and teacher.  She is one of the Co-Founding Artistic Directors of Project Y Theatre, a company that has launched world premieres in NYC, regionally, and internationally. She produces NYC's Women in Theatre Festival, now in its 8th year.  During COVID, she co-created a hybrid streaming theatre in Vermont: Tiny Barn Theatre. Prior collaborations with David Carl include the long-running underground hits, Celebrity One-Man Hamlet and Trump Lear. Recent collaborations include "Same But Different" with dancers Lida Winfield and Christal Brown, "Waves of Gravity" with musician Neel Murgai and artist/animator Seema Lisa Pandya at CultureHub/LaMaMa.  MFA in Directing: Rutgers University, Mason Gross School of the Arts. She is Assistant Professor of Theatre at Middlebury College. www.micholebiancosino.com
Jody Shelton (Music Direction) is a music producer, composer, director and musician based in New York City. He has contributed to Sesame Street (HBO, PBS), The President Show (Comedy Central), and The Break With Michelle Wolf (Netflix) and to the musicals 50 Shades! The Musical, The Story of a Story (The Untold Story) (Jeff Award Nominee), Star Wars: The Farce Awakens and The Village of Vale at Lincoln Center. Jody has written and produced music for the podcasts Sunstorm, Thank You For Coming Out, and Peloton – Fitness Flipped, and produced such recording artists as Jen Kwok, Sharell Bryant, Jay Malsky and Daughter & Son. He has served as musical director and director for many shows and theater companies including The Second City, musical improv ensemble Baby Wants Candy, and hiphop improv group North Coast.

PRODUCING ORGANIZATIONS
Project Y Theatre produces new and innovative theatre by diverse voices, with a focus on women and LGBTQ artists.  We support new plays and playwrights that appeal to an audience interested in forging community.  We embrace technology as a way to deepen the connections between artist and audience. Project Y brings together artists and theatergoers by creating a fresh, modern theatrical experience.
Chashama | Since 1995, Chashama has partnered with property owners to transform unused real estate for 30,000 artists, hosted 4,000 public art events,provided 1,500 classes in under-served communities,and reached audiences of nearly a million. www.chashama.org
For more info, visit https://www.davidandkatiegetremarried.com