NYC DANCE PREVIEWS BY ELIZABETH ZIMMER
SOLEDAD BARRIO & NOCHE FLAMENCA: Renowned Repertory & New Works Led by Barrio & Artistic Director Martín Santangelo | The news here is not that Noche Flamenca—the Madrid-New York collaboration between flamenco star Soledad Barrio and her husband Martin Santangelo—is celebrating its 30th anniversary, although that is certainly true. The news is that the company returns to the Joyce for the second time this year, and that Barrio, who tends to style herself as a modest UWS housewife and mother, is in fact a superstar of the flamenco form, leading a cast of four dancers, three singers, and three musicians, all of them tops at what they do. They will reprise last spring's ni bien ni mal, todo lo contrario (aka neither good nor bad, just the opposite), a celebration of coming back together after a long shutdown, and offer glimpses of a new work inspired by painter Francisco de Goya. If you are familiar with the deeply emotional Barrio and her squad, you probably already have your tickets; if not, hurry up and get some: The spring season totally sold out!
Tuesday, September 27 through Sunday, October 2: Tuesday/Wednesday at 7:30pm, Thursday through Saturday at 8pm, and Saturday/Sunday at 2pm. At the Joyce Theater (175 Eighth Ave. at W. 19th St.). For tickets ($10-$65; $10 tix front row only), call 212-242-0800, click here to visit the Joyce website, or visit the box office at the Joyce. To visit the Soledad Barrio & Noche Flamenca website, click here.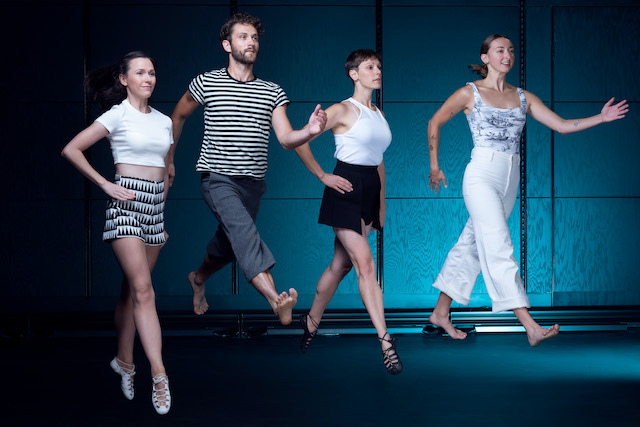 Céilí: Seán Curran Company and Darrah Carr Dance | When he's not busy running the dance program at NYU's Tisch School of the Arts, Seán Curran works out with his own troupe, inflected by his Irish heritage. He's joined here by another distinguished Irish-American choreographer, Darrah Carr, collaborating on the new Céilí, in which their two ensembles collide, exploring the idea of a house party in which neighbors call on one another for an informal visit and execute group dances with patterns drawn from Celtic knotwork.
Thursday, September 29 through Sunday, October 2: Thurs./Fri./Sat. at 8pm and Sat./Sun. at 2pm. at the sparkling new Irish Arts Center (726 11th Ave. btw. W. 51st & 52nd Sts.). Tickets are $25-$49 ($28-55 inclusive of service fees). To order, call 212-757-3318 or click here to visit the Irish Arts Center's website. To visit artist websites, click here for Seán Curran Company and here for Darrah Carr Dance.
Chelsea Community News is made possible with the help of our awesome advertisers, and the support of our readers. If you like what you see, please consider taking part in our GoFundMe campaign (click here). To make a direct donation, give feedback, or send a Letter to the Editor, email scott@chelseacommunitynews.com.