In This Week's "THIS WEEK IN CHELSEA"
10th Precinct Build the Block Sector C Meeting / Down to Earth Farmers Market Chelsea / The West 400 Block Association Celebrates 70 Years / Events from Earlier in the Week: NYPL Story Time at Chelsea Green Park / Participatory Budgeting Kickoff / 10th Precinct Community Council
RESCHEDULED for 6pm, Thursday, September 29: The 10th Precinct Build the Block Sector C Meeting |NYPD precincts are divided into Sectors–and in the case of Chelsea's 10th Precinct, that means Sector A (W. 14th St. to W. 21st St., 7th Ave. to the Hudson), Sector B (North side of W. 21st St. to south side of W. 29th St., from 7th Ave. to the Hudson), and Sector C (W. 29th St. to W. 43rd St., 9th Ave. to the Hudson). This September 29 meeting is devoted to addressing the current state of criminal affairs in Sector C, whether it be measuring crime stats against those of the previous 28 days and year-to-date, fielding quality of life concerns, giving public safety tips or addressing ongoing criminal activity. Leading the meeting will be Police Offices Sandrowski and Bencea, who serve as Sector C's NCOs (Neighborhood Coordination Offices, assigned in pairs to build and maintain strong relationships with area residents, business owners, and stakeholders See the above flyer for details, including the meeting's ID and Passcode, to be used when logging on to the home page of venue provider Zoom.
The PS 11 Farm Market: Thursdays, 8am-9am on W. 21st Street (btw. 8th/9th Aves.) | Chelsea's outdoor, kid-powered pop-up shop with essential ingredients for a great meal has returned, via organic produce and much more, provided by Stoneledge Farm.  One Wed., Sept. 28, Farm Market rep Debbie wrote, "The PS 11 Farm Market will run for the next 2 weeks on Thursdays at PS 11, 320 West 21st Street (between 8th & 9th Avenues) from 8:00-9:00am. Please join Ms. Lampf & Ms. Murdock's 3rd graders as they manage the farm market table for the first time tomorrow [Sept. 29]. PLEASE BRING YOUR OWN REUSABLE BAGS.  We will have bags for sale, just in case! Look forward to seeing you at the market.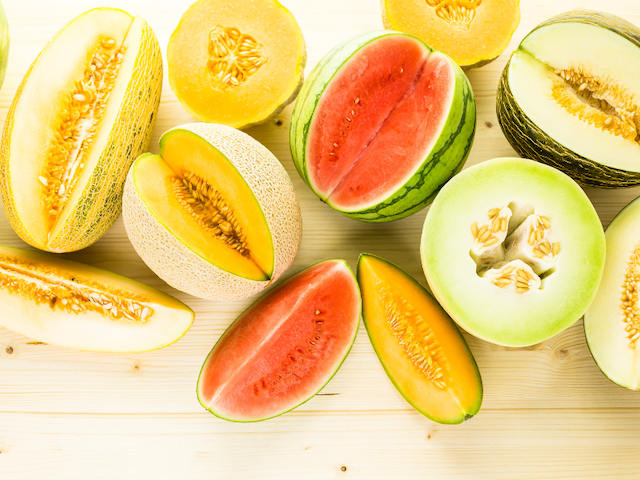 The Down to Earth Farmers Market Chelsea: Every Saturday, 9am-2pm on the North side of West 23rd St., off Ninth Ave. | New York area growers and artisan food makers make the trip to Chelsea every Saturday through Dec. 17. This Market was created with the support of nearby Church of the Holy Apostles, with the mission of bringing wholesome and delicious foods to the neighborhood's shoppers and supporting local small farms and food businesses. "The Chelsea Farmers Market is a grower-producer market," its founders note, "meaning that vendors must be farmers or make food with ingredients purchased from local farms. The few exceptions to this rule are olive oil, chocolate and coffee vendors who can document their sourcing.  The Market's ninth season offers fruits, vegetables, and meats from area farms. Market favorites Pickle Licious and Orwashers Bakery are back and going strong, along with fresh faces including Ideal Fish from Waterbury, CT. SNAP EBT is welcome (visit the manager's tent to get tokens; matching Health Bucks are available). Farmers Market Nutrition Program checks, issued by WIC offices and Seniors' centers, can be used from June through November. Get the latest Market news by signing up for their email newsletter via the Down to Earth Markets website (click here to access it) or via https://www.facebook.com/dtechelseafarmersmarket/.
Meatpacking District Annual Meeting: Thursday, September 29, 6:30pm |
The general 

public

 is both permitted and encouraged to attend the 
 7th Annual Meeting of the Meatpacking District Man
agement Association (Meatpacking BID), hosted by the High Line. Get informed about and involved in your neighborhood. Refreshments will be served. Check-in begins at 6pm, with the program beginning at 6:30pm. On the agenda: A review of the past year and a glimpse of the year ahead, remarks from speakers, and a Vote on the Board of Directors. 
To vote at the Annual Meeting, you must be officially 
registered
 with the BID. For voting purposes, there may only be one vote-holder per property/commercial tenant/residential unit within the BID 
boundaries
. However, all are welcome to attend.
Register
here
.
COMING UP NEXT WEEK:
The West 400 Block Association Celebrates 70 Years |
Details to follow next week. In the meantime, much if not most of what you need to know is in the flyer below.
EVENTS FROM EARLIER IN THE WEEK
NYPL Story Time: A Free Monday Event at Chelsea Green Park (140 W. 20th St. btw, Sixth & Seventh Aves.) |
Friends of
Chelsea Green
—steadfast pals of the small but substantive 2019-opened park built in part with District 3 Participatory Budgeting bucks—invites you to Free
NYPL Story Time
, 3-3:30pm every Monday. "The Andrew Heiskell library branch is sponsoring this weekly story time." note the Friends, in a recent email. "Come join the Children's Librarian in the park. These events will run from weekly until November. 
Children of all ages and their caregivers can enjoy interactive stories, action songs, fingerplays, rhymes, and spend time with other children in the neighborhood. 
In the event of inclement weather, story time will be held indoors at Andrew Heiskell Library."  
Participatory Budgeting Cycle 12 Kickoff Event: Tuesday, September 27, 6-8pm on the High Line's 14th Street Passage (entrance on 14th St. & 10th Ave.)

| 
Participatory Budgeting is the volunteer-driven, voter-empowering process during which community members decide how to spend $1 a of their NYC Council Member's discretionary capital funds on City property projects such as schools, parks, and more. Have your own idea for a community improvement project? September 27's PB Kickoff, says the office of NYC Council Member Erik Bottcher, wholeheartedly invites you "to be part of the process and sign up to be a PB Delegate. PB Delegates are volunteers who work to research, evaluate, and prioritize the project ideas submitted by community members. PB Delegates ultimately develop the final project proposals for the annual PB vote in the spring. They do this through research and assessments, as well as through consultations with City staff regarding project feasibility and cost." To register for Tuesday's Kickoff,
click here
. See the below flyer for more info.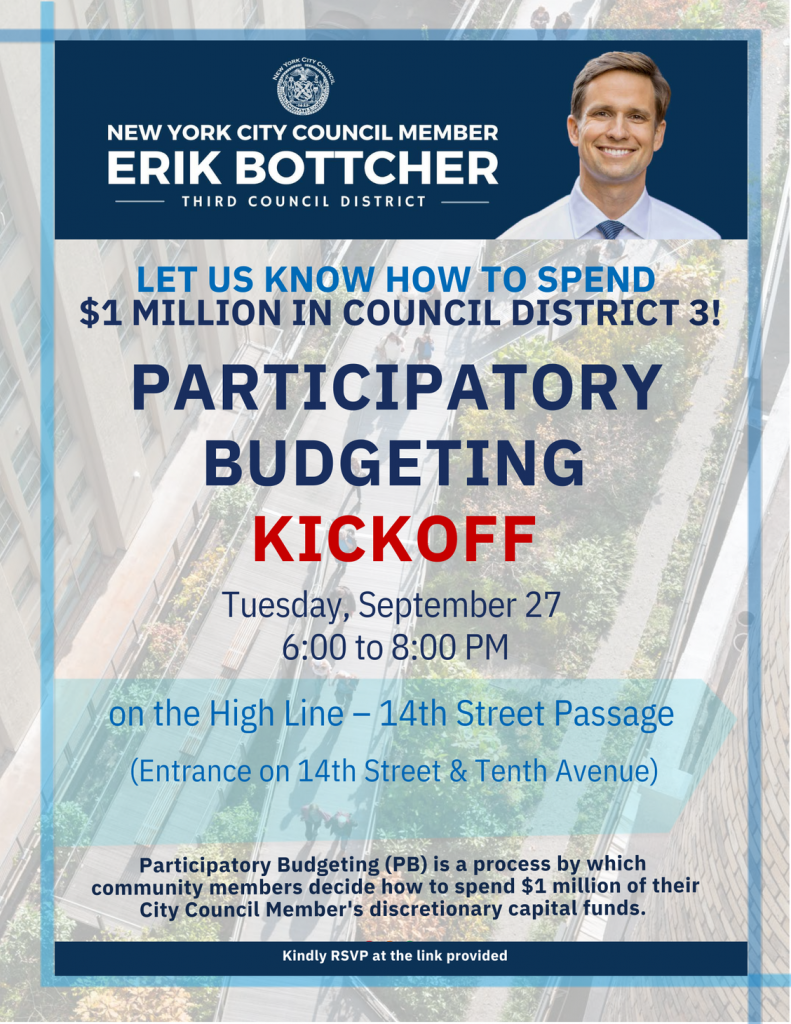 –Compiled by Scott Stiffler
Chelsea Community News is made possible with the help of our awesome advertisers, and the support of our readers. If you like what you see, please consider taking part in our GoFundMe campaign (click here). To make a direct donation, give feedback, or send a Letter to the Editor, email scott@chelseacommunitynews.com.