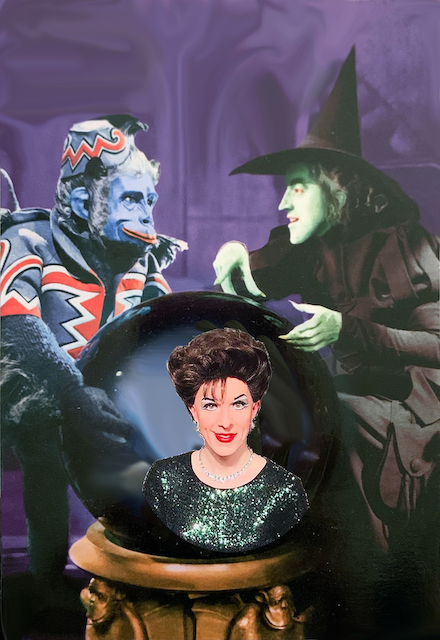 BY SCOTT STIFFLER | Superachiever Judy Garland isn't wasting one second of precious, pumpkin spice-infused time when the final day of September gives way to a month-long celebration of ghosts, ghouls, goblins, and things that go bump in the night. And in honor of that, the woman who once singlehandedly killed a wicked witch by crushing her with a Kansas farmhouse will proudly present, on the very first day of October, The Judy Garland Halloween Special.
The presentation of this seasonal, song-filled Special never actually happened when Judy Garland was alive—but if anyone can make you believe she's come back (or never left), it's Peter Mac. The globally known, universally praised deep-dive actor whose take on his subject eschews parody and transcends drag has been brining Judy Garland onto the stage since 2002, when Mac's autobiographical play, Judy and Me, was performed at Rose's Turn. That nearly two-year run saw the show transfer to Off-Broadway in 2008, for a run at St. Luke's Theatre. Since then, Mac has dazzled diehard Garland fans and won over scores of the uninitiated via his cabaret show Judy Garland: Live in Concert. Up until the pandemic pulled the plug on live performances, Mac's Concert experience had been playing NYC full-time since April 2018. This October 1 performance will take place at Chelsea Table & Stage—a relative newcomer to Manhattan's dinner-and-a-show circuit whose eclectic booking policy has been warm and welcoming to LGBTQ+ performers and material.
That's all the reason you need to make your reservation right now—but here's another one to sweeten the deal: Saturday night's show will be the first time in two years Peter Mac has slipped into the formidable shoes (or maybe ruby slippers?) of Judy Garland, for the purpose of exploring the Halloween-themed songbook. Here's hoping this high-concept performance heralds the return of regular NYC appearances by Mac. In a world where female singers as interpreted by men all-too-often are played for laughs (not that there's anything wrong with that), Mac's take on Garland is like no other. What you'll get when Mac starts belting out the Garland standards and some Halloween-themed novelty tunes is, like his chosen topic, impossible to categorize. Charismatic, heartbreaking, amusing and devastatingly emotional all within the same song (hell, sometimes the same stanza), Peter Mac as Judy Garland cannot be explained, only enjoyed.
To that end, Chelsea Community News recently asked the busy Mac a few questions in advance of the October 1 performance—the results of which you can read below, in handy Q&A form.
Scott Stiffler, for Chelsea Community News (CCNews): What does the show's Halloween hook have to offer, in terms of your take on Garland?
Peter Mac (Mac): One of the facets of our shows that perhaps sets it apart from some of the others is the thematic aspect. We always have a new theme (over a dozen at this point) and it really is a Fantasia. Judy is very much a part of the here and now. She is 100 years young and still looking like her slick 1960s concert/television self. The Halloween Show is on a par with our Judy and The Songs That Got Away show. Many of these Halloween themed songs Garland never actually sang in her lifetime. Some are from her lifetime time and some way after. But if you want to know what they are, ya' gotta come see the show, hehe. There are "Halloween" themed songs from her own repertoire including Purple People Eater and Ding Dong the Witch is Dead.
CCNews: Here's a horrific premise sure to cause nightmares: Somebody has reservations for the show who knows little or nothing about Garland, old timey celebrity-hosted holiday specials, and/or your work as Garland: Rather than distribute torches and pitchforks to the mob who will run them out of town, can you please give us a Required Reading or Viewing List: Maybe Three helpful primers to provide some context for the show you'll be performing.
Mac: Many of our audience members are not as aware of Judy's later concert and television years. Particularly the under 30/40 crowd. They only know her as "Dorothy." Well, unless they saw the Zellweger film (Pardon me, I just threw up in my mouth a little). Again, with the premise of Judy still being here, she talks about current events, politics, entertainment. Not just the good old days. So you don't have to be a Garland scholar to "get it."
However, I would suggest viewing episodes of her 1963/1964 television series and The Jack Parr Show which are available to watch on YouTube. It is the closest thing that we have to Judy in concert. Watch the brilliant miniseries, Life With Judy Garland, starring Tammy Blanchard and Judy Davis. Also, visit The Judy Room on FB which is curated by the fantastic Scott Brogan. Scott is always sharing wonderful new treasures. As well as detailing her life from day to day. He just co-produced an incredible new CD, Judy at 100.
CCNews: In lieu of flowers, what sort of Halloween candy or iconic holiday object might fans lavish upon Garland as she graces this new Chelsea venue?
Mac: Hershey Bars! Or better yet, Reese's Peanut Butter Cups.
CCNews: Please feel free to talk about anything not covered in the above inquiries.
Mac: This year, November 2nd, 2022 marks my 20th anniversary performing as Judy. My "Emerald" anniversary. Very appropriate where Judy is concerned. It is her centennial year. So it has been very special for me on all fronts.
The Judy Garland Halloween Special was first mounted in 2009. People love her 1963 CBS Christmas Special and Judy loved the holidays so much that it inspired me to create this particular show. As well as an Easter special. *Something that Judy was supposed to do back in 1964 as part of her CBS television series.
One of my favorite stories that Lorna Luft recalls is her mom taking her and her little brother, Joey Trick or Treating, dressed up as a clown. Leaving the adults at the door a little perplexed. As if to say, "Was that…? lol. So Judy clearly had the Halloween spirit in her!
—END—
"The Judy Garland Halloween Special" is performed for one show only: Saturday, October 1, 7pm at Chelsea Table & Stage (152 W. 26th St. btw. Sixth & Seventh Aves.). Runtime: 70 minutes. Reservations are $20 and upwards. To order, click here. Tickets purchased at the door on the day of the show incur a $5 surcharge. Management recommends arriving 30-45 minutes before showtime "for the full experience.  Plan ahead find our menus here! Dinner / Cocktails/Beer/Wine / Brunch (Sunday afternoon shows)." A two-item minimum is required for each person. This can be a combination of any two items off the food and/or cocktail menus. For more info about Mac as Garland, click here.
Chelsea Community News is made possible with the help of our awesome advertisers, and the support of our readers. If you like what you see, please consider taking part in our GoFundMe campaign (click here). To make a direct donation, give feedback, or send a Letter to the Editor, email scott@chelseacommunitynews.com.