In This Week's "THIS WEEK IN CHELSEA"
PS 11 Farm Market / CB4 Full Board Meeting / HYHK Annual Meeting / Solo Show: Swimming in Mudd / Down to Earth Farmers Market Chelsea / Next Week & Beyond: Flatiron NoMad Partnership's Annual Meeting / CB5 Full Board Meeting / Community Visioning Workshop / The West 400 Block Association Celebrates 70 Years / Homelessness in NYC Virtual Panel Discussion / Voter Registration / Aged Out: Events from Earlier in the Week 
The PS 11 Farm Market: Thursday, October 6, 8am-9am on W. 21st Street (btw. 8th/9th Aves.) |Chelsea's outdoor, kid-powered pop-up shop with essential ingredients for a great meal means to sell you organic produce and much more, provided by Stoneledge Farm. Previewing this week's installment via an October 4 email, Market rep Debbie wrote, "Please join Ms. Rapisarda's 3rd graders as they take on the farm market table for the first time on Thursday, October 6th from 8:00-9:00 am at PS 11, 320 West 21st Street (between 8th & 9th avenues.).  Local, organic, seasonal produce. Please bring your own bags OR you can buy one from us for $3-$4. Look forward to seeing you."
Manhattan Community Board 4 (CB4) Full Board Meeting: Thursday, October 6, 6:30pm | CB4's full board meets to, among other things, vote on the passage of letters generated from its individual committees. To register via Zoom, click here. To view via CB4's YouTube channel (viewing only; cannot participate), click here. Those who wish to participate in the Public Session get two minutes of uninterrupted time to speak. Click here to sign up for a slot. Early sign-up to speak at the public session closes at 5pm on the day of the meeting. Those who do not sign up by 5pm can raise their virtual hands using the raise hand function through Zoom (*9 by phone) once the public session starts, with a 1-minute grace period. Access the Agenda Items by clicking here.
HYHK's 2022 Annual Meeting: Thursday, October 6, 8:30am-10:30am at Bella Abzug Park, Hudson Blvd. West (btw. W. 36th & W. 37th Sts.) | The Hudson Yards Hell's Kitchen (BID) holds its annual meeting, with keynote speaker, NYC Deputy Mayor for Operations Meera Joshi. All are welcome to attend. Free breakfast will be served. For more info, see the below flyer and visit HYHK's website by clicking here.
Emerging Artists Theater New Work Series Fall 2022 Presents Swimming in Mudd: Friday, October 7, 7pm at TADA Theater (15 W. 28th St. btw. Fifth Ave. & Broadway) | Longtime community advocate, Chelsea Community News contributor, and Midtown South Community Council president John Mudd is the writer/performer of this work under the direction of Geoffrey Owens, with Sharon Jasprizza producing. Described by Mudd as an experience that "delights, and hits your funny bone through the character's despairing search for a purpose," the show centers on Arthur, a 46-year-old entrepreneur who's been living in the same Hell's Kitchen apartment for the past three decades. Filled with anxiety, anger, and frustration with the injustices he sees daily (shades of Mudd's own work as an advocate for the unhoused), avid cyclist Arthur pedals toward the George Washington Bridge, where the "troublesome gray water" serves as a conduit for diving into his past, as a way to "find strength in defeat, and find a reasonable way forward… to come to terms with past failures and redirect negative energy into positive action." For tickets ($30), click here or call 800-838-3006. Artist and show info at swimminginmudd.com.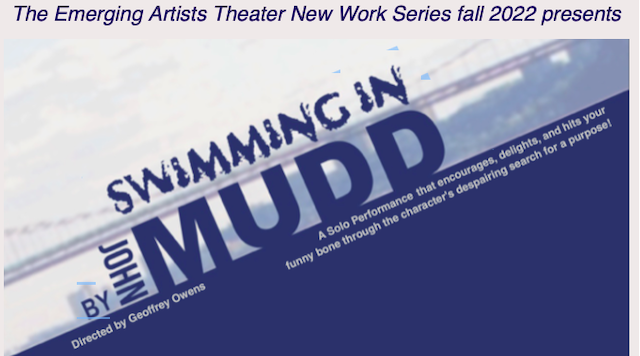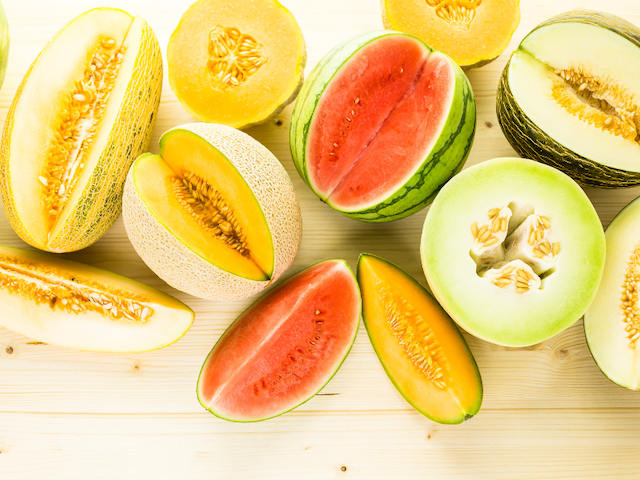 The Down to Earth Farmers Market Chelsea: Every Saturday, 9am-2pm on the North side of West 23rd St., off Ninth Ave. | New York area growers and artisan food makers make the trip to Chelsea every Saturday through Dec. 17. This Market was created with the support of nearby Church of the Holy Apostles, with the mission of bringing wholesome and delicious foods to the neighborhood's shoppers and supporting local small farms and food businesses. "The Chelsea Farmers Market is a grower-producer market," its founders note, "meaning that vendors must be farmers or make food with ingredients purchased from local farms. The few exceptions to this rule are olive oil, chocolate and coffee vendors who can document their sourcing.  The Market's ninth season offers fruits, vegetables, and meats from area farms. Market favorites Pickle Licious and Orwashers Bakery are back and going strong, along with fresh faces including Ideal Fish from Waterbury, CT. SNAP EBT is welcome (visit the manager's tent to get tokens; matching Health Bucks are available). Farmers Market Nutrition Program checks, issued by WIC offices and Seniors' centers, can be used from June through November. Get  Market news by signing up for their email newsletter via the Down to Earth Markets website (click here to access it) or https://www.facebook.com/dtechelseafarmersmarket/.
The Flatiron NoMad Partnership's Annual Meeting & Rooftop Reception: Tuesday, October 11 ,4:30 pm at Simons Foundation (162 Fifth Ave. btw. W. 19th & 20th Sts.) |
Coming up on one year since the BID formerly known as "Flatiron" set the stage for changing its name to bring the north of Madison Square Park area into the fold, this 
annual meeting dives into the data points and trends of the expanded district. 
Community members are encouraged to attend. To RSVP,
click here
.
Manhattan Community Board 5 (CB5) Full Board Meeting: Thursday, October 13, 6pm Online |
To register in advance,
click here
. The meeting can also be seen live, via
CB5's YouTube channel
.
Community Visioning Workshop: Saturday, October 15, 12-2pm at St. Paul's German Evangelical Lutheran Church (315 W. 22nd St. btw. Eighth & Ninth Aves.) |
For more info, see the below flyer.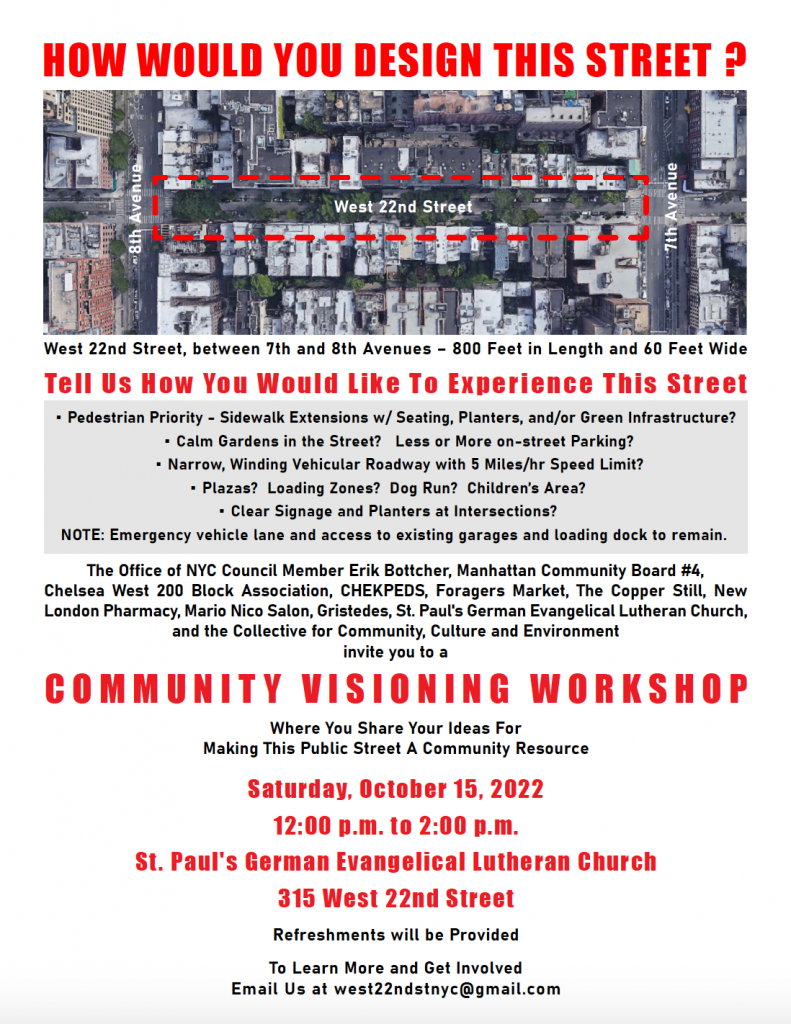 The West 400 Block Association Celebrates 70 Years |
Join in the festivities celebrating this massive milestone at Sunday, October 16's 4-6pm event in Clement Clarke Moore Park. See the below flyer for details.
Homelessness in NYC: A (Virtual) Panel Discussion: Monday, October 17 |
See the below flyer for more info and click here to register.
Voter Registration: O
ctober

 19 |
 See the below flyer for more info.
Click here
to be taken to turbo vote.org.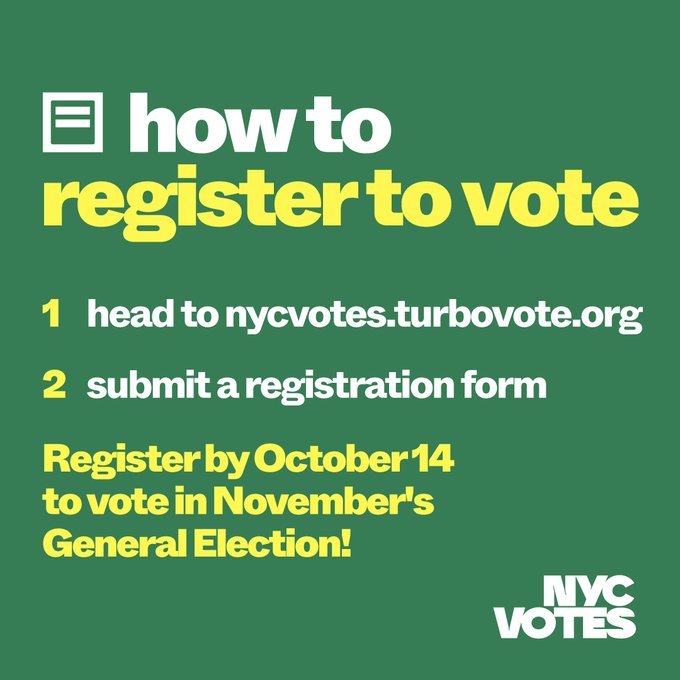 Aged Out: Events From Earlier in the Week
NYPL Story Time: A Free Monday Event at Chelsea Green Park (140 W. 20th St. btw, Sixth & Seventh Aves.) |
Friends of Chelsea Green—steadfast pals of the small but substantive 2019-opened park built in part with District 3 Participatory Budgeting bucks—invites you to Free NYPL Story Time, 3-3:30pm every Monday. "The Andrew Heiskell library branch is sponsoring this weekly story time." note the Friends, in a recent email. "Come join the Children's Librarian in the park. These events will run from weekly until November. 

Children of all ages and their caregivers can enjoy interactive stories, action songs, fingerplays, rhymes, and spend time with other children in the neighborhood. 

In the event of inclement weather, story time will be held indoors at Andrew Heiskell Library."  
–Compiled by Scott Stiffler
Chelsea Community News is made possible with the help of our awesome advertisers, and the support of our readers. If you like what you see, please consider taking part in our GoFundMe campaign (click here). To make a direct donation, give feedback, or send a Letter to the Editor, email scott@chelseacommunitynews.com.