Founded during the early days of COVID-fueled uncertainty, a new block association in far West Chelsea has emerged from the social distancing era with a solid track record of good deeds destined to go largely unnoticed—unless you recall a time when fresh paint and clean sidewalks seemed as unlikely as the prospect of a second booster shot. No matter. The 500 West Block Association (500WBA) is about to have their day in the sun, when their long-planned, twice-postponed Meet & Greet happens on October 13. You are cordially invited to stop by and say, "Hello." But before you do, use the below Q&A as a primer. (Arriving at the event with the 500WBA origin story in your wheelhouse makes for better, forward-thinking conversation!)
Scott Stiffler, for Chelsea Community News (CCNews): When, and how, did the 500 West Block Association (500WBA) form?
Co-President Will Wade, for the 500WBA (Wade): The 500WBA formed in spring of 2020. Don Hoffman [500WBA Co-President] and I met on the corner of 22nd & 10th, where Don was cleaning up a huge mess on the sidewalk that had become a common occurrence at that location. We chatted about the mess and the landlord's neglect and decided to form a block association in an attempt to deal with the issue. We sent out word and fliers to our neighbors and we found that a lot of people were fed up with the issue and willing to join our cause.
CCNews: What were some of the guiding principles and goals, upon forming?
Wade: At the very beginning, our main goal was to convince the landlord of the corner building to take better care of his building's trash. Once we decided on our coverage area (21st-24th Streets between 10th Ave. and the West Side Highway), we expanded our goals to cleaning up and beautifying our little section of Chelsea and keeping it safe.
CCNews: What are the borders/dimensions of the 500 West Block Association, and what do you, personally, consider the boundaries of Chelsea to be?
Wade: The 500 WBA spans 21st-24th Streets between 10th Ave. and the West Side Highway. I cannot speak on behalf of all members of the block association, but I consider 14th St. to be the southern border of Chelsea, and the Hudson River the western border. The other two are a little less clear but I don't think anyone considers Hudson Yards part of Chelsea, so maybe 30th St. to the north. Sixth Ave. feels right for the eastern border.
CCNews: Is 500 WBA a member of the Council of Chelsea Block Associations? If so, how does the 500 WBA work cooperatively with, and independently of, the CCBA?
Wade: The 500WBA is not a member of the CCBA, although we are in close communication with other nearby block associations. They have been very helpful and supportive in getting us up and running as a block association.
CCNews: For those whose lives do not often take them on or near the your area, what issues are at the forefront, and what positive elements are there to your patch of Chelsea (recreation, dining, etc.)?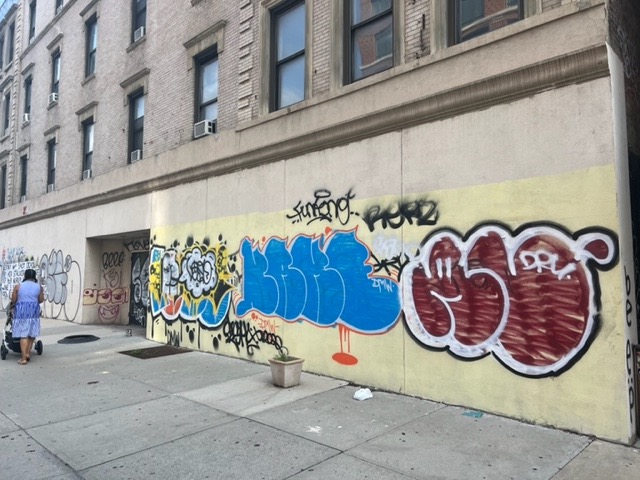 Wade: Graffiti, trash, and homelessness are a few of the biggest issues that we are dealing with in our neighborhood. Since our founding a couple years ago, we raised funds from local businesses and residents to purchase 16 new garbage receptacles for our neighborhood. Erik Bottcher's office has also been very helpful in communicating with the Department of Sanitation regarding trash pickup issues. We have received help from the local [10th] precinct in cleaning up graffiti, targeting gang signs.
One hyperlocal issue is the proposed bike lane on 10th Ave. We checked in with NYC Council Member Erik Bottcher's office earlier this week and it sounds like this initiative is gaining traction. Our coverage area, though small, includes over a dozen world class art galleries, a handful of restaurants (Pepe Giallo, Tia Pol, Juban, and the Mermaid Inn), The Hawthorn Bar, and the High Line.
CCNews: Tell us about your October 13 event (6-8pm at C24 Gallery, 560 W. 24th St.).
Wade: On October 13, we're hosting our First Annual Meet and Greet. We have had to postpone this event twice due to COVID, so we're very excited to finally host an event where neighbors can meet face to face. There will be bites from local food establishments, drinks, and prizes. The event is open to the public and Erik Bottcher will be in attendance. Admission is $25 and funds will be used to pay for the event and fund our next initiative involving planting trees and purchasing and installing tree guards.
CCNews: How can people get in touch, and get involved?
Wade: You can find more information and purchase tickets to our event at our website: https://www.500wba.org/. You can also purchase tickets at the event (no cash). Anyone interested in signing up for our mailing list can send us an email: 500westba@gmail.com.
Chelsea Community News is made possible with the help of our awesome advertisers, and the support of our readers. If you like what you see, please consider taking part in our GoFundMe campaign (click here). To make a direct donation, give feedback, or send a Letter to the Editor, email scott@chelseacommunitynews.com.