BY JOE MAFFIA (Assembly candidate for the 75th Assembly District) | Our political landscape has become divided between two political parties, each representing a wide range of people. But the loud voices on the extreme right and left do not necessarily represent most of the people both parties, who land more toward the middle.
Since we are a busy culture, voters have little to no time to invest in researching candidates—especially an assembly seat. So we vote along party lines or are influenced by the soundbites of news and commercials without considering the candidate's platform and solutions.
But here we are.
You care enough about public safety and your quality of life to do at least a little research before you vote. And for that, I applaud you!
Perhaps you will see how voting for Joe Maffia is not voting "a Republican" into office, which, let's face it, has terrible connotations in New York. But instead, voting for Joe Mafia is voting for an intelligent problem solver with grit and determination, who will make changes for the good of the people. I am not running for glory or power. I am running because I want to make a difference, and know I can.
After you get past my name and party, why should a Democrat or Independent vote for Joe Maffia?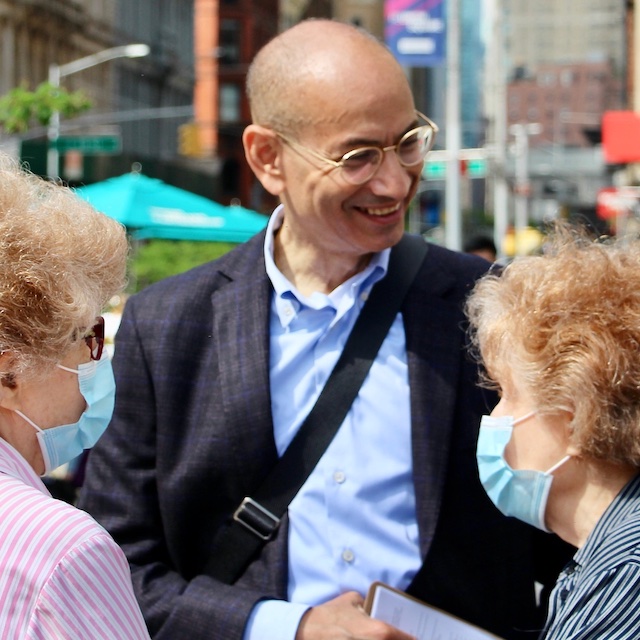 I work well with others!
–I am a moderate Republican who has experience with negotiation. I am respected by people spanning the political spectrum, and I can "cross the aisle" to work for the good of the people I represent (instead of digging my heels in to support party lines for the sake of party lines).
–Approximately half of my volunteers and campaign staff are Democrats.
–Approximately 1/3 of my donors are Democrats.
–I was endorsed by former seven-term House of Representative Congressman Peter H. Kostmayer from Bucks County, PA. Peter has been quoted as saying, "I have known Joe Maffia since he was a teenager in New York City. He is a decent, honest man with compassion, intellect, and a keen knack for public policy. His CPA skills and experience are exactly what is needed in Albany!"
I listen and am solution-oriented. | When I see a problem, if needed, I will consult with experts until I find the best solution. My chief concerns for New York are relevant to all of us, not confined to political party lines: Crime, quality of life, economy, and the arts (yes, the arts)! We all want the same things: Affordable housing, tangible benefits in exchange for our taxes, public safety, and good quality of life. Our differences would only likely be how we achieve these goals.
I care about people. | When you talk with me, you'll quickly see that my compassion is as immense as I am tall. So, my solutions are not driven by an attempt to impress one kind of person by stepping on another. When I see another hard-to-watch crime video or read a news piece about a person with psychiatric issues harming someone else, my heart hurts—for the victim and a system that failed the perpetrator who needs medical care. When I see a kid selling drugs, I know the solution is not just jail but to create an economy with better job opportunities and more affordable housing. My compassion and intelligence stimulate holistically oriented solutions that consider all persons involved in any problem. Albany seems to vacillate between addressing symptoms vs. root causes. Focusing on one over the other leads us to where we are now—rampant crime and a climate that favors the criminal. We need holistic solutions to our very complex problems!
This election has huge stakes. | This makes Democrats terrified of voting for a Republican. But I am pro-human rights on gay rights, women's rights, racism, and civil rights of all kinds. I believe all people are made in the image of God and deserve respect and kindness and the opportunity to achieve the most with their lives that they can. I believe that all people should be free to choose, have the opportunity to achieve whatever they want in life, and prosper.
New York State (NYS) is a monocracy. | One party rules the state, and the previous assemblyman had been in office for over 50 years. We need a better balance of ideas and diversity of opinion in Albany. We need a genuine multi-party democracy in NYS. Voting for my opponent is voting for the status quo! The same district has led NYC in crime over the past two years. So we certainly don't need more status quo!
Arts & Economy | The 75th Assembly District is primarily a business and commercial community in the heart of New York City with approximately 140,000 residents and millions of commuters and tourists. About half of the 75th Assembly District resides in Chelsea. What is good for Chelsea's business and commercial communities will benefit all residents. Chelsea has nearly 200 art galleries and other cultural institutions. A cornerstone of my platform is the adoption of Arts & Culture Districts (A&C Districts) to revitalize the 75th Assembly District. I want to create an Empowerment Zone whose state funding and tax incentives will spur development and encourage others to invest in the District. I believe Art saves lives and will help revitalize Chelsea and Times Square and address quality of life issues.
Experience | I came from a poor, single-mom upbringing, worked through college, worked for some of the most successful accounting firms in the country, and then built a very successful practice. I've been actively involved with civic groups and nonprofits around NYC for over 30 years and have a long list of credentials that make me qualified to address the fiscal problems in Albany. I have street smarts and book knowledge—both put into very practical use over the decades I am passionate about education and the Arts because both saved my life. Now I also teach at CUNY, Hunter College, and will continue to serve my community in every way I can, whether as an elected official or a private citizen.
I want a debate—so YOU can make an informed decision. | Before deciding whom to vote for, you should hear the two candidates in a debate. Compare their vision, policies, and solutions for the district and decide for yourself. I campaigned and reached out to my opponent for a date and have not received a response.
Voting for my opponent is voting for continued failed policies. Ask yourself if the monocracy is working in our district.
Vote for Joe Maffia, or else you are voting for the status quo! You can find details about my platform at www.maffiaforny.com. Please email me with your questions.
Or come and meet me! My website and social media are constantly updated with Meet & Greet details—sometimes out in the streets, sometimes at a Happy Hour!  Please come! I'd love to meet you and answer questions and hear your concerns.
Website: maffiaforny.com  /  Instagram: @maffia4ny  /  Facebook: @maffia4ny  /  Twitter: @maffiaforny  / Email: info@maffiaforny.com
Chelsea Community News is made possible with the help of our awesome advertisers, and the support of our readers. If you like what you see, please consider taking part in our GoFundMe campaign (click here). To make a direct donation, give feedback, or send a Letter to the Editor, email scott@chelseacommunitynews.com.