Through Oct. 31: IT: A Musical Parody at Chelsea Table + Stage

| 
S
tephen King's killer-clown-feeds-on-fears novel—adapted as a 1990 TV miniseries and 2017/2019 theatrical releases—gets the musical parody treatment in a stage adaptation that pours on the nail-biting horror while acknowledging the only-in-fiction absurdities that pile up faster than the victim body count. Taking place in Derry, Maine (check mark #1 on our King clichés list), the plot picks up just as a shapeshifting entity (appearing in human form as Pennywise the Dancing Clown) emerges from his long hibernation for a murder spree that picks on the town's low-hanging fruit—aka a group of "young outcasts" who are quick to figure out what's up, and then make a ranks-thinning vow to "band together to overcome their fears and battle the infamous, monstrous demonic evil." Bloodshed ensues, of course, but this time with musical numbers—so let the carnage begin!
The is the NYC premiere of IT: A Musical Parody, which made its West Coast debut in 2019 and racked up six Los Angeles Ovation Awards, including Best Production of a Musical, Best Book (John Flynn), and Best Direction (Nathan Moore). Flynn, Moore, and much of the original cast are on board for this NYC run, making your odds of having a grand time far greater than the hit-and-miss game of chance one plays when wandering up to a random house expecting to be sent away with the exact kind of candy you like. Stacked alongside your fourth popcorn ball of the night, spending time with a killer clown emerges as the clear winner.
Through Oct. 31 at Chelsea Table + Stage (152 W. 26th St. btw. Sixth/Seventh Aves. downstairs inside the Hilton). Thurs./Fri. at 8pm, Sat./Sun. at 2pm & 8pm. Additional Halloween performance Mon., Oct. 31 at 8pm. Tickets are $35-75, in addition to a service charge and a two-item food/beverage minimum. Purchase tix at chelseatableandstage.com.
Haunted Circus: Saturday, October 29, 10am to 1pm at Chelsea Green Park (140 W. 20th St. btw, Sixth & Seventh Aves.) | Friends of Chelsea Green bring you this spooky, seasonal and, well, downright haunted circus-themed Halloween happening. All are invited, and RSVPs are encouraged via chelseagreenpark@gmail.com. See the below flyer for details.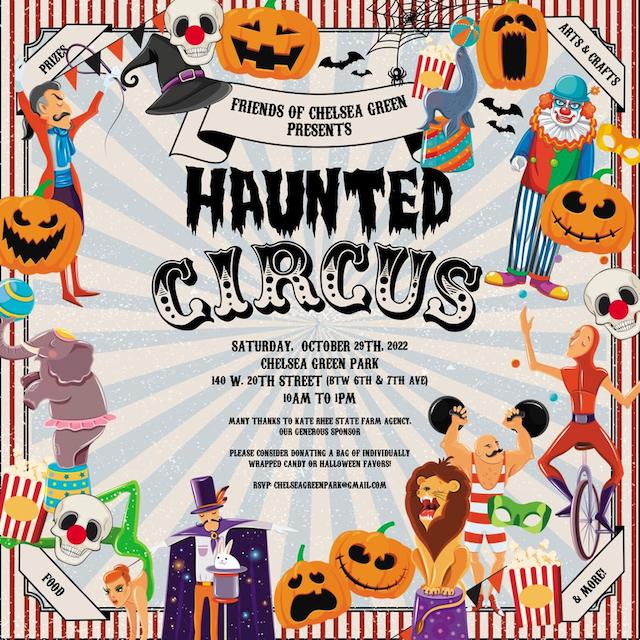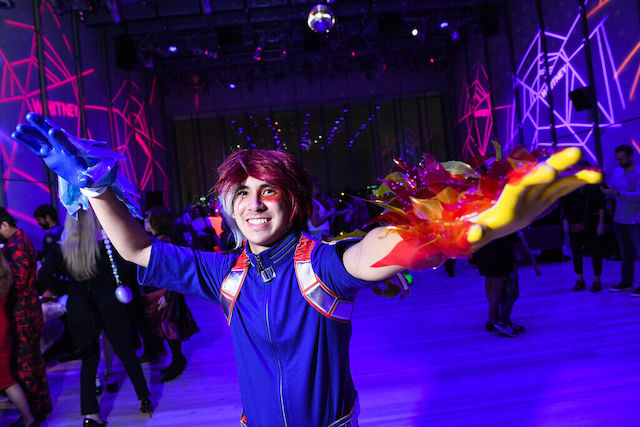 New York Haunts Party at the Whitney: Thursday, October 27, 7:30–10pm (at 99 Gansevoort Street | The Whitney beckons you to this "gothic and glittering after-hours Halloween celebration of the greatest city in the world." Dance until you're dead tired in costumes inspired by their current Edward Hopper's New York exhibition or come as your favorite NYC haunts and icons. Enjoy late-night access to all galleries, plus enjoy special cocktails and small bites for purchase. Whitney Members can attend this special edition of Member Night for free with their membership card; additional individual tickets are available for purchase. Among the chillingly cool curated activities :DJ April Hunt activates music and her platform Mixtape as a tool for recognition and celebration; Expert "Manic Pumpkin Carvers" bring work from Edward Hopper's New York to life; and it's your time to freak, shriek, and shine in the free Gothic and Glittering Photo Booth (with print, digital, and GIF options available). Tag @whitneymuseum when you share the images on your Instagram story for a chance to be reposted!
In addition to the abovementioned Thursday event, Friday, October 28's 4pm teen-centric Hallowteen Night and Saturday, October 29's 11am-3pm Magical Masquerade Family Day are also part of Halloween Weekend at the Whitney. This "inclusive and safe celebration for all," the Whitney notes, is kept that way in part with a policy that does not allow "In that spirit, we do not allow costumes that perpetuate cultural appropriation, discrimination, or violence of any kind, including fake weapons. We invite you to be inspired by the works in our collection and check out  the #IAmNotACostume campaign to learn more about choosing a respectful costume." Click on the underline to See all Halloween events.
Spooky Stuff Throughout the Flatiron & NoMad Areas | The BID (Business Improvement District) covering the Flatiron District recently underwent an expansion, renaming, and rebranding—NOT, we feel the seasonal need to point out, as the result of an ancient spell torn from the pages of a forgotten Forbidden Book. No, this came as a result of that modern-day conjuring method known as the Public Vetting Process, In any evet, the entity that brings you this laundry list of Halloween-themed things to do is known as the Flatiron NoMad Partnership. This Chelsea-adjacent location embraces all things Flatiron and NoMad and, soon after their fling with Halloween, will move on to the Ho-Ho-Ho-themed activities associated with the holiday season. But for this week, keep your eyes (of newt?) on the realm of ghosts, goblins, witchs, and which-witchy-things-to-do-today. Here, from a recent email sent by the BID, is a rundown of stuff their section of town has to offer. For more info on the below activities, visit their Online Halloween Guide by clicking here. Note: All text is attributed to the BID, not editorial content generated by CCNews.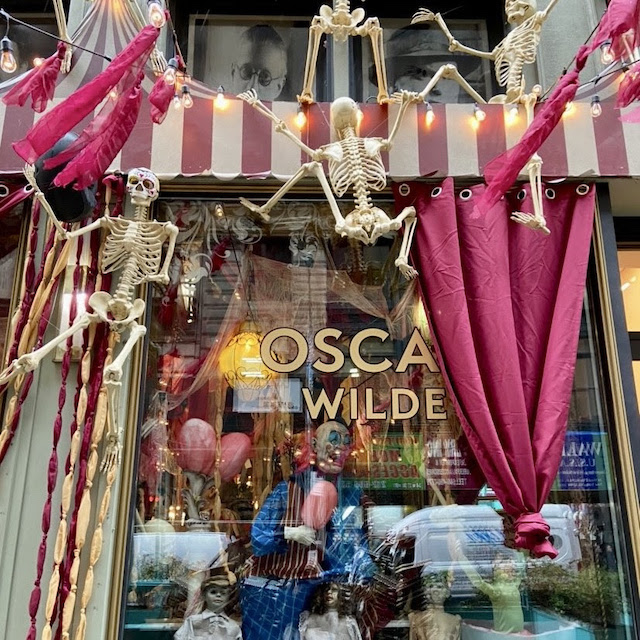 FIND A COSTUME
Abracadabra NYC, 19 W. 21st S., (212)-627-5194, @abracadabranyc
A local establishment for over 40 years, Abracadabra NYC has all the Halloween costumes, props, and accessories you'll need. Order ahead online and pick-up in-store.
Spirit Halloween, 655 Sixth Ave., (855)-704-2669, @spirithalloween
Find your costume at the seasonal pop-up Spirit Halloween. Also, shop for themed accessories and décor.
EVENTS & ACTIVITIES
Tour of the Dead – Walking Tour, Flatiron Building, (212)-741-2323, @flatironny
On Sun., Oct. 30 at 11am, join historian Miriam Berman, for a free Tour of the Dead – Walking Tour. The tour will feature spooky stories and scary events that happened in the neighborhood, and will begin at the tip of the Flatiron Building on 23rd St. (east of Fifth Ave.). Comfortable walking shoes are recommended, and Covid-safety protocols must be followed. The Flatiron NoMad Partnership offers free walking tours throughout the year for visitors and locals alike. For more info, visit https://flatironnomad.nyc/things-to-do/free-tours/.
Día de Muertos, Flatiron North Plaza, (212)-741-2323, @flatironny
Join us for our first ever Día de Muertos celebration on Wed. Nov. 2 from 12–4pm in the Flatiron North Plaza. This free event will feature elements integral to this historical Mexican tradition including baile folklórico and family activities.
Oscar Wilde NYC, 45 W. 27th St., (212)-213-3066, @oscarwildenyc
Enter if you dare! Oscar Wilde NYC is having a Creepy Circus Party on Sat. Oct. 29th. Dress to impress for a chance to win best costume prizes. Reservations here.
Pen + Brush, 29 E.t 22nd St., (212)-475-3669, @penandbrushnyc
Pen + Brush is hosting a Halloween Literary Bash on Sat. Oct. 29th from 7– 10pm. Dress up as your favorite literary character and enjoy food & cocktails as well as book and merch giveaways. Tickets are $20.
People's Improv Theater, 154 W. 29th St., (212)-563-7488, @thepitnyc
Get ready to laugh at PIT's Schemes and Screams Halloween Party on Sat. Oct. 29th at 9pm. General admission tickets are $12.99.
Poster House, 119 W. 23rd St., (917)-722-2439, @posterhousenyc
Join Poster House for PH Teens x Drop-In: Horror House on Thurs. Oct. 27 from 4–6pm. This drop-in program for teens ages 13 to 18 will have you draw from classic horror movie posters to create your own Halloween-themed lanterns. To take part, click here: RSVP
—Compiled by Scott "Screaming Spooky Bloody Gooey" Stiffler
Chelsea Community News is made possible with the help of our awesome advertisers, and the support of our readers. If you like what you see, please consider taking part in our GoFundMe campaign (click here). To make a direct donation, give feedback, or send a Letter to the Editor, email scott@chelseacommunitynews.com.