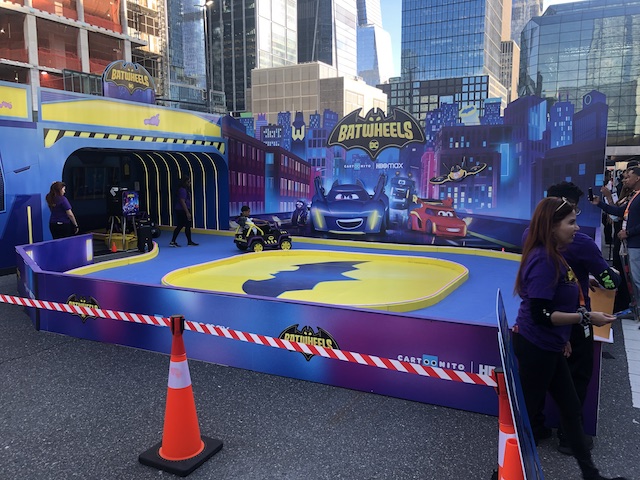 BY CHARLI BATTERSBY | Each October, New York's Jacob Javits Center becomes a nerd mecca for comic book enthusiasts. As with many large gatherings, New York Comic Con 2022 (NYCC) had a rocky return last year as the city struggled to recover from the COVID lockdowns. The major comic book companies were nowhere in sight on the convention floor last year. Attendance was down in 2021, when compared to 2019. But this year the October 6-9 con still felt like it was starting to recover from a nuclear apocalypse: Alive, but mutating into a new form.
Each year the comic industry publication ICv2 holds an Insider Talk for comic and games industry professionals on Thursday afternoon at NYCC. Milton Griepp, the founder of ICv2, started off with the good news that comic book sales are up, and that Trade Paperbacks, which collect several issues of a comic into a single book, make up the largest portion of those sales (as compared to sales of single issues). Japanese manga was the best-selling form of comic book, as well as the most prevalent presence on the show floor of the convention. Traditional American superhero comics continue to be overshadowed by the likes of Naruto, Dragonball Z, and newcomer Chainsaw Man.
DC Comics was not at last year's NYCC, and didn't return with a booth on the show floor this year, either. They had a booth promoting the Titans TV show, but their most eye-catching display was a go-kart track promoting the toyetic kiddie franchise Batwheels. Kids could drive a tiny Batmobile around a little track in the parking lot of the Javits Center, but grownups were not allowed (no matter how much we begged). Near the convention center was an off-site pop-up event promoting DC's Sandman comic book, which has been adapted into a series of audiobooks available on Amazon's Audible.
Marvel Comics didn't have a booth at last year's NYCC, but they were back on the show floor this year, offering some degree of normalcy with their familiar booth in the middle of the main hall, as well as several other smaller booths promoting Marvel games, and side projects, including the new Marvel SNAP game. Marvel's parent company Disney had a clever booth purporting to be a diplomatic booth from the planet Xandar from the Guardians of the Galaxy movies.
The con no longer has a mandatory vaccination policy, as it did in 2021. However there was a mandatory mask policy, which was widely ignored by the 200,000 attendees. In 2021, the mask policy was enforced by aggressive mask patrols. This year, a more polite group of "Safety Ambassadors" were on hand, courteously offering masks to people, but not badgering them. Many attendees declined, with no apparent consequences.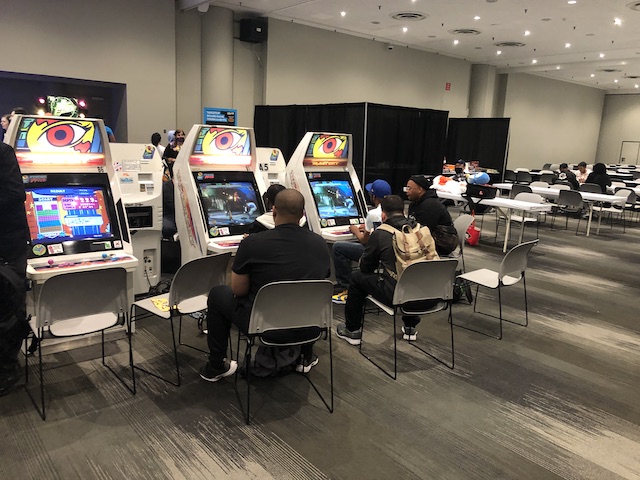 The event is run by ReedPop, who also organizes some of the larger video game conventions around the country, including the Penny Arcade Expo, as well as the PAX Unplugged tabletop game convention (Coming to Philadelphia this December). This year ReedPop injected more gaming into NYCC, both computer games, as well as tabletop games like Dungeons & Dragons. D&D remains the best-selling brand of tabletop games, according to the ICv2 talk. The resurgence (or enduring popularity) is boosted by the TV show Stranger Things, and an upcoming blockbuster film adaptation of D&D. Attendees at the con could take part in free D&D tutorials.
Also included in the new gaming hub was Dave Zuchora's Psychic Drive Arcade. This was a personal collection of dozens of old-fashioned arcade game cabinets from the days when it cost a quarter to play the likes of Crazy Taxi. Nerdy New Yorkers might remember him from last year's Anime NYC, but this was his first time at New York Comic Con. His arcade offers a selection of rare Japanese games, such as a scooter-themed racing game which requires players to pedal a real scooter to make their character drive around a Mario Kart-style racetrack.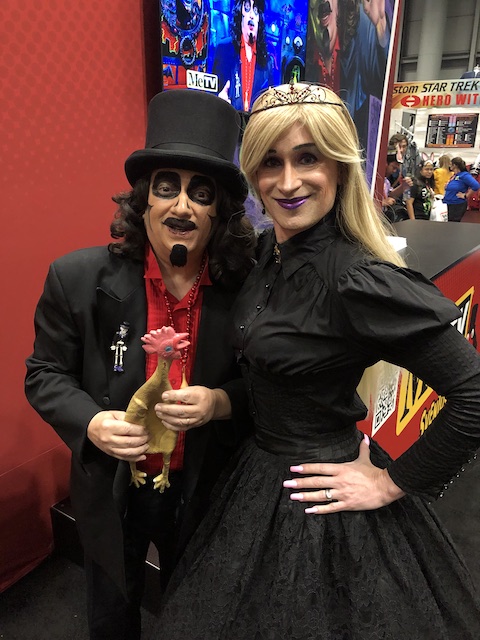 Back at the NYCC for the first time since 2019, was horror host Svengoolie. Sven was available for photo ops and autographs at the MeTV booth, but he also had a panel where his new comic book was unveiled. Previously he teamed up with Superman and the rest of the DC universe in a miniseries from 2019. The new comic is coming in 2023 from Frank Miller Presents.
We caught Sven on his way out of the MeTV booth, and asked what movies he hasn't hosted yet on his show, but he would like to do. He told us, "There's a bunch of the American International ones. The widow of one of the producers owns the rights to, and will not let us run them because she didn't like what Mystery Science Theater 3000 did with them. That includes I Was a Teenage Werewolf, I Was a Teenage Frankenstein, and Invasion of the Saucer Men. I'd love to run those."
The NYCC has been incorporating LGBTQ+-specific content into the "Pride Lounge," and this year they had a panel with several transgender actresses who spoke about their experiences being trans in Hollywood. Among the panelists were Peppermint (Of RuPaul's Drag Race and Broadway's Head Over Heels fame) and Dominique Jackson (Best known for the TV show Pose, but Comic Con attendees might know her as Ms. World from the TV adaptation of Neil Gaiman's American Gods).
We spoke with both of them after the panel. When asked about the current state of being trans in the entertainment industry, Peppermint told us it is, "A little bit precarious, but I'm hopeful. There certainly seem to be people, organizations, casting directors, production companies that are interested in telling trans stories, with trans voices included. And trans writers and creators." Although, she added, "We're not quite to where we want to be."
Dominique Jackson explained, "We are being represented, and there are opportunities open to us, but there can be more. The roles that are open to us now have to, now, become even more diverse, and be inclusive to the truth of us, which is that we have lives that society calls normal. Where we get up each day and go to work, and we have families, we have love, we have issues, sometimes we can't pay our bills. Let's show those sides of us… instead of just these stories of transitioning and trying to find acceptance."
We also asked Jackson about the fan initiatives to have her play a mainstream superheroine like Storm, or Nubia, and she told us, "I know how this world works… I appreciate the fact that fans and people across the world are saying that I should play Storm… But as far as actually playing the role, I don't know if I would ever even be seen for that. But it would be very welcome."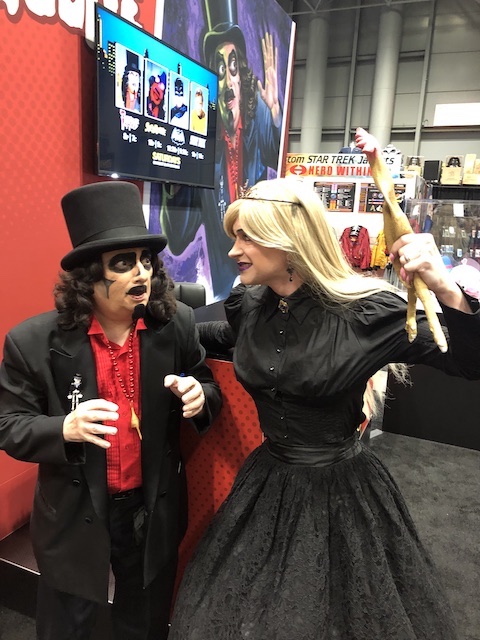 Chelsea Community News is made possible with the help of our awesome advertisers, and the support of our readers. If you like what you see, please consider taking part in our GoFundMe campaign (click here). To make a direct donation, give feedback, or send a Letter to the Editor, email scott@chelseacommunitynews.com.