In This Week's "THIS WEEK IN CHELSEA"
Swish: Sound Installation at Chelsea Rec. Center / Down to Earth Farmers Market Chelsea /  Events from Earlier This Week: At Chelsea Green Park / CB4 Full Board Meeting  /  PS 11 Farm Market /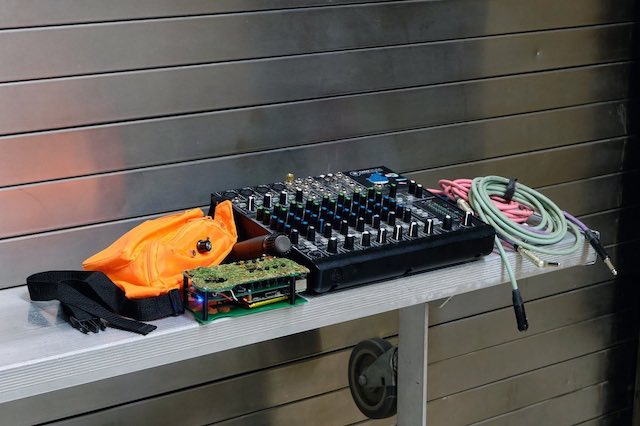 Swish: A Temporary Sound Installation at Chelsea Recreation Center—Saturday, November 5, 1:30-3:30pm (430 W. 25th St. btw. Ninth & 10th Aves.) | Dia Art Foundation, which exists to "help artists achieve visionary projects that might not otherwise be realized because of scale or scope" and has an exhibition space on West 22nd Street, invites you to join artist Johann Diedrick in creating the site-specific sonic experience Swish. Chelsea Recreation Center's basketball gymnasium is the setting for this temporary installation that combines recordings of past basketball games and ambient gymnasium sounds collected by Diedrick (additional recording and editing by Caleb Giles). Attendees will have the chance to join Diedrick in the live audio mixing process that intends to treat "listening as an act of spectatorship." For more info, click here. To learn about goings-on at Dia's W. 22nd St. space, click here.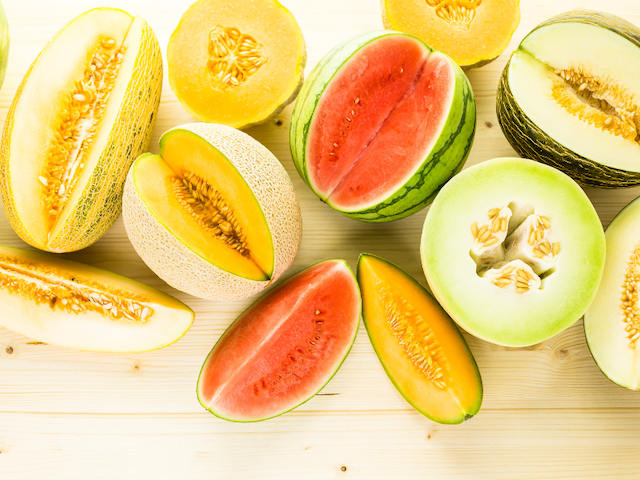 The Down to Earth Farmers Market Chelsea: Every Saturday, 9am-2pm on the North side of West 23rd St., off Ninth Ave. | New York area growers and artisan food makers make the trip to Chelsea every Saturday through Dec. 17. This Market was created with the support of nearby Church of the Holy Apostles, with the mission of bringing wholesome and delicious foods to the neighborhood's shoppers and supporting local small farms and food businesses. "The Chelsea Farmers Market is a grower-producer market," its founders note, "meaning that vendors must be farmers or make food with ingredients purchased from local farms. The few exceptions to this rule are olive oil, chocolate and coffee vendors who can document their sourcing.  The Market's ninth season offers fruits, vegetables, and meats from area farms. Market favorites Pickle Licious and Orwashers Bakery are back and going strong, along with fresh faces including Ideal Fish from Waterbury, CT. SNAP EBT is welcome (visit the manager's tent to get tokens; matching Health Bucks are available). Farmers Market Nutrition Program checks, issued by WIC offices and Seniors' centers, can be used from June through November. Get Market news by signing up for their email newsletter via the Down to Earth Markets website (click here to access it) or https://www.facebook.com/dtechelseafarmersmarket/.
EVENTS FROM EARLIER THIS WEEK
NYPL Story Time (a free Monday event) and More, at Chelsea Green Park (140 W. 20th St. btw, Sixth & Seventh Aves.) | Friends of Chelsea Green—steadfast pals of the small but substantive 2019-opened park built in part with District 3 Participatory Budgeting bucks—invite you to (Free!) NYPL Story Time, 3-3:30pm every Monday. "The Andrew Heiskell library branch is sponsoring this weekly story time." note the Friends. "Come join the Children's Librarian in the park. These events will run from weekly until November. Children of all ages and their caregivers can enjoy interactive stories, action songs, fingerplays, rhymes, and spend time with other children in the neighborhood. In the event of inclement weather, story time will be held indoors at Andrew Heiskell Library."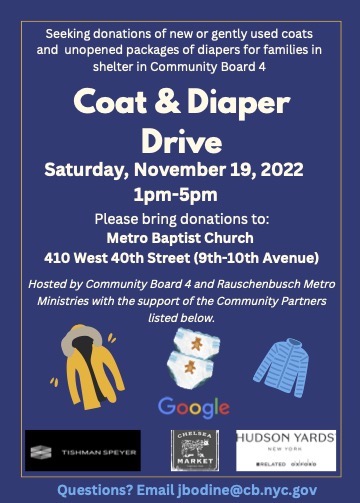 Manhattan Community Board 4 (MCB4) Full Board Meeting: Wednesday, November 2, 6:30-9:30-m via Zoom | CB4's full board meets to, among other things, vote on the passage of letters generated from its individual committees. To register via Zoom, click here. To view via CB4's YouTube channel (viewing only; cannot participate), click here. Those who wish to participate in the Public Session get two minutes of uninterrupted time to speak. Click here to sign up for a slot. Early sign-up to speak at the public session closes at 5pm on the day of the meeting. Those who do not sign up by 5pm can raise their virtual hands using the raise hand function through Zoom (*9 by phone) once the public session starts, with a 1-minute grace period. Access the Agenda Items by clicking here.
Running alongside the very listing you're reading, find a flyer for the Saturday, November 19, 1-5pm Coat & Diaper Drive hosted by CB4 and Rauschenbusch Metro Ministries with the support of several community partners. Your donation of new and gently used coats as well as unopened packages of diapers, notes the flyer, will be distributed to "families in shelter in Community Board 4." For questions email CB4 District Manager Jesse Bodine at jbodine@cb.nyc.gov.
The PS 11 Farm Market: Wednesday, November 2, 8am-9am on W. 21st Street (btw. 8th/9th Aves.) | Chelsea's outdoor, kid-powered pop-up shop with essential ingredients for a great meal means to sell you organic produce and much more, provided by Stoneledge Farm. Ms. Elkarimmy's class will be in charge of the farm stand on Nov. 2. Previewing this week's installment via an October 18 email, Market rep Debbie wrote, "The season is winding down–just 3 more weeks." That makes this week's Market your last chance to say you supported this student-run effort in 2022–so you know what to do! Note: Please bring your own bag, or purchase one along with your order.
—Compiled by Scott Stiffler
Chelsea Community News is made possible with the help of our awesome advertisers, and the support of our readers. If you like what you see, please consider taking part in our GoFundMe campaign (click here). To make a direct donation, give feedback, or send a Letter to the Editor, email scott@chelseacommunitynews.com.