In This Week's "THIS WEEK IN CHELSEA"
Down to Earth Farmers Market Chelsea / Small Works Exhibition at Fountain House Gallery / NYPL Story Time at Chelsea Green Park / 13th Precinct Commuity Council / CB4's Transportation Planning Committee / Free Flu Shot Day  / Pint-Sized Plays / Archived Recording Marble Collegiate Church's America Post-Roe V. Wade Panel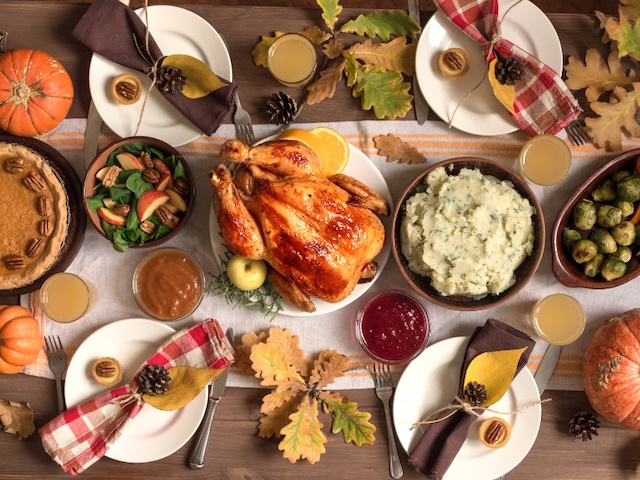 The Down to Earth Farmers Market Chelsea: Every Saturday, 9am-2pm on the North side of West 23rd St., off Ninth Ave. | New York area growers and artisan food makers make the trip to Chelsea every Saturday through Dec. 17. This Market was created with the support of nearby Church of the Holy Apostles, with the mission of bringing wholesome and delicious foods to the neighborhood's shoppers and supporting local small farms and food businesses. "The Chelsea Farmers Market is a grower-producer market," its founders note, "meaning that vendors must be farmers or make food with ingredients purchased from local farms. The few exceptions to this rule are olive oil, chocolate and coffee vendors who can document their sourcing.  The Market's ninth season offers fruits, vegetables, and meats from area farms. Market favorites Pickle Licious and Orwashers Bakery are back and going strong, along with fresh faces including Ideal Fish from Waterbury, CT. SNAP EBT is welcome (visit the manager's tent to get tokens; matching Health Bucks are available). Farmers Market Nutrition Program checks, issued by WIC offices and Seniors' centers, can be used from June through November. Down to Earth's Melissa noted, in an email sent prior to the Market's November 19 date, "If you are hoping to enjoy a delicious tasting heritage turkey this Thanksgiving, some of our vendors are still taking orders in time for delivery next week, but may have a more limited selection than earlier in the season. However, if turkey for Christmas is on thetable, now is the time to jump in with your order to make sure you get exactly the type of bird you want. Gobble gobble to that!" Get Market news by signing up for their email newsletter via the Down to Earth Markets website (click here to access it) or https://www.facebook.com/dtechelseafarmersmarket/.
Small Works: $100 & Under Through December 28 at Fountain House Gallery (702 Ninth Ave. at W. 48th St.) | No need to wait until Thanksgiving dinner has been cleared from the table: The annual holiday gift-giving game is officially afoot, and you don't have to risk getting caught a Midnight Superstore Stampede at this "buy off the wall" exhibition featuring hundreds of original artworks priced at $100 and under.
Working in mediums including acrylic, mixed media, fabric, digital photography, sculpture, and jewelry, the featured artists share at least two things in common. One: They all rose to the challenge of expressing themselves within the dimensions of 6×6 inches or less. Two: They're part of a talent pool nurtured by Fountain House Gallery and Studio, which "supports the careers and creative visions of artists living with mental illness." Artworks are sold on a first come, first served basis. To preview selected works from the show, click here. For more info. on Fountain House Gallery and Fountain House itself, click here and here, respectively. By phone: 212-262-2756. Gallery Hours: 12pm-6pm, Tues.-Sat. at 702 Ninth Ave. (at W. 48th St.).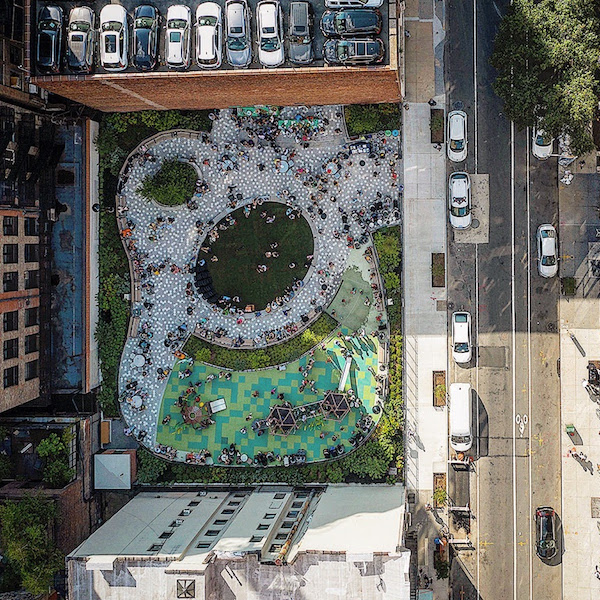 NYPL Story Time (a free Monday event) and More, at Chelsea Green Park (140 W. 20th St. btw, Sixth & Seventh Aves.) |Friends of Chelsea Green—steadfast pals of the small but substantive 2019-opened park built in part with District 3 Participatory Budgeting bucks—invite you to (Free!) NYPL Story Time, 3-3:30pm every Monday. "The Andrew Heiskell library branch is sponsoring this weekly story time." note the Friends. "Come join the Children's Librarian in the park. These events will run from weekly until November. Children of all ages and their caregivers can enjoy interactive stories, action songs, fingerplays, rhymes, and spend time with other children in the neighborhood. In the event of inclement weather, story time will be held indoors at Andrew Heiskell Library." 
The 13th Precinct Community Council Monthly Meeting: Tuesday, November 15, 6pm, via Zoom | This citizen-run Council invites you to discuss public safety and quality-of-life issues within the 13th Precinct, and asks that you email your questions prior to the meeting to Detective Vincent Arlotta, via vincent.arlotta@nypd.org. Questions submitted in this manner will be answered first. The meeting is hosted and moderated by 13th Precinct Community Council President Serge Harnett., with top precinct leadership on hand to answer questions from the community. To join the Zoom meeting at 6pm on Tues., Nov. 15, click here. Meeting ID: 867 6346 6533. One-Tap Mobile: +16469313860 (US) / For New York: +16465588656. When prompted, use Meeeting ID provided in the sentence previous to this one.
The Transportation Planning Committee of Manhattan Community Board 4 (CB4): Wednesday, November 16, 6:30pm to 9:30pm via Zoom | The meeting's first agenda item has the New York City Department of Transportation (DOT) presenting a proposal for pedestrian safety improvements and a protected bike lane on 10th Ave., from W. 14th to W. 52nd Sts. DOTs proposal is in large part a response to longtime (and recently, louder) calls from the community to reduce as much as possible, the area's injury and fatality rates. Agenda Item 2 sees DOT remain retain their place at the virtual/figurative podium, to provide info about their Carshare Pilot Program. Also on the agenda is a presentation by ConEd, regarding EV Charging and Stations. Old Business and New Business will also be discussed—and, not to be outdone, the late Robert Trentlyon (a pre-Sandy voice in the quest to protect NYC against storm surge) hovers symbolically over the proceedings, during the informal presentation of a coastal storm protection project proposal. To register for the Zoom-held meeting, click here.
Free Flu Shot Day: Wednesday, November 16, 1-4pm at 322 Eighth Ave. at W. 26th St. | New York State Senator Brad Hoylman, handily reelected as a result of the Nov. 8 General Election, wants to help you coordinate a free flu shot.  To schedule an appointment, call 212-633-8052. See the below flyer for info.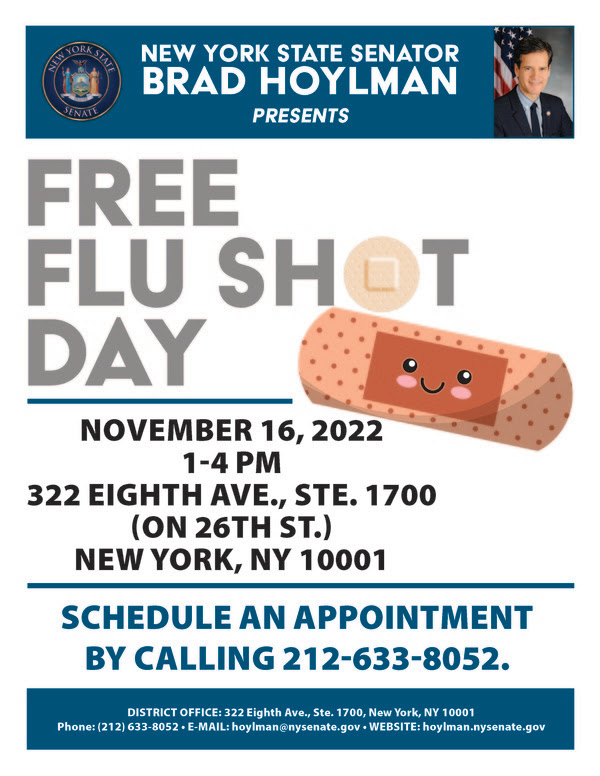 Thursday/Friday, November 17/18 | See the below flyer for info on short plays presented two nights in a row at Chelsea's Eagle NYC. Click here for more info, on National Queer Theater's website.
.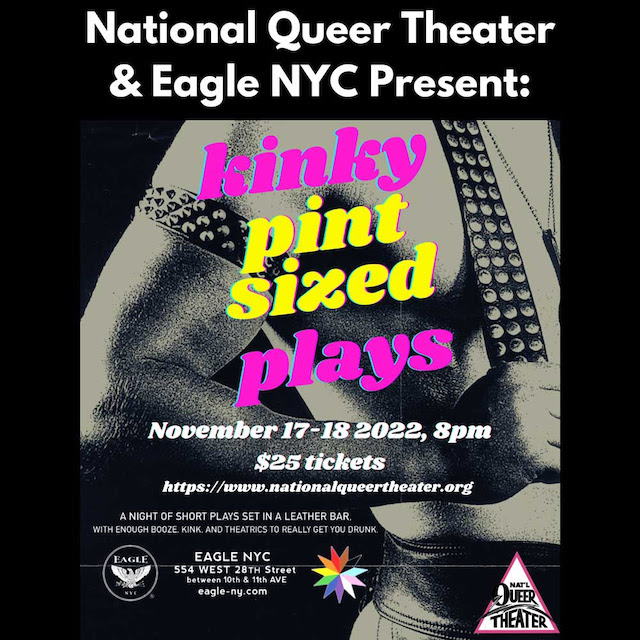 America After Roe V. Wade, Where Do We Go From Here?
A RECORDING OF THIS EVENT IS NOW AVAILABLE TO VIEW
This free, general admission event took place on Wed., Nov. 9, 7pm at Marble Collegiate Church (1 W. 29th St., corner of Fifth Ave. & W. 29th St.)| In conversation on this topic were Gloria Steinem, women's rights advocate and Ms. Magazine founder; Faye Wattleton, former Planned Parenthood president; and Kathryn Kolbert, acclaimed women's rights attorney. A recording of the event has been made available via Marble Collegiate Church's website. Click here to view the event.
—Event calendar listings compiled by Scott Stiffler
Chelsea Community News is made possible with the help of our awesome advertisers, and the support of our readers. If you like what you see, please consider taking part in our GoFundMe campaign (click here). To make a direct donation, give feedback, or send a Letter to the Editor, email scott@chelseacommunitynews.com.