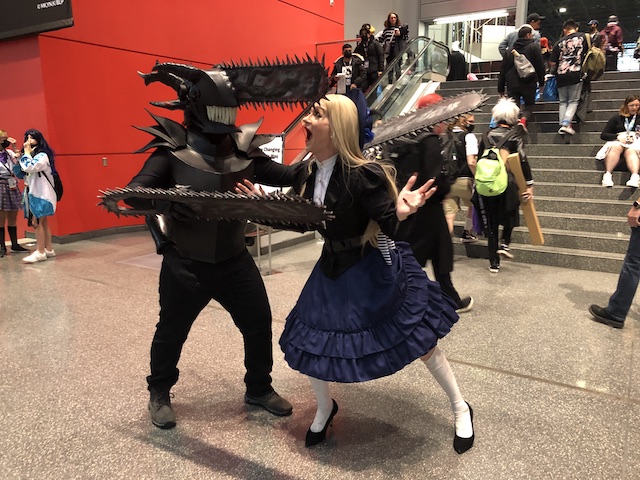 BY CHARLI BATTERSBY | If you were raised on Sailor Moon, your kids are watching a thing abut a guy with a chainsaw for a head. This was abundantly clear by the Chainsaw Man cosplayers at this year's Anime NYC, which was held November 18-20 at the Jacob K. Javits Convention Center. While classic anime characters like the sailor scouts and Gundam mechs are eternally popular, it was clear that a new generation of Anime franchises are on the rise.
This convention drew a smaller, and younger, crowd than last month's New York Comic Con (NYCC), which was also held at the Javits. The anime fans were much more prone to cosplay. In fact, most of the people attending were in costume, or wearing cute "Kawaii" Japanese street fashion. Not to mention a swarm of people in maid dresses, cat outfits, and schoolgirl uniforms. Also present were Japanophiles in flashy Japanese street fashions not associated with any particular fictional character.
Cosplay is such an integral part of the con that there was a dedicated cosplay area taking up most of the topmost floor of the convention center. Here attendees could find changing rooms, a stage just for cosplay panels, and a large Cosplay Repair Station. The staff of the repair station was available to resew torn stitches, hand out double-sided tape, hot glue loose fur, and (In the case of our reporter's Ciel Phantomhive ballgown) pin a floppy bow into the perfect position.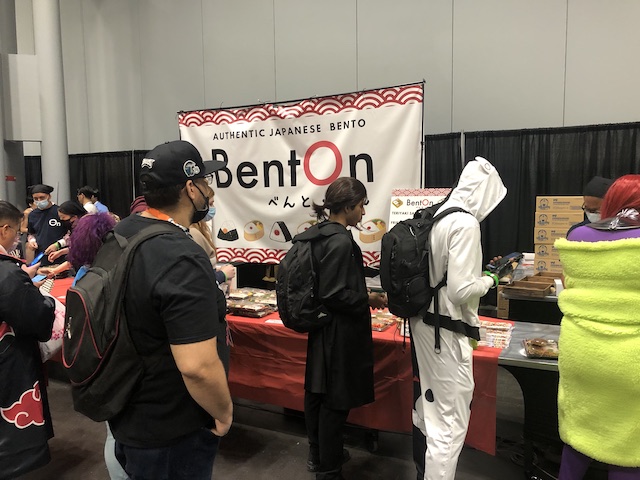 Further distinguishing Anime NYC from NYCC was a Japanese Food Court taking up one entire wall of the show floor. Here, attendees could find exotic Japanese foods, cutsie cotton candy in the shape of anime characters, and authentic Bento boxes (box lunches, often seen in anime).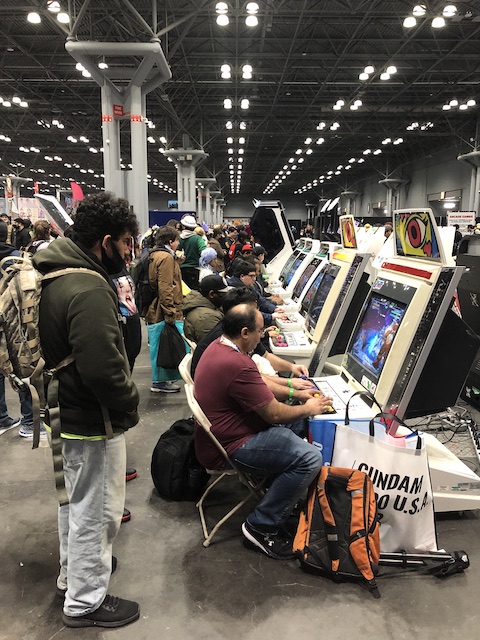 The Psychic Drive Arcade from last year's Anime NYC (And this year's NYCC) was back, bringing authentic Japanese arcade games to the con. Unlike the NYCC, the Anime con put this arcade in the Exhibition Hall near the Japanese Food Hall, rather than relegating it to a lower level. Here, attendees gathered to play the sort of arcade games that require elaborate cabinets and special controls which are difficult to replicate on a home game console.
A major draw was the personal appearance by Hajime Isayama, creator of  Attack on Titan, a manga series. The long-awaited finale of the animated Attack on Titan series aired earlier this year (taking nine years to complete the show's four seasons). And there were live performances, including a live orchestra playing music from the Final Fantasy games. This featured a personal appearance by the composer, Yoko Shimomura. Screenings were held throughout the weekend, notably the premier of the Lupin III prequel, Lupin 0.
As part of their COVID safety plan, masks were required inside the convention center, although this was not actively enforced, and was generally ignored by attendees (as was the case at last month's Comic Con). Anime NYC took the additional precaution of setting up an off-site COVID screening area, a block away from the convention center, outside the nearest subway station. This turned out to be an inadvisable tactic, because the 7 Train's Hudson Yards station stop was not in use for part of that weekend. Cosplayers had to transport themselves to and from the Javitz Center just as they did in Days of Old: By walking… to and from… Penn Station!
Despite these COVID-related inconveniences, Anime NYC is steadily approaching its pre-pandemic strength, as is NYCC. There are quite a few other, smaller, geek cons around the city (Flame Con, for example), but the New York pop culture convention scene is slowly clawing it way out of the burial pits of the COVID lockdowns.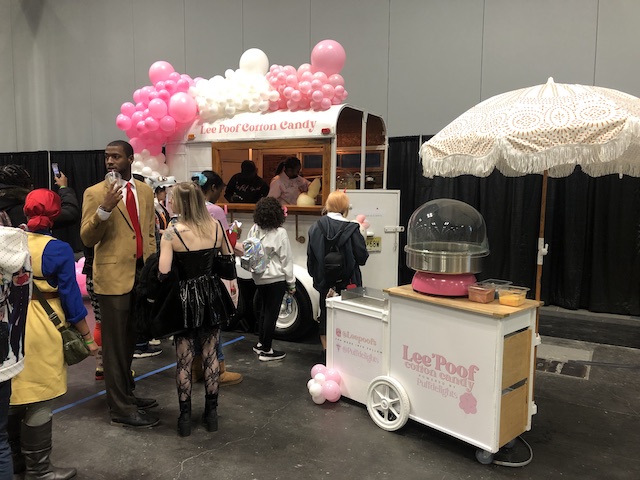 Chelsea Community News is made possible with the help of our awesome advertisers, and the support of our readers. Please consider taking part in our GoFundMe campaign (click here). To make a direct donation, give feedback, send a Letter to the Editor, or contact our founder/editor, email scott@chelseacommunitynews.com.