In This Week's "THIS WEEK IN CHELSEA"
Holiday Toy Drive  / CB4 WPE Committee / Down to Earth Farmers Market Chelsea  / Holiday Happenings featuring Hudson Yards  /  Small Works Exhibition at Fountain House Gallery / Archived Recording: Collegiate Church's America Post-Roe V. Wade PanelW400 Block Association Tree Lighting / CB4 Full Board Meeting
Holiday Toy Drive: 9am-5pm Daily, Monday, December 5 through Friday, December 9| Chelsea's Distrit 3 NYC Council Member Erik Bottcher invites you, if circumstances allow, to participate in this week's Toy Drive. Drop-off locations are listed in the flyer directly below and include the Council Member's District Office, at 224 W. 30th St. (btw. Seventh & Eighth Aves., Suite 1206). For questions, please send an email to district3@council.nyc.gov.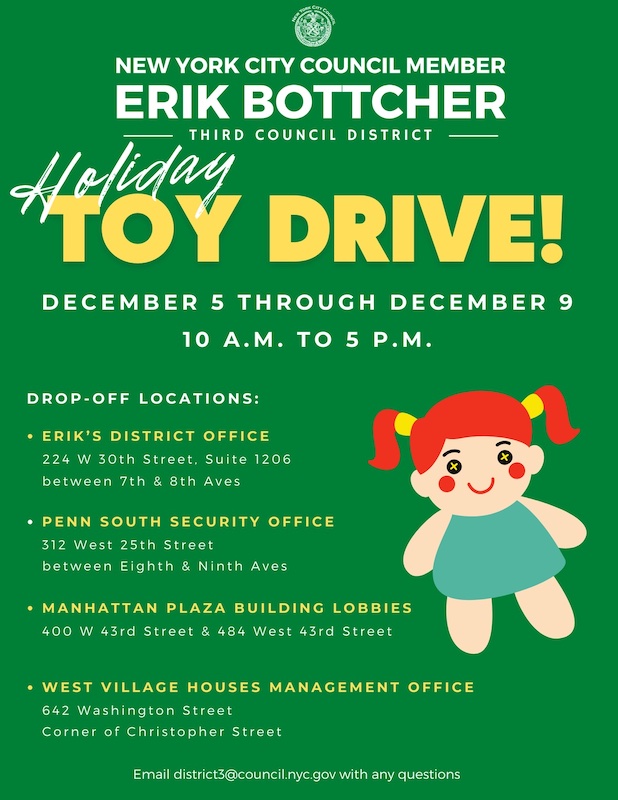 The Manhattan Community Board 4 (CB4) Waterfront, Parks & Environment Committee (WPE): Thursday, December 8, 6:30pm | CB4's WPE sees two presentations with huge implications, when ConEd puts forth a proposed plan for electric vehicle charging and stations, followed by the Army Corps of Engineers with the latest word on their Coastal Storm Protection project. The committee then takes up the contentious matter of what to do with the Penn South Dog Run, now that the facility at nearby Chelsea Waterside Park has reopened. Some say Penn South was just a placeholder and should be put down; others argue it's the scrappy rescue that's become part of the family). Fur flew last night at Dec. 7's full board meeting of CB4, where the public session was packed with supports and detractors who found no common ground other than most of them thought dogs are pretty great. So there's hope. With the WPE not allowing the public to participate, internal debate informed by the previous night's talking points will provide what's needed to hopefully drive the matter a bit further toward conclusion. To register for the Zoom meeting click here. To view the Dec. 7 Full Board Meeting of CB4 (with dog run public comments beginning at the 9:10 point), click here.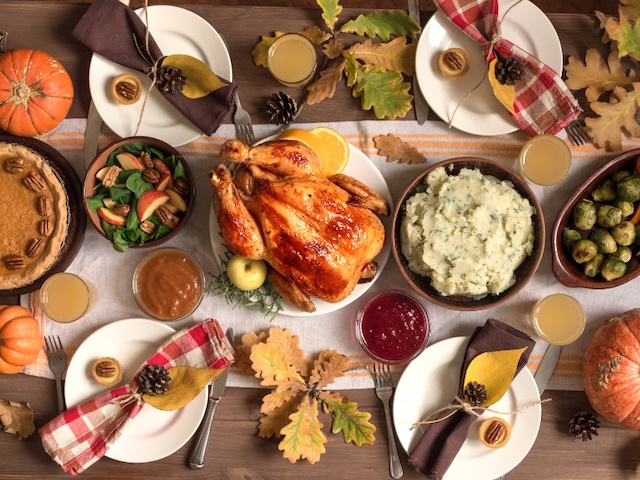 Closing for the Season on December 17: Down to Earth Farmers Market Chelsea, Saturdays, 9am-2pm on the North side of West 23rd St., off Ninth Ave. | New York area growers and artisan food makers make the trip to Chelsea every Saturday through Dec. 17. This Market was created with the support of nearby Church of the Holy Apostles, with the mission of bringing wholesome and delicious foods to the neighborhood's shoppers and supporting local small farms and food businesses. "The Chelsea Farmers Market is a grower-producer market," its founders note, "meaning that vendors must be farmers or make food with ingredients purchased from local farms. The few exceptions to this rule are olive oil, chocolate and coffee vendors who can document their sourcing. " The Market offers fruits, vegetables, and meats from area farms. This season, Market favorites included Pickle Licious, Orwashers Bakery, and Ideal Fish. SNAP EBT are always welcome (visit the manager's tent to get tokens; matching Health Bucks are available). On Dec. 1, in anticipation of the Dec. 3 Market, their weekly enewsletter had some advice for those of us still reeling from Thanksgiving Day overindulgence and in search of lighter, healthier options. Pair that premise with the desire to "take a break from cooking and complicated meal prep," and there's nothing quite as "refreshing and recharging as a 'winter' salad. Your local farmers markets remain replete with a range of late fall bounty and will continue to have plenty of freshly harvested produce onhand." Get Market news by signing up for their email newsletter via the Market website (click here to access it) or by visiting them on Facebook, via https://www.facebook.com/dtechelseafarmersmarket/.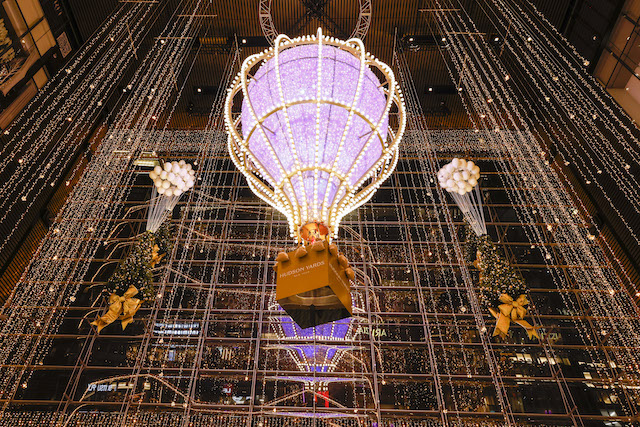 Holiday Happenings featuring Shine Bright at Hudson Yards | From tree lightings to tours curated with seasonally appropriate stops in mind, our Holiday Happenings events column is stuffed like a chimney stocking with fun, mostly free, activities. Click here to be taken to that holly, jolly destination. For now, right here, some info on how to capture picture-perfect moments that cost nothing but look like a million bucks. Just head to Hudson Yards, as Shine Bright (a presentation of Wells Fargo) illuminates the neighborhood with 2 million shimmering white lights—and a 32-foot hot air balloon suspended inside The Shops & Restaurants at Hudson Yards. Among the special programming offered: Complimentary photos with Santa! This meet-and-greet with the North Pole-based legend requires no reservation and is available on a first-come, first-served basis. It happens Dec. 5-16 at The Shops, on Level 4 by H&M and Zara. Click here for more info. Also at The Shops, check off some of those "musts" on your holiday gift-giving list by drawing from the Hudson Yards Gift Guide. It's packed with a wealth of stocking stuffers and main attractions priced at under $50. For more info, click here.
Small Works: $100 & Under Through December 28 at Fountain House Gallery (702 Ninth Ave. at W. 48th St.) | The annual holiday gift-giving game is afoot, at this "buy off the wall" exhibition featuring hundreds of original artworks priced at $100 and under.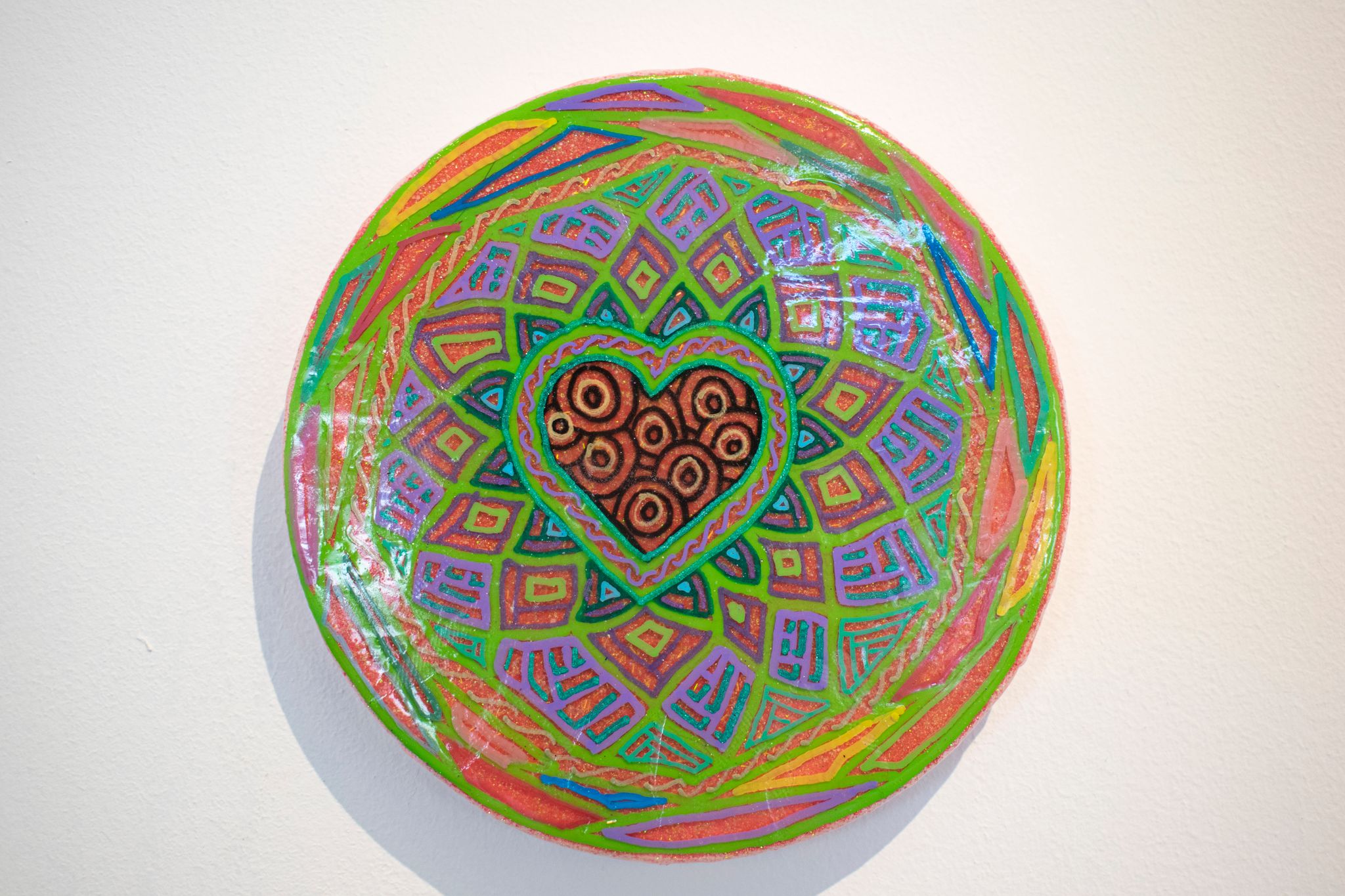 Working in mediums including acrylic, mixed media, fabric, digital photography, sculpture, and jewelry, the featured artists share at least two things in common. One: They all rose to the challenge of expressing themselves within the dimensions of 6×6 inches or less. Two: They're part of a talent pool nurtured by Fountain House Gallery and Studio, which "supports the careers and creative visions of artists living with mental illness." Artworks are sold on a first come, first served basis. To view selected works from the show, click here. For more info. on Fountain House Gallery and Fountain House itself, click here and here, respectively. By phone: 212-262-2756. Gallery Hours: 12pm-6pm, Tues.-Sat. at 702 Ninth Ave. (at W. 48th St.).

America After Roe V. Wade, Where Do We Go From Here?
A RECORDING OF THIS EVENT IS NOW AVAILABLE TO VIEW
This free, general admission event took place on Wed., Nov. 9, 7pm at Marble Collegiate Church (1 W. 29th St., corner of Fifth Ave. & W. 29th St.)| In conversation on this topic were Gloria Steinem, women's rights advocate and Ms. Magazine founder; Faye Wattleton, former Planned Parenthood president; and Kathryn Kolbert, acclaimed women's rights attorney. A recording of the event has been made available via Marble Collegiate Church's website. Click here to view the event.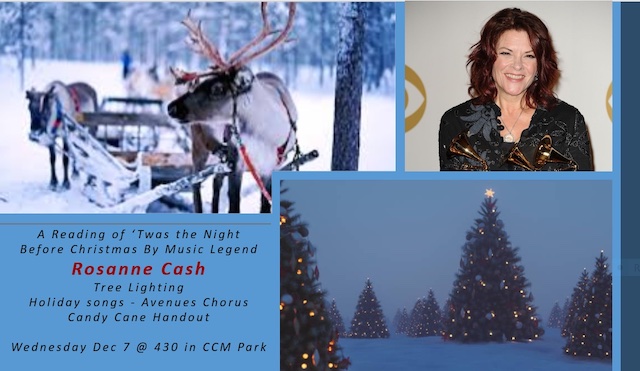 The W400 Block Association Presents its Annual Tree Lighting: Wednesday, December 7. 4:30pm in Clement Clarke Moore Park (10th Ave. at W. 22nd St.) | See the below flyer for details on a beloved West Chelsea event. At December 7's Tree Lighting, the neighborhood's own Rosanne Cash (Grammy Award-winning singer-songwriter, and New York Times best-selling author) gives voice to Clement Clarke Moore's 'Twas the Night Before Christmas. After that, the tree lighting takes place, candy canes are handed out, and the familiar lyrics to beloved holiday songs fill the air–courtesy of the Avenues Chorus (from Avenues The World School).
Manhattan Community Board 4 (CB4) Full Board Meeting: Wednesday, December 7, 6:30pm via Zoom | Want to know about that new construction project that seemingly came out of nowhere? Get to know your local community board now, and you'll learn that CB4 often functions as a canary in the cole mine–only, you know, if the canary had a protective mask on and was able to fly out of the mine and let you know about that construction project. Of all the regular opportunities, the first Wednesday of the month is the best date for a primer on the boards current and future concernts. The full membership is expected to attend these full board meetings, in order to vote on letters generated by the most recent meetings of CB4's committees. To access the agenda and letters generated by CB4 committees, click here. This Zoom Registration Link will let you view the meeting as it unfolds. To attend via phone, the conference call-in number is 646-518-9805. You may also View Live Stream via CB4's YouTube channel—but that option does not allow for participation via claiming your two minutes of uninterrupted time during the Public Session. Sign up here: https://tinyurl.com/FullBoardPS.
—Event calendar listings compiled by Scott Stiffler
Chelsea Community News is made possible with the help of our awesome advertisers, and the support of our readers. If you like what you see, please consider taking part in our GoFundMe campaign (click here). To make a direct donation, give feedback, or send a Letter to the Editor, email scott@chelseacommunitynews.com.