PHOTO ESSAY BY CHRISTIAN MILES   
The Triple Crown Ale House is an Irish sports bar located at 333 Seventh Ave. Located just steps away from Madison Square Garden and Penn Station, they offer (according to the website) "indoor and outdoor dining" and "many excellent options that are exciting, flavorful, and satisfying! All of our menu items are available for pickup or delivery."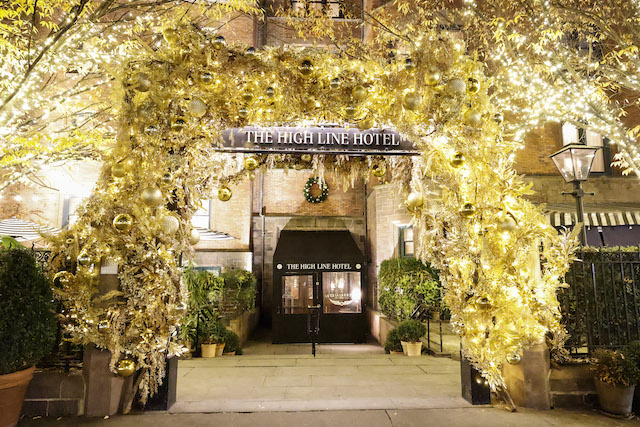 The High Line Hotel is located at 180 Tenth Ave. (at West 20th Street). As for their origin story, they begin by providing this bit of background info: "A portion of architect Charles Haight's mid-1800s masterpiece and Federal Historic Landmark, the General Theological Seminary in Manhattan's Chelsea neighborhood, have been transformed into The High Line Hotel. The majestic grounds—once Clement Clarke Moore's 17th-century apple orchard—and awe-inspiring cathedral are a piece of New York City history (Twas the Night Before Christmas was penned here), whose likes will not be seen again."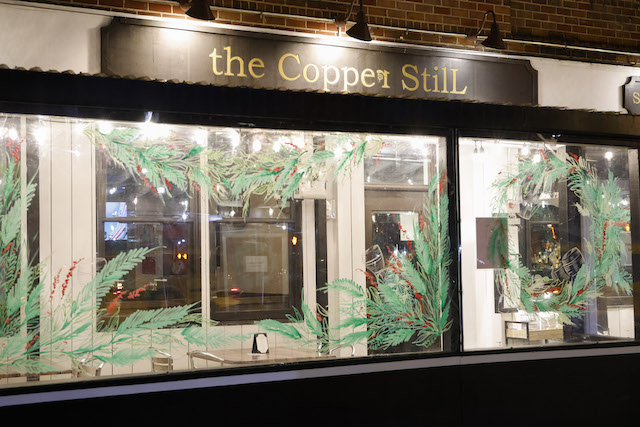 The Copper Still is located at 206 Seventh Ave. (at W. 22nd St.). For info, click here to visit their website or call 646-596-8975. For events and parties, Email them at thecopperstillnyc@gmail.com. To access the menu, click here. "The Copper Still," their website notes, "was born out of the idea that the East Village and Chelsea need a family style Irish Pub with a great whiskey selection. Mike, Shane and Brendan, the owners of The Copper Still, are all originally from Ireland and have been living and working in NYC for over 40 years combined. Besides having a collection of over 300 whiskeys, the food is an upscale take on classic pub food. The kitchen is open late and brunch is served on the weekend with an option for unlimited bloody mary's or mimosas.
Merchants NY is located at 190 Seventh Ave. (at W. 2st St.). Celebrating 25 years of operation, Merchants continues its philosophy "to deliver excellent, friendly, courteous and dedicated service." Offering classic American fare, an extensive wine list and signature crafted cocktails in an elegantly appointed modern setting, Merchants provides the ideal drinking and dining experience. Merchants features several private party rooms that can accommodate groups up to 20 to 200 guests.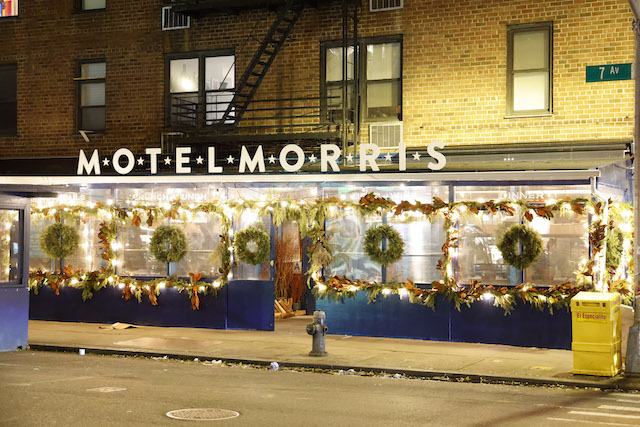 Motel Morris (128 Seventh Ave. at W. 18th St.) is a neighborhood restaurant and bar from the team behind The Commons Chelsea. Chef Bill McDaniel's menu is seasonal American with global influences and fun nods to classic American dishes. The beverage program consists of local craft beer, a fresh take on some classic cocktails, and a well-curated wine list by GM Jamie Steinberg.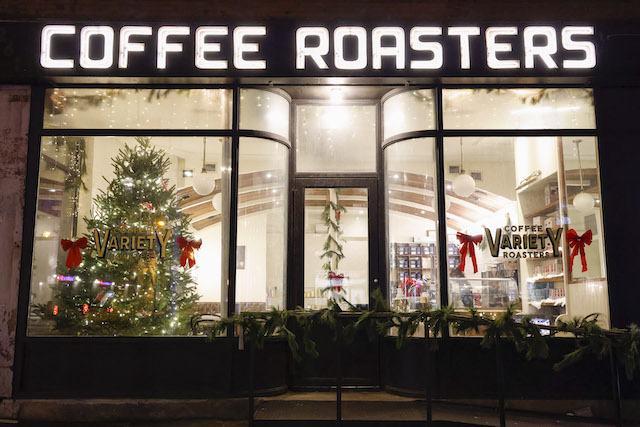 Variety Coffee Roasters is located at 261 Seventh Ave. (at W. 25th St.). For info, call 917-409-0106. "When it comes to sourcing coffee, our focus has always been freshness," their website notes. "We have built a menu that reflects the various growing seasons of different coffee growing regions, and strive to showcase only the freshest coffees."
Chelsea Market is located at 75 Ninth Ave. (btw. W. 15th & 16th Sts.). Currently celebrating its 25th year, Chelsea Market has become an internationally-renowned brand and is considered one of the greatest indoor food and retail marketplaces in the world today. Its collection of distinctive and diverse merchants adds up to more than just your average food hall, rather a lively marketplace where one can shop the region's finest fishmonger, take home prime cuts of meat from one of the area's best whole-animal butchers, load up on artisanal cheeses, fresh produce, and imported Italian dry goods. It's the savory meals enjoyed at Chelsea Market, just as much as the fresh ingredients purchased there, that make it a beloved destination for locals and travelers alike.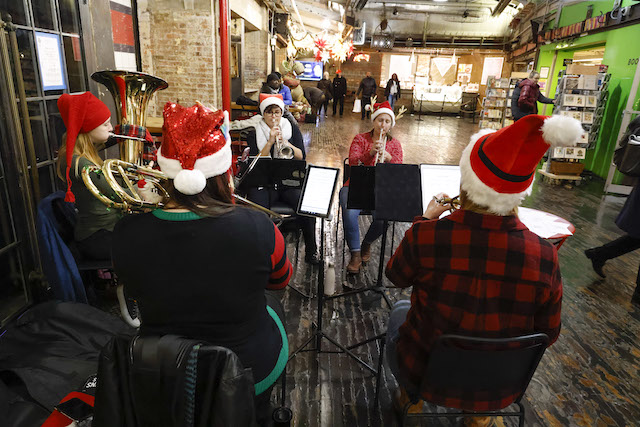 Dim Sum Chelsea is located at 236 Eighth Ave. (at W. 22nd St.) and open Mon.-Sun., 11:15am-10pm. Click here to be taken to a gallery of the delicious selections. Call 212-645-0100 or 212-645-0200.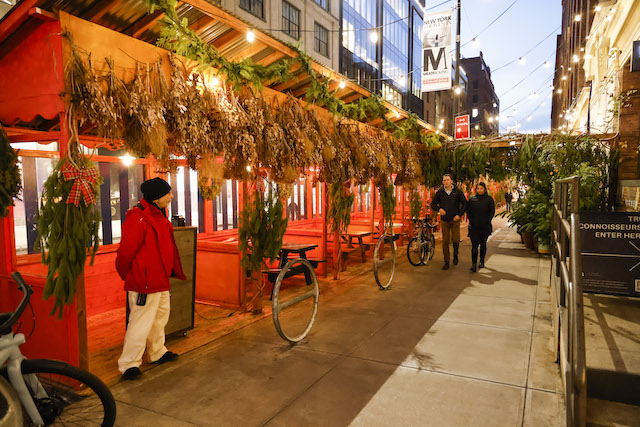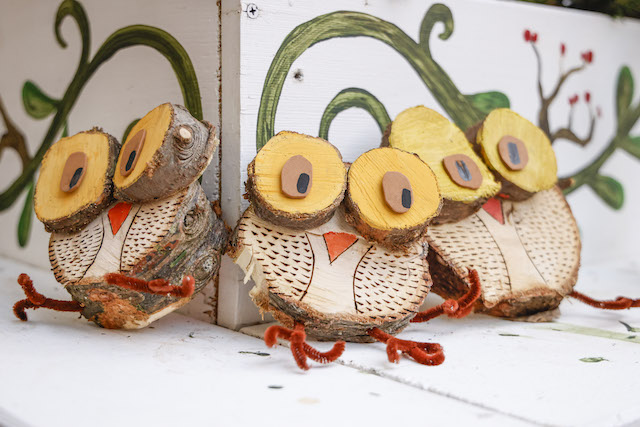 Chelsea Community News is made possible with the help of our awesome advertisers, and the support of our readers. Please consider taking part in our GoFundMe campaign (click here). To make a direct donation, give feedback, send a Letter to the Editor, or contact our founder/editor, email scott@chelseacommunitynews.com.