In This Week's "THIS WEEK IN CHELSEA"
Penn Station Plan Panel Discussion / This Season's Final Down to Earth Farmers Market Chelsea  / Holiday Happenings, featuring Hudson Yards  /  A Double Dipping of Flatiron/NoMad Destination Events / Chelsea Community Church Candlelight Carol Service / Menorah Lighting in Clement Clarke Moore Park

The Penn Station Project: What It Means For The Future of NYC; Wednesday, November 14, 9-11am at New York Athletic Club (180 Central Park South, 9th Floor) | Crain's Content Studio hosts this discussion of NYS Governor Kathy Hochul's Penn Station "rehabilitation" project—rehabilitation getting the " " treatment because (here we go editorializing) this land grab boondoggle is hardy a form of rehab, which we've always thought implied a situation in need of improvement. Such a thing can certainly by said of the gloomy underground transportation destination, Penn Station—but Hochul's plan is woefully short on financing or even envisioning a Penn Station upgrade. Right now, the plan proposes razing a radius around Penn Staton to make way for a towering corporate structures. This Crain's-presented event is as good as its name (Crain's New York Business), having booked a lively roster of panelists tasked with discussing Hochul's "financing mechanism, the transportation plan, its impact on the surrounding neighborhood, and the question of whether Madison Square Garden should move to a nearby location when its special permit expires next year." The "notable government officials and veteran New Yorkers who will weigh in on this transformative project" include Chelsea-adjacent's own Layla Law-Gisiko (Chair, Land Use, Housing & Zoning Committee, Manhattan Community Board 5; Sarah M. Kaufman (Interim Executive Director, NYU Rudin Center for Transportation); Richard Ravitch (former Lieutenant Governor, NYS); and Tom Wright (President and CEO, Regional Plan Association. Fred P.Gabriel, Publisher/Executive Editor of Crain's New York Business, serves as the moderator. For more info and to register ($170 per person), click here.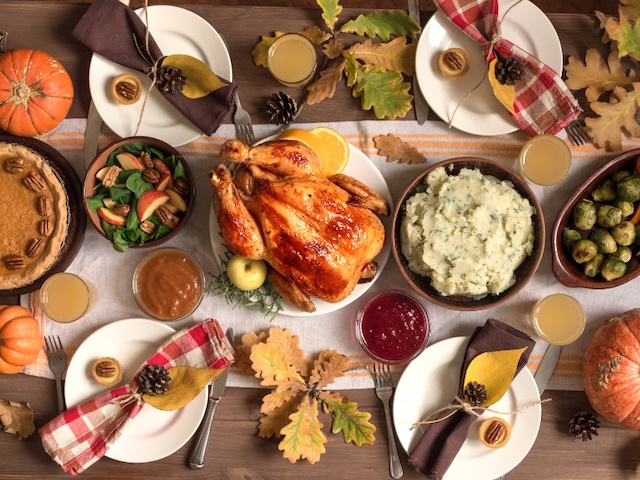 Closing for the Season on December 17: Down to Earth Farmers Market Chelsea, Saturdays, 9am-2pm on the North side of West 23rd St., off Ninth Ave. | New York area growers and artisan food makers make the trip to Chelsea every Saturday–through this Saturday, Dec. 17, when the Market closes for the season.. This Market, it's worth noting,  was created with the support of nearby Church of the Holy Apostles, with the mission of bringing wholesome and delicious foods to the neighborhood's shoppers and supporting local small farms and food businesses. The Market offers fruits, vegetables, and meats from area farms. Market favorites from this seaon included Pickle Licious, Orwashers Bakery, and Ideal Fish. Get Market news by signing up for their email newsletter via the Market website (click here to access it) or by visiting them on Facebook, via https://www.facebook.com/dtechelseafarmersmarket/.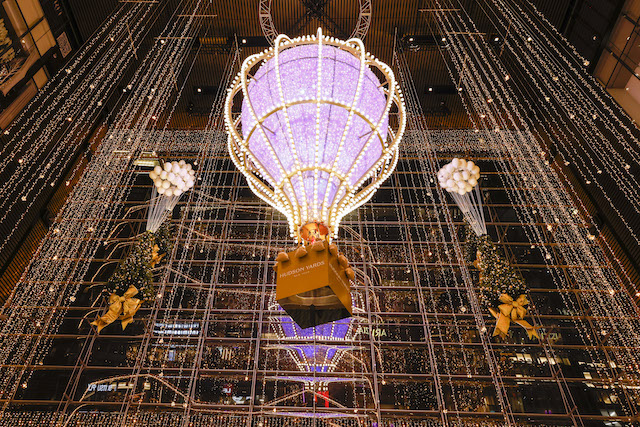 Holiday Happenings featuring Shine Bright at Hudson Yards| From tree lightings to tours curated with seasonally appropriate stops in mind, our Holiday Happenings events column is stuffed like a chimney stocking with fun, mostly free, activities. Click here to be taken to that holly, jolly destination. For now, right here, some info on how to capture picture-perfect moments that cost nothing but look like a million bucks. Just head to Hudson Yards, as Shine Bright (a presentation of Wells Fargo) illuminates the neighborhood with 2 million shimmering white lights—and a 32-foot hot air balloon suspended inside The Shops & Restaurants at Hudson Yards. Among the special programming offered: Complimentary photos with Santa! This meet-and-greet with the North Pole-based legend requires no reservation and is available on a first-come, first-served basis. It happens through Dec. 16 at The Shops, on Level 4 by H&M and Zara. Click here for more info. Also at The Shops, check off some of those "musts" on your holiday gift-giving list by drawing from the Hudson Yards Gift Guide. It's packed with a wealth of stocking stuffers and main attractions priced at under $50. For more info, click here.
The Flatiron NoMad Partnership Presents Holiday Cheer! Through Friday, December 23 | Festive programming happens throughout the Flatiron and NoMad (north of Madison Square Park) areas for 23 consecutive days, through Dec. 23. There will be live performances, family activities, games, sweets and treats, and giveaways. Support local merchants while securing local deals for yourself, including the chance to win a giveaway by way of the Partnership's Instagram and weekly newsletter. For all of the essential info, click here. For a Bonus Activity that falls under the Holiday Cheer! umbrella (or perhaps snow shovel?) keep reading this roundup and you'll soon land on an event listing that, like your snow boots, has been made for walking.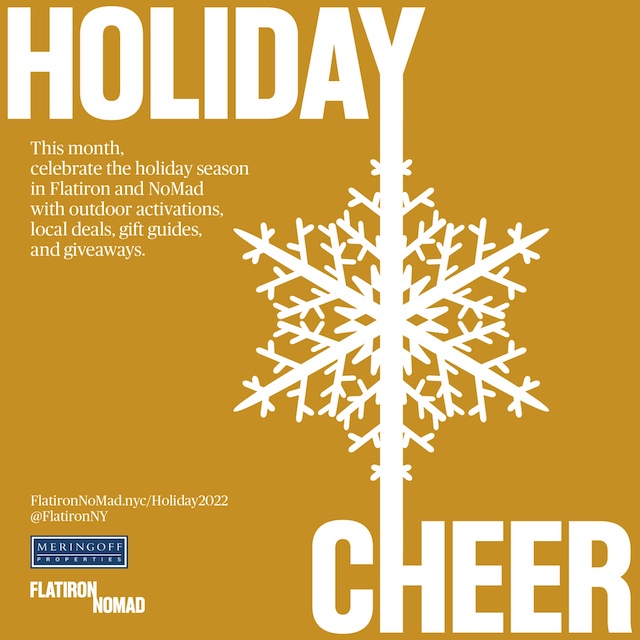 This Season's Final Free Holiday-Themed Walking Tour in the Flatiron NoMad District: Sun. Dec. 18, meeting at 11am at the Flatiron Building, 23rd St. just east of Fifth Ave. | The Flatiron NoMad Partnership offers a variation of its weekly walking tour by making seasonal-themed stops at locations offering insights about the Star of Hope, the country's first public Christmas tree lighting, the International Toy and Gift Center, and the circumstances under which Clement Clarke Moore wrote his famous Christmas poem (aka the definitive Christmas poem), A Visit From St. Nicholas. Dec. 18 is the final installment of this hoiday-themed tour. It's free, and there's no advance registration required. For more information—including current safety protocols—click here.
Chelsea Community Church's 48th Annual Candlelight Carol Service: Sunday, December 18, 6pm In-Person & Online | The nondenominational, lay-led church whose weekly 1pm Sunday services are streamed via Zoom will conduct this year's edition of their grand Christmas tradition as a brick and mortar event (at St. Peter's Chelsea, 346 W. 20th St. btw. 8th/9th Aves.) and via live streaming on the Chelsea Communty Church Facebook page and YouTube channel. Larry J. Long directs the Choir and guides congregational singing, and Christopher Houlihan accompanies on the organ. Singer, actor, and musical theater sensation Karen Mason (Sunset Boulevard, Hairspray, Mamma Mia!) brings those stage chops to her reading of A Visit from St. Nicholas, famously written by St. Peter's Chelsea founder Clement Clarke Moore. This is a free event, but donations are gratefully accepted. For more info, see the below flyer. Also visit the Chelsea Community Church website by clicking here.
The West 400 Block Association's Annual Menorah Lighting (Sun. Dec. 18, 4:45pm) in Clement Clarke Moore Park (10th Ave. at W. 22nd St.). | See the below flyer for details on a beloved West Chelsea event. Chocolate gelt will be handed out, and Dick Gottfried (about to retire as Assembly District 75's rep in Albany) will continue his tradition of reading the story of Hannukah. At this event as well as the Tree Lighting, "All are welcome," says the West 400 Block Association.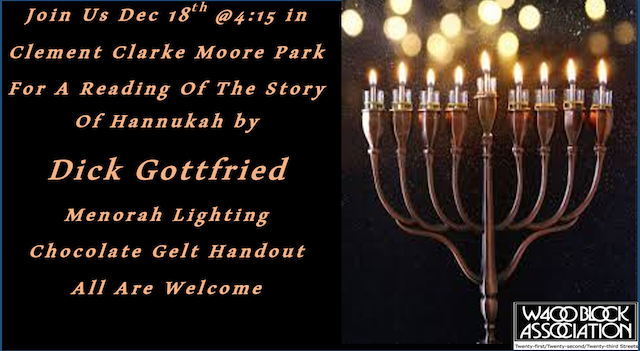 —Compiled by Scott Stiffler
Chelsea Community News is made possible with the help of our awesome advertisers, and the support of our readers. If you like what you see, please consider taking part in our GoFundMe campaign (click here). To make a direct donation, give feedback, or send a Letter to the Editor, email scott@chelseacommunitynews.com.