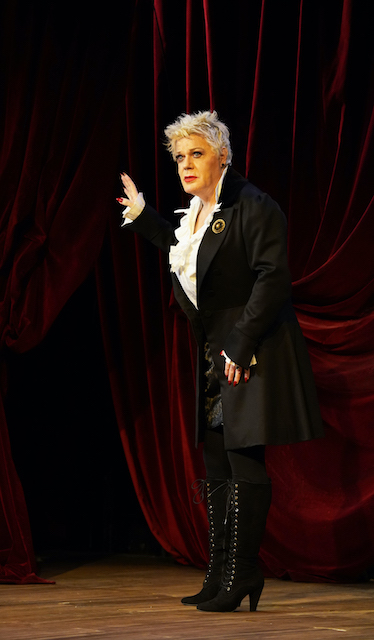 BY SCOTT STIFFLER | There's much to celebrate—and a Christmas Feast's worth of things to contemplate—owing to the arrival of England's silky Eddie Izzard on NYC's rocky shores. The uniquely skilled actor, comedian, and multi-marathon runner recently dropped anchor for nine weeks on the boards of a theater in a neighborhood known for its Dickensian charm. So much so, in fact, both venue and surrounding area are have taken their name (partly in tribute, partly as outright theft)  directly from our onetime foes from across the pond.
Recently extended for three weeks (through Feb 11, 2023), Great Expectations is the solo show at Greenwich House Theater, on narrow little Barrow Street, in the heart of Greenwich Village. ("Oh, is that a real gaslight?," taken-in tourists often ask. "No, sorry, they've been powered by electricity since the 1920s," we dutifully answer.)
The Village is an atmospherically appropriate home for this mega-condensed adaptation, in which ever-watchable Izzard skillfuly darts between nearly two dozen characters, while breathing life into what the production aptly describes as Charles Dickens' "classic tale of convicts, mystery, friendship, rivalry, unrequited love, revenge, and redemption."
Dickens' 13th, late-career novel (originally serialized from 1860-1861) has older and wiser Pip taking us on a sequential stroll through his life as a young, broke English orphan to a suddenly well-to-do lad who believes his silent benefactor is bitter, jilted, mansion-dwelling, monied spinster Miss Havisham (played by Izzard with coiled, reptilian calculation and a hypnotic charisma whose spell is broken only after the venom begins to take effect). Our poor, bad-guesser protagonist barrels through decades of morally questionable behavior before discovering the source of his corrosive financial windfall is, in fact, the escaped convict who once dined on a savory pork pie youthful Pip stole from the home shared with his stern sister and her blacksmith husband, Joe. Fundamentally decent Joe is a class act who can count himself among the many destined to be a stop on the Pip Apology Tour, launched many years later.
Adapted by Izzard's brother, Mark, from a staggering 183,349 words, the performance clocks in at two hours, including intermission. In doing so, the lean narrative cuisine necessarily sacrifices whole cuts of the not-so-sacred cow (aka the source material). Is part of that sacrifice a lack of nuance, the kind that prompts believability? As is, it's difficult to accept the final moments, which would have us believe we've been fed an evening's worth of food for thought by a sincere, self-aware narrator.
And that nagging uncertainty is what I loved about the Izzard brothers' very good take on Great Expectations, which dares to ask if a few woke words from the older and wiser Pip are markers of true redemption, or amount to nothing more than "too little, too late."
Challenging you to declare where you stand on that scale has added resonance, given this production began its run during the Holiday Season's Ground Zero, when solo or group presentations of that other Dickens redemption tale—the comparatively cut and dried A Christmas Carol—abound. Not that anyone's forcing a Sophie's Choice on the viewing public… but put side by side, the tail end of Pip's arc is all the more admirable for its ambiguity, compared to the beyond-360 turn too many interpreters of a thoroughly reformed Scrooge bring to stage or screen. (Even as deathbed conversions go, I've always found the cruel miser's capering, goose-purchasing, showy home plate slide into altruism a bit of a stretch.)
By comparison, Pip's stab at humility is played by Izzard with a sober, hushed resolve that finds the narrator planted in place and drawing upon decades of slowly accrued insight, as opposed to a sudden shift in character after a single night spent flying through time with three ghosts, watching a bloopers reel of his fumbles and misses.
Take it as you will, warning or disclaimer—fact is, audiences who show up expecting the piercing, roast-level satire stand-up savant Izzard made her bones with will likely be put off at first blush. But they'd be well-advised to settle down, settle in, and meet this adaptation and its interpreter on the ground where they live. Like the murky marshlands of Pip's youth, it's a grey area whose unassuming presentation doesn't mean it lacks complexity. Akin to the nuances of Izzard's trans identity that inform her presence, the best parts of this Great Expectations are confidently packaged.
Dressed to the nines in black, lace-up, thigh-high-heeled boots, impeccably cinched suitcoat, supersized broach, white, ruffly "my eyes are up here" blouse, and red-painted nails pressed into service as exclamation points or instruments of magicianly distraction, she need not announce her identity further any more than she should be expected to telegraph Pip's true intent in feel-good, easily digestible style. As NYC audiences, we've been given Expectations to relish the challenge of figuring it out for ourselves—and that's what makes two hours spent on Barrow Street with very British Izzard so bloody Great.
Produced by WestBeth Entertainment and Mick Perrin Worldwide, Great Expectations is adapted for the stage by Mark Izzard and directed by Selina Cadell. The design team is Tom Piper (set), Tyler Elich/Lightswitch Inc. (lighting), Tom Piper and Libby da Costa (costume stylists), and Didi Hopkins (Movement Director).
Through February 11, 2023 at Greenwich House Theater (27 Barrow St.). For tickets ($69.00 to $101.00, plus $9.96 fee), click here. For the show's website, click here.
From the venue/producers: "Masks are strongly recommended, but not required. Safety measures are subject to change at the producer's sole discretion and based on evolving health and safety guidance and conditions… Greenwich House Theater is wheelchair accessible, however should you wish to let us know about your specific access needs ahead of your visit, we'll be sure to best accommodate you. If you have accessibility needs of any kind, or would like to know more about accessibility at Greenwich House, please email tickets@greenwichhousetheater.com.
NOTE: Chelsea Community News–an independent, hyperlocal news, arts, events, info, and opinion website–is made possible with the help of our awesome advertisers and the support of our readers. Our Promise: Never a paywall, no pop-up ads, all content is FREE. That said, if circumstances allow, please consider taking part in our GoFundMe campaign (click here). To make a direct donation, give feedback, send a Letter to the Editor, or contact our founder/editor, send an email to Scott Stiffler, via scott@chelseacommunitynews.com.
To join our subscriber list, click here. It's a free service provding regular (weekly, at least) Enewsletters containing links to recently published content. Subscribers also will be sent email with "Sponsored Content" in the subject line. That means it's an exclusive message from one of our advertisers, whose support, like yours, allows us to offer all content free of charge.