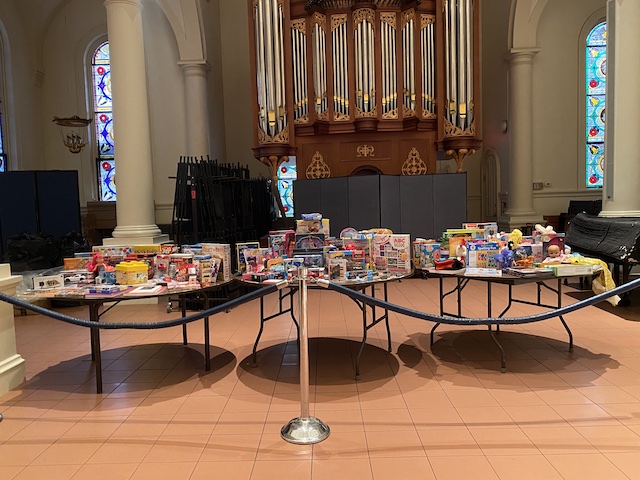 BY SCOTT STIFFLER | Although each one of us has a part to play in reaching that "peace on earth, goodwill to all" goal, the Holiday Season holds only one true obligation for adults: Make sure kids get toys.
Meet your obligation the locally sourced way, when you make a brick and mortar donation to Chelsea's hard-working, constantly engaged Holy Apostles Soup Kitchen. Founded in 1982, New York State's largest soup kitchen offers "nourishment and community through meals and life-changing services" to "anyone, without question or qualification," notes their website.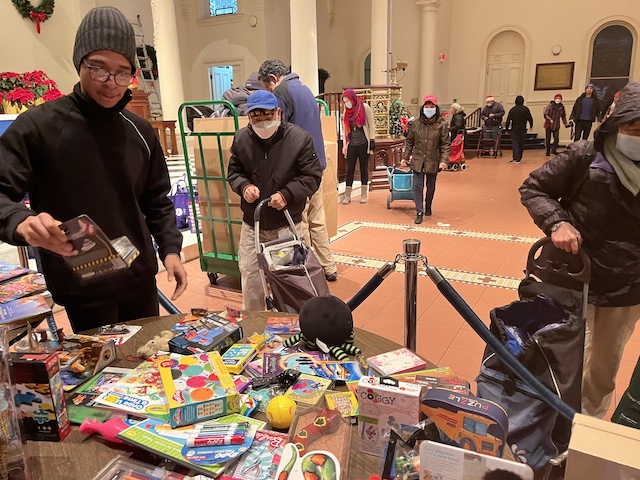 Requests for their services are especially pronounced at this time of year—and this year, there's an exceptionally pressing need to make sure those who come to them by way of the Soup Kitchen's Pantry Program are guaranteed the kids in their orbit will get a toy—from Santa, or one of his proxies who matches your general description.
"The need has been so great," said The Rev. Dr. Anna Pearson, who's in her fourth year as Rector of the Church of the Holy Apostles and the Executive Director of Holy Apostles Soup Kitchen. During a Dec. 15 phone call, she told Chelsea Community News that even before that week's distribution event, "We were already running low on toys."
High demand was ultimately met, said Pearson, by the supply of toys arriving as a result of "a partnership with [NYC Council Member] Erik Bottcher's Office. We also accepted donations from individuals, but the majority of toys came from the Council Member's Toy Drive."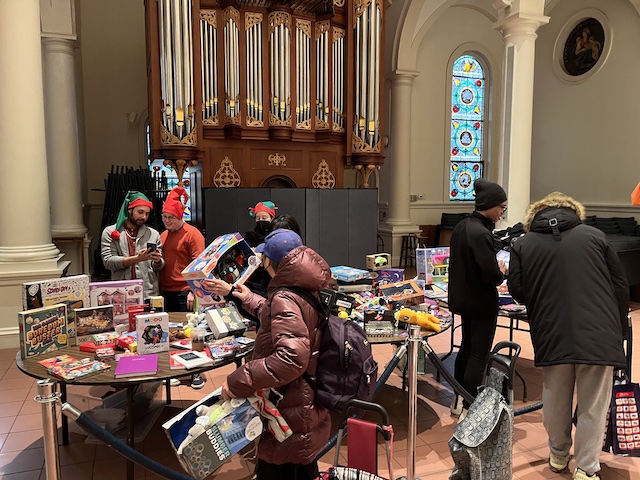 With three more days of toy distribution coming up next week, Holy Apostles Soup Kitchen is turning to the community for help. The Toy Drive will serve Holy Apostles' Pantry Program participants, by allowing them to take one toy. Anyone who would like to donate a toy, or toys, can drop them off at Holy Apostles (296 Ninth Ave.) Monday, December 19 through Thursday, December 22, from 9am to 12pm. Toys should arrive unwrapped.
Although Pearson noted the current level of demand has been a challenge, she put that in context by noting how consistently helpful the people of Chelsea and other partners have been, year after year. Such actions, whether it's a toy dropped off, a check in the mail, or a ladle-to-bowl effort from the volunteers who literally put the soup in "Soup Kitchen," those acts of generosity help ensure Holy Apostles Soup Kitchen will continue to fulfill its mission—which Pearson summarized, rather nicely, as this: "Our goal is to meet people where they are, and walk with them for as long as they choose, in whatever way is best to them."
—END—
BACKGROUND INFO: The Holy Apostles Soup Kitchen Pantry Program operates Tuesday through Thursday, 1:30pm-3pm. Guests are, says Holy Apostles, "able to take home three bags of food—one bag of dried goods, one of produce, and one of protein and dairy… Hundreds of individuals and families come through our doors to pick up their groceries for the following week… Unregistered guests are served at the Food Pantry after all registered guests have been served. When an unregistered guest arrives at the pantry, we register them into our system, serve them, and make an appointment for their next visit." Click here to enroll in the program.
Below, More Scenes From Last Week's Toy Distribution Event at Holy Apostles
All Photos are Courtesy of Holy Apostles Soup Kitchen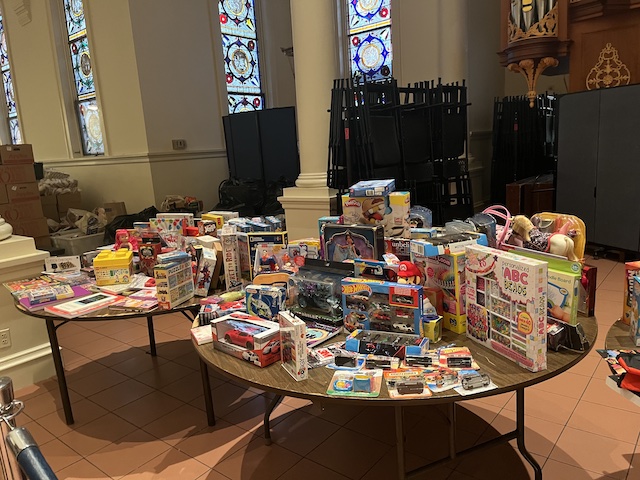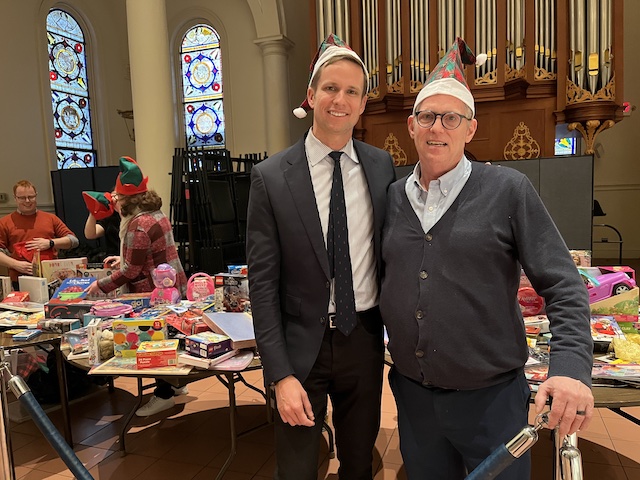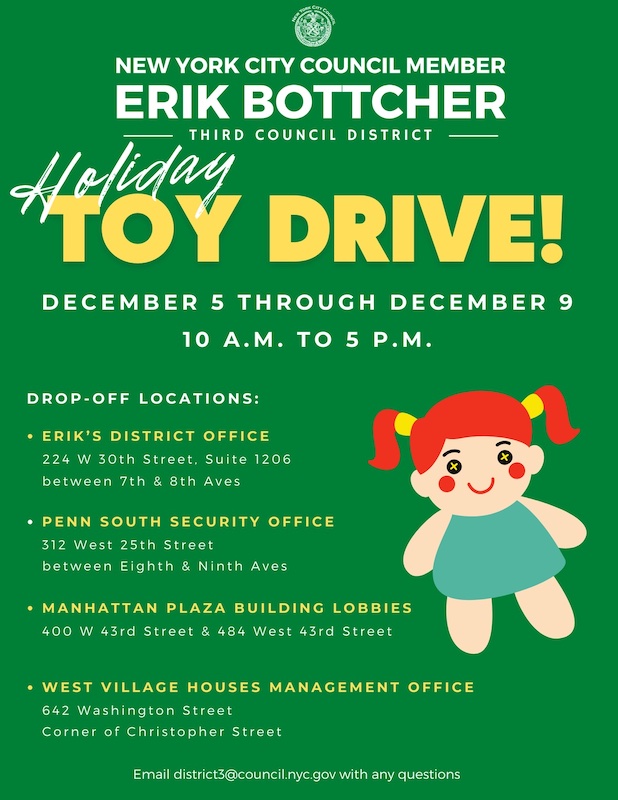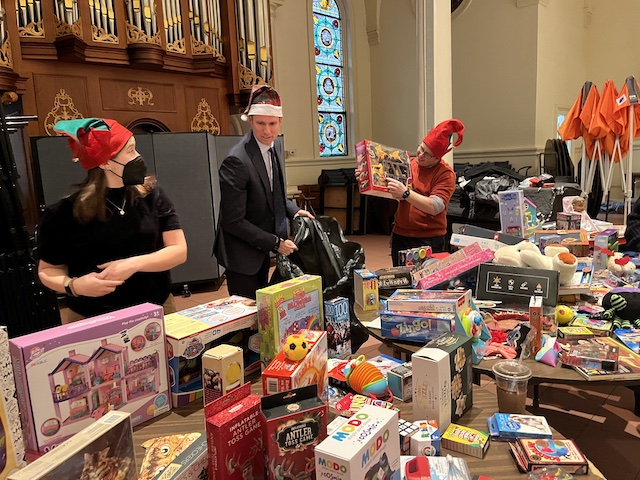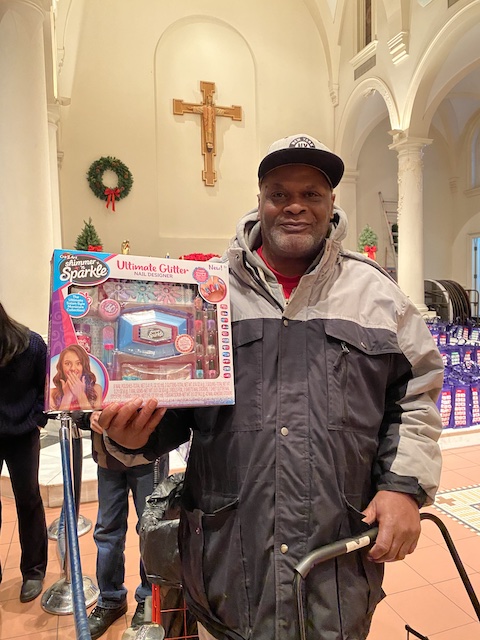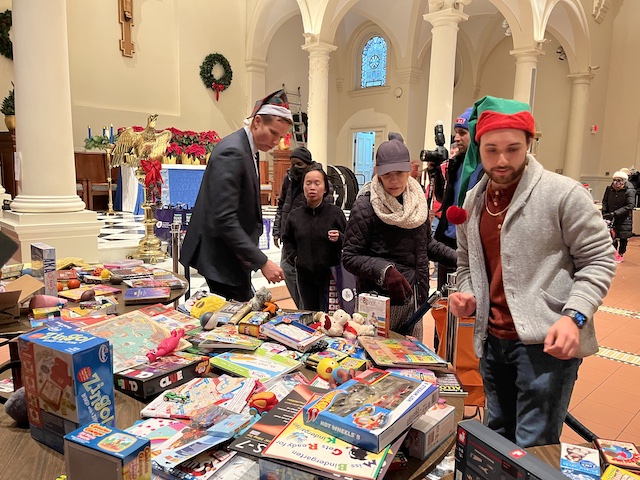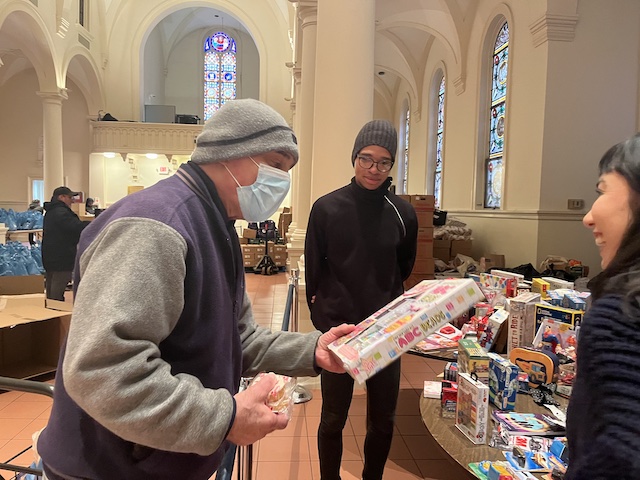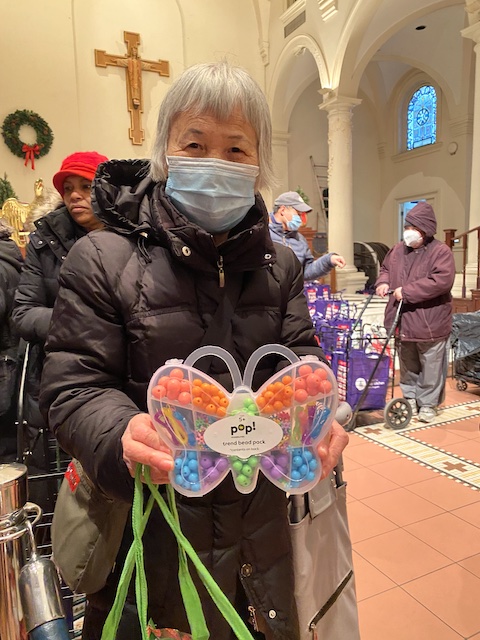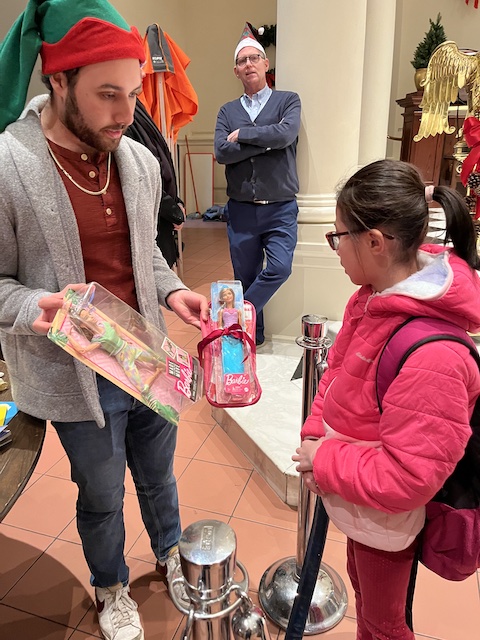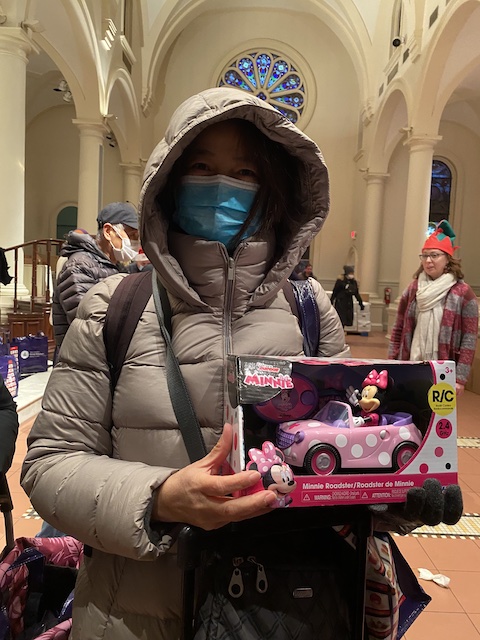 Chelsea Community News–an independent news, arts, events, info, and opinion website–is made possible with the help of our awesome advertisers and the support of our readers. Our Promise: Never a paywall, no pop-up ads, all content is FREE. With that in mind, if circumstances allow, please consider taking part in our GoFundMe campaign (click here). To make a direct donation or contact CCNews founder/editor Scott Stiffler, aend an email to scott@chelseacommunitynews.com. To join our subscriber list, click here. It's a free service provding regular (weekly, at least) Enewsletters containing links to recently published content. Subscribers also will be sent email with "Sponsored Content" in the subject line. That means it's an exclusive message from one of our advertisers, whose support, like yours, allows us to offer all content free of charge.