In This Week's Very Merry "THIS WEEK IN CHELSEA"
 The Flatiron NoMad Partnership's Holiday Cheer! /  Winter Wonderland Photo Ops in the Meatpacking District / Winter Lights on the High Line / The 300 West 23rd, 22nd, 21st Block Association's Chelsea Caroling / Chanukah Celebration at Chelsea Green Park / Holiday Caroling with Council Member Bottcher & the NYC Community Chorus 
The Flatiron NoMad Partnership Presents Holiday Cheer! Through Friday, December 23 with a Winter Solstice Celebration on Wednesday, December 21, 12-3pm | Festive programming happens throughout the Flatiron and NoMad (north of Madison Square Park) areas through Friday of this week. On Wednesday, Winter Solstice is the cause for a celebration taking place from 12pm-3pm on the Flatiron North Plaza. MoMath (The National Museum of Mathematics) invites you to experience the joyful reflection of a life-sized kaleidoscope. Snap a unique selfie, try curling, and enjoy doughnuts and hot chocolate from Krispy Kreme while supplies last. Elsewhere, support local merchants while securing local deals for yourself, including the chance to win a giveaway by way of the Partnership's Instagramand weekly newsletter. For all of the essential info, click here.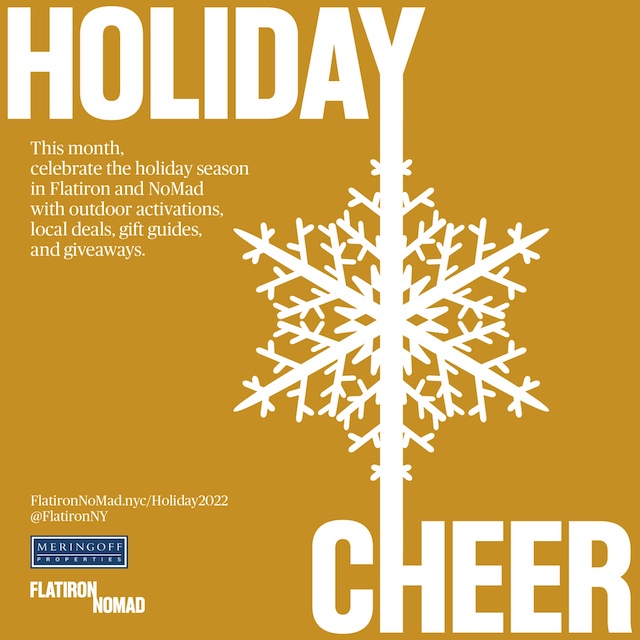 A Winter Wonderland Photo Op in the Meatpacking District | As charismatic as they are geometric, the Snow People of the Meatpacking District are on display now and ready to pose with you for an only-in-New-York photo op that travels just as well across town as it does across the (snow?) globe. Click Here  for details on this interactive happening presented by Meatpacking (the Meatpacking Business Improvement District).
Winter Lights on the High Line: 7am to 7pm Daily, Through January 2, 2003, between West 15th & 16th Streets in the Chelsea Market Passage | You've got to be elevated, to get in on the ground level of this new, multiyear Holiday Season lighting installation brought to the popular West Chelsea park via a partnership between the High Line and Genesis Motor America. The 2022 debut installment incorporates "mirrors and reflective surfaces to create a captivating light display for visitors to enjoy anytime during park open hours." Every hour on the hour there's a two-minute light show, with the final show of the day (at 6pm) offering a supercharged version whose visual intensity is akin to the grand finale of a fireworks display. To view the High Line installation, enter the park via stairs at W. 16th St. or via stairs or elevator at W. 14th St. For more info, click here.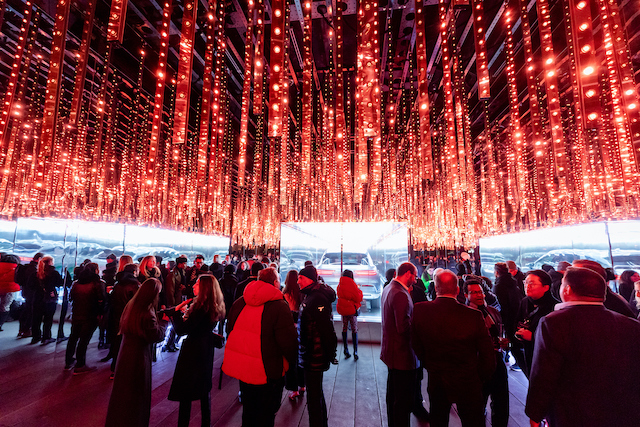 Caroling on the Streets of Chelsea on Tuesday, December 20: At 6pm, Meet at 315 West 22nd Street (aka St. Paul's German Lutheran Church) | There's music in the air up and down the tree-lined (and occasionally windswept) streets of West Chelsea–and that's no figure of speech or stretch of the imagiation. Well, at least not on the early evening of Tues., Dec. 20. That's when the 300 West 23rd, 22nd, 21st Block Association invites one and all to join them on a stroll around the neighborhood (with musicians!). So come caroling–but first, come to St. Paul's German Lutheran Church, where the tuneful tradition takes off shorty after 6pm. See the below flyer for the same info you just read, but presened in a much more visually appealing manner!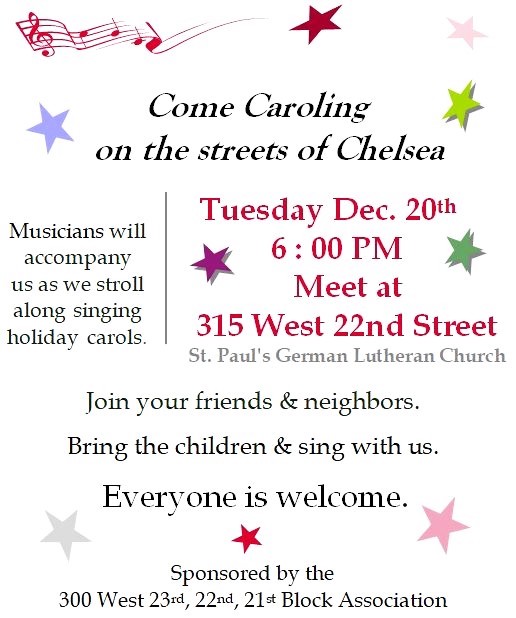 Chanukah Celebration: Wednesday, Decembe 21, 5:30pm at Chelsea Green Park (140 W. 20th St btw. Sixth & Seventh Aves.)| See the below flyer for details.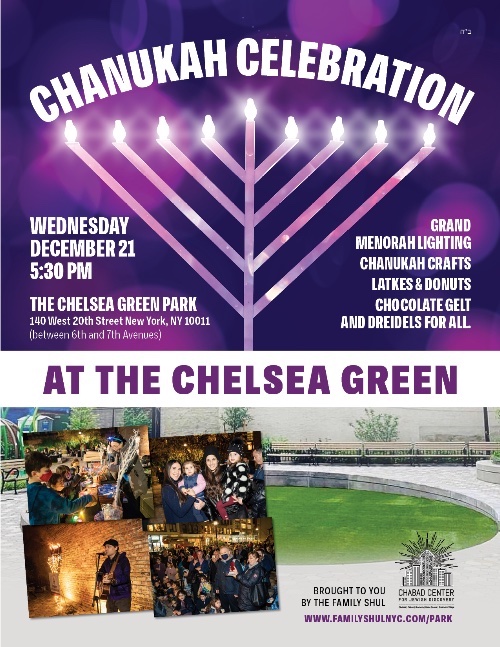 Holiday Caroling with the New York City Community Chorus: Wednesday, December 21, 5pm at Mathews-Palmer Park (445 W. 45th St.)| See the below flyer for details.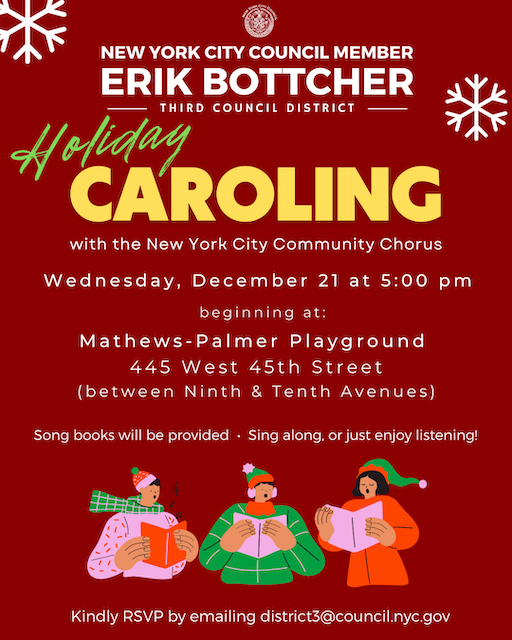 Chelsea Community News is made possible with the help of our awesome advertisers, and the support of our readers. If you like what you see, please consider taking part in our GoFundMe campaign (click here). To make a direct donation, give feedback, or send a Letter to the Editor, email scott@chelseacommunitynews.com.