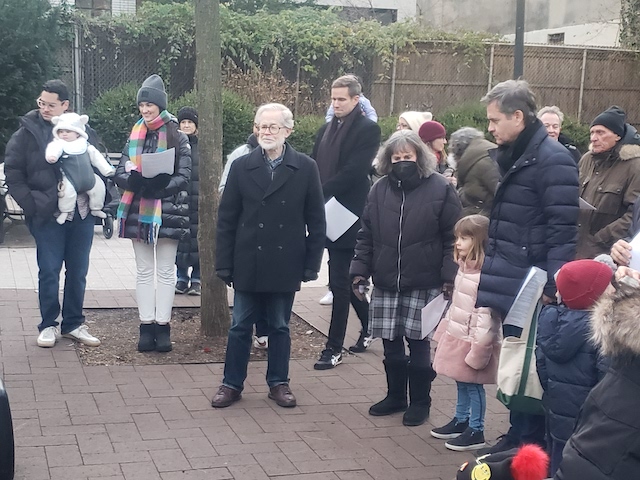 TEXT BY SCOTT  STIFFLER with PHOTOS COURTESY OF THE WEST 400 BLOCK ASSOCIATION | They scooped us on the story by a few hours, but hey–we're not complaining, especially since Sun., Dec. 18's Menorah Lighting in Clement Clarke Moore Park is now part of our shared history. (And if you missed it, just wait until December 2023, when this annual event promises history will repeat itself).
The marquee moment for those gathered in the park at 10th Ave. and West 22nd Street was the coming together of message and messenger, as NYS Assembly Member Richard Gottfried told "the story of Hannukah in his own special and amazing way," according to an eyewittness writing for the West 400 Block Association's electronic newsletter of Dec. 22, 1:39pm (hence the scoop).
This year's storytelling by Gottfried was particularly poignant, given his retirement is mere days away. His successor, Democrat Tony Simone, will become District 75's new elected official in Albany on January 1, 2023. District 3 NYC Council Member Erik Bottcher was there on Sunday to acknowledge Gottfried's incredible 52 years in office. The milestone achievement was celebrated in Proclamation form–when Bottcher presented one on behalf of the NYC Council. As the fates allowed, NYS Senator Brad Hoylman was also present, resulting in the below photo.
The melancholy among us will note Dec. 18's Menorah Lighting will go down in history as one of the last times Bottcher, Gottfried, and Hoylman (L to R, above) will have appeared together publicly, as a trio of elected officials. Hopefully Gottfried will return next year, telling the story of Hannukah as only a private citizen can.
In addition to the abovementioned hubub, the newsletter noted, "neighborhood children read prayers, and Allen Oster lead the group in singing Rock of Ages." Oster showed his leadership behind the scenes as well, inspiring the newsletter scribe to write, "Thank you, Allen, for orchestrating this annual event!" Oh yeah, and there was also a Menorah Lighting. But that, dear reader, is a tale for another time…

Chelsea Community News is made possible with the help of our awesome advertisers, and the support of our readers. Please consider taking part in our GoFundMe campaign (click here). To make a direct donation, give feedback, send a Letter to the Editor, or contact our founder/editor, email scott@chelseacommunitynews.com.